Halloween is one of the best times of year for a multitude of reasons. There's candy, trick or treating, and the best movies on television. But best of all, we get to truly go wild with decorating. Scrolling on social media during this time of year is also fun because we love to check out all of the awesome decoration ideas that other people have decided to come up with.
Christmas decorations may give Halloween a run for its money, but in our opinion, Halloween is the most epic holiday! You just don't see cooler home decor during any other stretch of the year and that is a fact. We said what we said. As connoisseurs of Halloween decor, we have seen a lot of awesome set ups in the past. But Amanda Destro Pierson's garage door just might take the cake.
She was looking for something that stood out a little bit, and she has certainly achieved that goal. As a professional face painter, she used her skill and creativity to transform her biggest canvas yet: her garage door.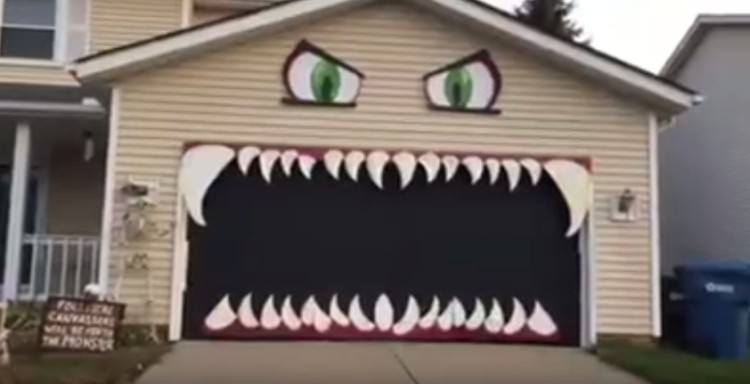 The garage door now has a toothy, menacing stare. The green eyes that she added are a truly terrifying touch. It looks like it's about to devour any vehicle that dares to enter. As if that were not enough, she's added quite the special effect. The monster's jaw actually closes when the garage door opens!
Once you have had the chance to check it out for yourself, you are not going to be able to look away. Amanda posted a clip of the garage door gag on her Facebook and the views exploded! She's over 25 million plays and counting. We are probably responsible for at least a million of them, if we are being honest.
Let's face it, this is a fun time of the year to overdo it with the decorations. By the time Christmas rolls around, it is always too cold to enjoy the process as much. Be sure to share this decor inspiration with your friends and loved ones, too!
🎃OH MY GOD YOU GUYS!!! 🙀 I can't believe MILLIONS OF PEOPLE have watched my garage door go up and down! 👆👇👆👇 LOL! I can't even keep up with the number!I'm so glad you all like my monster house! I am seriously blown away by the love here. I'll have a new monster coming this year!P.S… I am also a professional Face Painter, so show your local artists some love and hire them for your parties! We bring the fun!HAPPY HALLOWEEN! 🎃🎃🎃Jukin Media Verified (Original) *For licensing / permission to use: Contact – licensing(at)jukinmediadotcom

Posted by Amanda Destro Pierson on Tuesday, October 11, 2016
SKM: below-content placeholder
Whizzco for 12T