A cake that keeps on giving.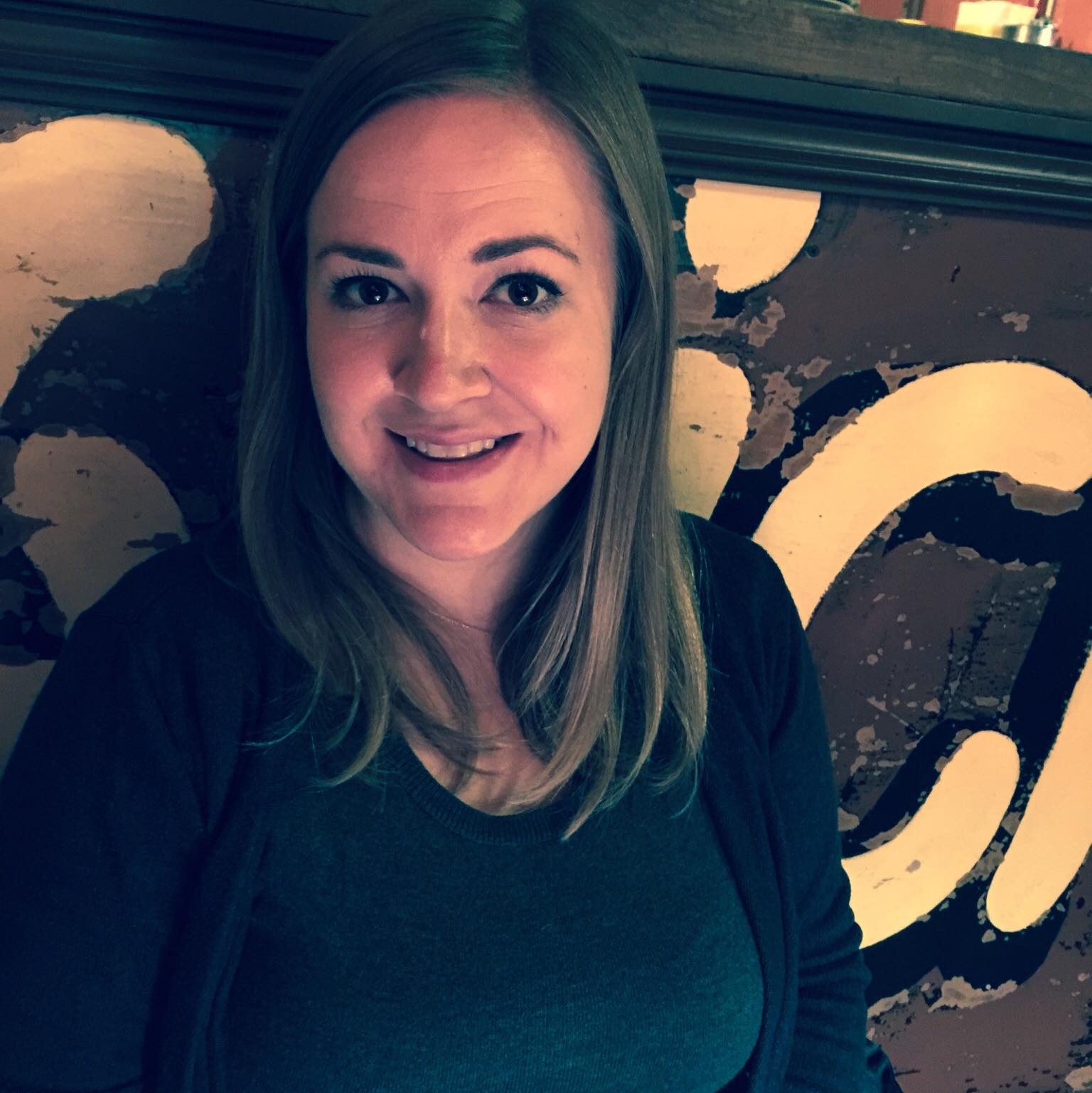 Kristy Norrell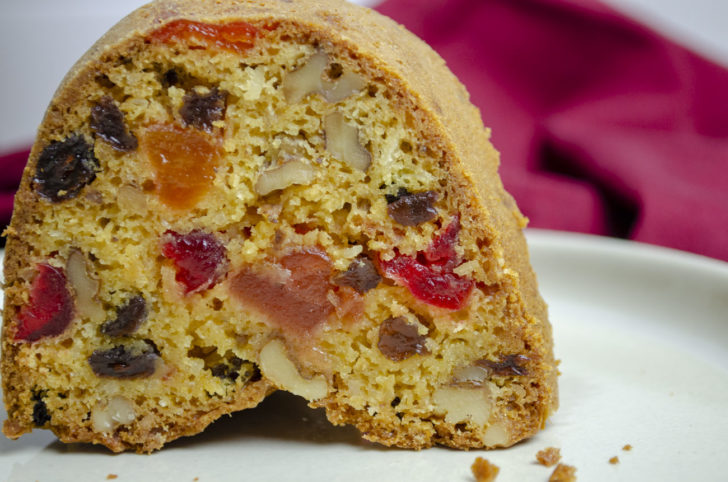 Fruitcake is perhaps the most infamous of the holiday culinary traditions, and yet somehow the fruitcake tradition carries on. And that, my friends, is because not all fruitcake is bad; there is in fact good fruitcake out there. Fruitcake that's moist and tender and, well, fruity. Take this Friendship Fruitcake for instance. You might remember it from years ago; its heyday was closer to the times of bell bottoms and bright daisy prints than cell phones and skinny jeans. You might know it as Brandied Friendship Fruit or Fermented Friendship Fruit and chances are your mom (or maybe just a younger you) once had a jar of the starter going on your kitchen counter.
You see, this fruitcake is a little bit of a project. It takes seven weeks from start to finish – three weeks for the brandied starter and four more for the candied fruit – but we can promise it's well worth it. It takes some forethought, but never more than a minute or two of effort on any given day, and the end result is fruit that's still juicy and sweet and leagues above that crystally, dried-out stuff you might find in the grocery store.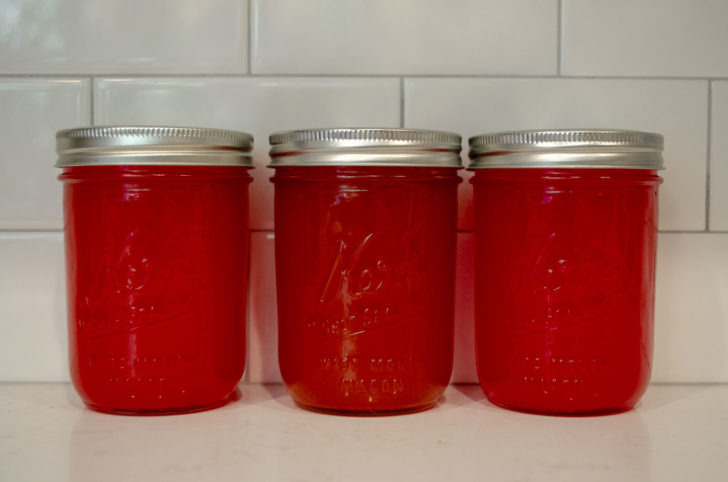 And it's all about friendship. Reminiscent of a chain letter (kind of like the very popular Amish Friendship Bread), the process leaves you with three pints of brandied starter: two that you can pass on to friends, and one that you use to start the process all over again. In turn, your friends can then pass more starter on to their friends and the more people that make it, the more love and friendship gets passed on down the line. It's a tradition of giving and sharing, which is perfect for the holiday season.
Here's how it's done: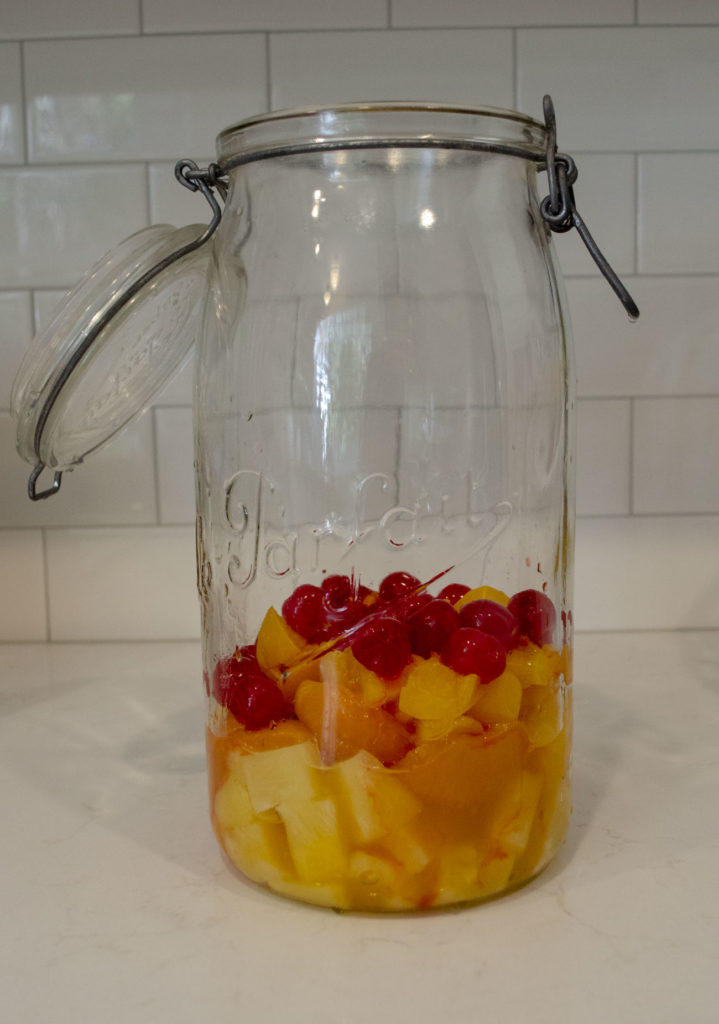 You take canned pineapple, peaches, apricots, and maraschino cherries, and mix them together with some brandy and sugar in a big jar or bowl. You leave that vessel out on the counter – loosely covered, you don't want to encounter a brandied fruit explosion – and give it a stir every two to three days.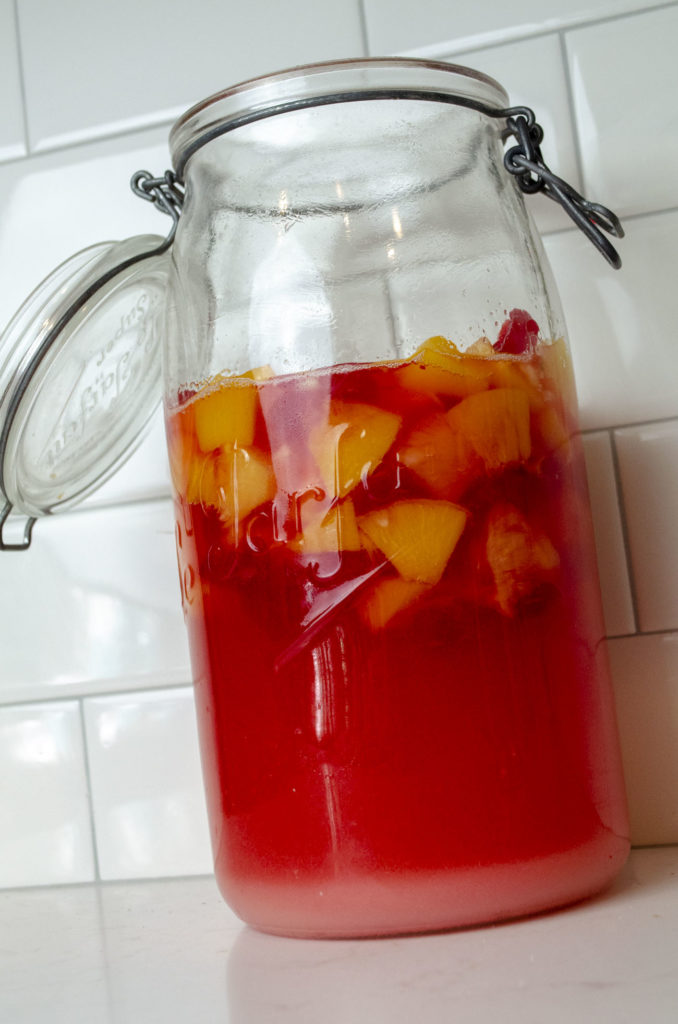 After three weeks, you drain the fruit and eat it over pound cake or ice cream or whatever tickles your fancy, and you're left with a pint of sweet, syrupy liquid that you'll use to candy your fruit in a slow but easy process that results in candied fruit that is a far cry from the dried bits you might think of when you think of fruitcake.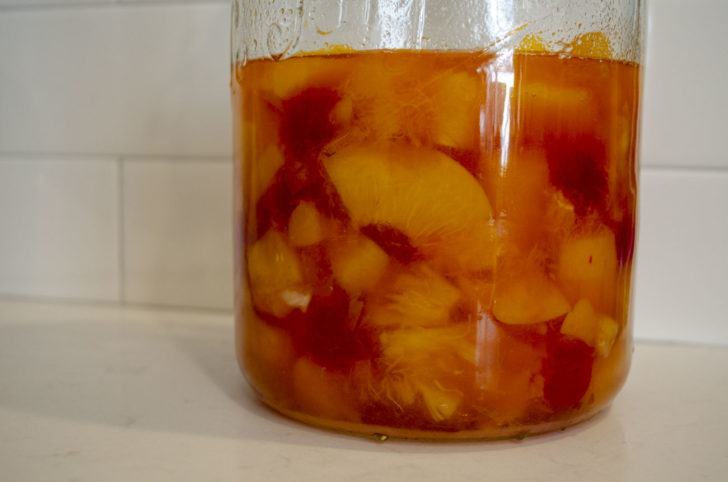 That leftover liquid is your brandied starter, and you combine it with some peaches and sugar and give it a stir every day for ten days. On day ten, you add in some pineapple and more sugar, and again stir it once a day for ten days. On day twenty, you add cherries and even more sugar, and – you guessed it – stir it every day for ten days. On day thirty, you have candied fruit as you've never quite had it before, and you're ready to bake.
You drain the fruit from the liquid, and you'll end up with three pints of sweet and syrupy liquid that you can pass on to friends along with the fruitcake recipe or that you can use to start the process all over again. The starter needs to be used with three days of receiving it, or you can always freeze it for later use.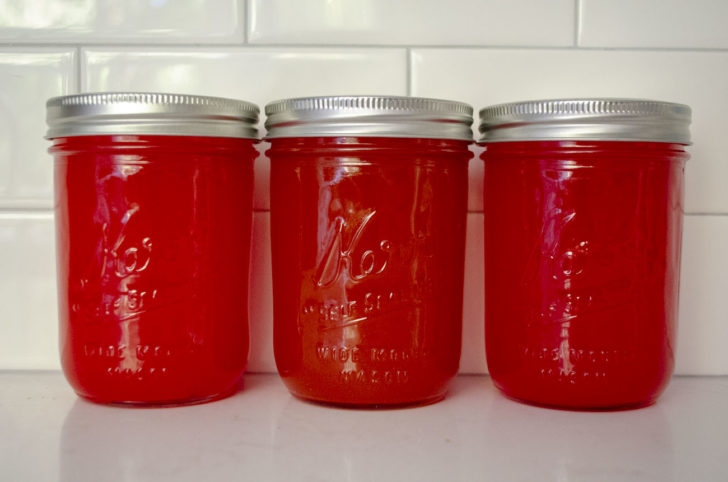 The batter is comprised of two boxes of yellow cake mix and two boxes of vanilla pudding, along with the usual cake suspects of sugar, oil, eggs and the like. The pudding mix keeps the cake moist and adds some substance and vanilla flavor.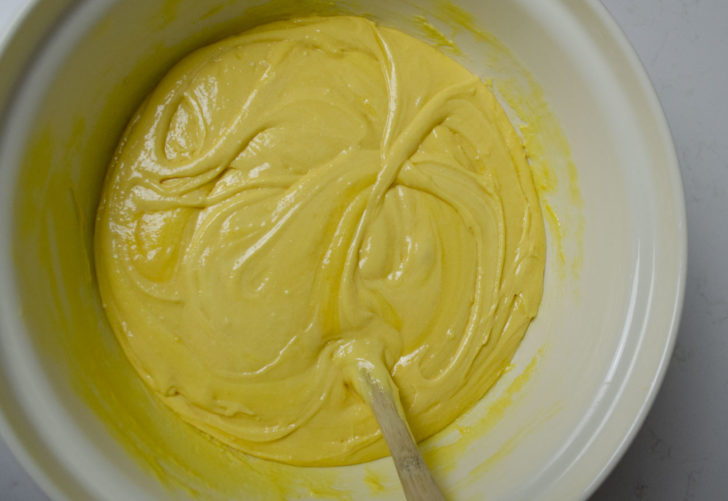 You then mix in the reserved candied fruit, some raisins, coconut, and chopped walnuts…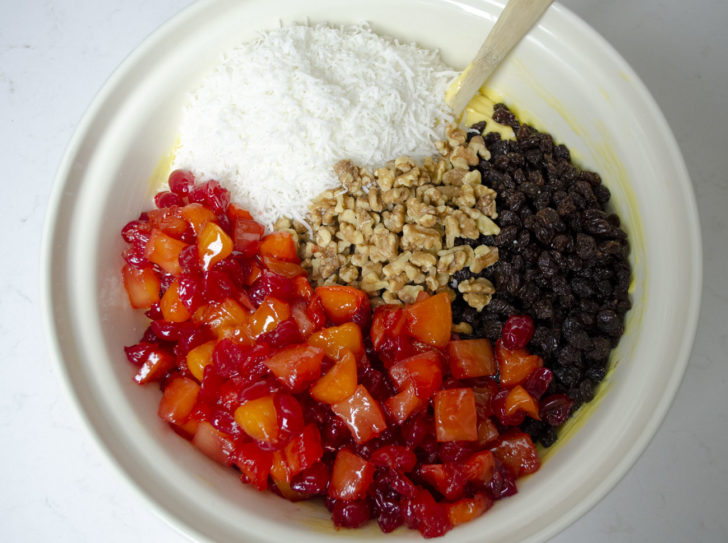 And end up with a mountain of very thick batter that's studded with jeweled-candy fruit, crunchy nuts, and sweet coconut.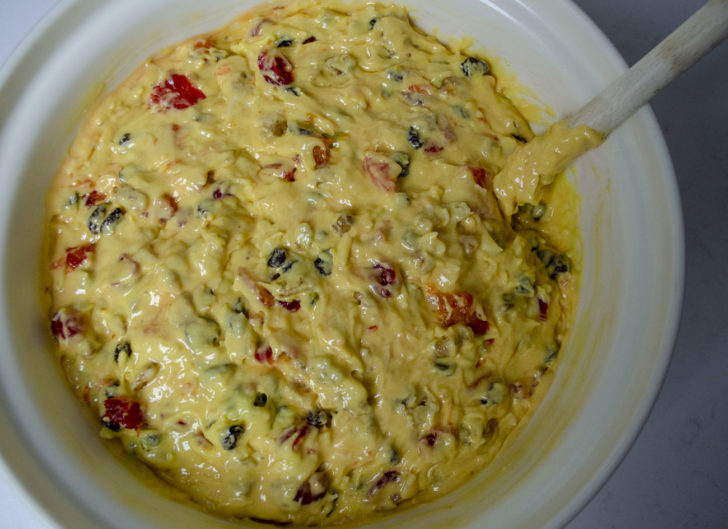 You spread (because pouring is not an option here – it's that thick) that batter into two large bundt pans and bake it until a toothpick comes out clean, which will take a good 60-75 minutes. Good things are worth waiting for, after all.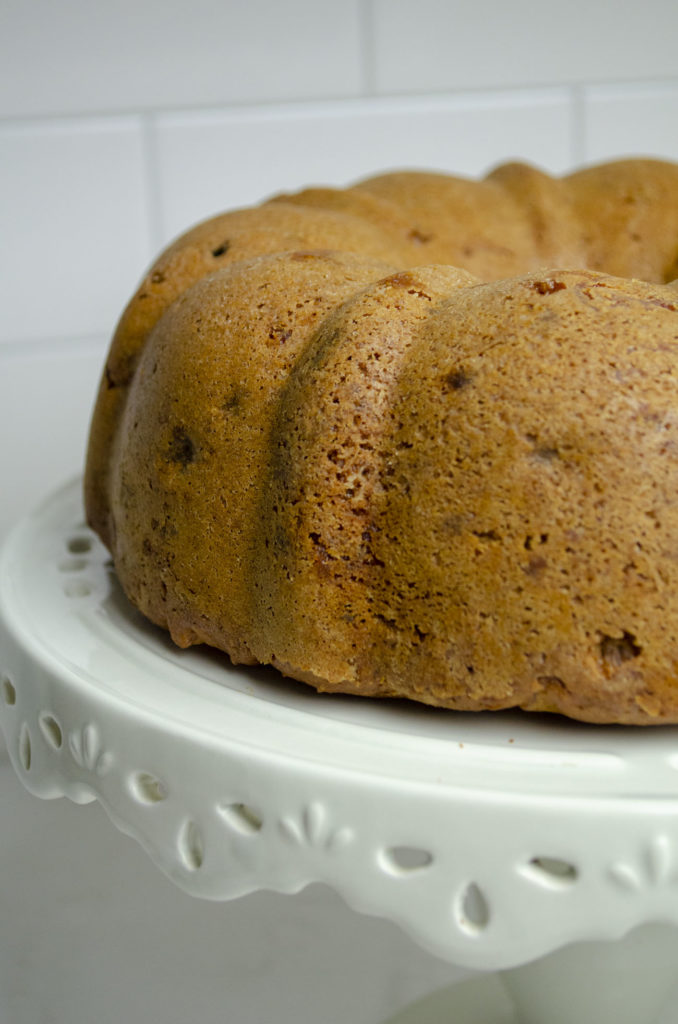 It yields two large cakes that are moist, tender, and light. It's not the crumbly and dense fruitcake that you might harbor not-so-fond memories of. It's a fruitcake that you'd be proud to share with a friend, a fruitcake that's punctuated with fruit that's still juicy, and sweet but not cloying.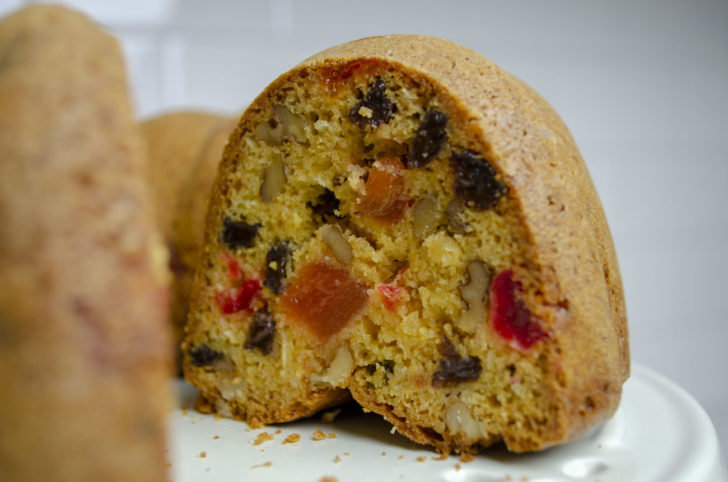 It takes some planning, but this is the fruitcake that made us finally see why fruitcake has persisted through the years. Unlike the other sad loaves of dried fruit and dense crumbs that get passed on from friends during the holidays, this cake is truly a gift. It's just one you'll want to start at the beginning of November if you plan to serve it on Christmas Day!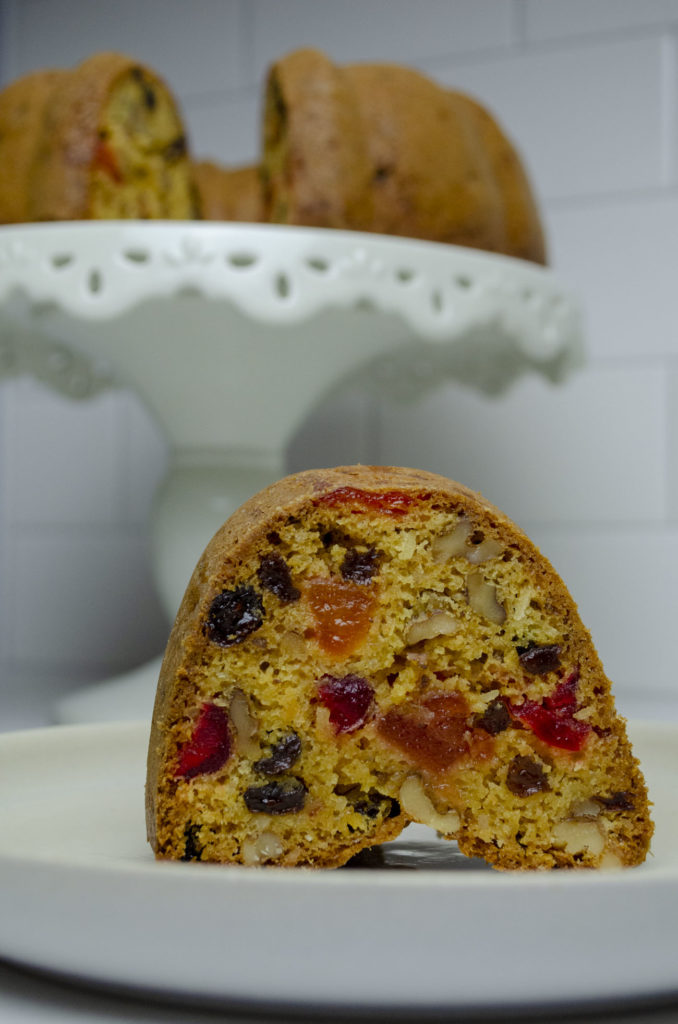 Friendship Fruit Starter & Cake
Ingredients
For the fruit starter:
1 (20 oz) can pineapple chunks, drained
1 (16 oz) can apricots, drained
1 (16 oz) can sliced peaches, drained and chopped
1 (10 oz) jar maraschino cherries, drained
1 1/4 cups brandy
1 1/4 cups granulated sugar
For the candied fermented fruit:
1 pint Brandied Friendship Fruit Starter
1 (16 oz) can sliced peaches, undrained and chopped
1 (20 oz) can pineapple chunks, undrained and halved
2 (10 oz) jars maraschino cherries, drained and halved
6 cups sugar, divided
For the batter:
8 eggs, beaten
1 1/3 cups vegetable oil
2 boxes yellow cake mix
2 small boxes instant vanilla pudding
reserved candied fruit
2 cups walnuts, chopped
2 cups sweetened shredded coconut
2 cups raisins, golden or regular
Preparation
For the starter:
Combine the pineapple, apricots, peaches, cherries, brandy, and sugar in a large glass jar and stir together. Cover with a loose fitting lid and let stand at room temperature. (Make sure lid is NOT air tight.) Stir mixture 2-3 times per week; mixture will be ready in 3 weeks.
Drain fruit, reserving the liquid. (The liquid is the starter.) Use fruit to serve over pound cake or ice cream. Pour liquid into a pint jar to use for fruit cake recipe, or give to a friend along with the recipe.
For the fermented candied fruit:
Cut the sliced peaches into smaller chunks, do not discard juice. In a large glass jar, combine the pint of friendship fruit starter, the canned peaches and juice, and 2 1/2 cups sugar. Stir mixture every day for 10 days, and leave covered loosely at room temperature.
On day 10, cut each pineapple chunk in half, do not discard juice. Add the pineapple chunks and juice to the peach mixture, along with a 1/2 cup of sugar. Stir to combine, and stir once a day for 10 days.
On the 20th day, add the drained cherries, and 2 1/2 cups sugar to the jar. Stir once a day for 10 more days.
On Day 30, drain and reserve the fruit and pour the liquid into three glass pint jars. Save one as a starter for your next fruitcake and give two to friends along with the fruitcake recipe. You need to begin baking the cake within 3 days of receiving the starter, or freeze it to use at a later time. Avoid metal or plastic containers for storing liquid.
To make the cake:
Preheat oven to 325°F and grease and flour two 12-cup bundt pans or four large loaf pans. Set aside.
In a large bowl, mix together cake mix, pudding mix, oil, and eggs. Stir in raisins, nuts, coconut, and reserved fruit from the starter. Stir until well combined. (Batter will be thick and stiff.)
Spread batter into prepared pans and bake until a toothpick inserted into the center comes out clean, about 60-75 minutes.
Place to cool on wire racks for 10 minutes before inverting onto racks to cool completely. Serve at room temperature and enjoy!
SKM: below-content placeholder
Whizzco for 12T