These traditional French desserts, known as "pate au choux", are delightfully airy and piped with an even lighter, whipped cream filling. If you'd asked us a few years ago whether we would ever attempt making these heavenly, bite-sized treats, we probably would have laughed it off and thought, "are you kidding?!"
But now we've seen the light: there's just nothing like homemade profiteroles! And they're not all that difficult to make. If your adventurous spirit is satisfied with store-bought chocolate sauce as the topping, we're not judging. You can also fill them with ice cream or instant vanilla pudding as a shortcut. These puffs are the perfect vessel for just about anything, so you can't go wrong!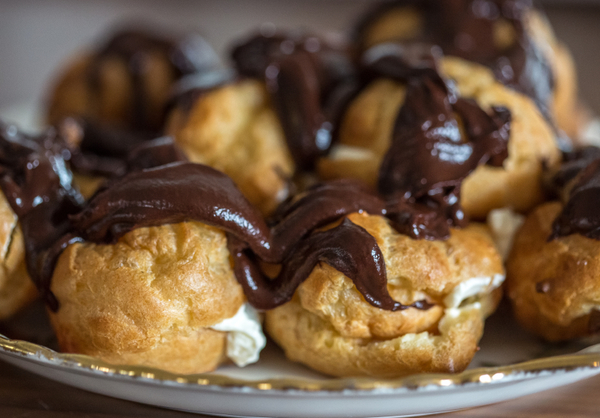 Profiteroles
Yields 14-18 puffs
Ingredients
Profiteroles:
1 cup whole milk
1 cup all-purpose flour
4 large eggs
1 stick butter
1 teaspoon sugar
1/4 teaspoon salt
1/2 cup water
Chocolate Sauce:
12 oz. semisweet chocolate chips
1/2 cup heavy cream
2 tablespoons coffee
2 tablespoons honey
Whipped Cream Filling:
1 cup heavy cream
2 tablespoons powdered sugar
1 teaspoon vanilla extract
Directions
Preheat oven to 425 º F, place rack in the middle of oven and line a baking sheet with parchment paper.
In a medium saucepan over medium-high heat, combine butter, milk, sugar and salt, and bring to a boil.
Turn heat down to low and, stirring constantly, add flour all at once, until well incorporated.
Stir until dough is shiny and smooth to the touch, and there is a fine film of flour on the bottom of the pan. 5-7 minutes.
Turn dough out into a large bowl or mixer and mix in eggs one at a time. Beat until everything is combined and mixture is thick and glossy.
Spoon mixture into a pastry bag and pipe dough onto parchment-lined baking sheet in 1 1/2-inch wide, 1-inch tall mounds.
Dip your finger in water and gently press down the top each puff so they don't burn.
Place in oven and bake for 20 minutes or until puffs are lightly browned. Leave in oven (do not open door) for another 10 minutes.
Remove from oven and cut a small slice in the bottom of each puff to allow steam to escape. Let cool completely.
Set up a double-boiler with a heat-proof bowl set over a saucepan with 2-3 inches of water over medium-low heat.
Add cream and chocolate chips to the bowl and stir until melted. Then stir in honey and coffee.
In a large bowl or mixer, whip heavy cream until soft peaks form, then add vanilla extract and powdered sugar.
Beat until stiff peaks form and spoon mixture into a piping bag (or plastic Ziploc bag with the corner cut off.
Poke a hole in each puff and pipe whipped cream filling into it. Then drizzle chocolate sauce over the top.
Recipe adapted from Karen In The Kitchen
SKM: below-content placeholder
Whizzco for 12T