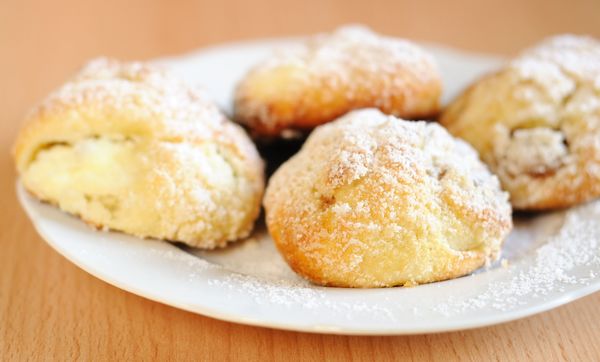 Have you ever been going about your daily routine, totally fine, when all of sudden you're hit with a hunger craving that's so strong you know you must satisfy it or chaos will reign supreme? …Just us? Excellent. Either way, we like to be prepared with easy recipes that don't require a lot of time or effort, that satiate said cravings in truly delicious fashion. Enter: these easy mini cheese danishes.
These cheese danishes are perfect for when you want something sweet, but with a little bit of tang, and you don't want to spend all day slaving over something elaborate. The flavor is absolutely perfect – which we credit to the use of cream cheese and cottage cheese – and you'd really never guess this little morsels were the result of sheer desperation! Now who's ready to try em?!
Easy Mini Cheese Danishes
Yield: 18
Ingredients
2 sheets (1 box) frozen puff pastry, thawed
1 cup cream cheese, softened
1/2 cup cottage cheese
1/2 cup sugar
2 large eggs, divided
1 teaspoon vanilla extract
powdered sugar, garnish
Directions
Preheat oven to 400º F and line 2 baking sheets with parchment paper.
Place cottage cheese in a cheesecloth or strainer and wring out excess moisture (or drain cottage cheese and pat dry with paper towels).
In a large bowl or mixer, beat together cottage cheese and cream cheese together until almost smooth, then mix in sugar, 1 egg and vanilla extract. Mix until just incorporated.
Unfold puff pastry sheets and cut each one into 9 squares.
Spoon 1-2 tablespoons cheese mixture into each square, then gently pull opposite corners up and over the filling, pressing them gently together to seal. Repeat with remaining corners.
Continue filling your puff pastry squares, then transfer to lined baking sheets.
In a small bowl, whisk together remaining egg with 1 tablespoon water.
Brush egg wash over each danish, then bake for 20 minutes, or until puffed up and golden brown.
Remove from oven, top with powdered sugar and serve warm.
Recipe adapted from Love, Pomegranate Home
SKM: below-content placeholder
Whizzco for 12T