Nothing says hearty quite like eggs, and huevos rancheros steps things up a notch. Spanish for "rancher's eggs," huevos rancheros, is a Mexican-style breakfast (or brunch!) dish that grew from rural farmers and ranchers. It has a great heat to it, and can be made a variety of ways ("Huevos divorciados," for example, is the rancheros served with two eggs, but each egg has a different sauce).
Today's recipe is a simple huevos rancheros with homemade salsa. To save time, feel free to use jarred and skip to step 9. To really spread that Mexican flavor around, we cooked the eggs in the salsa and topped it all with some red onions and cilantro. Frying the tortillas before assembling the ingredients on top of them also helped add some good texture variety to what would otherwise be a very soft dish. Keep reading below to see how we assembled our own huevos rancheros…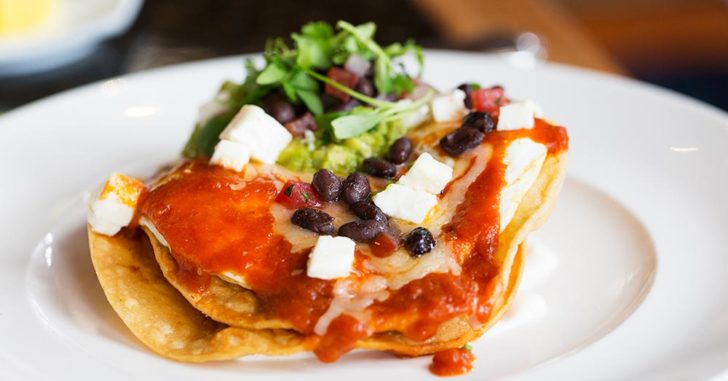 Huevos Rancheros
(makes 4 servings)
Ingredients
3 medium jalapeno peppers, halved, seeded, and the ribs removed
1 1/2lbs plum tomatoes cored and halved
1/2 medium yellow onion, cut into 1/2-inch wedges
2 medium cloves garlic, peeled
1 tablespoon tomato paste
salt
3 tablespoons vegetable oil
1/2 teaspoon ground cumin
1/8 teaspoon cayenne pepper
3 tablespoons minced fresh cilantro leaves
black pepper
1-2 tablespoons lime juice
4 corn tortillas
4 large eggs
1 cup shredded cheddar cheese
1 cup refried beans with green chilies (optional)
1 red onion, diced for garnish
Directions
To assemble the salsa, preheat the oven to 375F.
Mince one jalapeno and set aside.
In a medium bowl, combine tomatoes, remaining jalapenos, onion, garlic, tomato paste, 1 teaspoon salt, 2 tablespoons oil, cumin, and cayenne. Toss to mix thoroughly.
Place vegetables cut-side down on a rimmed baking sheet and roast until the tomatoes are tender and the skins begin to shrivel and brown (about 30 to 45 minutes).
Let vegetables cool for about 10 minutes.
Transfer onions, garlic, and jalapenos to a food processor or blender and process until broken down (about 10 seconds), pausing halfway through to scrape the sides with a rubber spatula.
Add tomatoes and process until the salsa is slightly chunky (about 10 more seconds).
Add 2 tablespoons cilantro, reserved jalapeno, salt, pepper, and lime juice to taste.
To assemble the huevos rancheros, bring salsa to a gentle simmer
Remove from the heat, and make four shallow wells in the salsa with the back of a large spoon.
Break one egg into a cup, then gently pour the egg into a well in the salsa. repeat with remaining eggs.
Season each egg with salt and pepper to taste, then cover the skillet and place over medium-low heat.
Cook until you've reached the desired consistency. 4 to 5 minutes will give you runny yolks, and 6 to 7 minutes will give you set yolks.
Meanwhile, heat remaining 1 tablespoon oil over medium-high heat.
Fry tortillas one at a time until firm, but not crisp.
Remove to paper towels and pat down.
Place tortillas on serving plates, and divide refried beans between them if using.
Gently scoop and place one egg onto each tortilla, then spoon the salsa around each egg, covering tortillas.
Sprinkle with cheese and red onion, then add cilantro for garnish.
Enjoy!
Recipe adapted from Food Network
SKM: below-content placeholder
Whizzco for 12T