While we've never had any problem eating our veggies, if ever there were a sure-fire way to get us to eat more, loading said veggies up with cheese would be the way to do it! Lucky for you, we have just the recipe to hit the spot!
This veggie bake is absolutely amazing, as it's made up of yummy roasted zucchini and eggplant, and then paired up with a spruced up tomato sauce and an obscene amount of cheese. While it's not exactly the healthiest, this dish is a great way to get people to eat more greens and we promise you it'll get scarfed down every time you make it. No exceptions. Whether it's for a regular weeknight dinner or for when you're having guests over, no one can deny this dish's tasty greatness!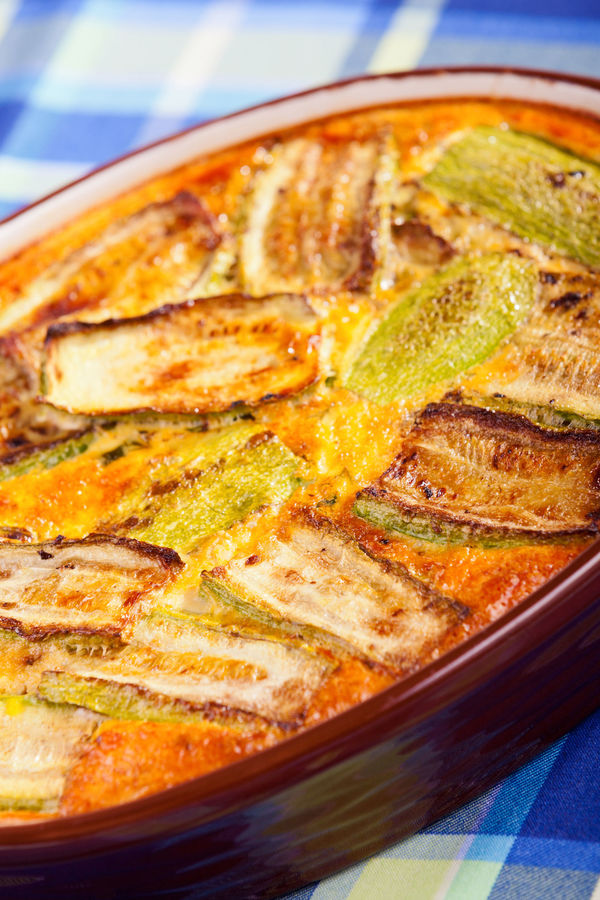 Cheesy Zucchini Eggplant Casserole
Serves 6
Ingredients
3 medium zucchini, thinly sliced lengthwise (1/4-inch thick)
1 eggplant, thinly sliced lengthwise (1/4-inch thick)
2 cups tomato sauce (homemade or stoure-bought)
1 cup fontina cheese, grated
1 cup parmesan cheese, grated
1/3 cup fresh basil, roughly chopped
2-3 tablespoons olive oil, plu extra for greasing
1/2 teaspoon garlic salt
kosher salt and freshly ground pepper, to taste
Directions
Preheat oven to 425º F and lightly grease 2 baking sheets with olive oil.
Place zucchini and eggplant strips in a large bowl and toss with 2 tablespoons olive oil and garlic salt. Season (generously) with salt and/or pepper.
Once coated, spread veggie strips out on baking sheets and bake for 15 minutes, or until softened and tender.
Combine tomato sauce and fresh basil in a saucepan over medium heat. Cook until basil is fragrant and sauce is warmed through.
Remove baking sheets from oven and begin to form a single layer with 1/3 of zucchini and eggplant strips in a large baking dish.
Top with 1 cup tomato basil sauce, 1/2 cup fontina cheese and 1/2 cup parmesan.
Repeat with another layer of veggie strips, and remaining sauce and cheeses.
Add final layer of zucchini and eggplant and place baking dish in oven.
Bake for 20 minutes, or until sauce is bubbly and cheese is melted.
Remove from oven and let cool 5 minutes before serving.
Recipe adapted from Food And Wine
SKM: below-content placeholder
Whizzco for 12T