Hot cross buns are a delicious Easter tradition.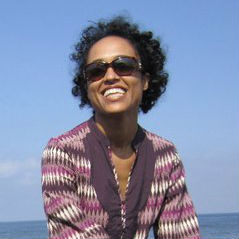 Sarah Cool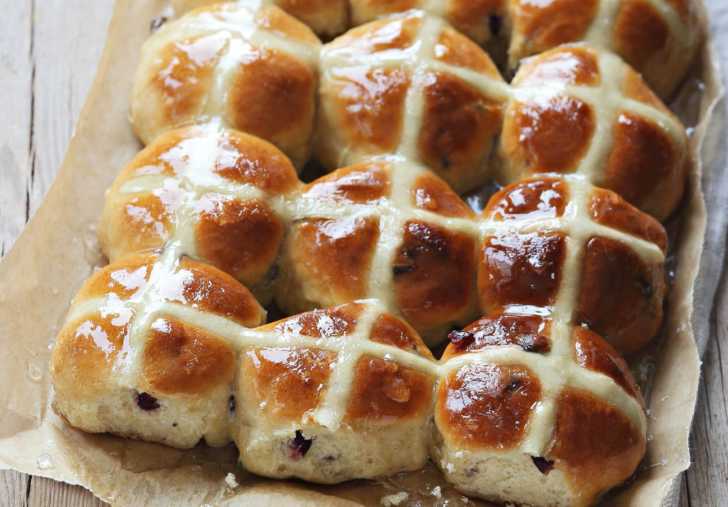 It's an Easter tradition, one that's humble yet delicious: hot cross buns. Hot cross buns are a beloved Easter sweet bread made with currants or raisins and orange zest. It's also a song that many of us had to learn how to play on the dreaded recorder when we were young. These buns do take a little time and patience, as many homemade breads do, but the end result is well worth the wait. Hot cross buns are a delightful addition to your Easter brunch and a great family baking project for your Easter weekend.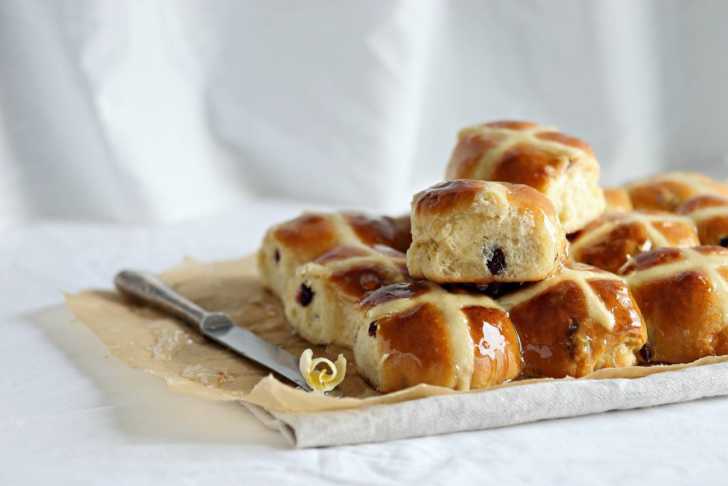 My kids love our annual tradition of making hot cross buns. It's a lovely visual representation for the Easter celebration as well as a delightful way to share something fresh and homemade with the ones we love. What makes these buns "cross" is that you'll adorn the top of the buns with a flour-water paste to create the cross, giving them their name. Inside the buns will be a soft, light bread that's mixed with dried fruit and fresh orange citrus.
As for the fruits, I like to use raisins, craisins, or even dried cherries that I've roughly chopped into smaller bits. And the orange citrus really adds something light and fresh to the bread dough. When making bread, you'll need time to let the dough rise so the bread will be airy and get that nice domed shape once rolled into individual buns.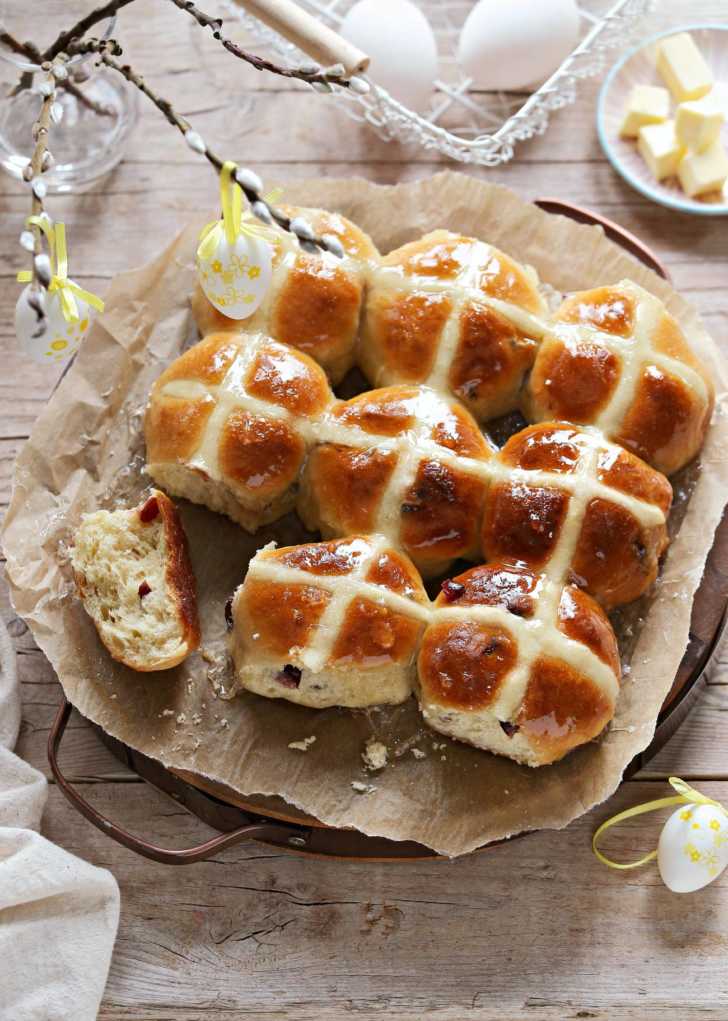 On top of these golden buns are two essentials: flour and jam. The cross is a simple combination of flour and water to create a paste that I'll pipe into grooves that I've gently pressed into the tops of the dough. These will retain a lighter color that will make the image of the cross stand out on the top of the bun. Now, the jam and this is very important, as the jam will give the buns that irresistible sticky glossiness.
I've made these with and without bread flour, so don't feel like you need to go out and buy bread flour. While it will change the texture, I think the end result will still be delicious. If you can, though, give bread flour a try. Regardless, these golden and glossy hot cross buns are an Easter brunch essential, fun to make and so good to eat.
Easter Hot Cross Buns
Makes 12-15 buns
30m prep time
13m cook time
3h inactive
For the Bread Dough
3 ½ cups bread flour (all-purpose is ok)
½ cup brown sugar
2 ¼ tablespoons instant yeast
1 teaspoon kosher salt
¼ cup unsalted butter, melted
1 large egg, lightly beaten
1 teaspoon vanilla
1 cup craisins or dried cherries
1 orange, zested
1 teaspoon cinnamon
1 teaspoon cardamom
For the Cross
½ cup room temperature water
⅔ cup flour
For the Glaze
¼ cup apricot jam or orange marmalade
Preparation
Whisk flour, brown sugar, instant yeast, and salt together in a large bowl.
In a separate bowl, whisk together the milk, egg, melted butter, and vanilla. Create a well in the dry ingredients and pour the wet ingredients into the well. Stir until dough comes together; note: it will be sticky.
Generously flour a clean work surface and turn the dough onto the prepared area. Knead the dough until it becomes smooth and stretchy, no more than 5 minutes (you don't want to overwork the dough).
Place the ball of dough into an oiled bowl and clever with plastic wrap. Set aside for 1 hour.
After an hour, add the zest, dried fruit, and spices. Knead in the bowl to incorporate the ingredients. Cover again with plastic wrap and set aside for 1 hour.
Place the dough onto a clean work surface. Divide into approximately 15 even pieces. Roll the pieces into a ball. Place onto a half-sheet pan lined with wax paper. Cover again with plastic wrap and set aside for 1 hour.
Preheat oven to 425°F. Prepare the cross by mixing flour with water, 1 tablespoon at a time up to 5 tablespoons of water until thick paste forms.
Gently with a knife or a pastry scraper, impress a cross into each roll. Pipe the flour mixture into this impression to create the cross.
Bake for 15-20 minutes or until the tops of the buns are golden brown.
Let the buns cool slightly before applying the glaze. To glaze, microwave the jam until just liquified. Brush the jam-glaze over top of each bun. Enjoy!
Recipe adapted from Brown Eyed Bake.
SKM: below-content placeholder
Whizzco for 12T