If you're looking for a great dessert that looks delightfully fancy, why not try a classic Swiss roll (sometimes known as a jelly or cream roll)? Its classic spiral shape make it look like it's baked like that, but truthfully you spread the cream on the already baked sponge cake, then roll it up after.
For our recipe, we wanted to fill the Swiss roll with the taste of fresh berries. What better to use in April than fresh strawberries? For our filling, we created a simple strawberry whipped cream with some processed strawberries mixed in. To add yet another great variation in texture, we mixed in coarsely chopped strawberries. Keep reading below for this fantastic recipe…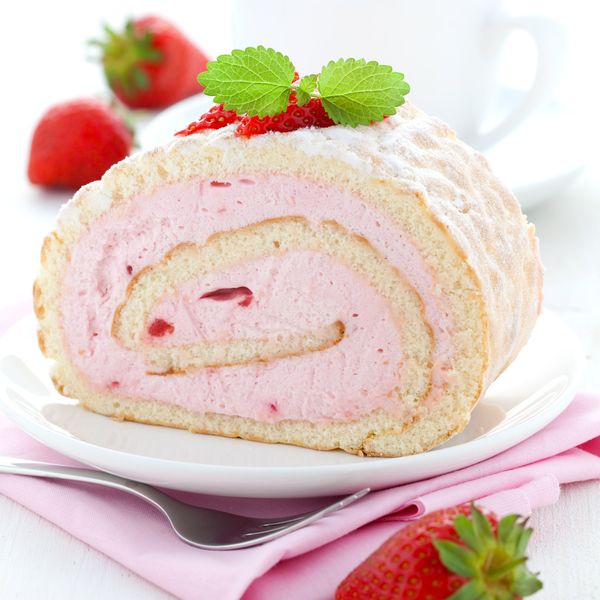 Strawberry Cream Swiss Roll
(makes 8 servings)
Ingredients
SPONGE CAKE
4 eggs
1/2 cupcaster sugar plus more for topping
2 tablespoons warm water
1 teaspoon vanilla extract
1/2 cupflour plus more for dusting
FILLING
1 cup heavy cream
1/3 cup caster sugar
4 tablespoons pureed strawberries
1/2 cup coarsely chopped strawberries
Directions
Preheat the oven to 375F. Line the base of a Swiss roll or jelly roll pan with parchment paper. Brush the base and sides of the pan with melted butter and dust with flour.
In a large bowl, whisk together the eggs and sugar until light and fluffy, then add the water and vanilla extract. Sift in the flour, about a third at a time, and fold it into the egg mixture, adding more flour once incorporated until all the flour is in and incorporated.
Gently pour the mixture into the prepared pan and bake in the oven until the center of the cake is slightly springy (about 12 to 15 minutes).
Spread out a piece of parchment paper on a work surface and sprinkle evenly with caster sugar. Turn or invert the Swiss roll pan onto the sugared parchment paper and carefully remove the tin and parchment paper from the bottom of the cake.
Place a slightly damp, clean kitchen towel over the cake while it cools (this will keep it moist).
Hull and slice 1 cup of strawberries, then add to a blender or food processor. Process until blended into a puree. You want about 4 tablespoons puree, so add more sliced strawberries if needed. Hull and coarsely chop another 1/2 cup strawberries.
Whip the heavy cream until it begins to form soft peaks. Mix in the sugar until stiff peaks begin to form, then mix in the pureed strawberries. Fold in the chopped strawberries. Spread the whipped cream mixture over the sponge cake.
With the longest side facing you, roll up the Swiss roll away from you then transfer to a plate to serve. Sprinkle the cake with more caster sugar or dust with confectioners' sugar.
Enjoy!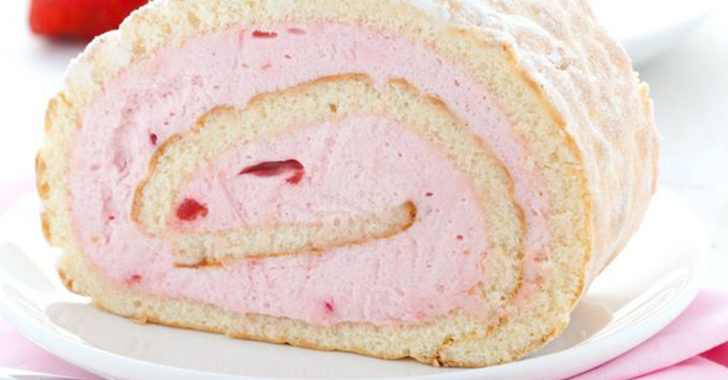 Recipe adapted fromThe Cooking Channel
SKM: below-content placeholder
Whizzco for 12T