Typically we associate gingerbread with the holiday season: gingerbread men, houses, etc. But that doesn't mean you have to forgo gingerbread the rest of the year! We might not be making festive cookies with them right now, but it still makes for a great treat in another form: a simple cake or bread loaf.
At its heart, gingerbread is a deceptively plain treat with a rich, slightly tangy flavor. Today's recipe builds on that and adds a little hint of a bitter, caramel flavor to the mix through the addition of Guinness (or truthfully, any oatmeal stout). Bake this dessert in a square pan and serve it as delicious cubes of bread. It hits the spot when served with a hot drink like a good, black tea or a post-dinner coffee, but it's also delicious when served with some diced mango, or some plums. Keep reading below for our favorite gingerbread recipe…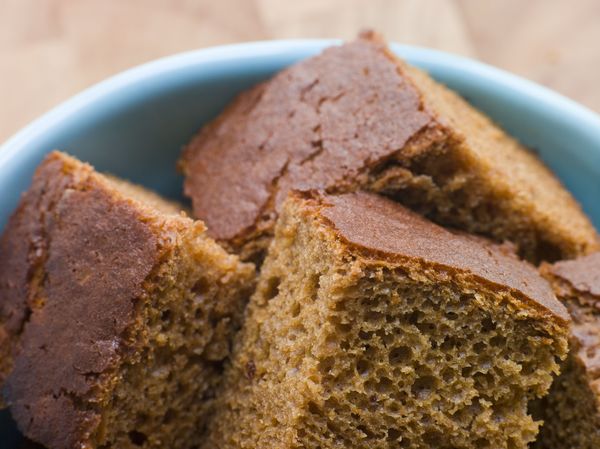 Guinness Gingerbread
(makes 8-10 servings)
Ingredients
3/4cup Guinness (or oatmeal stout)
1 cup molasses
1/2 teaspoon baking soda
3/4 cup packed dark brown sugar
1/4 cup sugar
1 1/2 cups flour
2 tablespoons ground ginger
1/2 teaspoon baking powder
1/2 teaspoon salt
1/2 teaspoon cinnamon
1/4 teaspoon nutmeg
1/4 teaspoon black pepper
a pinch of cardamom
2 large eggs
1/3 cup vegetable oil
1 tablespoon freshly grated ginger
Directions
Preheat the oven to 350F. Grease and flour an 8″ square baking pan.
Bring the stout to a boil in a medium saucepan over medium heat, stirring occasionally. Remove from the heat and stir in the baking soda. Once the foaming is over, stir in the molasses, brown sugar, and granulated sugar until dissolved. Set aside.
Whisk together flour, ground ginger, baking powder, salt, cinnamon, nutmeg, black pepper, and cardamom in a large bowl and set aside.
Transfer the stout and molasses mixture to a separate large bowl, then whisk in eggs, oil, and grated ginger until combined. Slowly whisk the wet mixture into the dry mixture, adding only a third at a time, and stirring until smooth after each batch of added wet mixture.
Transfer the batter to the prepared pan and gently tap the pan against the counter a few times to dislodge any air bubbles.
bake for 35 to 45 minutes, or until the top of the cake is just firm to the touch and a toothpick inserted in the center comes out clean. Cool the cake in the pan on a wire rack (about 1 1/2 hours). Cut into squares and serve.
Enjoy!
Recipe adapted from America's Test Kitchen
SKM: below-content placeholder
Whizzco for 12T