This delectable French dessert is so lovely; perhaps due to the fact that it makes us feel very Parisian when we indulge in them or maybe just because it's such a simple pastry that carries such a rich treat inside. Either way, we can't get enough! Sort of a spin-off of the profiterole, using the same "pate au choux" pastry dough, our eclairs take things a step further with their creamy chocolate filling. This recipe is excellent if you want to impress guests (or your family), and while it might seem intimidating, we promise you it's not get ready to accept lots of compliments with these because everyone will be raving about them!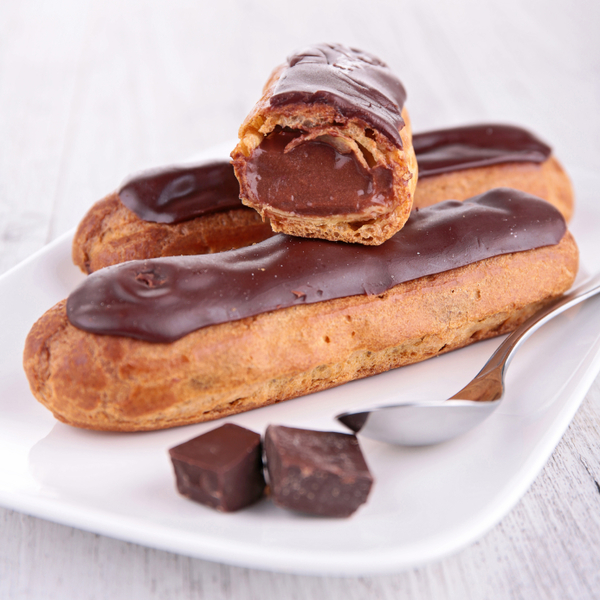 Chocolate eclairs
Makes 18
Ingredients
Pastry:
1/2 cup whole milk
1/2 cup water
1 cup all-purpose flour
4 large eggs
1 stick butter
1 teaspoon sugar
1/4 teaspoon salt
Chocolate Sauce:
12 oz. semisweet chocolate chips
2/3 cup heavy cream
1 teaspoon vanilla
1/2 teaspoon salt
Chocolate Filling:
2 cups whole milk
4 egg yolks
1/2 cup sugar
1/4 cup flour
1 cup semi-sweet or bittersweet chocolate, shaved, melted
2 1/2 tablespoons unsalted butter, cubed, room temperature
Directions
Start by making the pastry cream and bring milk to a boil in a medium saucepan.
In a medium bowl, whisk together the egg yolks, sugar and flour.
Pour a ladle of hot milk into the yolks to temper them and keep them from cooking, whisking continuously. Bit by bit, pour in the rest of hot milk, making sure to continue stirring.
Once all the milk is incorporated, strain egg mixture back into saucepan, place over medium heat and bring to a boil. Whisk for 1-2 minutes, then stir in melted chocolate until completely incorporated.
Pour pastry cream into a bowl and set in an ice bath to stop it from cooking further. Continue to stir to keep it smooth.
Using a candy thermometer, track temperature until it reaches 140º F, then stir in cubed butter and continuously stir until smooth.
Cover with plastic wrap (directly touching the surface so a film doesn't develop on the top of cream) and refrigerate until cool.
Preheat oven to 425º F and place oven racks in the middle of oven. Line 1-2 baking sheets with parchment paper.
In a medium saucepan over medium-high heat, combine butter, milk, water, sugar and salt, and bring to a boil. Remove from heat and add flour all at once, stirring constantly, until well incorporated.
Return to heat and cook, stirring until dough is shiny and smooth to the touch, and there is a fine film of flour on the bottom of the pan. 5-7 minutes.
Turn dough out into a mixer or food processor and mix in eggs one at a time. Beat until everything is combined and mixture is thick and glossy.
Spoon mixture into a pastry bag and pipe dough onto parchment-lined baking sheet in 1×5-inch strips. Make sure to leave space between them, as they will spread.
Run a fork lightly over the top of dough to allow for even baking.

Optional: brush with egg wash. (1 beaten egg.)

Place in oven and bake for 20 minutes. Then, without opening the door, turn off heat and let eclairs sit for another 10 minutes.
Remove from oven, poke a hole in the side of each pastry to let steam escape and let cool completely.
Spoon chocolate cream into piping bag fitted with a small tip and set aside.
Set up a double-boiler by placing a heatproof bowl over a small saucepan, 2-3 inches full of water, over medium heat.
Pour in chocolate chips, heavy cream, vanilla extract and salt, and stir until melted.
Take each pastry and dip it in chocolate glaze. Then carefully pipe chocolate cream into each eclair, being careful not too overfill.
Serve immediately or store, refrigerated, in an airtight container for 2-3 days.
Recipe adapted from Use Real Butter
SKM: below-content placeholder
Whizzco for 12T