Sometimes that chocolate craving strikes, and when that happens, there's nothing better to have in your back pocket then a good chocolate cupcake recipe. When the craving hit me recently, that's exactly what I wanted: The moist crumb, creamy frosting, and intense chocolate flavor to really hit that sweet spot.
To get our recipe just right, we had to focus on getting the chocolate perfect. We combined bittersweet chocolate (go for the highest quality you can find like Ghiradelli or Callebaut Intende Dark Chocolate L-60-40NV) with Dutch-processed cocoa to start off the chocolate flavor. For moisture (and just a little tang) we added some sour cream to the batter. Keep reading below for this decadent cupcake recipe…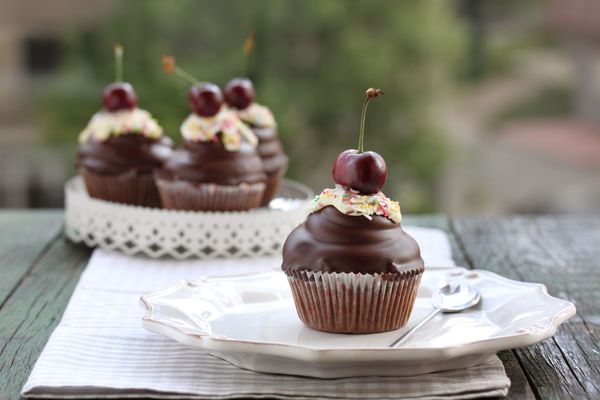 Chocolate Cupcakes
Ingredients
CUPCAKES
8 tablespoons unsalted butter, cut into 4 pieces
2oz bittersweet chocolate, chopped
1/2 cup Dutch-processed cocoa
3/4 cup unbleached flour
1/2 teaspoon baking soda
3/4 teaspoon baking powder
2 large eggs
3/4 cup sugar
1 teaspoon vanilla extract
1/2 cup sour cream
1/2 teaspoon table salt
FROSTING
16oz bittersweet chocolate, chopped
1/2 cup heavy cream
2 tablespoons corn syrup
a pinch of table salt
2/3 cup confectioners sugar
1 teaspoon vanilla extract
8 tablespoons unsalted butter cut into 8 pieces
Directions
Preheat the oven to 350F. Line a cupcake tin with baking-cup liners.
Combine butter, chocolate, and cocoa in a medium, heatproof bowl. Set the bowl over a saucepan of barely simmering water and heat the mixture until the butter and chocolate are melted. Whisk until smooth and combined. Set aside to cool until just warm to the touch.
Whisk together flour, baking soda, and baking powder in a small bowl.
In a separate bowl, whisk together the eggs, then whisk in sugar, vanilla, and salt until fully incorporated. Add the cooled chocolate mixture and whisk until combined. Whisk in one-third of the flour mixture until combined. Whisk in the sour cream next, then sift in the remaining flour mixture until homogeneous and thick.
Divide the batter evenly between the cupcake cups and bake for 18 to 20 minutes, or until a skewer inserted into the center comes out clean.
Cool the cupcakes in the cupcake pan on a wire rack until cool enough to handle (about 15 minutes). Carefully lift each cupcake from the pan and set on the wire rack. Cool to room temperature before icing (about another 30 minutes).
While the cupcakes cool, prepare the frosting. Place the chocolate in a food processor. Bring cream, corn syrup, and salt to boil in a small saucepan and stir to combine. with the food processor running, gradually add the hot cream mixture through the feed tube and process until the mixture is smooth (about 1 minute), scraping down the bowl once. Add the sugar and vanilla and process until combined (about another 30 seconds, scraping down the bowl again. With the machine running, add butter one piece at a time and process until smooth with no butter chunks remaining (about another minute). Transfer to a small bowl and let stand at room temperature until thick and spreadable (about 30 minutes).
To ice the cupcakes, mound about 2 tablespoons of the frosting on the center of each cupcake. Use a small spatula or a butter knife to spread the icing to the edge of the cupcake.
Enjoy!
Recipe adapted fromCupcake Project
SKM: below-content placeholder
Whizzco for 12T