Jambalaya is the OG one-pot dinner and this version you'll want to have every time!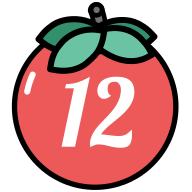 Dom Ruane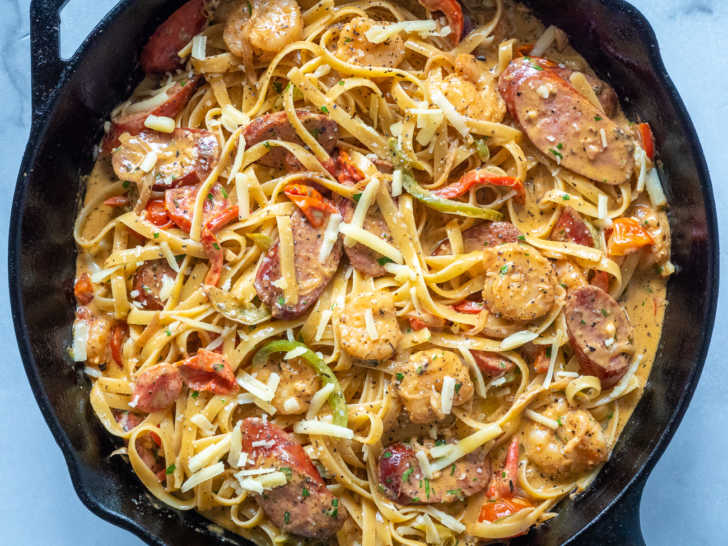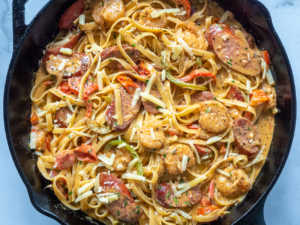 I don't know about you, but I am a HUGE fan of jambalaya. The flavors of the dish are all embedded in the ingredients you make it with giving the stew its signature smoky flavor. Jambalaya is all about building flavors through layering the cooking process, then transmitting all that flavor to a plain carb like rice, or in this case, the pasta. I dreamed up this recipe with leftover ingredients and a lack of rice. Jambalaya was one of the first dinners I made for my Italian family after culinary school because it doesn't have any "food no-no's", with the exception of shrimp. Picky eaters welcome! This is one of those dishes you cook for your friends and family at 2 AM after a long Halloween party using leftover take-out white rice and a bottle of hot sauce! If it's good enough at midnight on Bourbon Street in the French Quarter with a little hot sauce, it's good enough for us! The perfect warm comfort food!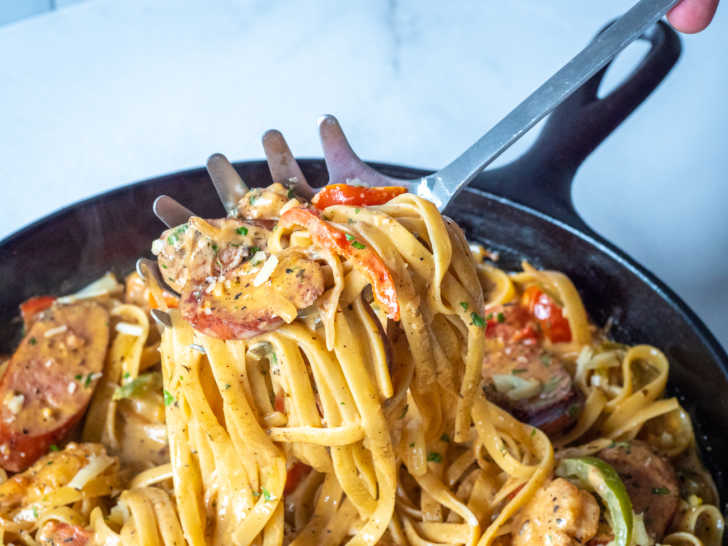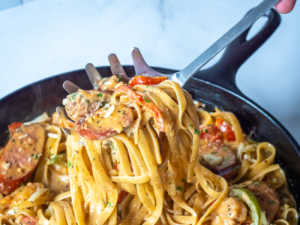 Who says Jambalaya is only a rice dish?! As a chef in school, you learn the "correct" way of cooking recipes and I can honor that learning as I grow, but I also get to write some of my own rules too. Now even though jambalaya is influenced by the Spanish paella, French influence was strong in New Orleans's childhood. I wanted to try and honor the dishes' French roots by reducing a cream sauce and folding in Gruyere cheese. I'm soo happy with the way this recipe came out, it really highlights all the beautiful flavors of the stew, while also making the dish feel fresh & something new! This is an instant hit that I hope you make for date night or to impress your family.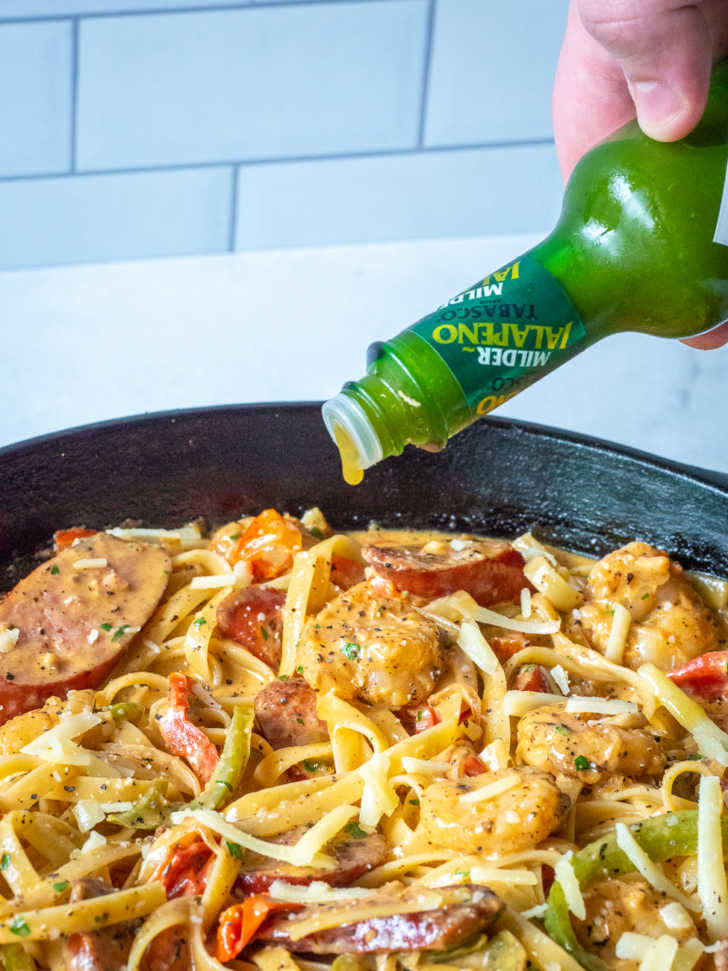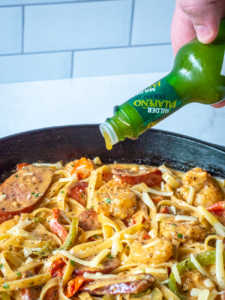 Classic jambalaya flavor to me is a little smoked sausage and a hint of fishy funk from the prawns. That being said, you can totally substitute shrimp for chicken. My mom doesn't like foods that are too smoky, for example… (I know she's wild) in which case, substitute andouille for kielbasa, a little less subtle smoky flavor. The best thing about recipes with a lot of components is that you can improvise if you don't have all of them. My gift to you is to provide you with an outline. Cook the rice ahead of time, make the sauce a day in advance, just make the recipe and I promise you won't be disappointed.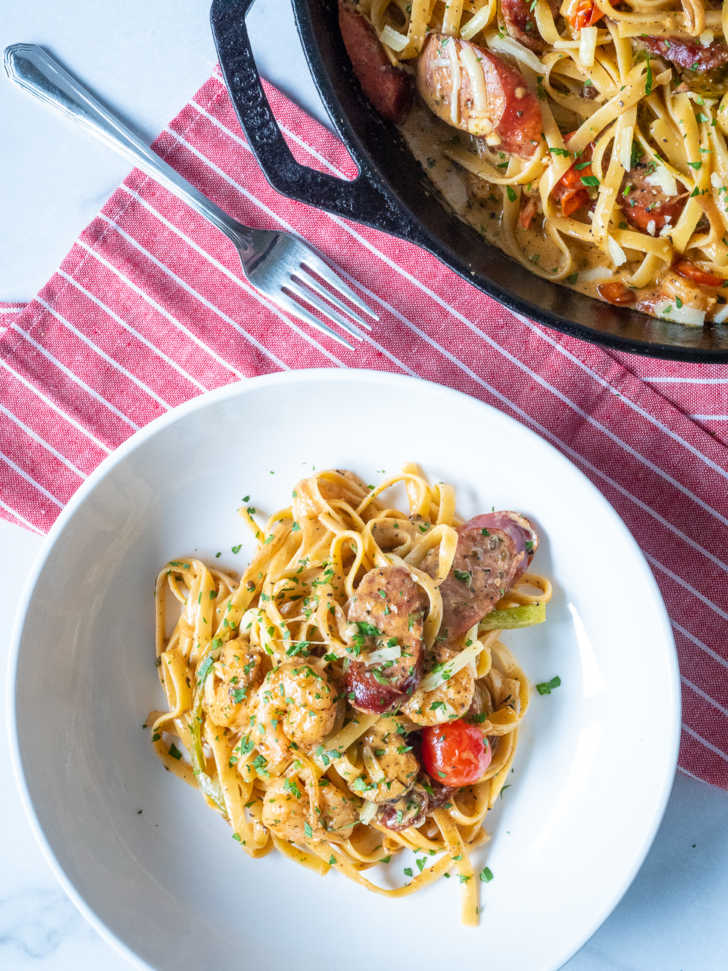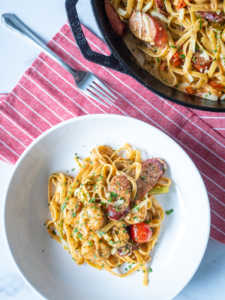 Creamy Jambalaya Pasta
Serves 4 - 6
12m prep time
20m cook time
Ingredients:
10 oz Fettucine, boiled and drained
1 lb shrimp, peeled and deveined
2 tablespoons salted butter
3 tablespoons cajun seasoning
8 oz smoked sausage, sliced
1 onion, sliced thin
1 green bell pepper, sliced thin
1/2 red bell pepper, sliced thin
4 garlic cloves, minced
1 pint cherry tomatoes, halved
1 1/2 cups of heavy cream
8 oz Gruyere cheese, grated
2 tablespoons fresh parsley, minced
Directions:
In a large sauce pot, add butter over medium heat.
Season shrimp with Cajun seasoning, sauté in butter for 1 to 2 minutes per side and set aside in a bowl.
Raise the heat to medium high heat and add sausage, onion, and peppers to shrimp pot ; cook until vegetables start to brown, 6 - 8 minutes.
Add garlic and cherry tomatoes to the pot and continue cooking until garlic starts to brown, 3 - 4 minutes.
Add in cream and bring mixture to a boil, reduce cream, stirring constantly. When cream holds a line on the back of the spoon, turn off the heat and add in gruyere cheese, taste for seasoning.
Bring a pot of salted water up to a boil and cook fettuccine until al dente, drain water, reserving 1/2 cup pasta water, and add pasta, parsley, shrimp and a splash of pasta water to cream sauce, stirring to bring everything together.
Santé
SKM: below-content placeholder
Whizzco for 12T