It fills you right up!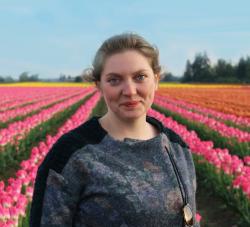 Decatur Macpherson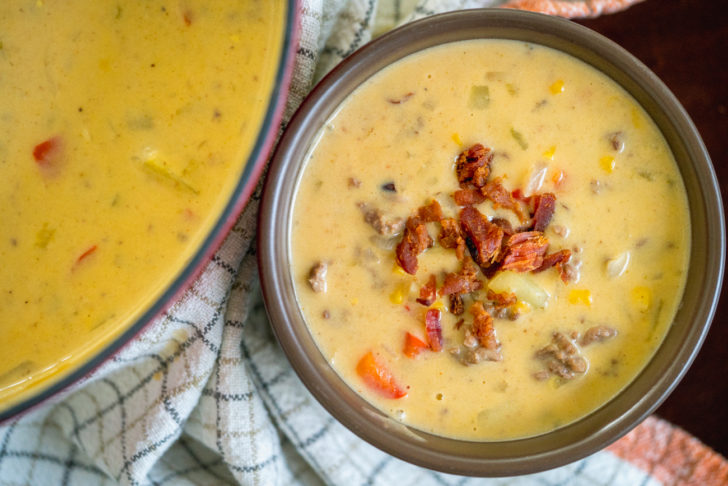 We used to think pretty poorly of soup. We can admit it now that we've seen the light and recognized soup's true greatness, but for a long time we felt it wasn't really a meal if you were just serving soup, since there was no way you could make one filling enough to be the main event of your dinner. Ah, how wrong we were. Now we understand that soup can absolutely be the main course, it just depends on what all you pack in there and how hearty you make it. And we've got news for you: this creamy cowboy soup is about as hearty as it gets!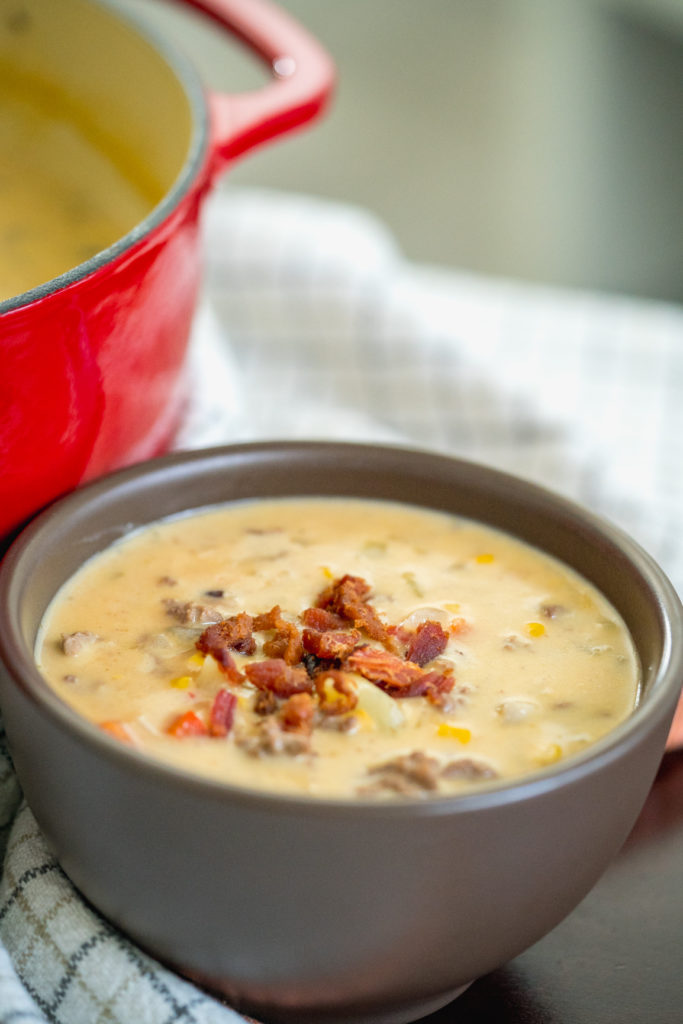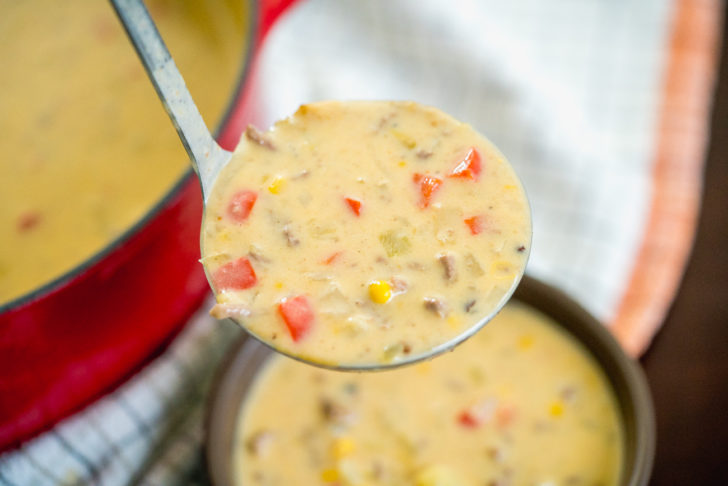 Now this recipe is super versatile considering you can put just about whatever you want in it, but for us, cowboy soup entails some classic southwestern flavors and making sure it's stuffed to the brim with ingredients that will fill you up and keep you full long after you leave the table. Oh, and did we mention it's ridiculously cheesy? Yeah, that's an important part too! Let's break it down for you; this soup's stuffed with ground beef, cheese, onion, potatoes, bell pepper, corn, black beans and green chiles. Yum. Plus, we wanted it to be thick and creamy, so we made it a roux-based soup, ensuring it thickens up and has that dreamy consistency we want.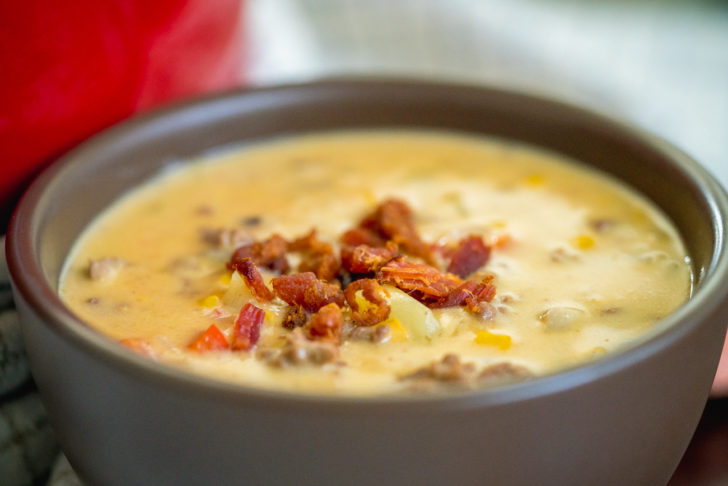 If you've got chicken on-hand instead of beef, throw that in there. Sames goes for turkey or sausage. If you've got sweet potato instead of potato, perfect, in it goes. This is a forgiving ingredient list, and if you've got the cumin and cayenne, along with that thickening roux, you're in business with whatever you throw in there and will be very, very pleased with the finished result!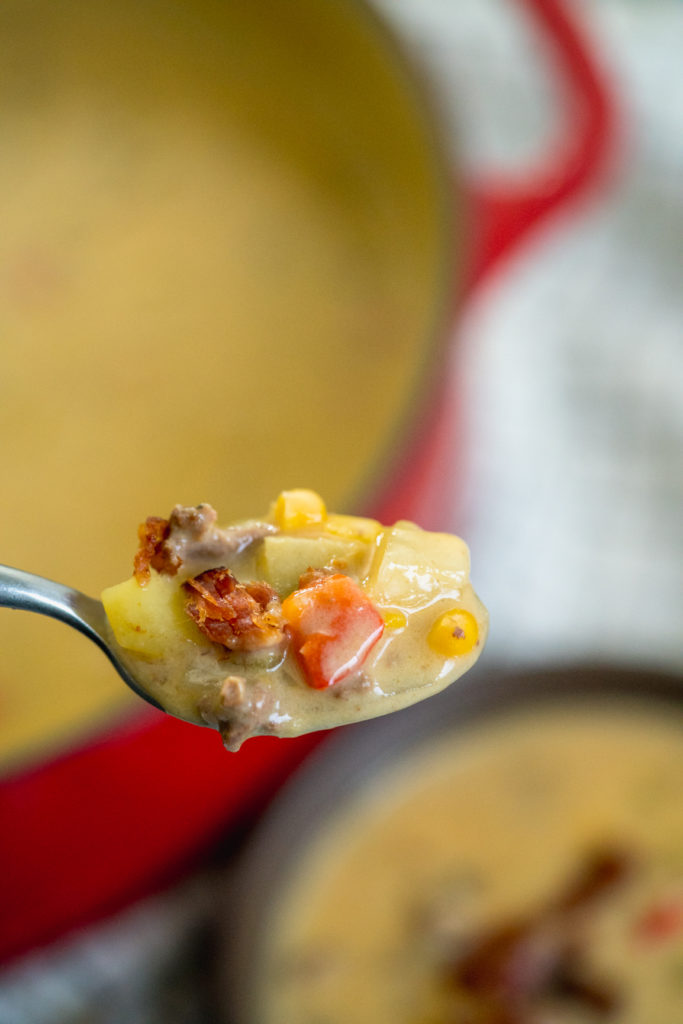 Cowboy Soup
Ingredients
1 pound lean ground beef
1 (16 oz.) package velveeta, cubed
1 cup sharp cheddar cheese, grated
1 yellow onion, finely chopped
4 small potatoes, chopped
1 red bell pepper, seeds removed, diced
1 (13.25 oz.) can whole corn kernels, rinsed and drained
1 (13.25 oz.) can black beans, rinsed and drained
1 (4 oz.) can green chiles
3 cups low-sodium chicken or beef broth
2 1/2 cups whole milk
1/4 cup all-purpose flour
1/4 cup (1/2 stick) unsalted butter
1 teaspoon garlic powder
1 teaspoon cumin
1/2 teaspoon cayenne, optional
bacon bits, optional
kosher salt and freshly ground pepper, to taste
Preparation
In a medium saucepan over medium-high heat, melt butter in skillet, then whisk in flour. Cook roux for 2-3 minutes, or until golden brown, then whisk in whole milk.
Season with salt and pepper, then remove from heat and refrigerate until ready to use.
Heat a large stockpot or Dutch oven over medium-high heat and cook ground beef, breaking it up as it cooks, until browned. Season generously with salt and pepper and garlic powder, then transfer beef to a separate plate and drain all but 2 tablespoons fat.
Add onion, potatoes and bell pepper to Dutch oven and cook for 10-12 minutes, or until veggies are softened and fork tender.
Season with salt and pepper, cumin and cayenne, then add corn, black beans and green chiles.
Return beef to pot and stir in chicken or beef broth. Bring mixture to a boil, then reduce heat and let simmer for 15 minutes.
Stir in refrigerated roux mixture, then add in cubed velveeta. Cover again and cook for another 15 minutes, or until cheese is melted and soup is thick and smooth.
Serve hot, topped with cheese and bacon bits. Enjoy!
SKM: below-content placeholder
Whizzco for 12T