This is a savory Southern treat.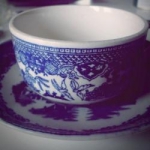 Rose Heichelbech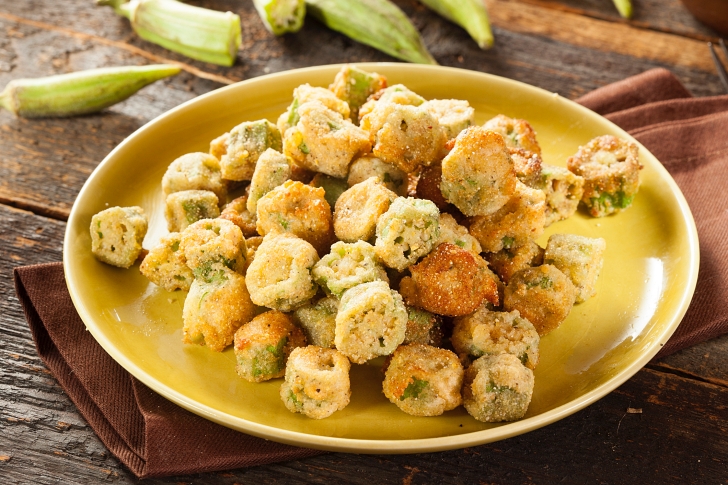 Growing up in the Midwest with a mom who grew in the South means that we had a lot of different types of dishes on the table growing up. BBQ chicken, homemade sweet pickles, and rhubarb-strawberry pie were just a few of treats that were always on the table when spring and summer came around. One of my favorite of these summer dishes was fried okra. Not everyone knows about this wonderful vegetable, but it's one to get acquainted with.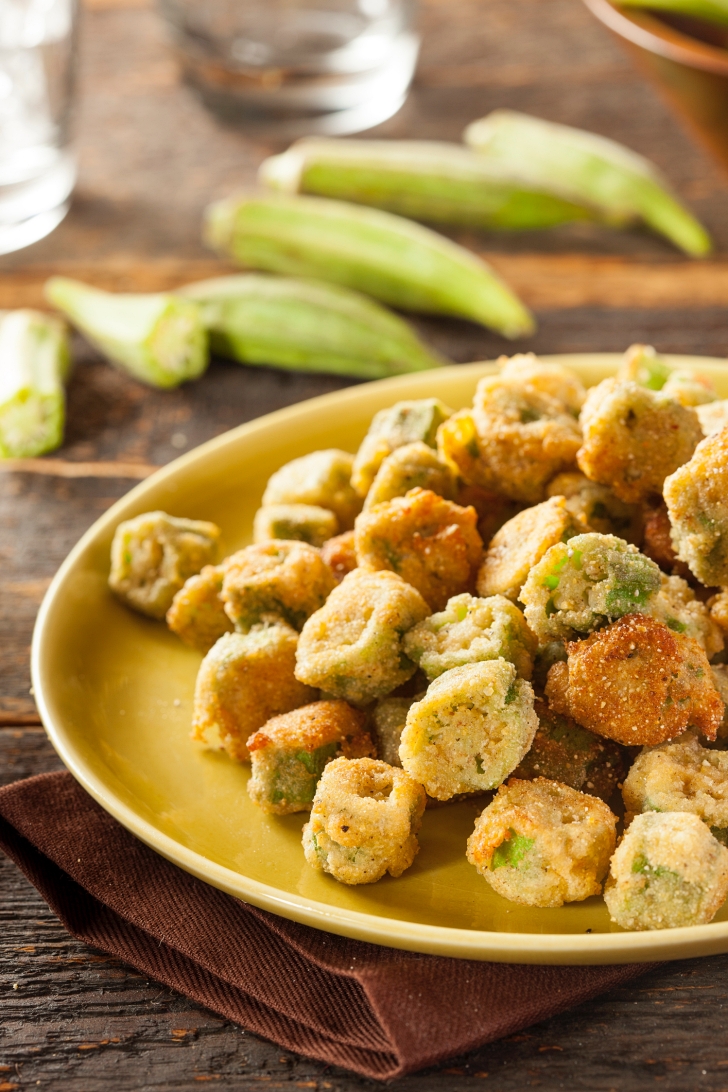 Okra is a green pod-looking vegetable that grows well in the zones 6-11 in the US. The origin of the plant is disputed, but it believed to have been brought from Africa during the Transatlantic slave trade. This vegetable has a lot of minerals and nutrients and it makes an extremely tasty side dish at dinner. If you don't have fresh okra in your garden or at the grocery or farmer's market this summer, you can use frozen okra just fine. Be sure to thaw it before cooking and all should be well.
To start this recipe you'll need to coat the chopped okra in some all-purpose flour. Then dredge in egg before mixing up the cornmeal coating.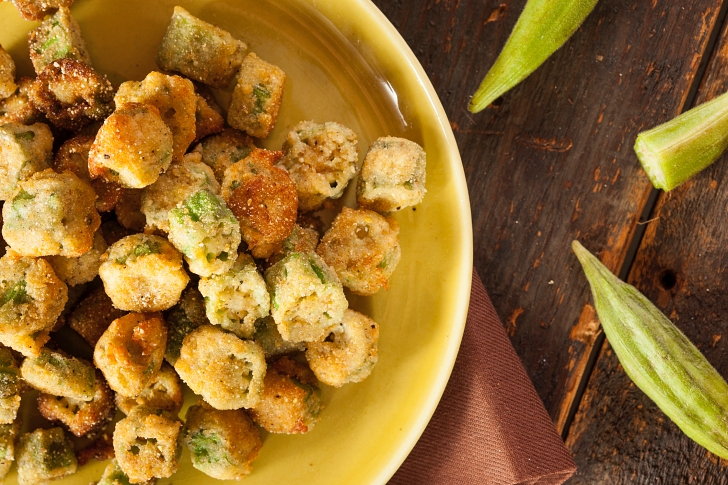 The coating is simple: cornmeal, salt, pepper, and some garlic powder. You can addd whatever spices you want to the mix, but I have found that this simple mixture really is the best for this recipe.
Throw the cornmeal mix in a plastic baggie and toss the okra in the mix 1 cup at a time. Alternately, you can also dredge the okra using 2 forks and a tossing motion instead.
Fry the okra in small bathes in 1″ of 350˚F vegetable oil. Remove to paper towels to drain the excess oil and serve as soon as all the batches are done.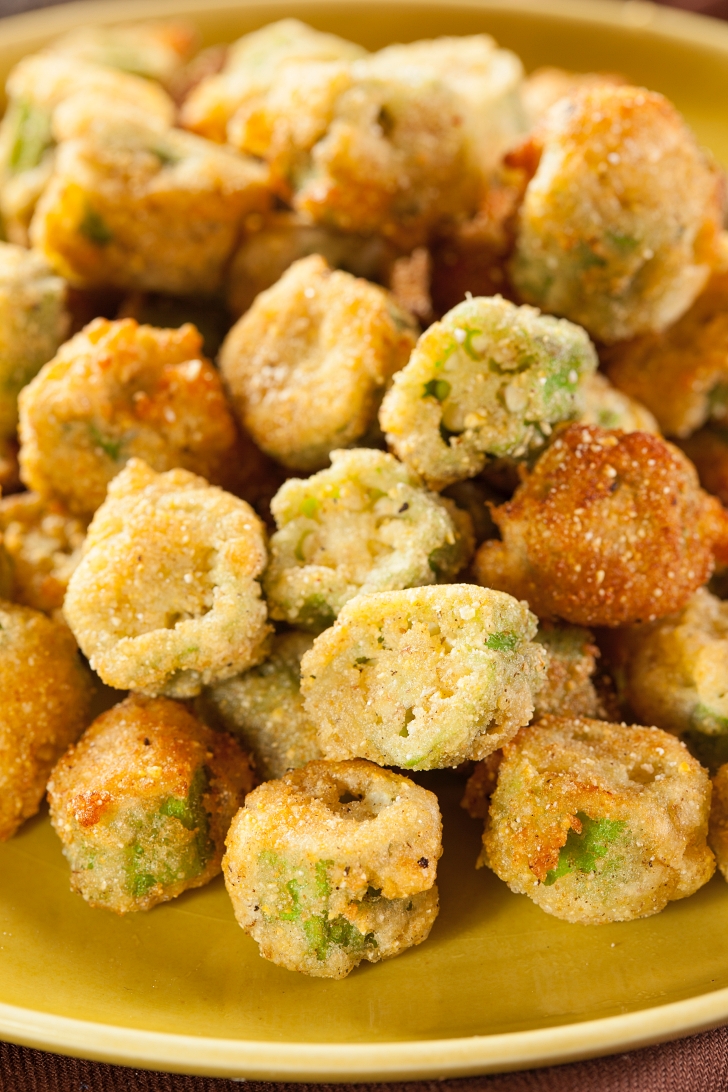 As a kid my mom always served these with ketchup, but a lot of people love to dip their fried okra in ranch dressing. However you choose to have this tasty Southern treat the crispy outside and fresh green taste of okra will always go well together. Try this one for yourself the next time you're looking for a savory vegetable dish.
Cornmeal Fried Okra
Makes 4-6 servings
15m prep time
20m cook time
Ingredients
3-4 cups fresh okra or thawed okra from frozen, cut into 1/ 2" round slices
2 to 3 tablespoons all-purpose flour
1 egg, beaten
1 1/2 cups yellow cornmeal
1 teaspoon salt
1/2 teaspoon pepper
1/ 2 teaspoon garlic powder
Canola or vegetable oil for frying
Preparation
Once okra has been cut (with tips and stems rdicarded) rinse the okra well. Toss okra pieces with all-purpose flour. Use a strainer to shake off excess flour.
In a separate bowl beat egg. Pour okra into egg and toss to coat each piece. In a zipper plastic bag pour cornmeal, salt, pepper, and garlic powder. Pour 1 cup of okra into bag at a time and shake well to coat each piece. Repeat until the okra is all coated. If you don't have a baggie then you can dredge the pieces by tossing the okra in the cornmeal using 2 forks.
Heat enough oil for deep frying to medium-high heat or until a thermometer reads 350˚F. Fry in small batches, removing okra from oil when the outer color is golden brown (about 2 minutes each side.
Place on paper towels to drain excess oil. Serve hot with a side of ketchup, ranch dressing, or your favorite dipping sauce.
Recipe adapted from Insanely Good Recipes.
SKM: below-content placeholder
Whizzco for 12T