Ladies and Gentlemen, you're going to want to open up your pantries for this one…. Gumbo is a much-talked-about Southern/Creole specialty and it truly deserves its reputation—it's amazing! The recipe may seem a little intimidating, lots of veggie chopping involved, so if you've got a food processor, put it to work and remember: a big part of making this dish is relaxing with your feet up while the gumbo simmers away on the stove, so don't let the ingredient list scare you. Bon appétit!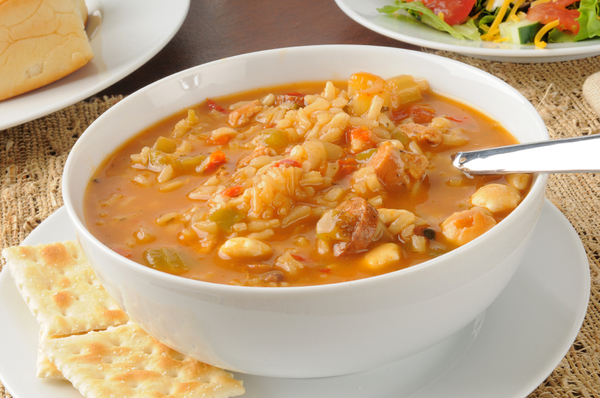 Traditional Louisiana Gumbo
(Makes 10 servings)
Ingredients
12 ounces medium shrimp, peeled, deveined and sliced
8 ounces boneless, skinless chicken breast; trimmed and cut into 1/2-inch pieces
8 ounces andouille sausage, thinly sliced
1/2 cup all-purpose flour
1/3 cup butter
1 large onion, chopped
1 large green bell pepper, diced
1/2 stalk celery, diced
8 cups reduced-sodium chicken broth
2 cups water
2 cup long-grain white rice
15 okra pods, trimmed and cut into 1/2-inch-long pieces (1-2 cups)
4 cloves garlic, minced
2 bay leaf
2 tablespoons canola oil
1 teaspoon Cajun seasoning
1 teaspoon Old Bay seasoning
1/2 teaspoon dried thyme
1/2 teaspoon dried oregano
1/4 teaspoon cayenne pepper
salt and pepper, to taste
hot sauce, to taste
Directions
In a large skillet, start by making a roux. Instead of using bacon fat, melt your butter over medium-low heat and add your flour, whisking constantly until smooth and a deep golden amber color (around 10-15 minutes). Remove from heat and keep whisking until cool.

Tip: It's very easy for roux to burn, so stir continuously and keep an eye on it; reduce heat if flour is browning too quickly.

Mix vegetables (onion, pepper, celery and garlic), chicken and sausage into the roux and return to a simmer. Cook for 10-15 minutes or until vegetables are tender. Remove from heat.
Bring chicken broth and water to a boil in a heavy stockpot and whisk in roux/vegetable/meat mixture. Reduce to a simmer and add okra, salt and pepper, thyme, oregano, cayenne, bay leaves, Cajun and Old Bay seasoning. Cover and cook for 30 minutes.
Stir in rice, cover and cook for another 30 minutes.
Add the shrimp and simmer until shrimp is opaque, another 10 minutes. (Chicken and sausage should be cooked through and rice tender.)
Remove bay leaves, season with salt and pepper, and/or hot sauce.
Serve hot and enjoy!
Tip: Gumbo will continue to release and develop flavors the longer it cooks, so it's okay if it stays on low heat for a little longer. It also freezes well if you don't want to serve immediately.
Recipe adapted fromEating Well
SKM: below-content placeholder
Whizzco for 12T