These cinnamon apple muffins are the perfect way to welcome the changing seasons and, while they certainly wouldn't be considered health food, we like to justify them as our daily serving of fruit, an apple a day, right? We happen to love little surprises in our treats, so the bite-sized pieces of apples make these absolute perfection: crisp and juicy bits that add a nice textural element and fresh flavor.
This recipe makes 2 dozen muffins because we like to have muffins leftover (if we can restrain ourselves from devouring them), either to eat for breakfast or snack throughout the week, or give to friends and family. The people in your life will appreciate that you made these scrumptious muffins and hopefully you'll be paid back in kind (yay, baked goods!) in the not-so-distant future!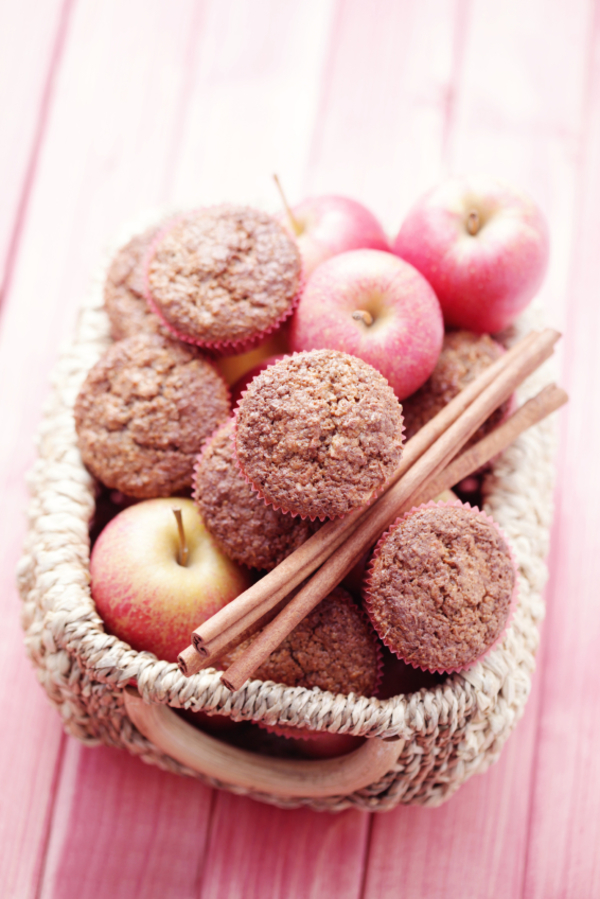 Cinnamon Apple Muffins
Yields 2 dozen
Ingredients
Muffins:
4 cups apples, peeled and diced
4 cups all-purpose flour, plus more for coating apples
1 cup (2 sticks) unsalted butter, room temperature
1 1/2 cups sugar
1/2 cup brown sugar
4 large eggs
1 cup milk
1/2 cup plain, Greek yogurt
2 teaspoons vanilla extract
2 teaspoons cinnamon
1 teaspoon nutmeg
1 teaspoon allspice
1/2 teaspoon cloves
1 1/2 teaspoons baking powder
1 1/2 teaspoons baking soda
1 teaspoon salt
Topping:
3/4 cup butter, melted
3/4 cup sugar
1 teaspoon cinnamon
1/2 teaspoon nutmeg
Directions
Preheat oven to 350º F and line two muffin tins with cupcake liners
In a medium bowl, sift flour, baking powder, baking soda, salt, cinnamon, nutmeg, allspice and cloves together. Set aside.
In a small bowl or dish, toss apple pieces in flour, making sure to evenly coat all sides. This prevents the apples from sinking to the bottom of the muffins.
Cream together the butter and sugars in a separate bowl, until light and fluffy. 4 minutes.
Add eggs, one at a time, waiting until each is fully incorporated before adding the next one. Then mix in the vanilla extract and Greek yogurt.
In turns, alternate slowly add the flour mixture and milk to the wet ingredients, 2-3 tablespoons at a time. Begin and end with the flour mixture. Only mix until there are no more dry streaks and everything is combined well.
Gently fold diced apples into the batter.
Scoop batter into muffin tins so each cup is 2/3-3/4 full. Place in oven and bake for 30-35 minutes, or until tops are lightly browned and centers are just set. Tops should be springy to the touch and toothpick inserted in center should come out clean.
Remove muffins from oven and set aside to cool for 10-15 minutes.
While the muffins are baking, combine topping ingredients in a small bowl and mix well.
Take a fork (or a toothpick) and poke holes in the top of the muffins. Using a spoon, drizzle topping onto all muffinsit will be absorbed into the muffin and give it added flavor.
Recipe adapted from Add A Pinch
SKM: below-content placeholder
Whizzco for 12T