A fusion of store-bought and scratch-made elements come together in one amazing dessert.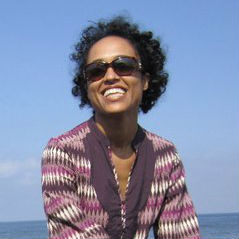 Sarah Cool
This dessert is the perfect combination of store-bought and homemade, and while we could easily have purchased each of these ingredients and put them together in a similar, time-saving fashion, there's just something fun about making certain elements of the dessert from scratch. So we made our own pudding (something we highly recommend because it's just so easy and so, so good) and our own roasted cherries – by the way, these are utterly divine. The end result is an amazing trifle-esque cake that is just beyond good.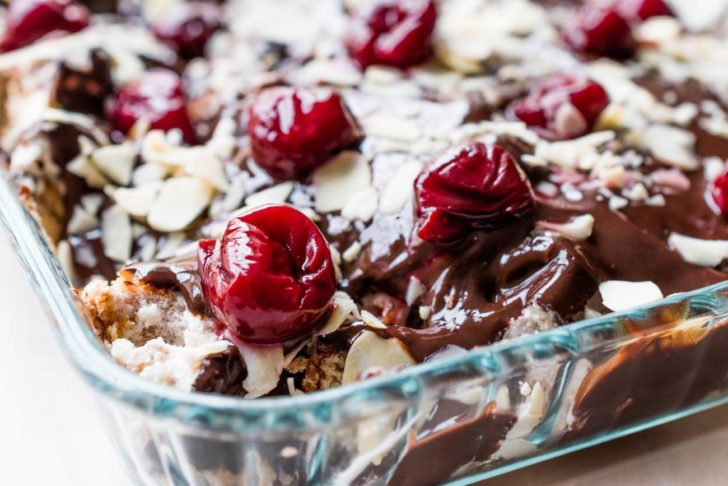 Making your own pudding is actually pretty simple and the difference in taste is profound. Sure, an instant pack is convenient, but give this recipe a go sometime and you'll likely never go back. It's just so much more luxurious and decadent when made with egg yolks. Of all the things in this dish, though, I've got to say, one of my favorite parts of this dessert is one of its garnishes, roasted cherries. You could roast cherries on their own to bring out their natural sweet juices, but on this occasion, the choice was made to roast these red beauties in a sweet balsamic sauce. For a more risqué alternative, swap out the balsamic for bourbon and make drunken cherries instead.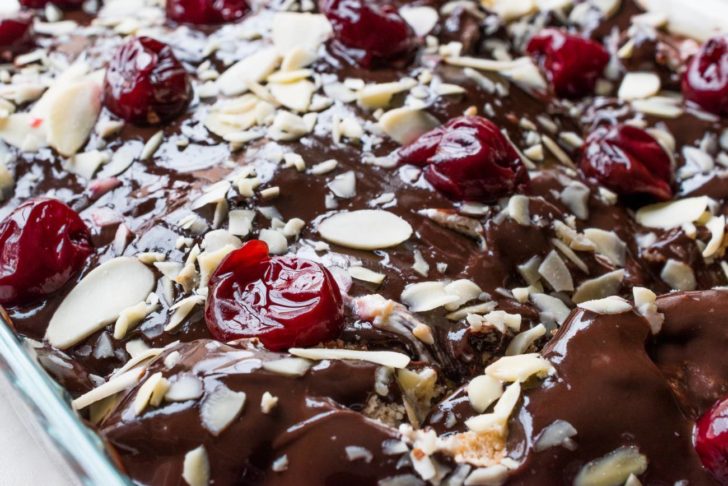 Building the layers of this dish is the last step before digging in with your spoon. First, a layer of angel food cake, then the pudding is gloriously poured over the top followed by slivered almonds scattered over the pudding. Finally, drop spoonfuls of beautifully roasted cherries as the last garnish. Cover your chocolate almond pudding cake with plastic wrap and refrigerate until you're ready to serve it up. Any extra cherries can be stored in a glass jar or airtight container and refrigerated for up to two weeks. A chocolate almond pudding cake, made from scratch and store-bought ingredients is truly something special, a perfect end to a lovely meal.
Chocolate Almond Pudding Cake
Serves 6-8
40 minutes active, 2 hours inactive
Ingredients
1 prepared angel food cake
⅓ cup unsweetened cocoa powder
⅔ cup granulated sugar
2 tablespoons cornstarch
2 ½ cups milk
½ teaspoon kosher salt
2 tablespoons unsalted butter
4 egg yolks
1 teaspoon vanilla extract
1 (12 oz) bag frozen cherries, thawed
4 tablespoons balsamic vinegar (preferably syrupy in texture)
3 tablespoons brown sugar
1 teaspoon almond extract
½ cup slivered almonds
Preparation
Preheat oven to 400°F. Line a baking sheet with aluminum foil and lightly coat with cooking spray.
Mix balsamic vinegar, brown sugar and almond extract in a bowl. Add cherries and toss until well coated. Spread cherries and sauce onto the prepared baking sheet and bake for 25 minutes. Mix halfway for even roasting.
Prepare pudding. Whisk sugar, cocoa, cornstarch, and salt in a saucepan with the heat set to low. Slowly whisk in milk until combined. Add egg yolks, one at a time, and whisk until smooth.
Bring heat to medium and continue stirring until mixture begins to bubble. Bring heat back down to low. Stir until thickened, about 2 minutes.
Pour pudding into a bowl through a strainer to remove any lumps. Stir in butter and vanilla extract.
Take cherries out of oven.
Cut angel food cake into cubes. Scatter into the bottom of a 9x13-inch glass casserole dish.
Pour pudding over top of the angel food cake. Sprinkle over slivered almonds and scatter roasted cherries over top.
Cover dish with plastic wrap and refrigerate until ready to serve.
Recipe adapted from Chocolate, Chocolate And More.
SKM: below-content placeholder
Whizzco for 12T