And you're still getting SOME nutrition!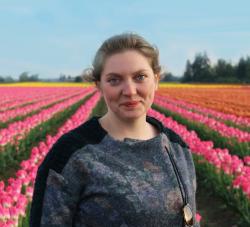 Decatur Macpherson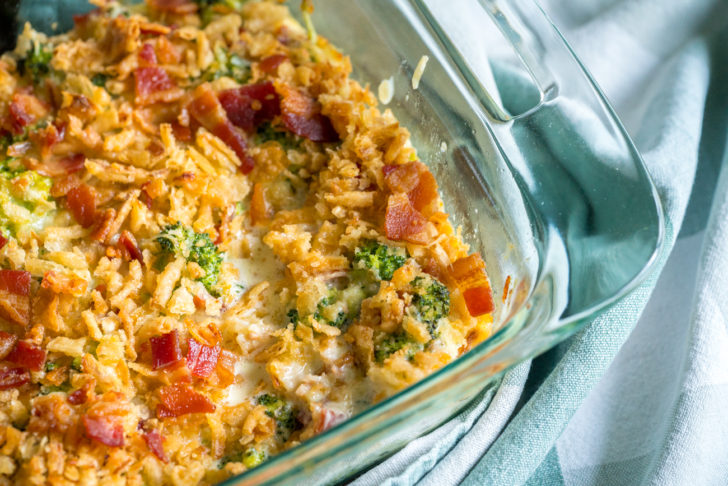 We guess we were lucky in that we never had a problem eating vegetables. We never thought they were gross or icky, never rejected eating something green, and generally liked having veggies in our diet. That's remained true throughout the years and, while we like to let the veggies stand alone sometimes – in a salad or roasted on their own – it's nice to have recipes on hand to dress them up and really make them the main event. Which is just what this fried onion cheesy broccoli bake is all about!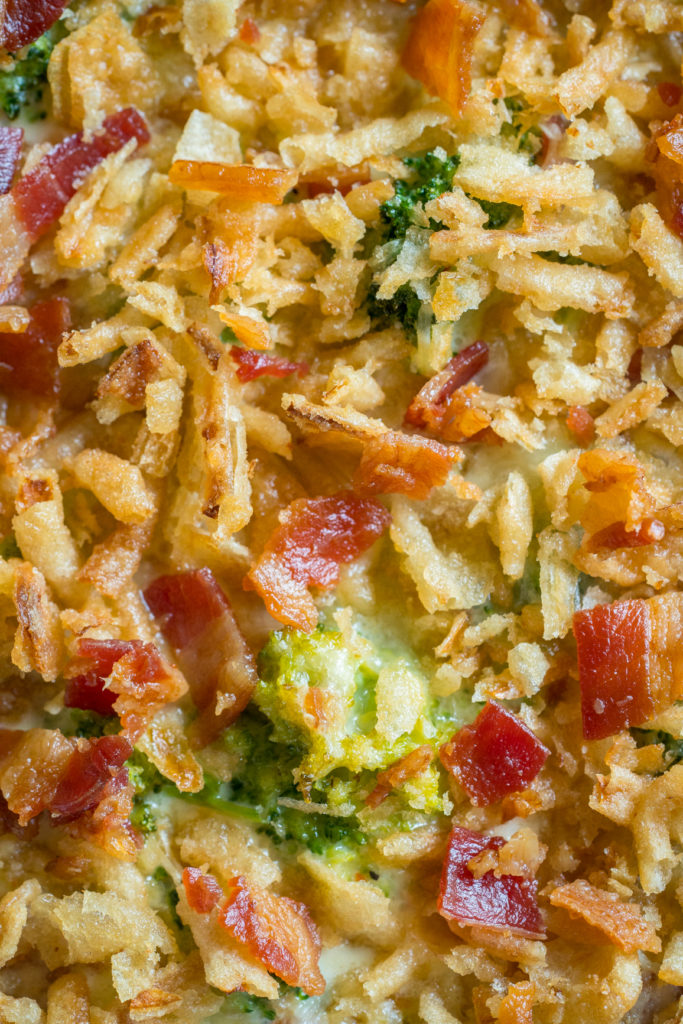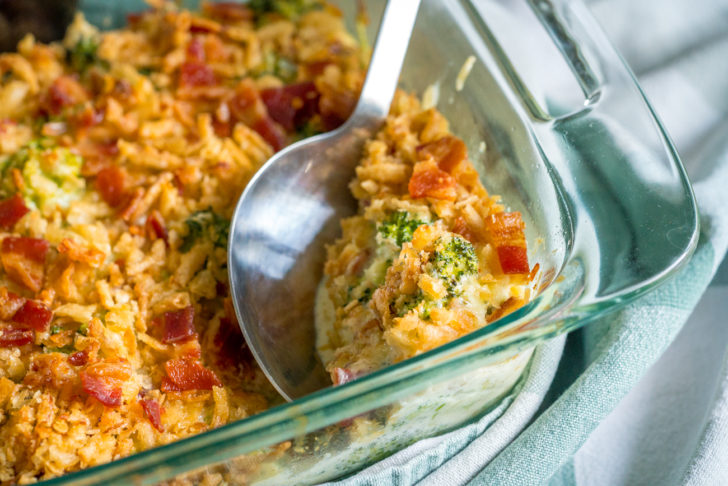 Okay, so yes there's two pounds of broccoli in here, but this is definitely not a whole-30-really-good-for-you-type veggie dish. This is chock full of bacon, cheese and heavy cream, and we wouldn't have it any other way, since this stuff tastes amazing. It's creamy, cheesy, crispy (thanks to the bacon) and full of flavor…everyone goes nuts for it! Ooh, one other thing – our favorite part of this whole thing, actually. We top this bad boy off with perfectly crunchy fried onions. Yummmm.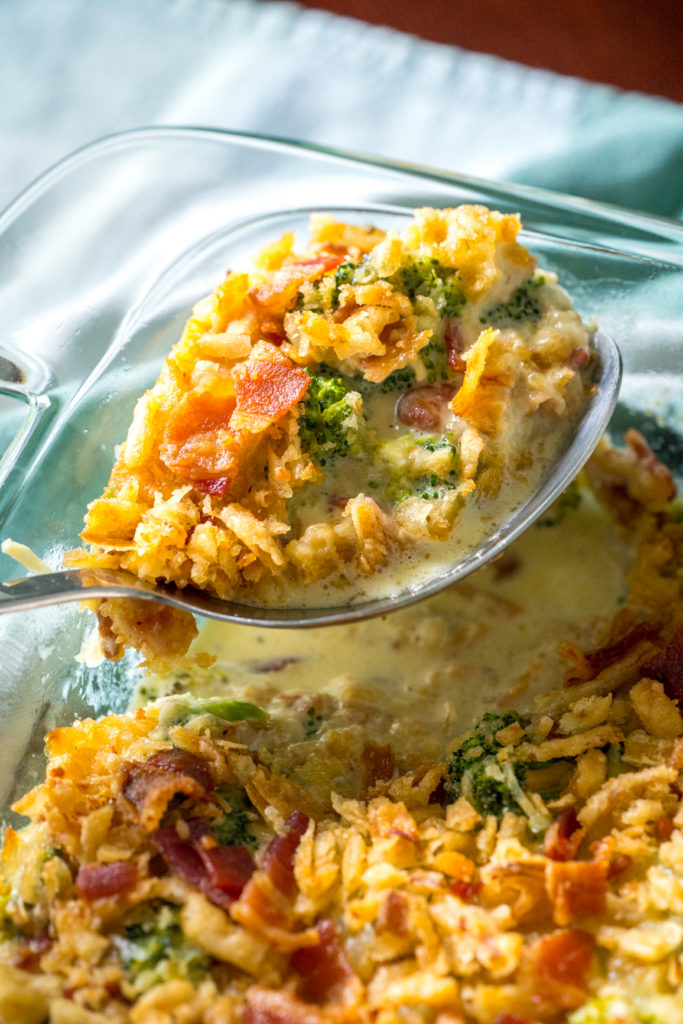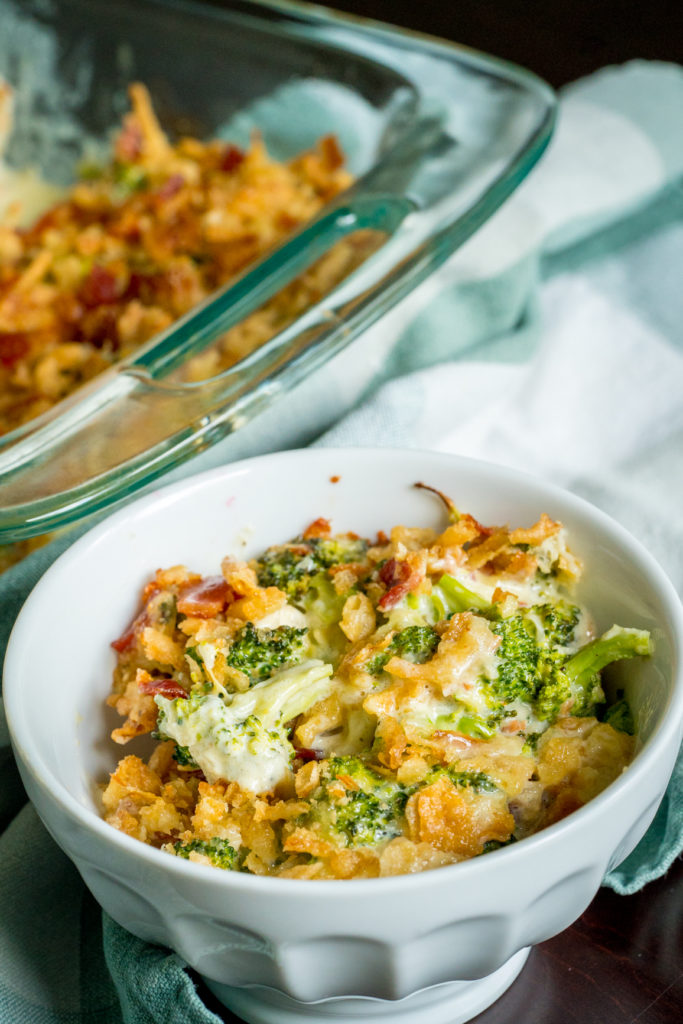 Sooo maybe don't make this dish multiple times a week (because: waistlines), but definitely DO make this for when you've got friends over or for when you want a memorable, delicious family dinner. It's a scene-stealing show stopper, so take comfort in knowing that it'll probably overshadow, in the best way possible, anything else you serve with it; it's just so good, you really can't go wrong.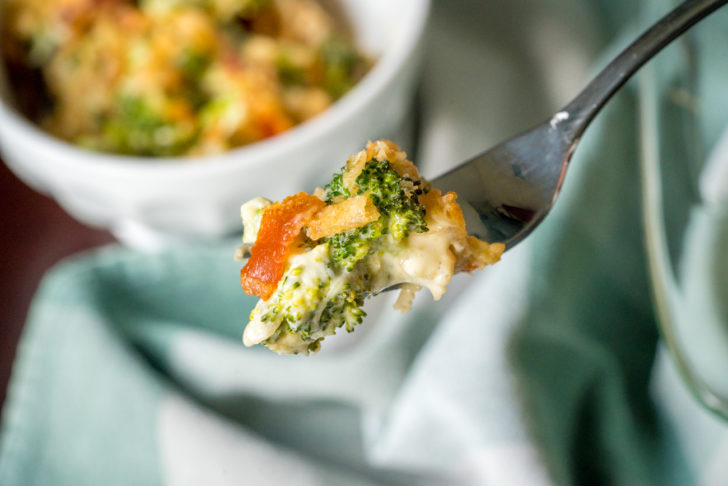 Cheesy Broccoli Bake
Ingredients
2 pounds fresh broccoli florets
2 tablespoons extra-virgin olive oil
8 oz. bacon, cooked and crumbled
1 cup white cheddar cheese, grated
1 cup fontina cheese, grated, optional
1 cup heavy cream
2 tablespoons extra-virgin olive oil
1 egg
1 teaspoon garlic powder
1 teaspoon onion powder
1/2 teaspoon red pepper flakes, optional
kosher salt and freshly ground pepper
1 cup fried onions, roughly chopped
Preparation
Preheat oven to 400º F and lightly grease an 8x8-inch baking dish with butter or non-stick spray.
Place broccoli on a baking sheet and drizzle olive oil over it, then season generously with salt and pepper.
Toss together, then place in oven and roast for 15-20 minutes, or until semi-softened.
In a large bowl, whisk together egg, heavy cream, garlic powder, onion powder and red pepper flakes (if using), then stir in cheeses.
Remove broccoli from oven and transfer to baking dish. Add 3/4 bacon to the baking dish, then pour cheese mixture over the top and stir everything together. Top with chopped fried onions remaining bacon.
Reduce oven temperature to 350º F, return baking dish to oven and bake for 20-25 minutes, or until cheese is bubbly and just set.
Remove from oven and let cool 5 minutes before serving.
SKM: below-content placeholder
Whizzco for 12T