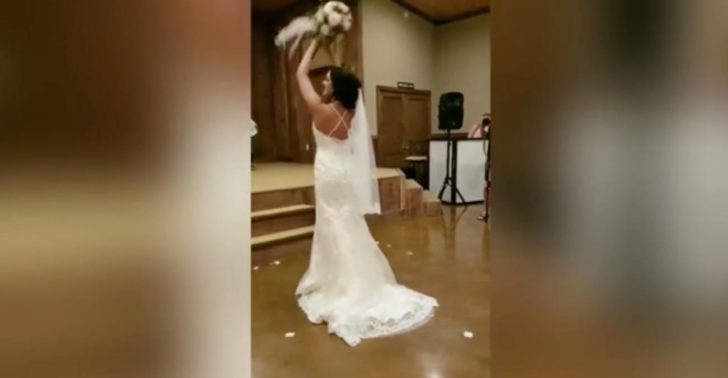 Weddings are often full of surprises. From choreographed dance routines to spur-of-the-moment speeches, guests often find themselves in a state of shock from what ends up happening. Savannah Gore, a young woman from Alabama, definitely did not see what was about to happen at her boyfriend's sister's wedding. As she stood waiting for the traditional tossing of the bouquet, ready to wrestle a few women to catch the flowers, the bride started to walk straight towards her.
What was happening?
Amie Murphree, 21, was having the time of her life at her wedding. She had just exchanged "I dos" with new hubby Colter Calhoun, and they were excited to swing around the dance floor together. But first, she had something planned.
A few weeks before the wedding, her brother, Matthew, 19, approached Aime with an idea. He'd been dating his girlfriend for a while now and he planned to marry her very soon. With Amie's blessing, he wanted to surprise his girlfriend at Amie's wedding. And Amie couldn't think of a more perfect way to do it!
Fast-forward to the day of the wedding. Amie stands on the dance floor and calls out everyone to start the countdown. She winds up to toss her bouquet backward but on "three," she stops and turns around.
The whole room gets quiet. Nobody really knows what's going on, especially when Amie hands the bouquet to Savannah Gore. Savannah might be more confused than anybody. You can see the confusion on her face as she laughs at first, wondering if maybe this was a joke, and then realizes that something special is about to happen.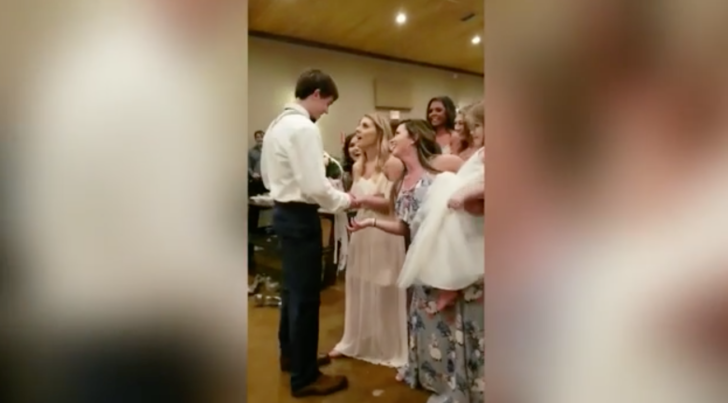 In walks her boyfriend, the bride's brother. He stops in front of Savannah, whispers something, and slips the promise ring he'd already given her off of her finger!
That's when the room starts to realize what's happening. Savannah covers her mouth. The girls in the background do too.
When Matthew gets on one knee, the guests start to get emotional. People jump up and down in disbelief. Everyone is clapping. And the best part? She says yes!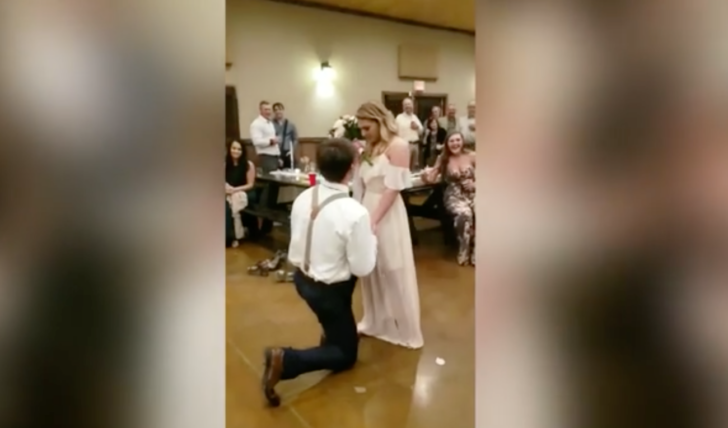 Soon after the wedding, the bride shared the video on Twitter, saying, "I got married and my brother got engaged. This was the most special day of my life." The video has millions of views and even caught the attention of the Today show!
It was so selfless of Matthew's sister to share the spotlight with her future sister-in-law. What a wonderful brother-sister moment that they'll be able to cherish for the rest of their lives.
Matthew, the bride's brother, told Today.com, "Words can't really explain how much that meant to me for her to share her day with me like that. It shows what kind of a person she really is."
And Matthew, we couldn't agree more! I think your sister deserves one amazing wedding gift!
What wedding surprise stories do you have to share?
SKM: below-content placeholder
Whizzco for 12T