Between a global pandemic, wildfires galore, rising political tensions, etc., 2020 has already brought a lot of strangeness to the world. And one viral video is adding to the head-scratcher of a year after someone filmed a very unusual scene that played out in the middle of a Target.
And the video definitely does not hold back in terms of strangeness. It starts by showing a woman wearing a white wedding gown as she confronts her partner. She doesn't seem to care that he seems to be in the middle of working his shift at Target, and continues to demand that he drop everything to get married right there in that moment. And to top it off, she ends up giving him an ultimatum.
The video was recorded by someone who seemed to be on the other side of the aisle and happened upon the scene. They begin recording when they spot the woman in the dress, who is also accompanied by a few other people, a bridesmaid and an officiant. All three of them then cornered the Target employee while the woman in the wedding dress confronted him.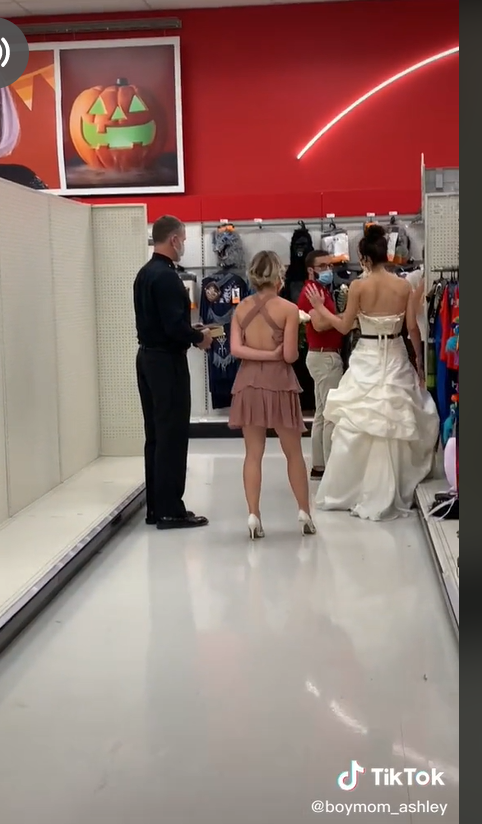 In the video, the woman can be heard saying, "You put this ring on my finger two years ago and it's time to do it or get out. We're getting married right now, or I'm leaving. I'm out. I'm done. Like, if you don't marry me this second… I brought the pastor. I brought Emily. She's my bridesmaid."
Whoa! No pressure! When the woman realizes that she's being filmed, she points to the camera and says, "I'm just finally making him commit, you know? We're getting married now, or it's over."
It is at that point that the partner tries to diffuse the situation and suggest that they take their conversation outside. The group agrees and passes by the person filming and then disappears down the Target aisle.
The person who filmed the bizarre scene, a TikTok user by the name of Ashley, uploaded it to her social media. She did it in two parts, as the first portion was of the woman in the wedding dress going in search of the Target employee. The clip was captioned, "Part 1. The best part of my week! Watched this woman hunt her man down that works at Target!!"
Based on the hashtags she added to the post, the incident occurred in a Target somewhere in the Las Vegas area. After uploading the video of the confrontation, the clip has accumulated over 6 million views on TikTok, as well as 5.4 million on Twitter after it was reposted.
As can be expected, it received a lot of attention as well as a lot of questions as to its validity. One person doubted that a pastor would agree to such a scene, while someone else commented, "I hope this was a prank that the random passerby who filmed it wasn't in on. No way she is making that heavy of a play for the dude working at Target."
For as much as people may have questioned how real it was, there were plenty of others who believed that the footage was, in fact, a real occurrence and not a prank. That prompted some people to point out that the woman could easily get herself another fiancé if she was that desperate to get married. Still, others shared that if she was that unhappy she should just leave the relationship rather than make a scene.
Either way, real or fake, this video certainly had the attention of the internet. I, personally, am a little skeptical that it's real. But then again, it is 2020 and as we've seen, anything is possible.
SKM: below-content placeholder
Whizzco for 12T