If you're looking for a great recipe to start a meal with, why not look to a well seasoned focaccia? In many ways, focaccia dough is similar to pizza dough, but is given more of a chance to rise. Because it's somewhere between a traditional bread and a pizza crust, it's ideal for soaking up your favorite infused oils, making this an ideal appetizer or party snack for company to enjoy. Without the seasoning, this bread can also be used as a base for pizza, or even as sandwich bread.
For this recipe, we wanted to keep the loaf nice and simple. Too many herbs, or too many ingredients would eliminate the joy of combining it with an infused olive oil, while making it too simple might leave those who want to eat it plain wanting for more flavor. Finding the right balance was key. To really make the bread stand out, we created a small batch of starter dough and let that rest overnight. We also didn't rely on kneading and instead focused on letting the bread rise over multiple steps. This added to the flavor, letting the carbohydrates break down into sugars and alcohol packed with flavor. The lack of kneading also makes this recipe ideal for those who don't own a stand mixer or bread machine. If you plan on making lots of focaccia in the future, make a larger batch of the starter and store in the refrigerator (it will last 5 days) or freeze and allow a few hours to defrost before using. Keep reading below for this fantastic focaccia recipe…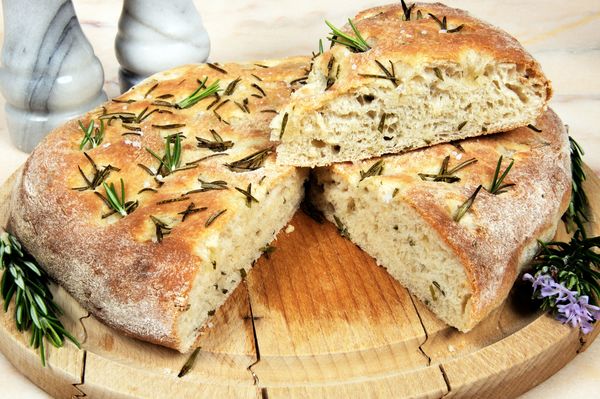 Rosemary Focaccia
(makes one, 12×9 loaf)
Ingredients
STARTER
1/2 cup flour
1/3 cup warm water
1/4 teaspoon instant or rapid-rise yeast
DOUGH
2 1/2 cups flour
1 1/4 cups warm water
1 teaspoon instant or rapid-rise yeast
kosher salt
4 tablespoons olive oil
2 tablespoons chopped fresh Rosemary
Directions
Combine the ingredients for the starter in a large bowl and stir with a wooden spoon until uniform and no dry flour remains. Cover the bowl tightly with plastic wrap and let stand at room temperature overnight (at least 8 hours).
When ready to make the dough, stir together the flour, water, and yeast into the starter you made until the dough is uniform and no dry flour remains. Cover with plastic wrap and let rise at room temperature for 15 minutes.
Sprinkle 2 teaspoons salt over the dough, then stir until the salt is thoroughly incorporated (about 1 minute). Cover with plastic wrap, then let rise again at room temperature for 30 minutes.
Spray a rubber spatula or bowl scraper with nonstick cooking spray and fold the partially risen dough over itself by gently lifting and folding the edge of the dough toward the middle. Turn the bowl 90 degrees and fold again. Turn the bowl again and fold the dough 6 more times, then cover with plastic wrap and let rise for 30 minutes. Repeat folding, turning, and rising 2 more times. In the end, you should have allowed the dough to rise for 3 30-minute intervals. Meanwhile, preheat the oven to 500F and place a baking stone or rimmed baking sheet in the oven.
Gently transfer the dough to a lightly floured work surface. Lightly dust the top of the dough with flour and divide in half. Shape each piece of dough into a 5″ round by gently tucking under the edges. Coat two 9″ cake pans with 2 tablespoons of olive oil each. Sprinkle each pan with 1/2 teaspoon kosher salt. Place a round of dough in each pan, top side down. Slide the dough around to coat the bottom and sides, then flip over. Cover the pans with plastic wrap and let rest for 5 minutes.
Press out the dough towards the edges of the pan. Use a dinner fork or skewer to poke the dough 25 to 30 times, popping any large bubbles. Sprinkle the rosemary evenly over the top of the dough and let rest until slightly bubbly (5 to 10 minutes).
Place the pans on the baking stone or preheated baking sheets and reduce the oven temperature to 450F. Bake until the tops of the bread are golden brown (25 to 28 minutes). Transfer the pans to a wire rack and let cool 5 minutes. Remove the loaves from the pan and return to the wire rack. Let cool 30 minutes before serving.
Enjoy!
Recipe adapted fromFoodie For Two
SKM: below-content placeholder
Whizzco for 12T