Beef empanadas are a dish of Spanish and Portuguese origin. They are baked or fried pastries typically filled with meat, cheese, vegetables, or fruits. For dinner, we wanted to come up with a delicious beef empanada recipe that was full of flavor with a perfect crust. We wanted to create a delicious empanada recipe that was baked and full of flavor.
The secret to a good empanada recipe is in the dough. To get the best dough, we took a page from other areas of Latin cooking and added a little alcohol. It doesn't impart any flavor, but it does give the crust the perfect texture. We also added a cornmeal-like ingredient from Mexican cooking called "masa harina". It should be available in the international aisle, but if you can't find it, that's okay, just use equal amounts flour instead. Keep reading below for our favorite empanadas recipe!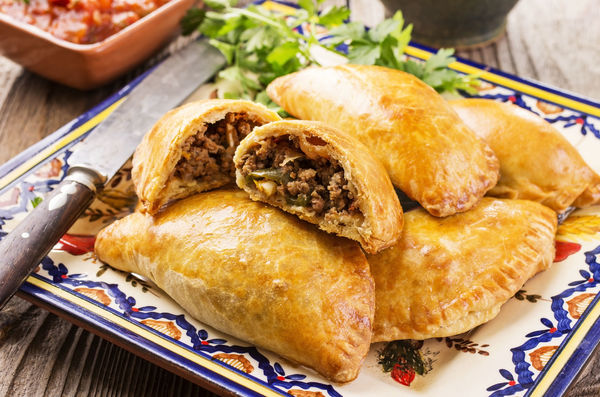 Beef Empanadas
(makes 12 empanadas)
Ingredients
FILLING
1 large slice hearty white sandwich bread, torn into quarters
2 tablespoons plus 1/2 cup low-sodium chicken broth
1lb lean ground beef chuck
salt and pepper
1 tablespoon olive oil
2 medium onions, chopped fine (about 2 cups)
4 cloves garlic, minced
1 teaspoon ground cumin
1 1/2 teaspoons hot paprika
1/4 teaspoon cayenne pepper
1/8 teaspoon ground cloves
3/4 teaspoon dried oregano
1/2 cup cilantro leaves, coarsely chopped
2 hard-cooked eggs, coarsely chopped
1/3 cup raisins, coarsely chopped
1/4 cup pitted green olives, coarsely chopped
4 teaspoons cider vinegar
DOUGH
3 cups unbleached flour
1 cup masa harina (or unbleached flour as substitute)
1 tablespoon sugar
2 teaspoons salt
12 tablespoons unsalted butter, chilled and cut into 1/2″ cubes
1/2 cup cold vodka
1/2 cup cold water
5 tablespoons olive oil
Directions
Process the bread and 2 tablespoons chicken broth in a food processor or blender until a paste forms (about 5 seconds). Add beef, 3/4 teaspoon salt, and 1/2 teaspoon pepper and pulse until the mixture is combined (about 6 to 8 1-second pulses).
Heat oil in a skillet over medium-high heat until shimmering. Add onions and cook, stirring frequently, until beginning to brown (about 5 minutes). Stir in garlic, cumin, paprika, cayenne, oregano, and cloves. Cook until fragrant (about 1 minute). Add the beef mixture and cook, breaking the meat into 1″ pieces with a wooden spoon until browned (about 7 minutes). Add the remaining 1/2 cup chicken broth and simmer until the mixture is moist but not wet (3 to 5 minutes). Transfer the mixture to a bowl and cool 10 minutes. Stir in cilantro, eggs, raisins, olives, and vinegar. Season with salt and pepper to taste, and refrigerate for at least 1 hour or until cool.
Meanwhile, work on the dough. Process together 1 cup flour, the masa harina, sugar, and salt in a food processor or blender until combined (about two quick pulses). Add the butter and process until homogeneous and the dough resembles a wet sand. Add the remaining 2 cups flour and pulse until the mixture is evenly distributed around the bowl (4 to 6 quick pulses). Turn the mixture out into a large bowl.
Sprinkle vodka over the mixture and use your hands to mix the dough until it becomes tacky and sticks together. Divide the dough in half, then divide each half into 6 equal pieces. Transfer the dough pieces to a plate, cover with plastic wrap, and refrigerate until firm (about 45 minutes).
To assemble, place 2 baking sheets in the oven and preheat to 425F. Remove the dough from the refrigerator. Roll each dough piece out on a lightly floured work surface into 6″ circles about 1/" thick. Cover each dough round with plastic wrap while rolling the remaining dough. Place about 1/3 cup filling in the center of each dough round. Brush the edges of dough with water and fold the dough over the filling. Trim any ragged edges, then press the edges to seal. Crimp the edges with a fork.
To bake, remove the hot baking sheets from the oven and brush with 2 tablespoons olive oil. Return to the oven for 2 minutes. Brush the empanadas with the remaining tablespoon oil. Carefully place 6 empanadas on each baking sheet and cook until well browned and crisp (25 to 30 minutes), rotating the baking sheets halfway through baking. Cool the empanadas on a wire rack 10 minutes before serving.
Enjoy!
Recipe adapted fromSmitten Kitchen
SKM: below-content placeholder
Whizzco for 12T