This tasty fried chicken is based off the Taiwanese-style fried chicken and blended with a Japanese twist.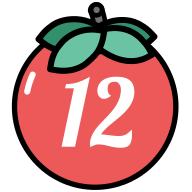 Dom Ruane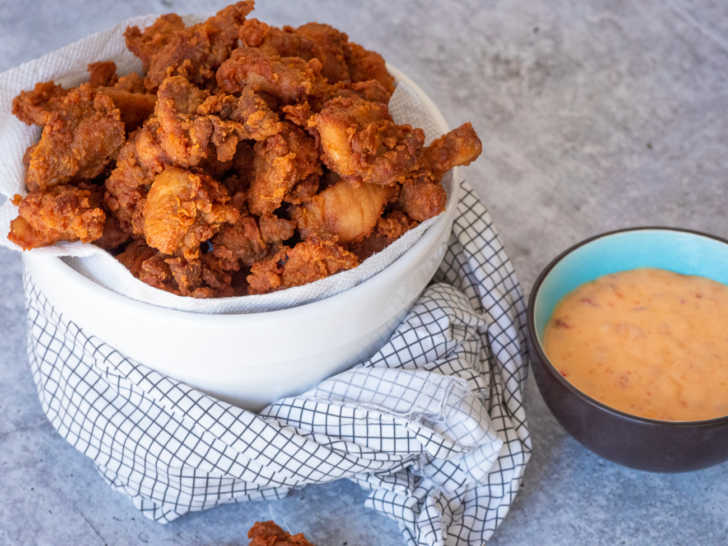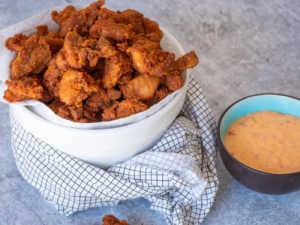 Bang Bang! What a name for a recipe. This recipe gets its name from Taiwanese street vendors banging chicken with a meat mallet to tenderize it. The crispy exterior comes from potato starch. Incorporating Japanese cooking techniques for crunchier, southern-style fried chicken.
I love fried chicken. As an American, it is a staple take-out dinner. One-stop-shop for dinner that night. This chicken gets most of its flavor by infusing an easy tangy marinade. The best part of this chicken is the crispy texture from the double fry. Ooh, baby! Why didn't I learn to double fry chicken in school? So many wasted years!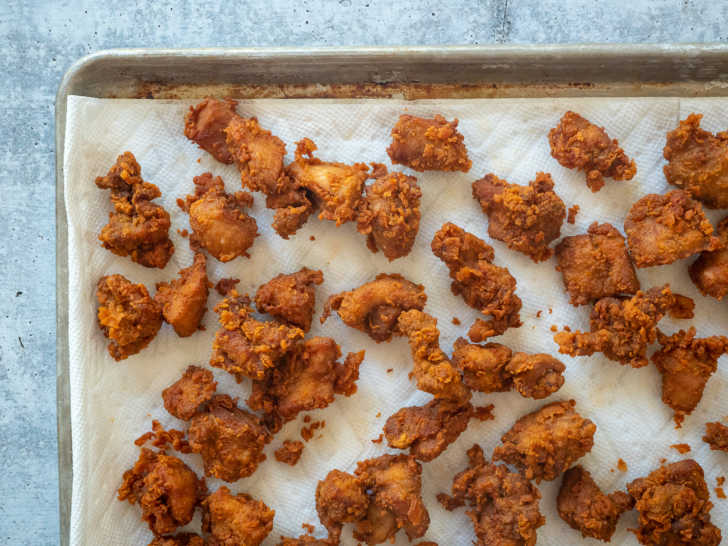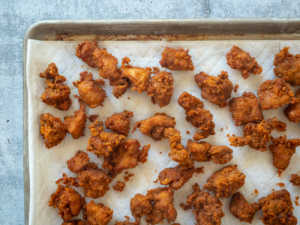 The key to this recipe is simple. Marinade, batter, 1st fry, and 2nd fry. Chicken, like all food, has a good amount of moisture in it. We marinade chicken to trade some of that moisture inside the chicken for flavor. The wet batter gets mixed into the marinade which helps flavor the breading. One thorough toss through cornstarch and you're ready to fry. The first fry is all about cooking the chicken and keeping that cornstarch breading stuck. The second fry is all about crispiness. We've already cooked most of the moisture out of the chicken at this point, so now we focus on getting that breading as golden as we can for maximum crunch.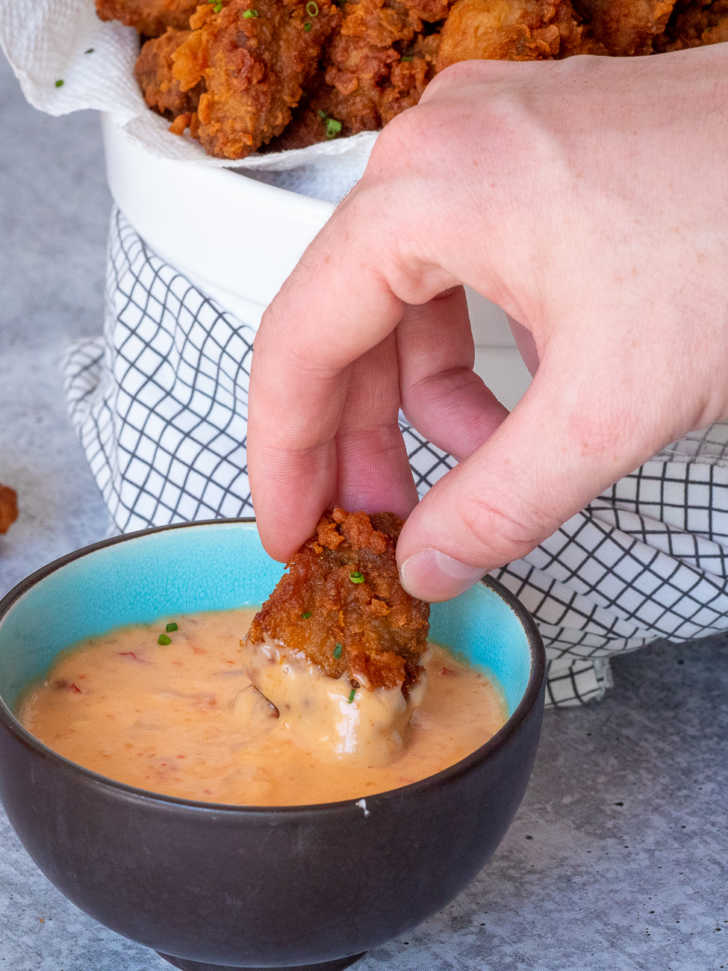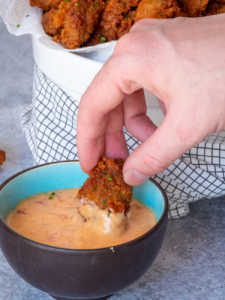 My favorite part of this fried chicken is how easy assembly is. I know frying can seem daunting, and the smell is really intrusive, I get it. Always keep a jar of cooking oil or frying oil on hand. It's recyclable, it makes for easy clean-up and it's cheaper. Do not use good expensive oils to fry. This is a job for vegetable, corn, or peanut oil. For the smell, make sure to run your exhaust fan while frying and when you're done, carefully remove the pot with hot oil in a safe space outside until it cools. You have no excuses now. Fried chicken is a special moment, everyone deserves some good homemade fried chicken once in a while.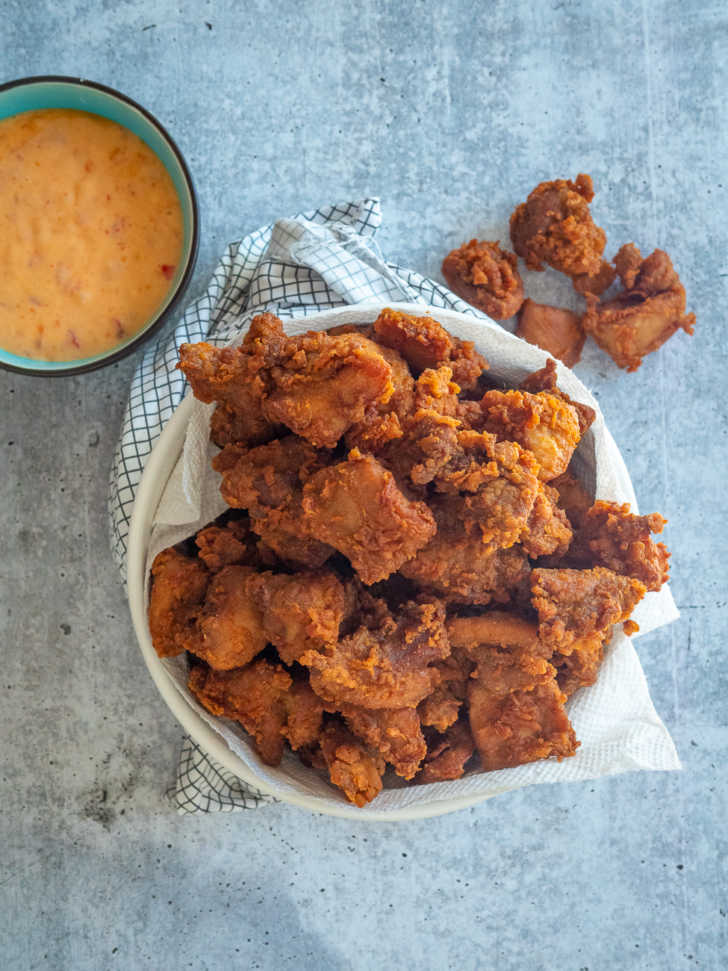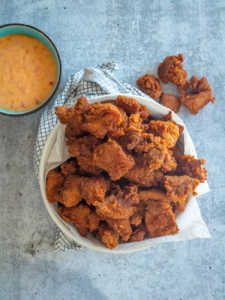 Bang Bang Popcorn Chicken
Serves 4
10m prep time
15m cook time
30m inactive
Popcorn Chicken:
8 boneless, skinless chicken thighs, pounded & cut into cubes
1/4 cup soy sauce
1/4 cup white wine
3 garlic cloves, minced
1 1/2 tablespoons five spice powder
2 eggs
1/3 cup tapioca flour
1 1/2 cups potato starch
Vegetable oil for frying
Kosher salt & freshly cracked black pepper, to taste
Bang Bang Sauce:
1/2 cup mayo
1/4 cup Thai sweet chili sauce
2 teaspoons sriracha
2 teaspoons honey
Chives, chopped, to garnish
Directions:
In a bowl, combine soy sauce, white wine, garlic and five spice.
Add chicken thighs to the bowl and let marinade for 30 minutes, up to overnight.
Mix together bang bang sauce, combining all ingredients except chives and set aside.
In a bowl, mix together the tapioca flour and eggs until a thicker batter is made.
Coat chicken in egg mixture and dredge in a bowl with potato starch, tossing to coat each piece.
Preheat vegetable oil in a large pot on medium high heat for 5 minutes and add in the chicken in two batches, cooking for 4 - 6 minutes, removing each batch to a towel lined plate for excess grease. Fry in two batches one last time until a deep golden.
Season with salt and pepper.
Drizzle chicken with bang bang sauce and top with chives.
Ganbei!
Recipe adapted from Woks of Life and NYT Cooking.
SKM: below-content placeholder
Whizzco for 12T