Apple strudel is a wonderful Austrian dessert that is a perfect marriage of all things sweet and tart. Sometimes American adaptations can be a little too sweet, but the original really isn't cloying, it's about slightly enhancing the flavor of the apples, without overdoing it.
Strudels take some serious time and concentration, but they're so worth it; since it's really hard to find strudel places with the perfect dough or filling or combination of the two, making it yourself is the best way to achieve that balance! If you're planning on serving this for guests or at a party, you should definitely practice ahead of time (no one will bother you about "failed" attempts, since they'll be eating your trial strudels) and then you can amaze everyone once you've gotten the hang of it!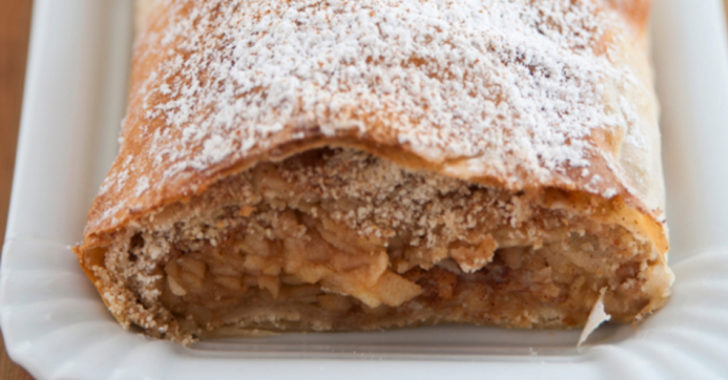 Apple Strudel
Serves 6
Ingredients
Filling:
2 pounds tart apples (Granny Smiths), peeled, cored, sliced into thin wedges
1 1/2 cups fresh breadcrumbs
1 cup, plus 1 tablespoon white sugar
1/2 cup (1 stick) unsalted butter, divided, plus extra for brushing
1/4 cup brown sugar
1/2 tablespoon freshly squeezed lemon juice
1 teaspoon lemon zest, grated
1/2 teaspoon cinnamon
Dough:
1 1/3 cups all-purpose flour
1/2 cup water, may not use all of it
2 tablespoons vegetable oil, plus extra for coating
1/2 teaspoon apple cider vinegar
1 pinch kosher salt
powdered sugar, garnish
Directions
Heat 3 tablespoons butter in a medium pan over medium heat and, once melted, add breadcrumbs. Stir constantly and toast breadcrumbs until golden brown. Remove from heat.
In a small bowl, combine cinnamon, brown sugar, and 1 cup white sugar. Set aside.
Mix together apples, lemon juice and zest in a large bowl. Pour cinnamon sugar mixture over the apples and toss to coat thoroughly. Set aside.
To make the dough: sift flour and salt together in a large bowl, then add water, then oil and vinegar. Stir with a wooden spoon until mixture begins to come together into a ball.
Knead dough with your hands until smooth and not sticky. If needed, add flour, 1 teaspoon at a time, until dough ball forms.
Transfer dough to a lightly oiled bowl, cover with a dishtowel and place in a warm, draft-free place for 1 hour.
Preheat oven to 400º F and set oven rack in top 1/3 part of oven.
Roll dough out on a large, floured surface to a large rectangle. About 9×13 inches. Cover with a clean towel/tablecloth, grab edges of both towel and dough and flip over so dough is resting on the towel.
Gently stretch the dough out on the sides, working your way around the entire rectangle. It should be semi-translucent in some places, but be very careful not to tear it.
Use your hands to brush dough with another 3 tablespoons melted butter, then sprinkle toasted breadcrumbs evenly over the dough and gently pat them down so they adhere.
Drain the apples and spread them out vertically near the short edge of the rectangle. (Make sure to leave 2-3 inches for a border.) Filling should look like a strip/column along the short edge of the dough.
Take the edges of the towel that are at the top and bottom edges of the filling and gently fold it over the filling.
Brush exposed ends with melted butter, carefully fold in sides of dough, then gently continue rolling (using towel to maneuver) dough, until seam is on the bottom.
Use towel to transfer strudel to a parchment paper-lined baking tray, forming a horseshoe so entire strudel fits. Brush all of remaining butter over the strudel. Optional: sprinkle 1 tablespoon white sugar over the top.
Place in oven and bake for 30-40 minutes, or until golden brown.
Remove from oven, brush more melted butter over the top and dust with powdered sugar. Use a bread knife to cut 1-1 1/2-inch slices and serve with whipped cream, vanilla sauce or vanilla ice cream. Enjoy!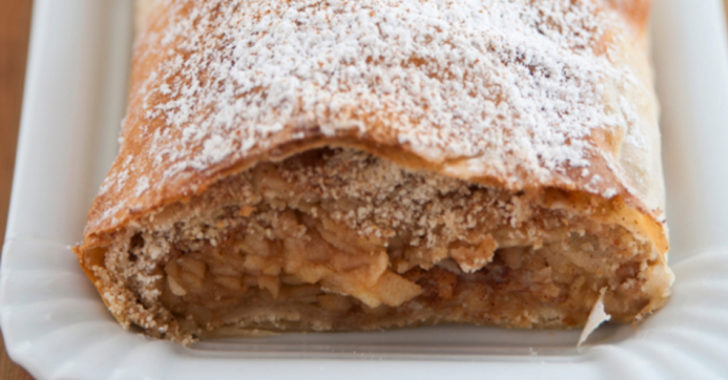 Recipe adapted from Chef In You
SKM: below-content placeholder
Whizzco for 12T