If you're looking for a new appetizer, or platter to serve at your next barbecue or party, here's a real treat for you: beef satay. This kebab-style dish is a quintessential street food from Asia, and it's such a treat with some peanut sauce.
One issue with many beef satay recipes is how chewy and tough the meat can come out. Sometimes it just comes out more like a jerky than the delicious steak it started as. We wanted to really make each bite taste delicious with or without the peanut sauce. To get a perfectly tender meat we used flank steak sliced into thin strips cut across the grain. The marinade for the meat was a simple combination of sauces available in most supermarkets today, including a favorite of ours: Sriracha. Keep reading below for this fantastic recipe…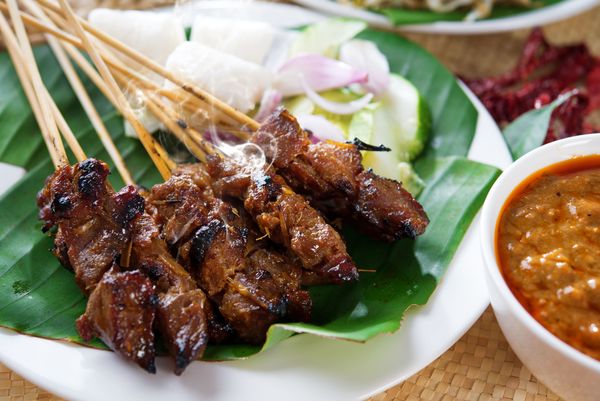 Beef Satay
(makes 20 skewers)
Ingredients
PEANUT SAUCE
1/2 cup smooth peanut butter
1/4 cup hot water
1 tablespoon soy sauce
2 tablespoons lime juice
2 tablespoons Sriracha (or Asian chili sauce)
1 tablespoon dark brown sugar
1 clove garlic, minced
1 tablespoon chopped fresh cilantro leaves
2 scallions, white and green parts, sliced thin
BEEF SATAY
1 1/2lbs flank steak
1 teaspoon chili powder
2 tablespoons coriander powder
2 teaspoons turmeric powder
1/4 cup soy sauce
1/4 cup vegetable oil
2 tablespoons Sriracha (or Asian chili sauce)
1/4 cup packed dark brown sugar
1/4 cup minced fresh cilantro leaves
2 cloves garlic, minced
2 scallions, white and green parts, sliced thin
Directions
Create the peanut sauce: whisk the peanut butter and hot water together in a medium bowl. Stir in the remaining ingredients, then transfer to a small serving bowl and put aside to use after the beef has been placed on skewers.
Cut the flank steak in half lengthwise and freeze it for 30 minutes.
Combine soy sauce, oil, chili powder, turmeric powder, coriander powder, chili sauce, brown sugar, cilantro, garlic, and scallions in a measuring cup and set aside. Remove the flank steak from the freezer and slice each piece across the grain into 1/4″ thick strips. Weave the meat onto individual bamboo skewers then dunk the meat end of each skewer into the marinade to coat. Lay the skewers in a shallow dish, propping up the exposed end of the skewers to keep them clean. Pour the remaining marinade over the meat and refrigerate for 1 hour.
Adjust the oven rack to the top position and set the oven to broil. Lay the skewers on a wire rack set over a rimmed baking sheet and cover the skewer ends with foil. Broil for 6 to 7 minutes, flipping the skewers halfway through until the meat is browned. Serve hot with the peanut sauce.
Enjoy!
Recipe adapted fromMartha Stewart
SKM: below-content placeholder
Whizzco for 12T