A butcher block is a style of assembled wood counter utilized as heavy duty chopping blocks, tabletops, cutting boards, and mobile kitchen trolleys.
A well-made woodblock countertop or block can be a quality kitchen feature that blends into a wooden aesthetic or contrasts against the main theme of a sleek modern kitchen.
These thick slabs of wood offer a sturdy and smooth surface for food preparation and can create a great individual personality for your kitchen or trolley.
Are you looking at incorporating a butcher block counter (or counters)? Below you'll find a wealth of information to help you figure out whether a wooden block approach is right for your cook space.
What is a butcher block made from?
Butcher block surfaces are made from straight cuts of wood glued together and are generally made from hardwood types such as pine, maple, teak, birch, walnut, or even cherry.
Butcher blocks can be made from one wood type or constructed from similar woods in contrasting tones and patterns to create a more individualized surface.
Usually found in commercial kitchens, modern bars, and butcheries, households are incorporating woodblock countertops into their home life as a personality-driven, affordable alternative to stone and laminate countertops.
Rachel Ray is all about butcher block counters, getting them even before she could even afford a proper kitchen.
Should I use butcher block counters for my entire kitchen?
From a style and affordability standpoint, butcher block counters can be an attractive option for being laid out across your entire kitchen.
In the hands of a skilled artisan or talented home handy person, your counters top can come alive with a personality that laminate and (most) stone counter surfaces just can't replicate.
To get the best out of butcher block counters, you need to be committed to ongoing care and maintenance (see further down).
If treated correctly, maintained, and used the right way (no axes or machetes in the kitchen folks), butcher block counters are a quality surface that can be used for food preparation work with no issues for health and safety.
What are alternatives to full kitchen butcher block countertops?
The more popular ways of incorporating butcher block counters and pieces in the kitchen are going for part wood finishes, foldaways, and mobile blocks.
1. A feature counter
A feature counter is a space dedicated to utilizing the butcher block. It's similar in concept to a brightly colored feature wall, being used to contrast or blend the style of your kitchen.
Also, it's going to be a dedicated food preparation space, so would need to be in an area of your kitchen you like to work.
This piece from Old Man Builds is awesome:
2. Fold away butcher block
This option is great for small, confined kitchens, tiny homes, or those kitchens that also deploy counter space for a breakfast bar.
Being able to fold away a butcher block counter can help make the best use of your space when preparing food, and be out of sight out of mind when not in use.
This one was made from old junk and comes up beautifully as part of a kitchen rebuild:
3. Butcher block trolley
A sturdy mobile butcher block trolley or item crafted specifically for your space (chopping board storage, mobile coffee cart, or tea station) is extremely useful while being a design focal point of your kitchen.
There's a cool range of styles to go with, from a combination steel/wood industrial look to the finely crafted Hampton's home-style, or utility combination that you can move through the house and use as needed.
The sleek modern stained design from Jonny Builds was really cool to watch being made (It's just a shame I lack the talent to make one!):
Treating and caring for your butcher block
Once installed, it's important to treat or seal the butcher block to keep it from drying out and staining.
There are a lot of options for products to treat butcher blocks, with the simplest being mineral oil. The key thing to remember with mineral oil is to make sure it's food-grade, which is non-toxic and able to come in contact with food.
When determining how often to oil your butcher block, I follow this general advice:
Once a day every day for a week upon installation
Then once a week for a month
Monthly from there on in
The block should be oiled whenever the wood starts to look dry and chalky. Stains, scratches can be sanded out (or left in for character), just be sure to re-oil the affected area to keep protecting the surface.
Once sealed with food-grade mineral oil, wood countertops are sanitary for chopping meat, fruit, and vegetables, while pots, pans, and other cooking items can easily be placed on the surface because wood countertops are heat-resistant and won't melt, scorch, or burn.
Sealing butcher block counters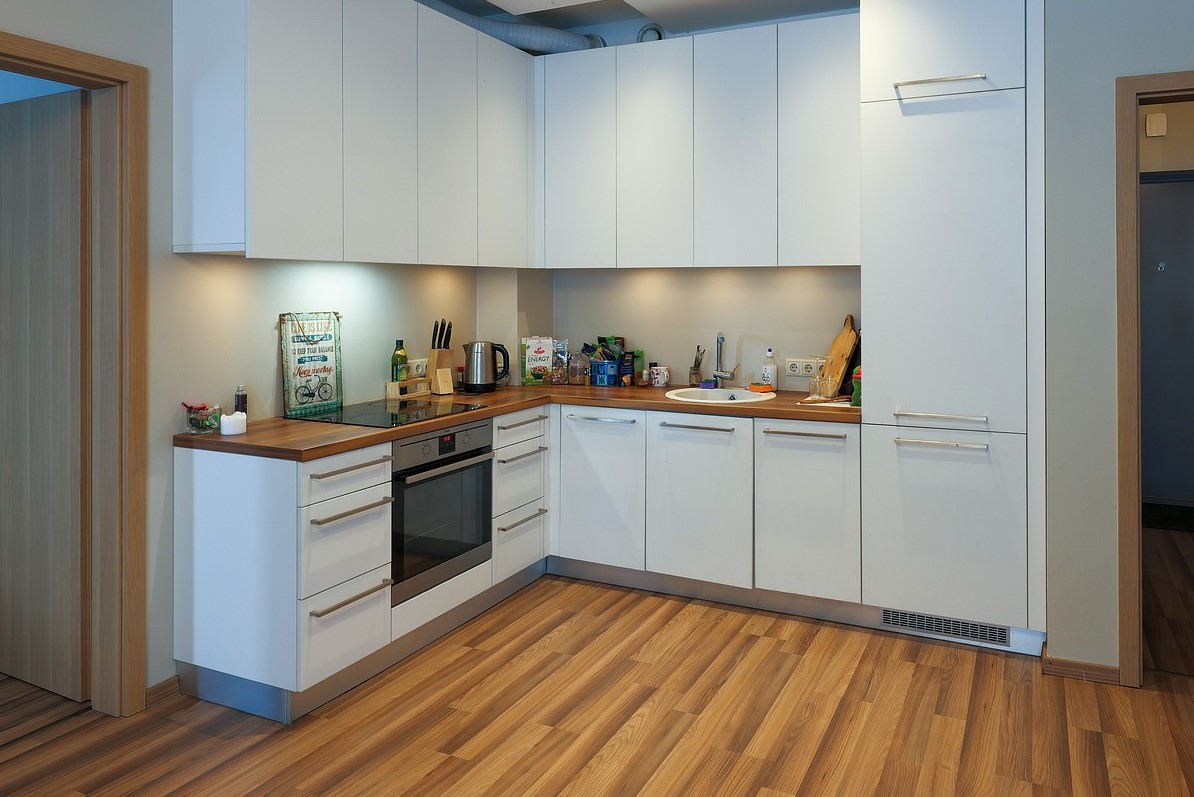 Sealing butcher block countertops is a great way to maintain their look, and is usually finished with a polyurethane/oil finish, which becomes a hard plastic-like coating that keeps out moisture. Oil penetrates the wood under the poly coat, helping to keep the desired effect.
It must be noted that if you are going to use this sealing method then you will need to use cutting boards for food preparation, as poly sealed finishes are unsuitable for use in cutting (just like cutting straight on to laminate).
Butcher Block Issues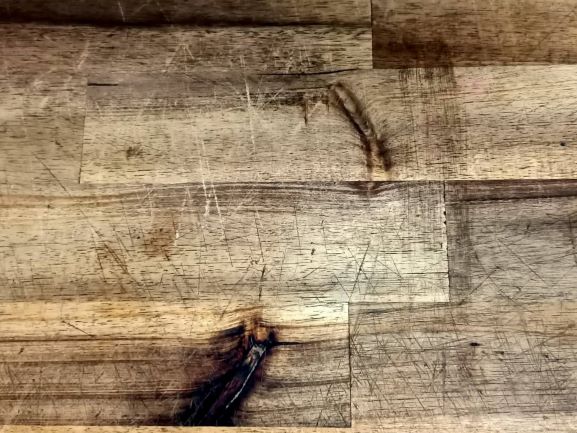 One argument against a butcher block kitchen counter can be the upkeep of the wood over time, for the look of the wood, and also for ensuring that health and safety within your kitchen remain up to scratch.
Uncared for counters can dull, crack, and split in a short period of time, and also become a risk for compromise, bringing germs and bacteria that you don't want to harm your family.
Also, if you don't look after your woodblock counter they are prone to water damage, bowing, dents, and scratches.
Other hints and tips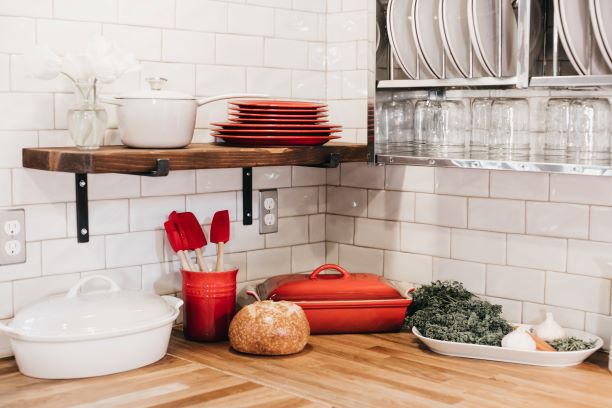 Don't go the butcher block counter route without making a comprehensive plan, whether you're doing it yourself or hiring a professional
If you make a spillage, clean it straight away, as water can be a danger to your wood
Always use top quality stainless steel for hinges, braces, joints and screws. You want the butcher block for a good time, and a long time
Function over style is always the most sensible option for longevity (and styles always change)
Keep these countertops clean with mild, antibacterial soap and water, and avoid using bleach, abrasive cleaning products, or steel wool/brushes
When in doubt, direct questions to a professional, or at the very least research thoroughly to get the answers that you need
If you're going mobile, make sure your trolley wheels are big and chunky to allow for better maneuverability, and if you can get a brake function to anchor your unit when it's not moving
Conclusion
Butcher block counters can be a brilliant addition to your kitchen or cook space in both traditional or contemporary spaces.
To maximize their effectiveness, you must be prepared to treat and maintain the butcher block's surface to make sure it remains in premium condition for a long period.
SKM: below-content placeholder
Whizzco for 12T