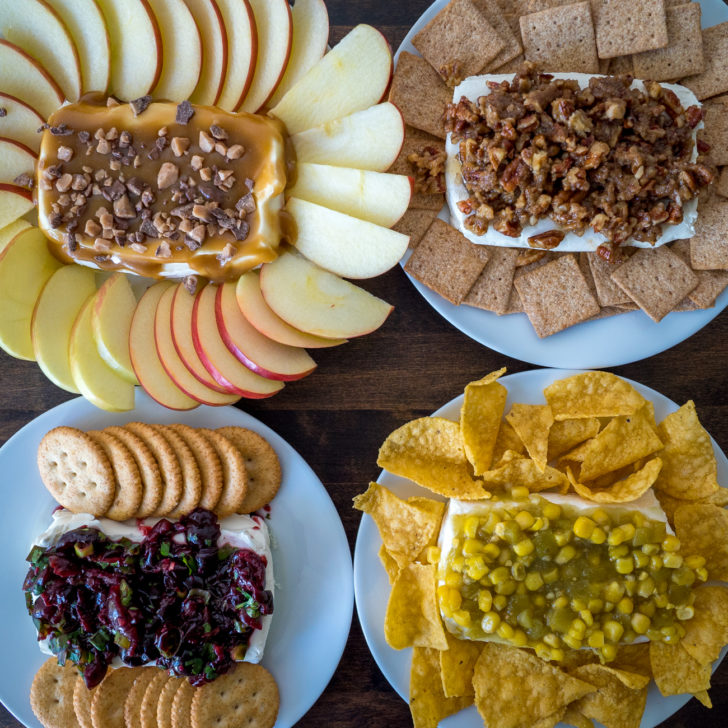 We all have those times when we're about to head out the door and then remember we were supposed to make something to bring to whatever function we're headed out to. Whether it's a potluck or a tailgate, we never want to arrive empty-handed, so we thought we'd round up four of the easiest dishes to throw together – you can assemble them once you get to your friend's house, making it extra, extra easy!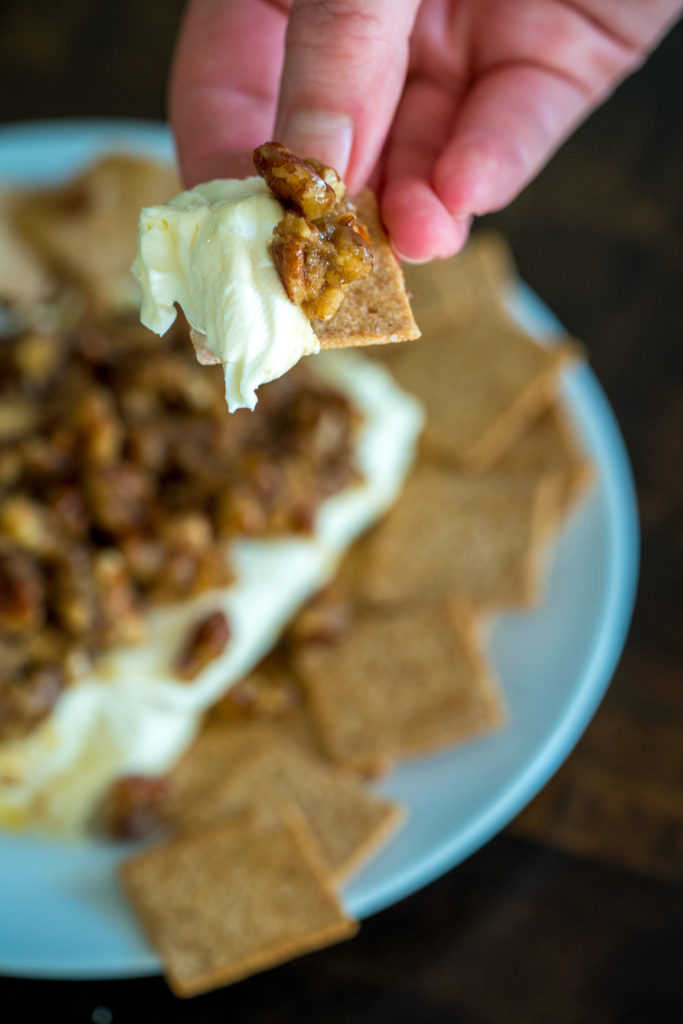 So these four dishes are cream cheese dips, or, rather, dips or spreads that we pour over a block of cream cheese and call it a day. Three savory options, plus one dessert dip, mean you're covered for any occasion…plus we threw in some truly unique flavor combinations that absolutely won us over, so hopefully they'll do the same with you! Without further ado….
---
While it might look a bit like a pecan pie filling at first, don't be so quick to judge this seriously delicious spread. Even though it does have some of the elements of the classic pie – pecans, butter and brown sugar – this nutty spread has a savory twist that puts a spin on the whole thing and keeps people coming back for more. That's right, this French Quarter pecan cream cheese spread has a healthy kick thanks to garlic and onion powders, Worcestershire sauce and Dijon mustard. Fret not, this stuff tastes amazing and pairs perfectly with the tangy cream cheese it's served on. Grab yourself a hearty chip or cracker, get the recipe here and dig in – trust us, you'll love it!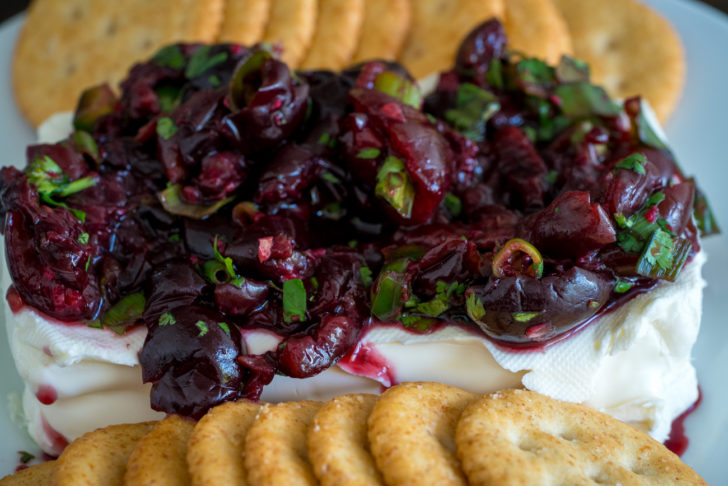 It's no secret that chips and salsa have a forever place in our hearts. They're timeless and delicious and there's always a good time for them. That being said, why stick with a tomato or chile based salsa every time?? It's a pretty simple concept to begin with, so why not tweak it and cater to the season or leftover ingredients you've got on hand? We skipped the tomatoes entirely in this recipe and instead went with…cherries! Yep, get yourself some fresh or frozen ones, we used frozen, then grab some cilantro, green onion and jalapeño. What you get is a sweet, spicy, round-flavored salsa that you can spread over a big block of cream cheese and call it a day. It' super easy, super tasty and super addictive! Click here for the recipe!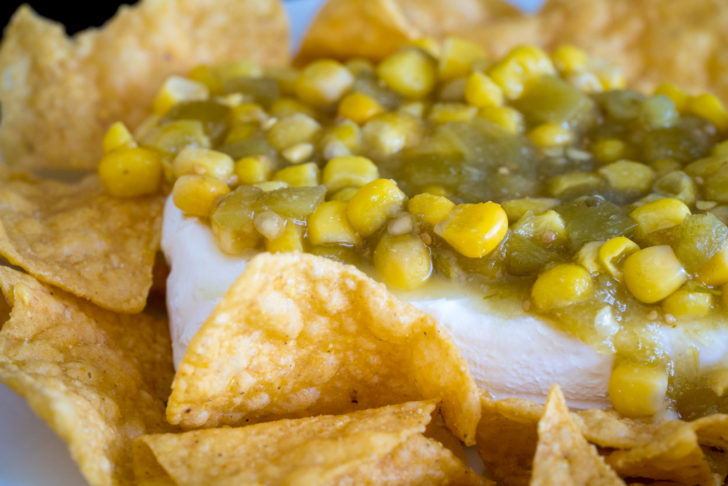 Mmm, are you guys ready for a dip that takes approximately 2 seconds to prepare, but'll have everyone thinking it's way more complicated than that? Let's be real, we're always looking for those kinds of recipes and this one doesn't disappoint. Keeping it real simple with this one, all you need are cans of whole corn kernels, green chiles and salsa, plus a little seasoning, and you've got yourself an appetizer that everyone will go nuts for. Seriously, a can opener and the ability to open a block of cream cheese are all you need for this yummy dish! Your corn and green chiles and salsa verde get all mixed together, then you pour it over the cream cheese and the sweet, spicy tang of it all works perfectly every time. Grab your chips, get the recipe here and get ready – this stuff means business!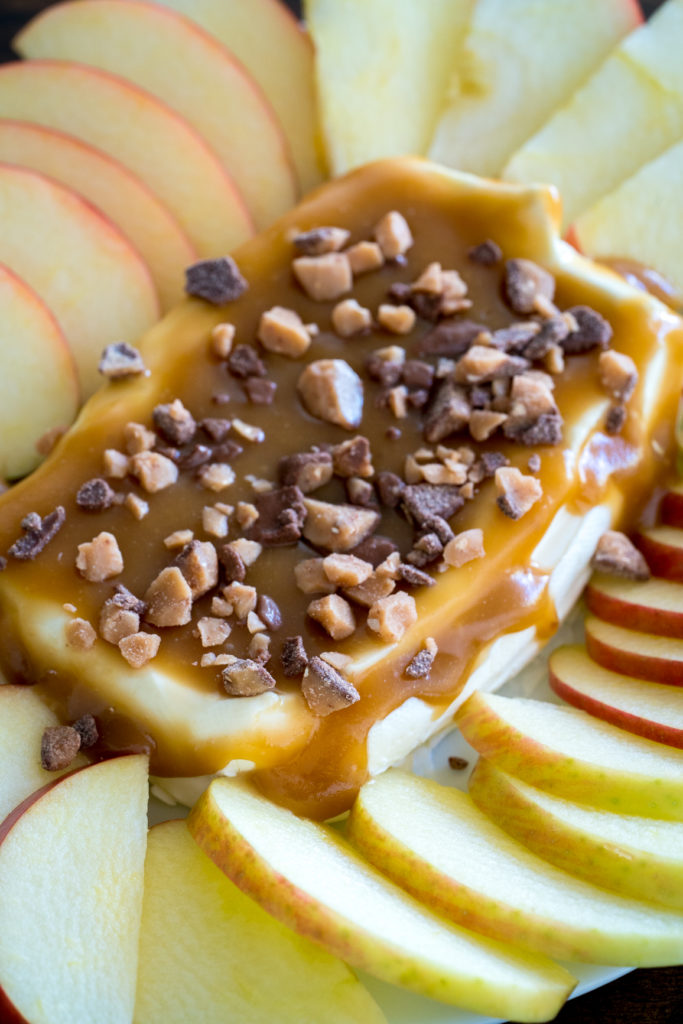 We used to always rely on store-bought caramel sauce whenever we were making sundaes or decorating cakes…that is, until we realized how ridiculously easy it is to make your own from scratch! That's right, three ingredients are basically all you need to make an incredible caramel sauce that you can then drizzle over everything you could possibly want. Here, we made an easy (read: super easy) party dip, where all you need is your caramel sauce, a brick of cream cheese, and some toffee bits to sprinkle on top. Dip apple slices in that bad boy and you're good to go – it doesn't get any easier or more delicious! Click here for the recipe!
SKM: below-content placeholder
Whizzco for 12T