I hate to break it to you, ladies and gents, but that jelly and jam you are spreading on your toast is far from healthy. Those fruity spreads, while tasty, are actually loaded with refined sugar, which is essential for the fruit to thicken during manufacturing. Don't worry, though–there is no need to give up your morning toast or PB&J thanks to this incredibly easy and nutritious recipe from our friends at Spoon University.
With the help of 3 simple ingredients, you can make a jam that is equal parts healthy and sweet. All you need is some form of fruit, maple syrup and chia seeds. Chia seeds act as a natural thickener, while the maple syrup adds a touch of sweetness!
Chia Seed Jam
Makes 1/4 Cup Jam
Ingredients:
1 cup plus ⅓ cup frozen fruit, divided and thawed to room temperature (*See note below)
1 tablespoon chia seeds
1-2 tablespoons maple syrup or honey, to taste
*Note: We used frozen cherries for this recipe, but feel free to use any berry of your choice. Strawberries, blueberries, and raspberries would all be great options. Fresh fruit can also be substituted for frozen fruit.
Directions: 
1. Add 1 cup thawed fruit to your blender or food processor and blitz until it reaches a uniform consistency, about 30-60 seconds. Transfer the berry purée to a bowl.
2. Add 1 tablespoon chia seeds and 1-2 tablespoons maple syrup to the bowl, depending how sweet you like your jam. Keep in mind that some berries may not be as sweet as others. Stir the mixture and let sit for at least 5 minutes.
3. In the meantime, finely dice the remaining ⅓ cup of fruit. If you prefer your jam to be smooth instead of chunky, you can omit this step. Once the chia seeds have thickened the fruit mixture, stir the chopped fruit into the bowl until everything is well combined.
4. Transfer your jam into a glass jar or container and store in the refrigerator for up to one week. Serve on warm toast, oatmeal or anything your little heart desires.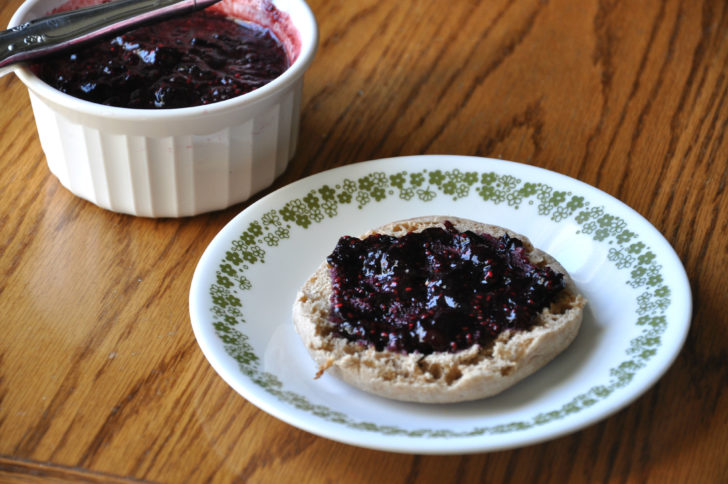 Recipe from Spoon University 
SKM: below-content placeholder
Whizzco for 12T