It seems we've all but lost the pastime of looking through old photo albums. These days, everything is up on Facebook or Instagram, but scrolling through photos on a screen just isn't the same as holding an old photograph, don't you agree? Luckily, several other people happen to be of the same mindset.
There's a trend going around where people are taking those old, cherished family photos and recreating them years, and sometimes even decades later. What started out as a bit of a joke has turned into something pretty amazing. There are silly photos, sibling photos, baby photos, as well as more serious photos. Each one holds a special memory, and it's so fun to see the way people recreate them! Let's take a look at a few of my favorites from around the web.
Twins 26 Years Later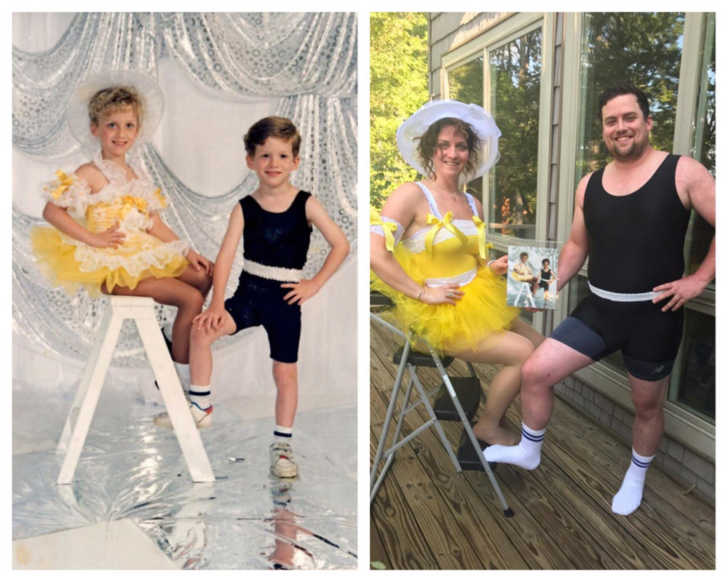 Ah, yes, the embarrassing staged sibling portraits. I have a few of these around somewhere. I, too, had a big floppy hat, teased out hair, and I actually remember sitting on a white ladder! We must have had the same photographer. Either way, the recreation is hilariously accurate! I wonder where she found that dress.
Cousins 15 Years Later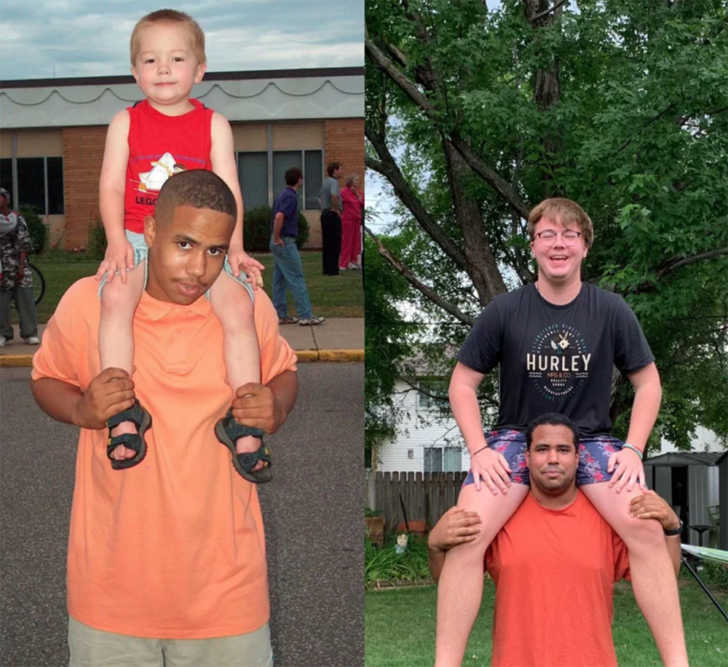 I think the caption for this photo really says it all, "Me and my cousin. 2005 and 2020. It was much more difficult to take the picture now." Yeah, I bet!
60th Birthday Present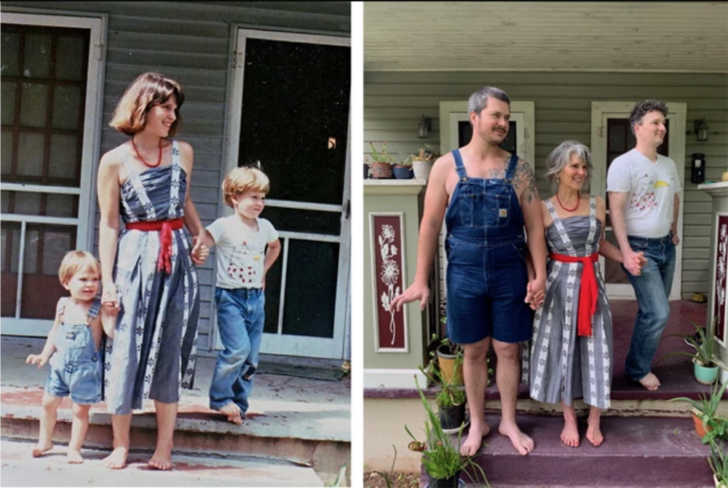 All this momma wanted for her 60th birthday was a recreation of this cherished family photo! Most of the recreations I've seen are from younger people, but I absolutely love that it was the mom who requested this. Kudos to her for keeping the dress all those years!
Father & Son 34 years Later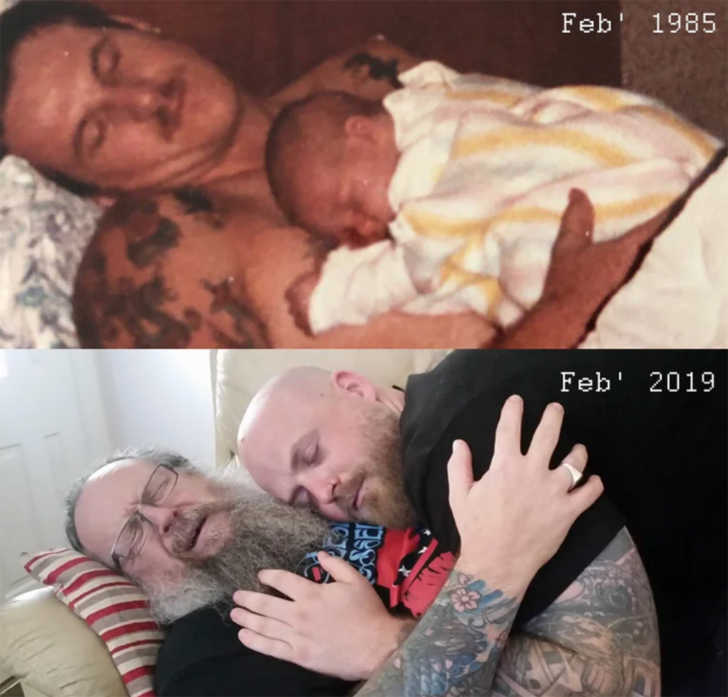 You know what they say – the family that recreates old photos together, stays together. Or something along those lines. In any case, how hilarious is this photo? It's clear this father loves his son, and vice versa.
Cute Costumes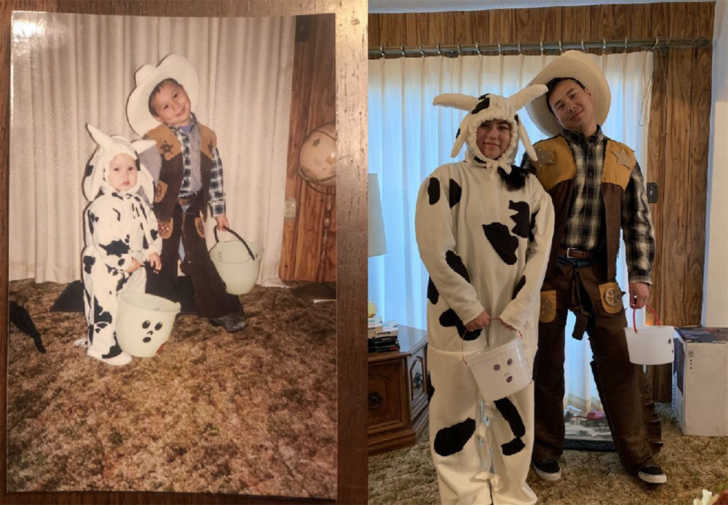 These siblings recreated their first Halloween 20 years later! I'm impressed that they were able to find costumes that are so similar to the ones they had as kids!
Brotherly Love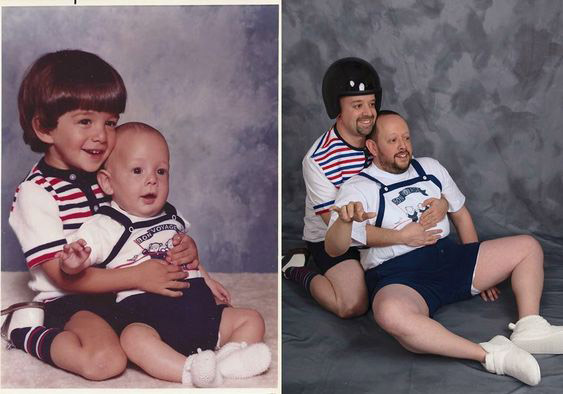 This is one of the first photo recreations that went viral. These brothers are from Portland, and they managed to make national news with this hilarious picture! I have a lot of questions, but mainly I want to know where they found that outfit for the "baby" in the recreation photo!
Sibling Fun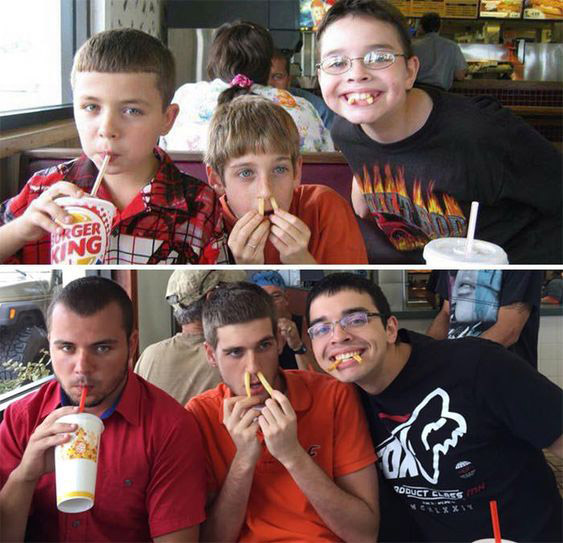 Sticking fries up your nose is definitely being dedicated to the bit, and I can respect that. I think I love this one so much because these siblings absolutely nailed the facial expressions. From the unamused kid on the left to the cheesy grin on the right, these siblings sure know how to have fun!
Dog Love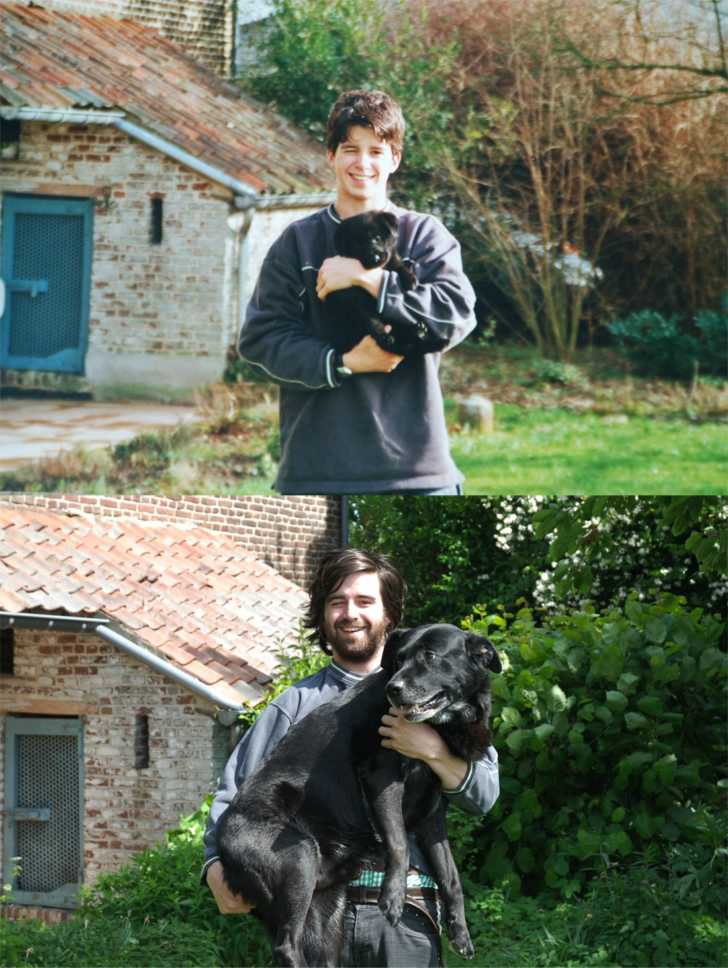 Most of these recreation photos are of family members, and this one is no different – although the family member is admittedly a little furrier than the others. I love the idea of doing this with a beloved pet!
Precious Moments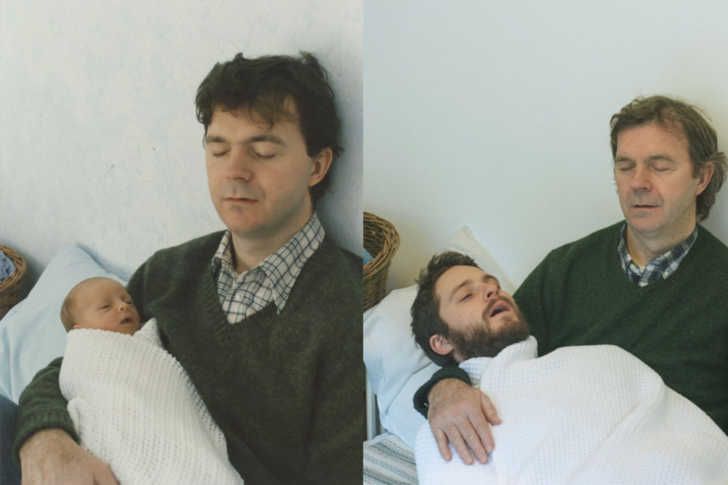 Ah, the precious first few moments between a father and son. And, of course, the precious moments thirty years later! The dad looks equally as tired in both photos. Raising a son is an exhausting job!
Surprise!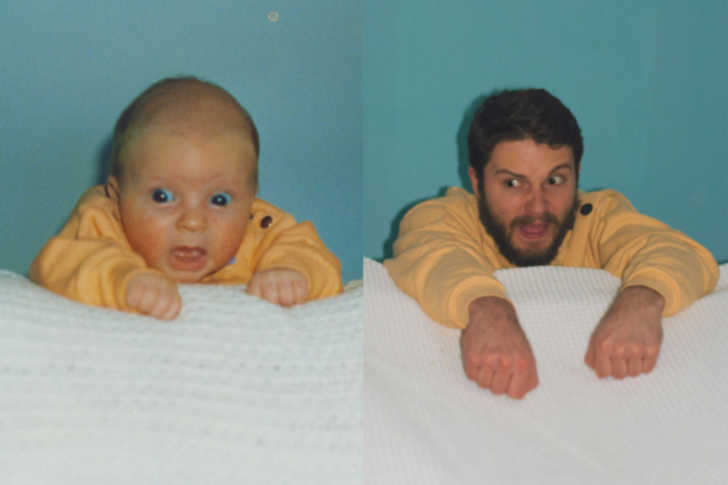 I'm not sure what the surprise is, but that baby certainly looks shocked at something! I can't stop laughing at those wide eyes! The recreation is spot on, including the same yellow shirt. Love it!
SKM: below-content placeholder
Whizzco for 12T