With all the craziness and busyness of life, it can be hard to corral everyone together for dinner at the end of the day. One thing that certainly helps cut down the chaos is meal prepping. Sure, not everything can be prepared ahead of time, but every little thing helps!
One Belgian woman, Jolanda Stokkermans of Koersel, has been meal prepping for her husband and two kids for years. She didn't just stop there, however. Jolanda took her meal prep game to the next level when she started creating beautiful, edible works of art!
While not a traditional medium, there's no doubt Jolanda is a true artist. Her palette consists of sauces, spices, and herbs, along with heartier ingredients like rice, noodles, and protein. Her kids were so impressed by her skills, they encouraged her to start an Instagram called "De Meal Prepper." Jolanda now has over 16k followers! Let's check out a few of her masterpieces.
Bob Ross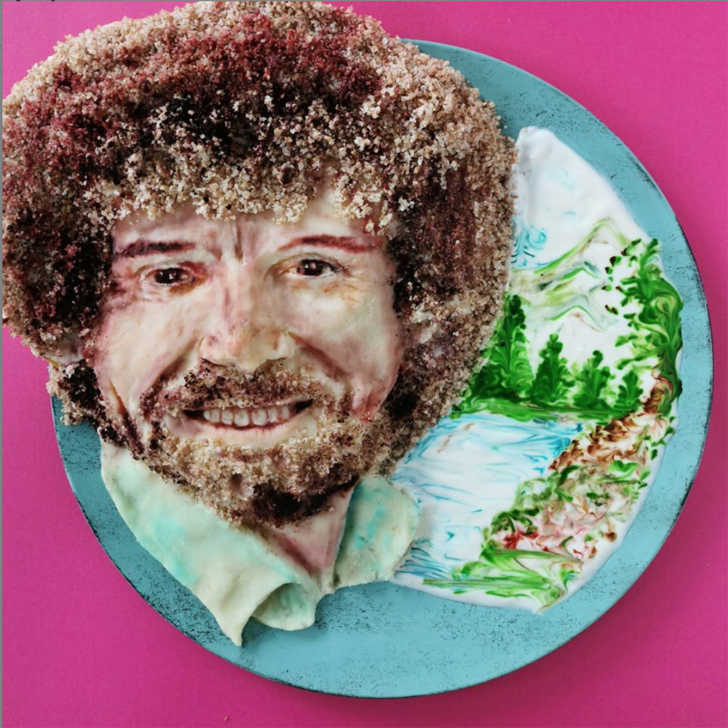 This is such a fitting one to start out with! Jolanda aptly named this piece, "The Joy of Painting," after the beloved show. Her caption reads, "Today I made this talented artist out of creamy garlic mashed potatoes, bulgur and Greek yoghurt. So satisfying and calming to watch his program! Enjoy and stay healthy!"
Kitten Cake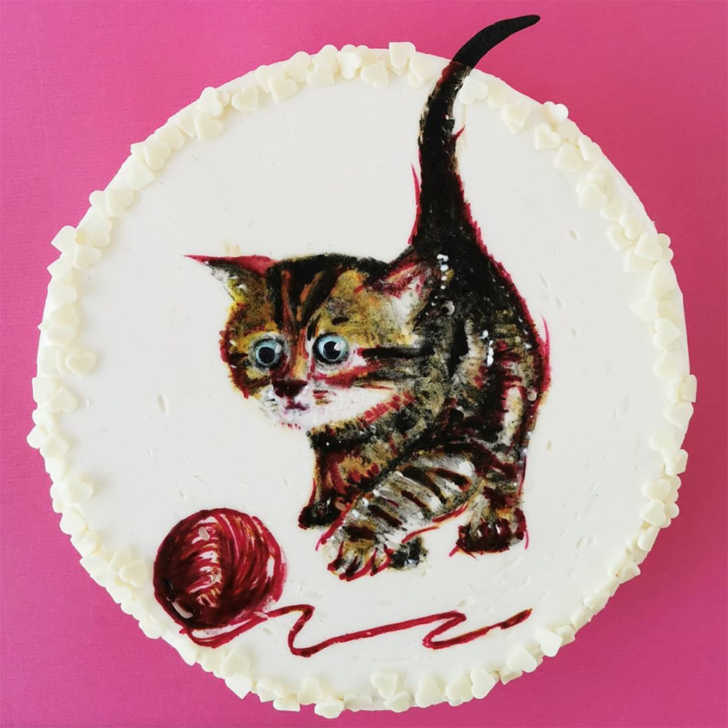 I'm a huge fan of both cats and cake, so this is pretty much a dream come true! The caption reads, "Lovely Kitten Cake. Sweet strawberry cheesecake makes a perfect dessert for a sunny day! Enjoy your weekend and stay healthy!"
The Scream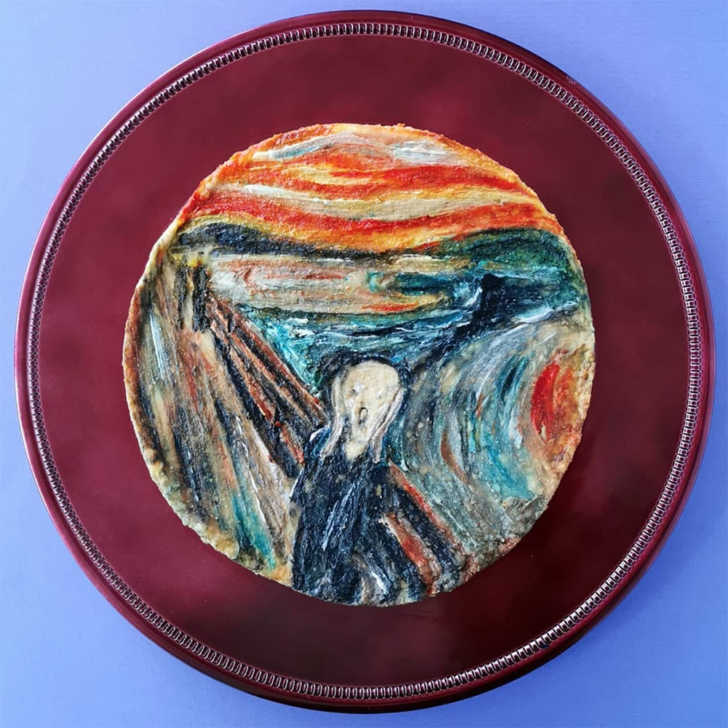 Many of us recognize this iconic painting. It's said that Munch's "The Scream," is the Mona Lisa of modern art. What would the critics say about this rendition? Jolanda's caption reads, "Screaming Hummus! Mashed chickpeas with spicy chili olive oil, black tahin and lemon. Perfect as a sidedish or dip on Halloween! Enjoy!"
Baby Yoda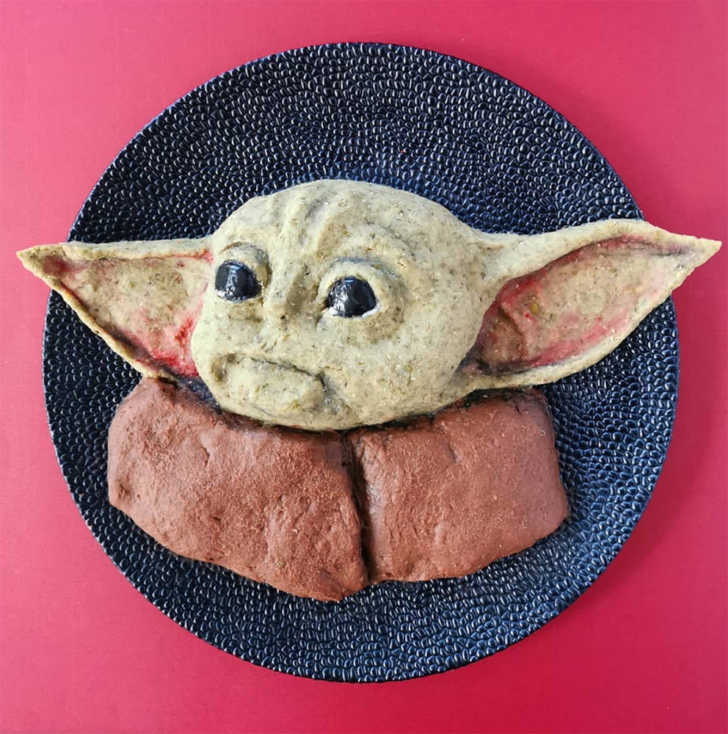 By now, we've all seen Baby Yoda memes and photos pop up everywhere on social media. I bet you've never seen him quite like this before! The caption reads, "Baby Yoda Veggies. Mung bean and cauliflower puree, coloured with beetroot. Enjoy!"
Santa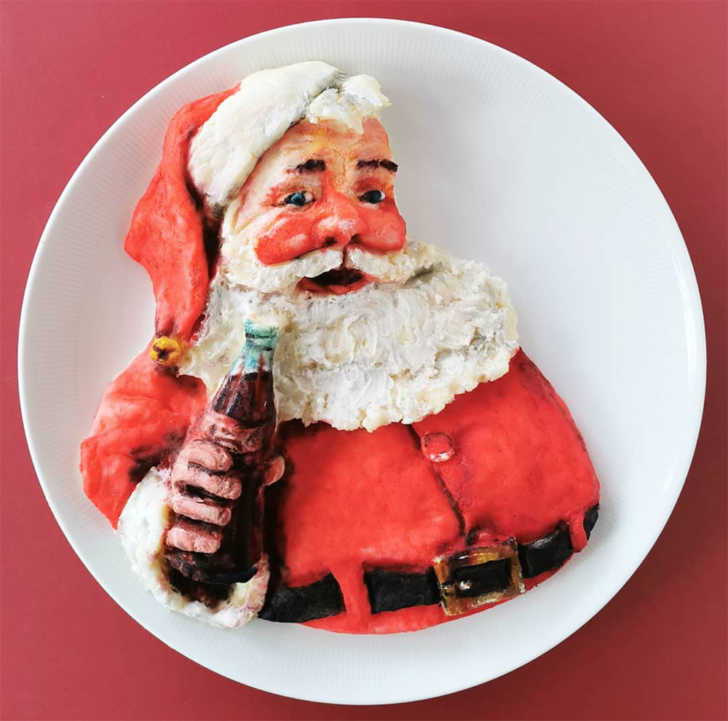 I don't know about you, but Santa with a Coke brings back so many memories! The nostalgia is certainly strong with this one. The caption reads, "Holidays are coming! Creamy garlic mashed potatoes with tomato sauce and yoghurt topping. Ho ho ho!"
An Array of Animals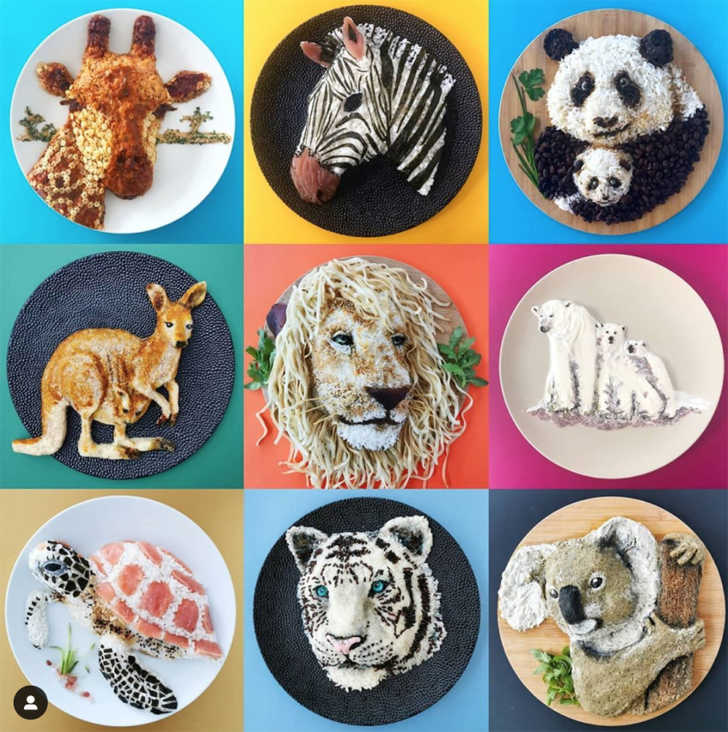 Jolanda doesn't just do pop culture icons and famous works of art. She's very gifted at bringing animals to life with her edible art! The caption reads, "Heading towards almost one year of creating food art: my series of endangered animals."
Little Red House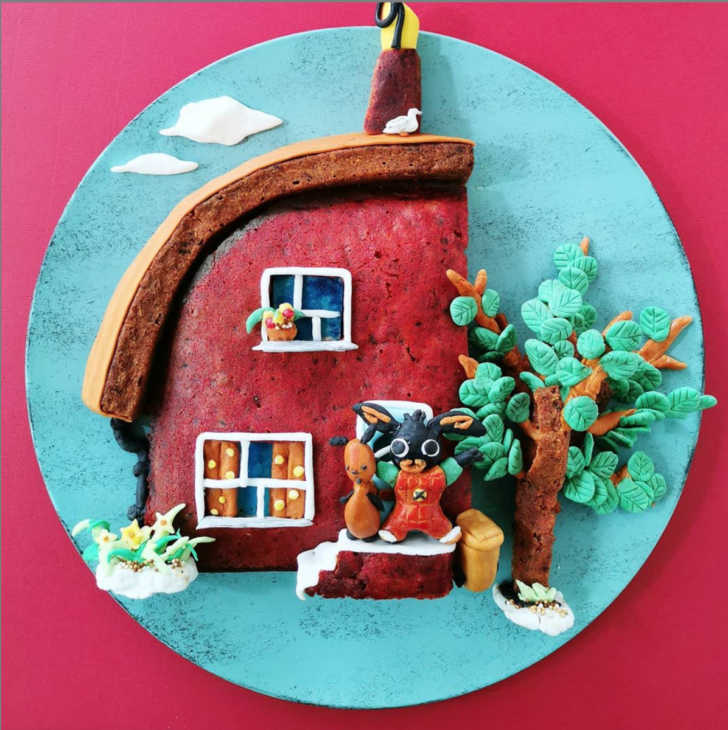 This one is a little outside of Jolanda's norm, but it's undeniably amazing! This carrot cake was made in honor of World Baking Day. Not only is it beautiful, it's made from spelt flour, Greek yogurt, sunflower oil, brown sugar, and cinnamon.
Monkey Bowl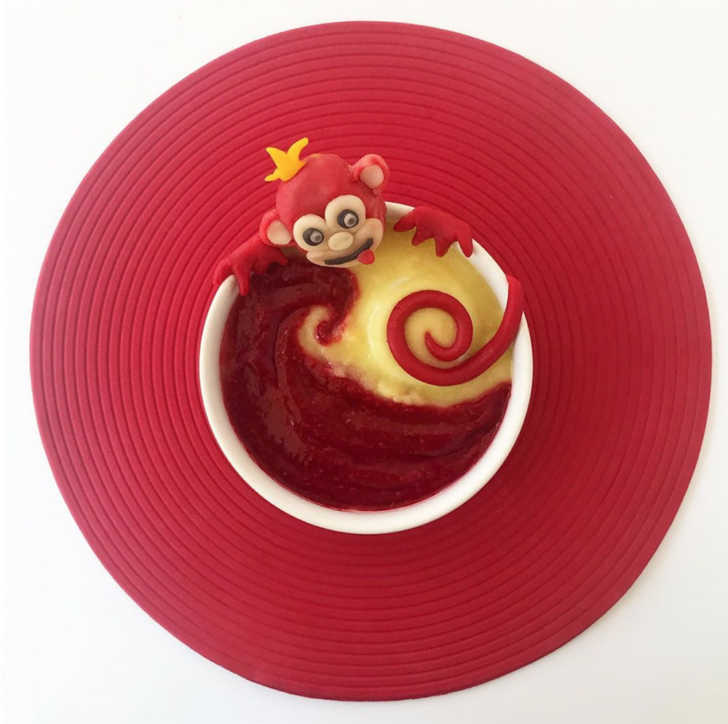 In case you thought plates were her only canvas, here's an example of a cute little monkey bowl! Jolanda says, "Monkey Bowl. Refreshing no sugar nicecream bowl, made with frozen bananas, pineapple an raspberries. Yum!"
Statue of Liberty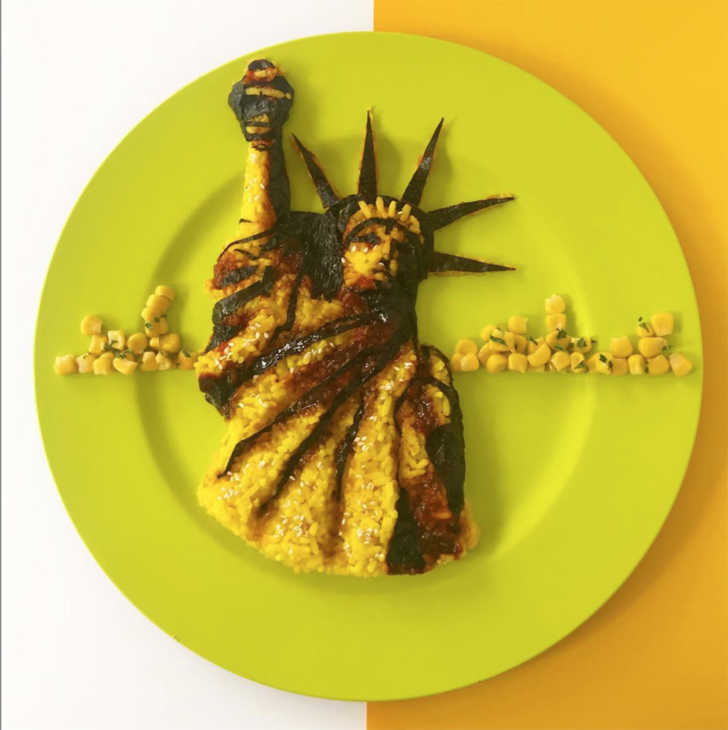 I've seen the Statue of Liberty on t-shirts, keychains, and even as a window cover in a truck once, but I've never seen Lady Liberty quite like this before! Jolanda's caption reads, "Liberty Delight! Sushiplate with spicy kurkuma and saffron rice. Serve with chilisauce and vegetables. Enjoy!"
Rainy Day Salad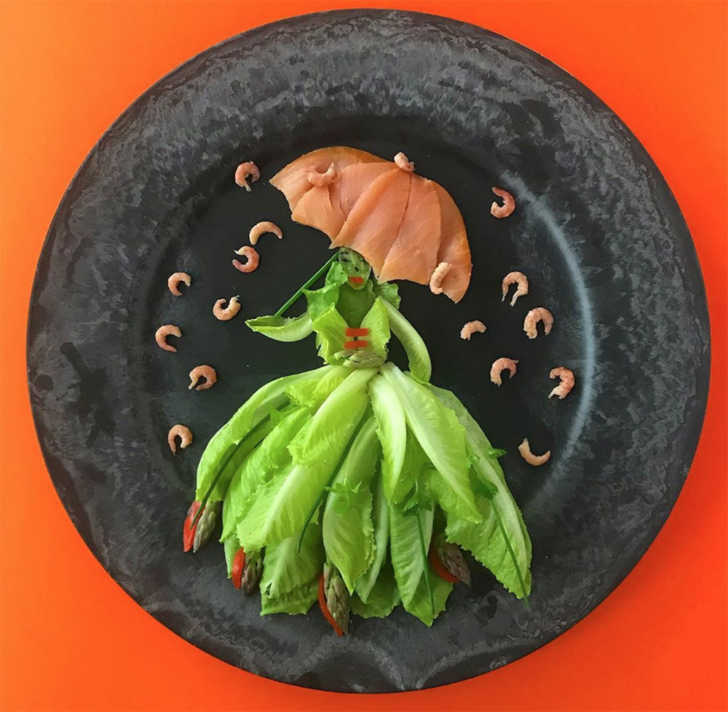 Here's another piece that showcases Jolanda's talent – this time with salads! I'm not normally a fan of loose-leaf salads, but I might change my mind if they looked like this! The caption reads, "Rainy Day Salad. Quick and easy salad with marinated asparagus, smoked salmon, North Sea shrimps and red peppers. Serve with chopped onion, fresh herbs and tartar sauce. Enjoy!"
SKM: below-content placeholder
Whizzco for 12T