As the most important meal of the day, shouldn't breakfast be something we all look forward to? Granted, you can't make extravagant egg dishes and sticky-sweet cinnamon buns every day of the week, but Saturday mornings are made for sleeping in and indulging a bit, don't you think? I've rounded up some of our favorite breakfast recipes of all time. Go ahead and find a new favorite breakfast treat on this list! Savory, sweet, and everything in between; there's something to satisfy any breakfast craving!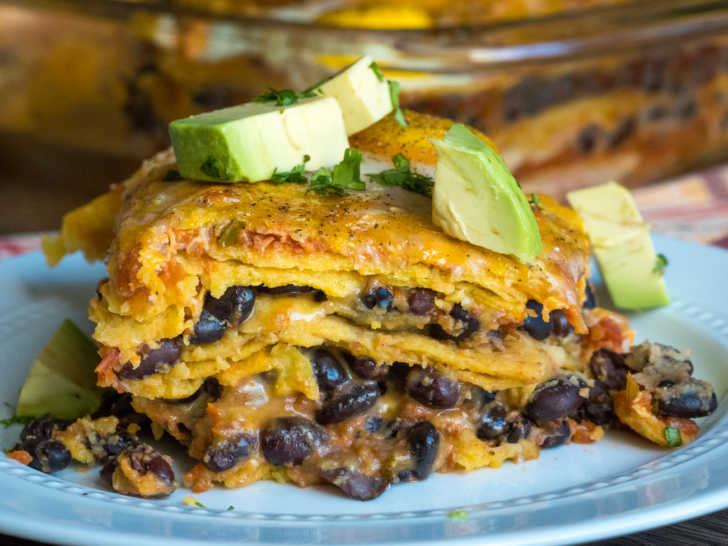 Huevos Rancheros – or rancher's eggs – are an ideal breakfast because they basically take something reminiscent of tacos and make it morning fare. As far as I'm concerned, tortillas and salsa are great together any time of day and some runny eggs, hearty beans, and a little cheese only improve the situation. This dish has all the greatness of Huevos Rancheros but it brings the flavors to you in a quick and easy bake that you can slice and serve for a crowd. Get the recipe here!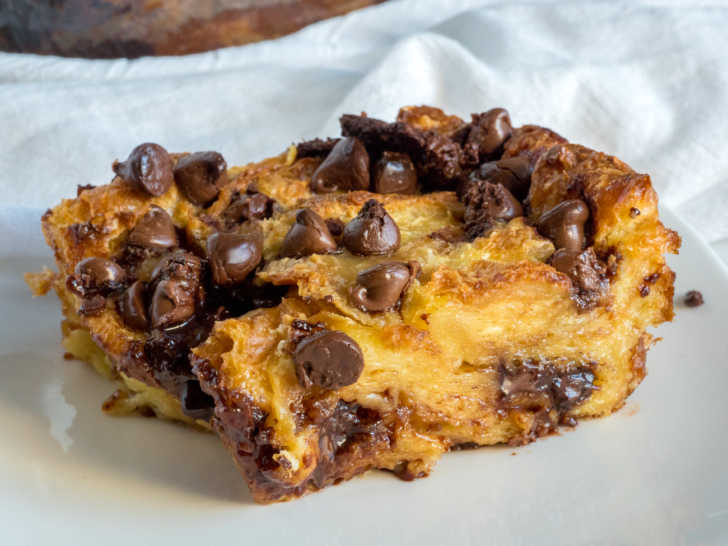 I am all about breakfast bakes because they make the morning meal incredibly easy, especially if you have a crowd to feed. But a breakfast bake that's a mash-up with a chocolate croissant? Well now, that's just a dream come true. Anytime you can work chocolate into breakfast it feels like a major win, and with pockets of melty chocolate and flaky croissants baked into a sweet custard, this easy bake does it incredibly well. Get the recipe here!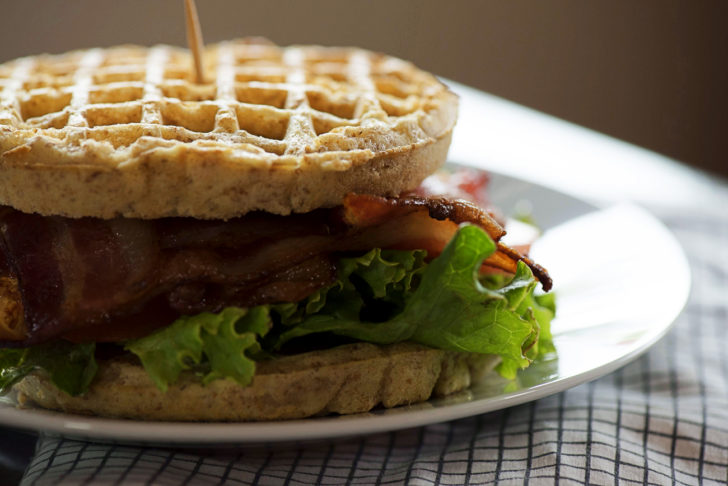 We love a good ol' fashioned BLT as much as the next person, but we also love…waffles. While the classic lunch sandwich and breakfast staple might not seem like they go together at first, trust us when we say this recipe is ridiculously good. Standard frozen waffles are all you need here, and they add the perfect contrast to the crispy bacon. Speaking of which, the best thing about this sandwich is the fact that we latticed the bacon together, so now you get bacon in every bite and you don't have to worry about bacon falling out the sides of your sandwich! We've all got a package of frozen waffles sitting in the back of our freezer (right?), so get it out and get ready for a fun, new spin on a classic! Get the recipe here!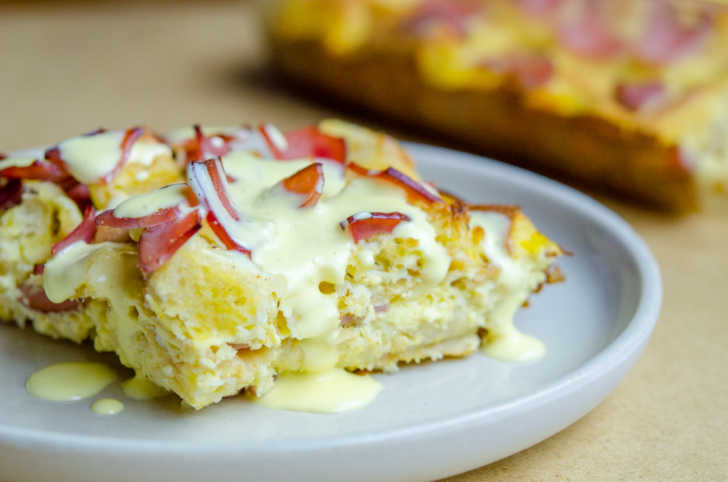 This has all the flavor you know and love from eggs benedict, but it's super easy to throw together. (Including the hollandaise. More on that in a bit.) It's just a matter of layering cubed English muffins and Canadian bacon in a baking dish and pouring a mixture of eggs and milk (and a little bit of seasoning too) over them and letting it sit until the bread has absorbed all of that goodness. That can happen overnight, or if you happen to be a morning person, you can just let it hang out for a few hours in the fridge before you want to bake it for brunch. When it bakes, the top gets golden brown and crisp… Need I say more? Get the recipe here!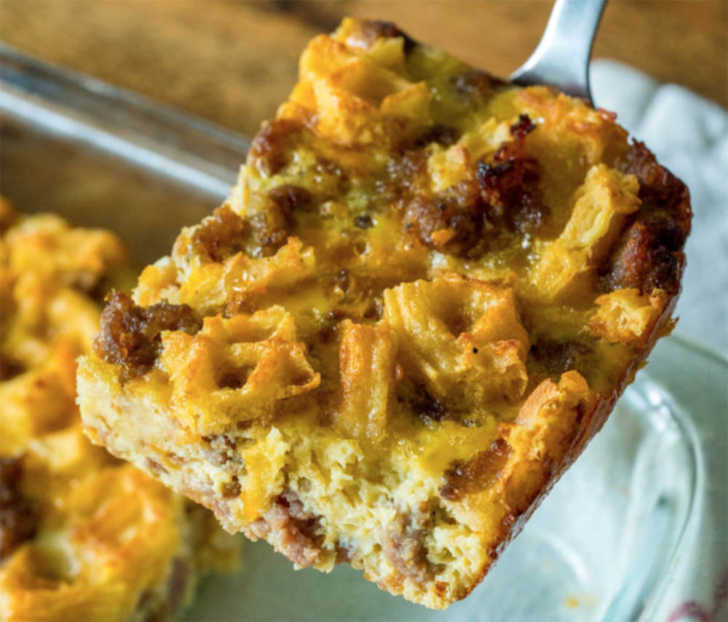 This is a two-for-one amazing meal; not only do you get to enjoy breakfast or brunch (or dinner, what the heck!) with and at the same as your family, but we're also bulking it up and turning into a full meal that will fill everyone up. We love waffles just as much as the next person, but we wouldn't say they're the most filling breakfast item when served on their own. Which is why we added maple sausage into the mix, as well as plenty of eggs and cheese. Get the recipe here!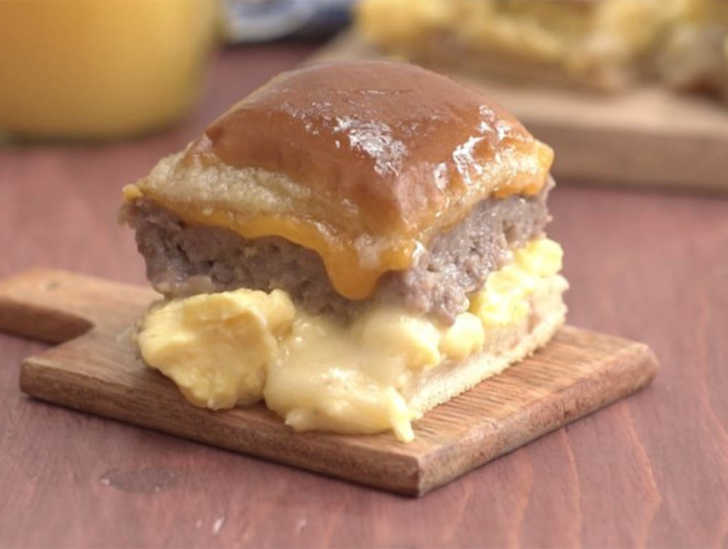 When you have a large group to cook breakfast for, it can be quite a chore. And not just the cooking… deciding what to make can be just as big of a burden! Well, these Breakfast Sausage Sliders solve both of those problems. Sweet Hawaiian rolls are sliced in half and put into a large pan and then layered with scrambled eggs, cooked sausage, cheese, and more cheese. A heavenly mixture of melted butter and maple syrup is poured over the little sandwiches and as they bake, it soaks into the bread and infuses the whole thing with mapley buttery flavor. It's all the favorite flavors of breakfast in one awesome sandwich bake. Get the recipe here!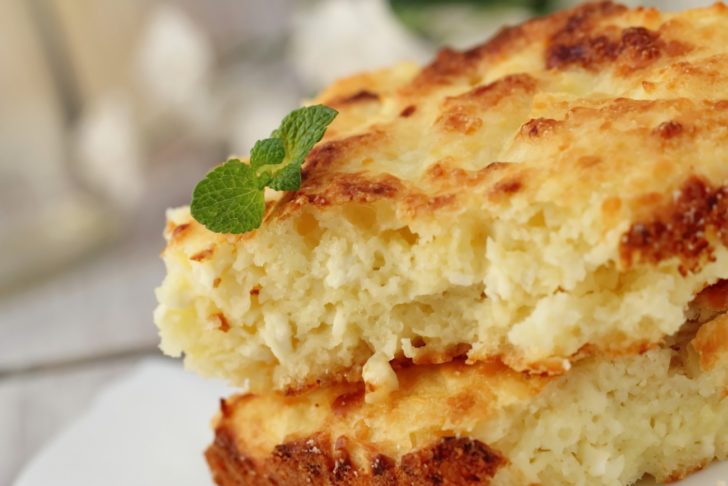 We love baked eggs in many forms, but we especially love this wonderful cottage cheese casserole. It uses both cottage cheese and mozzarella, so it has the perfect amount of stringy melted cheese with a substantial chewy bite. Cottage cheese, like ricotta, is a great base in a dish like this because it retains its shape but still becomes soft and melty. With nearly a dozen eggs, this is quite the cheesy and delicious protein-packed powerhouse to start your day! Get the recipe here!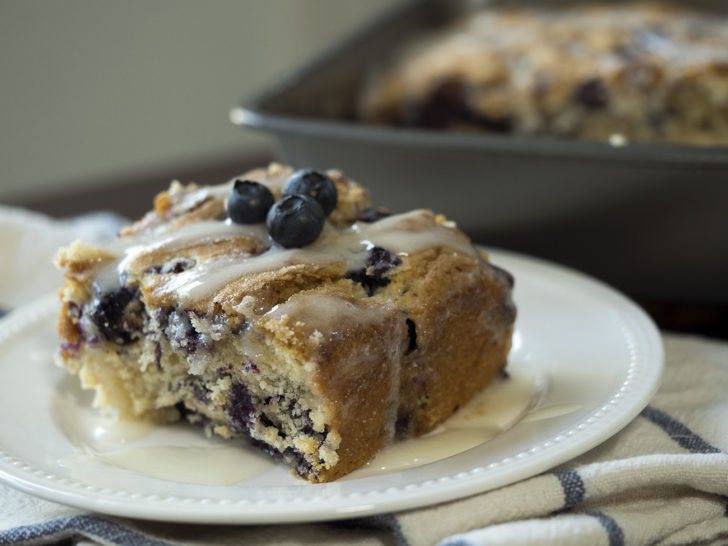 Breakfast is (by far) our favorite meal, so it's only natural for us to get excited about new and delicious dishes to try. One of our go-to's whenever we try a new place for breakfast is blueberry pancakes, but we veered from our normal order this past weekend and tried this blueberry buttermilk breakfast cake instead. Woah. These moist, cakey bars are not soon to be forgotten, and we fully encourage you to forgo the pancakes in favor of these blueberry bars this weekend. They're great when they're hot from the oven – you could even go really crazy and glaze them – and we can report that they're just as good three days later, cold from the fridge. You can't go wrong with these bad boys. Get the recipe here!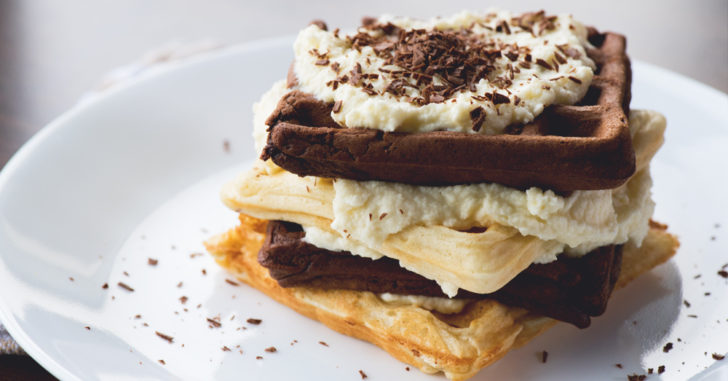 When it comes to food, Italy knows what it's doing. So many of our favorite dishes stem from this food-centric country, including an all-time favorite dessert: tiramisu. Seriously, who doesn't love coffee, chocolate, and sweet cream together? We certainly do. In an effort to enjoy these fabulous flavors more often, we got to playing around in the kitchen, and came up with perfectly decadent tiramisu waffles! We made both a coffee-chocolate batter, and a vanilla-rum batter, and layered tons of sweet, mascarpone-filled whipped cream between them. Now we can have a favorite dessert for breakfast…. And who doesn't want that?! Get the recipe here!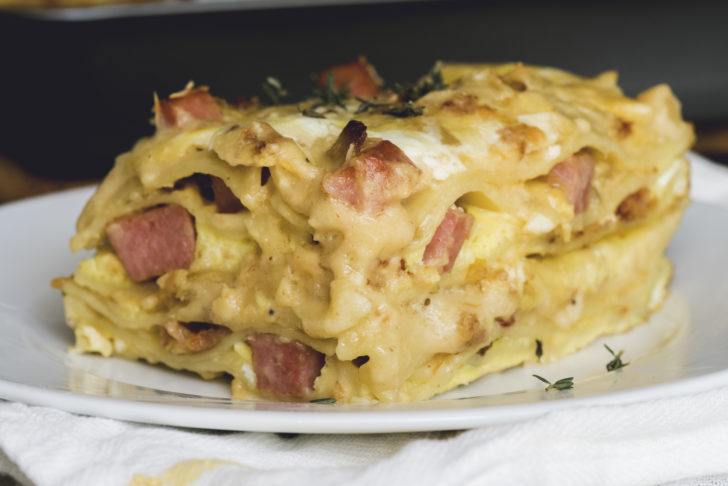 When it comes to making breakfast for a crowd, we typically get swamped standing over a hot stove, churning out pancakes or french toast, listening to people gripe about having to wait for seconds. While we'll always love these classic breakfast foods, we knew we wanted something that we could make a big batch of and that would be easy to serve a big group at the same time…plus, we decided to play around with interesting flavor combinations. What we came up with was a savory breakfast pasta. Stick with us for a minute: lasagna doesn't just have to be for dinner, it makes a delicious breakfast as well, with yummy layers of bacon, ham, onions, cheese and, of course, lots of eggs. The result was a hearty dish that was perfect for our family and friends at Sunday morning brunch. It might sound weird at first, but we promise, this stuff is so good! Get the recipe here!
SKM: below-content placeholder
Whizzco for 12T