Here's how to make the perfect turkey gravy. Every time.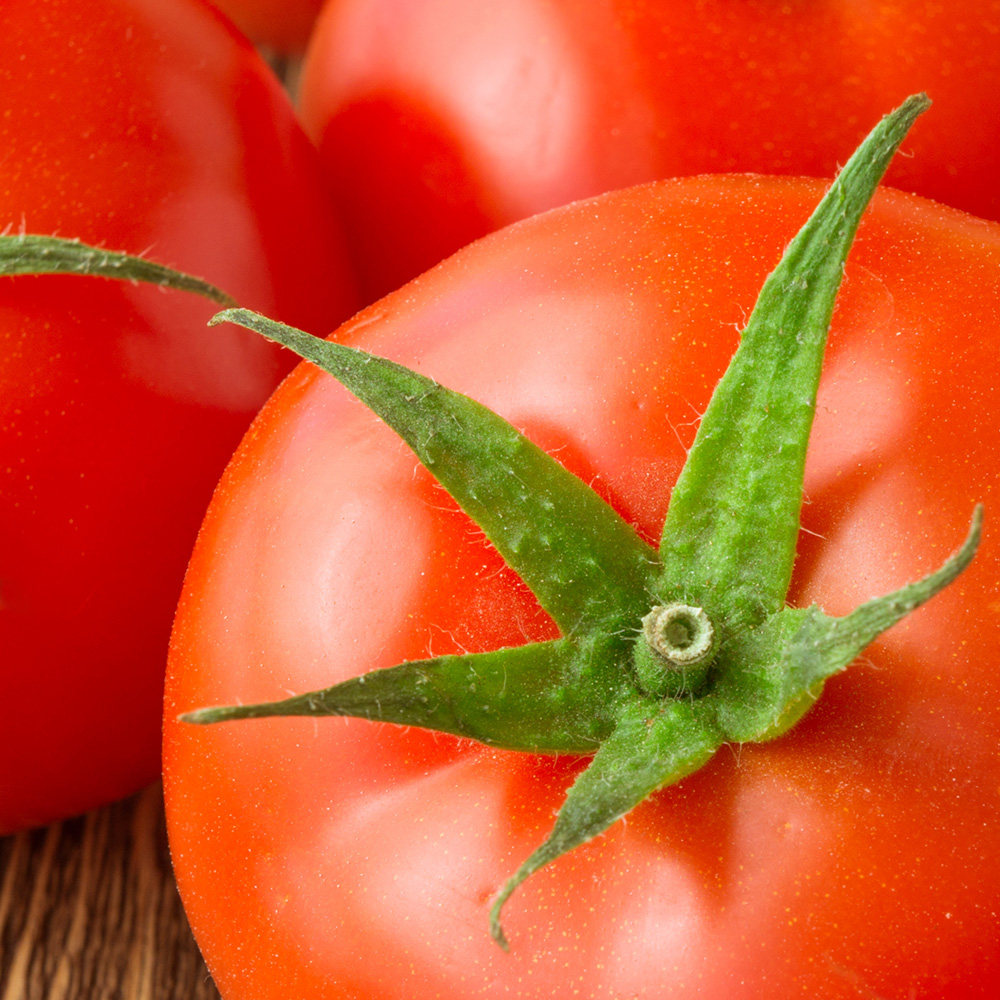 12 Tomatoes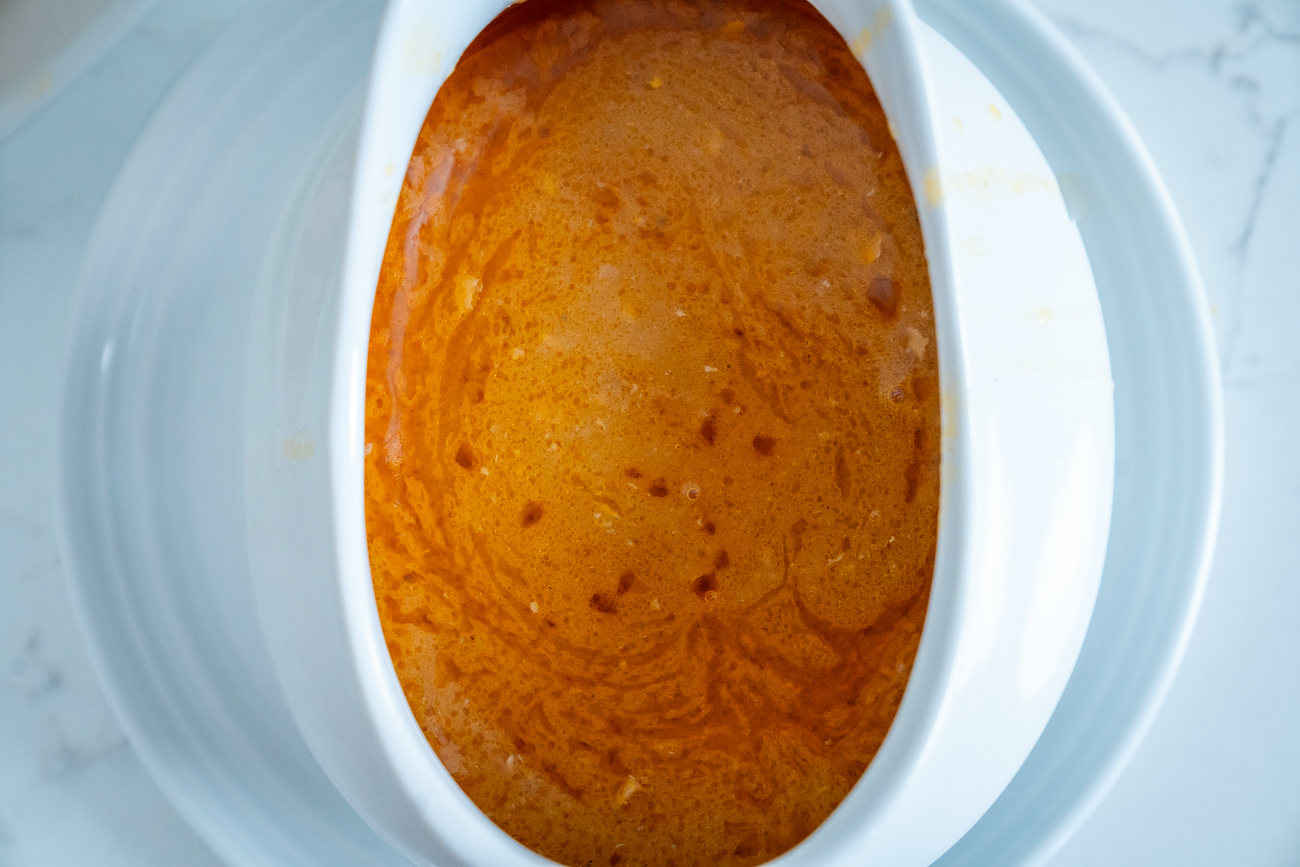 It seems a little silly to me now, but for a long time gravy kind of mystified me as a cook. Maybe because I only made it once a year, maybe because I grew up on packet gravy, somehow I built up something very simple into something I "didn't know how to make." But, as is the case with most things, I didn't know how to do it only because I hadn't tried it yet. Once I had, I found that gravy was a really easy thing to create and a very good thing to know how to make. (It's good on everything, after all.) More method than anything else, it takes just three ingredients and the tiniest bit of know-how and anyone can make the perfect turkey gravy. Chef Dom walks us through just how to do it in the video below: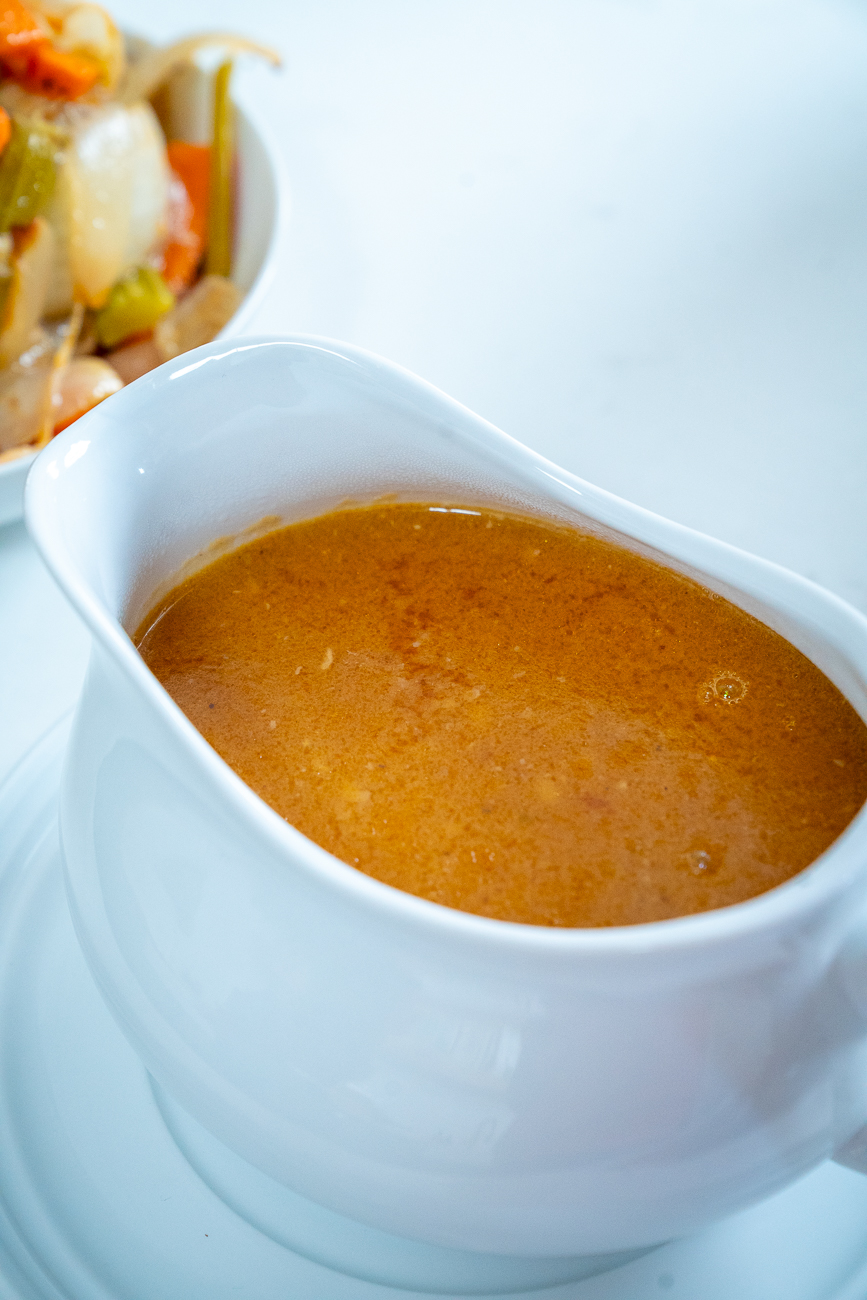 Liquid Gold: Drippings, Stock, Broth — What do I use?
The answer is: you can use all of the above.
When making turkey gravy, you want to harness all the flavor that dripped out of the turkey, so it's important to utilize all the juice in the bottom of the pan. You'll usually hear this referred to as "drippings." It's basically liquid gold.
If the turkey has been cooked over vegetables, scoop those veggies out for serving or snacking on, and then work on getting the remaining liquid into a measuring cup. You want to bring up all the stuck-on turkey bits on the bottom of the roasting pan (save all of that flavor!), so either scrape the bottom of the pan with a wooden spoon and/or set it over a burner on the stove and use some water or broth to deglaze the pan.
Transfer the liquid to a measuring cup. There's not really a need to remove the fat.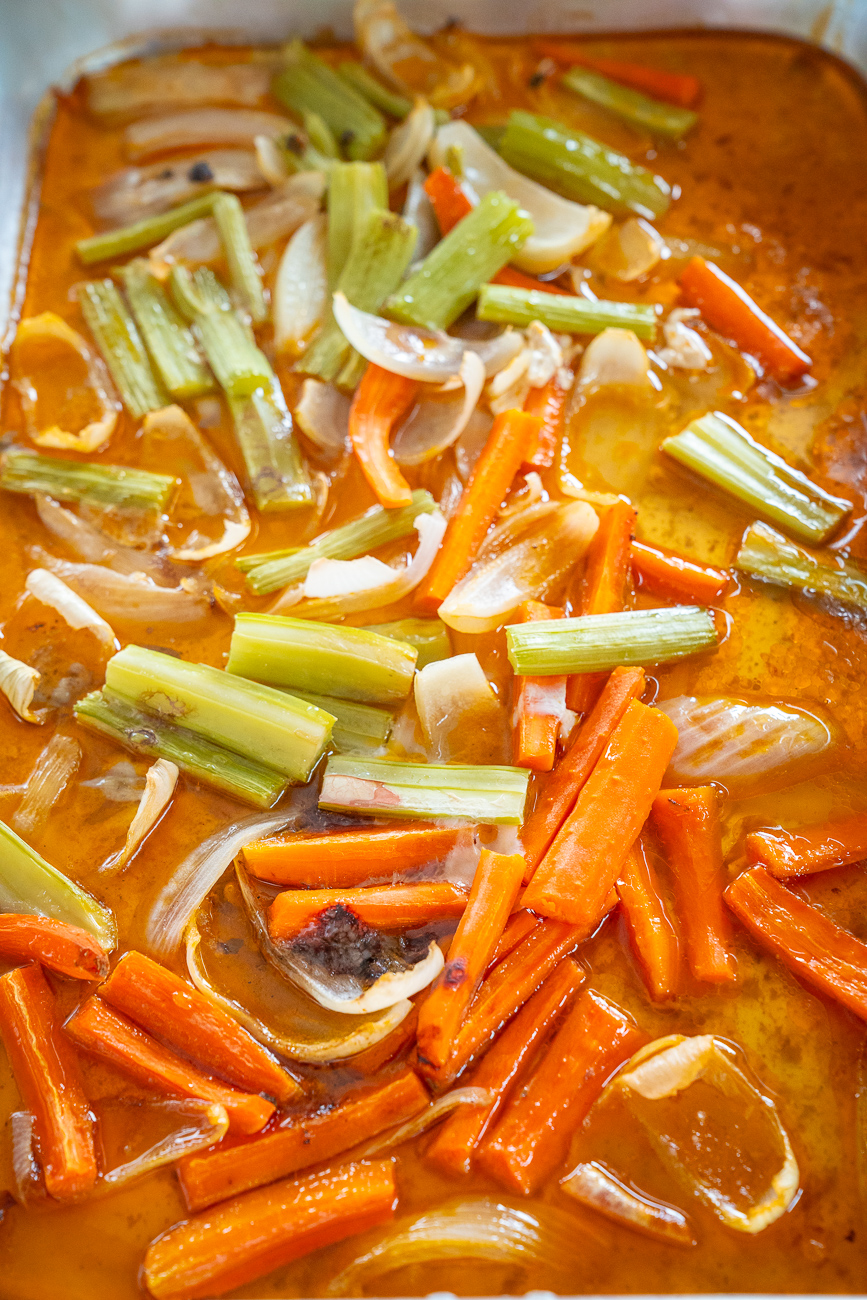 What if I don't have enough drippings?
If you don't have enough drippings to reach two cups, the solution is really simple — top them off with more stock or broth until the measurement reaches two cups. Easy as pie.
And then, the roux.
The foundation of a gravy is a roux, which is simply a mixture of equal parts flour and fat that are cooked together. It's used to help thicken many kinds of sauces like béchamel and velouté and you can take the flavor in different directions by how long the roux is browned. In the case of turkey gravy, you only need to whisk the flour into the melted butter and let it cook until it starts to smell a little toasty.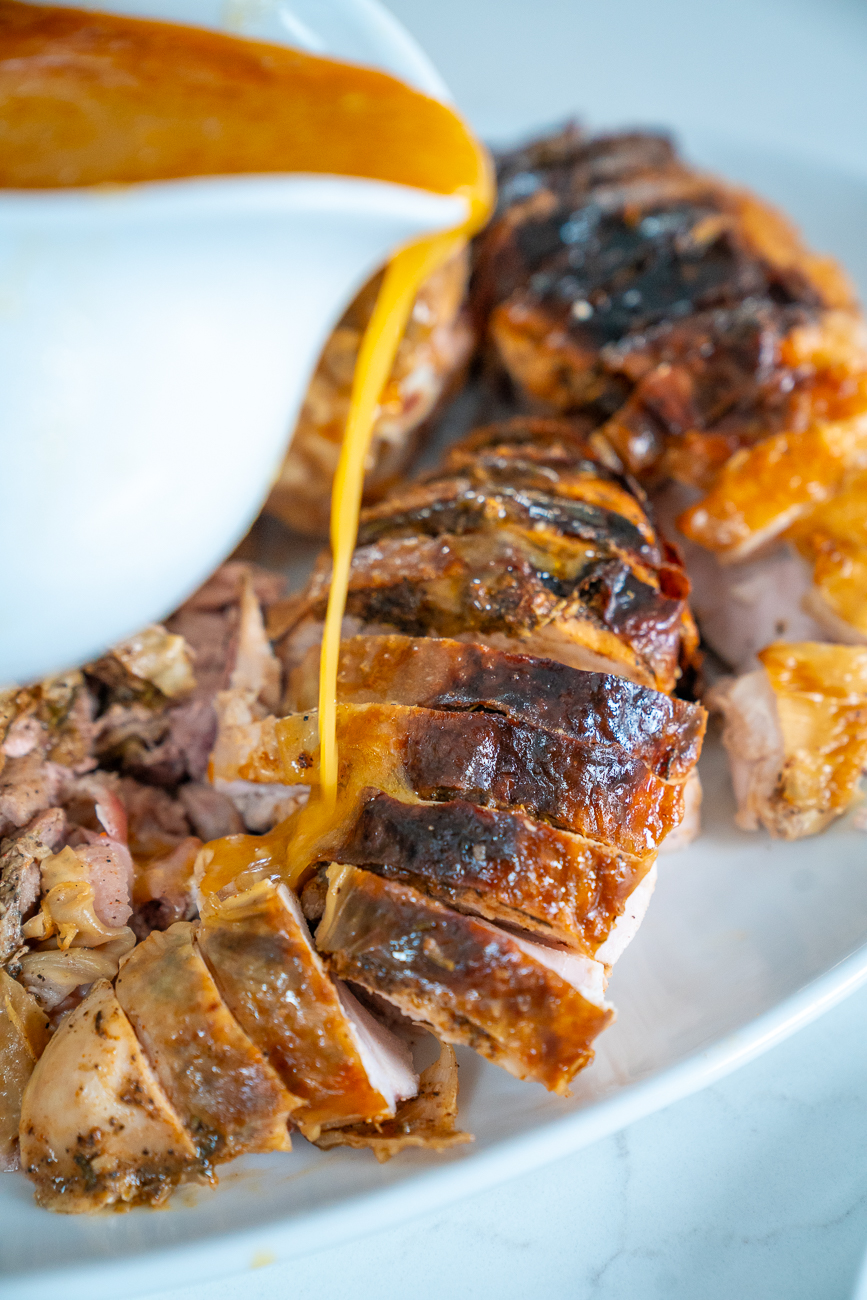 How do I prevent lumps?
Once the roux is ready, add your liquid and to prevent lumps by gradually adding that liquid while whisking constantly. Like Chef Dom says in the video, this is a great time to have someone come help you and pour the stock/broth/drippings in, but it's certainly possible to do it yourself.
Add a little liquid and stir until smooth — the mixture will thicken up very quickly at first. Then, keep adding liquid gradually and whisking. The mixture will be much looser once all liquid is in.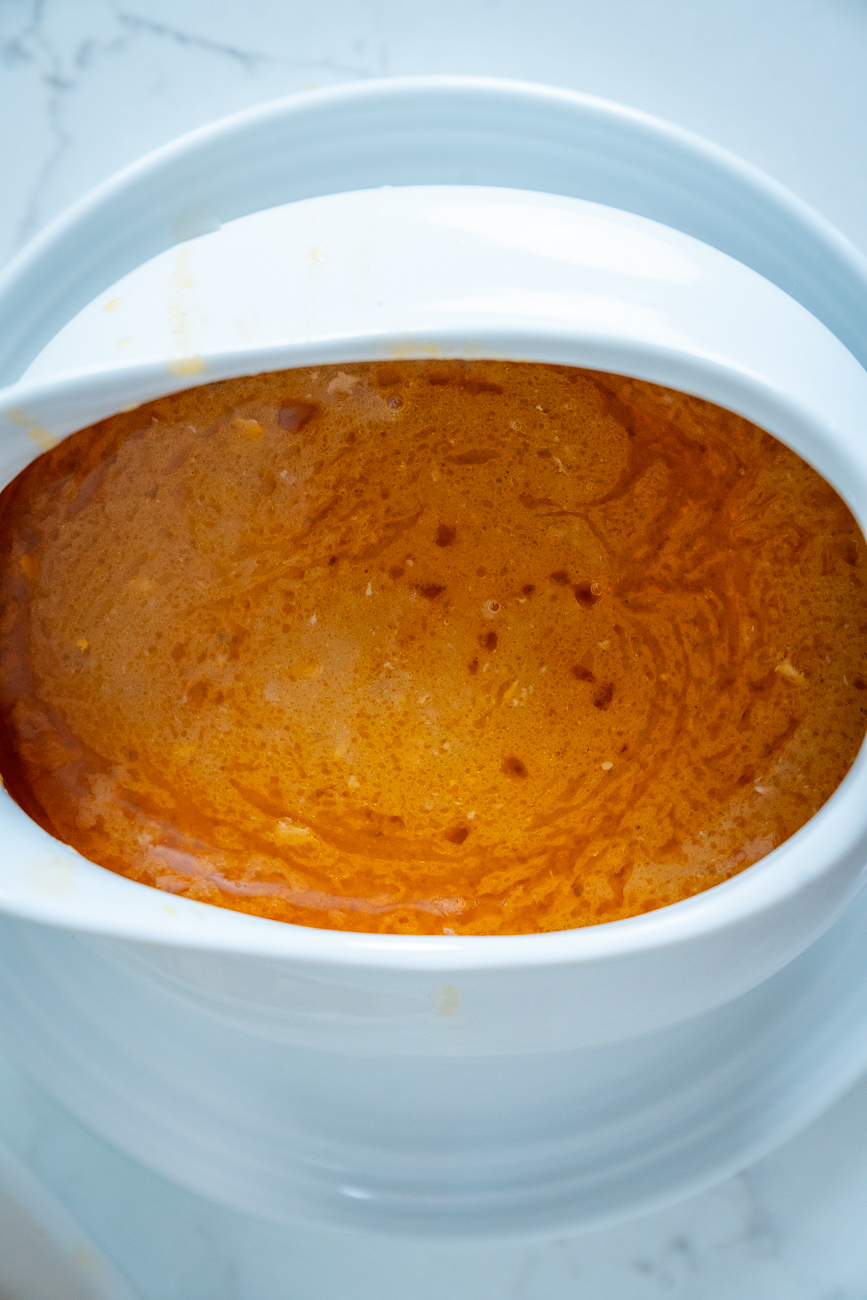 How long do I cook it?
Just a few minutes.
Once the mixture reaches a boil, it will thicken up. If it coats the back of a spoon and you can draw a line through it without the line running, you've achieved enough thickness. For thicker gravy, continue to let it reduce but really, this shouldn't take more than ten minutes.
If things get TOO thick, just whisk in some more liquid. Problem solved.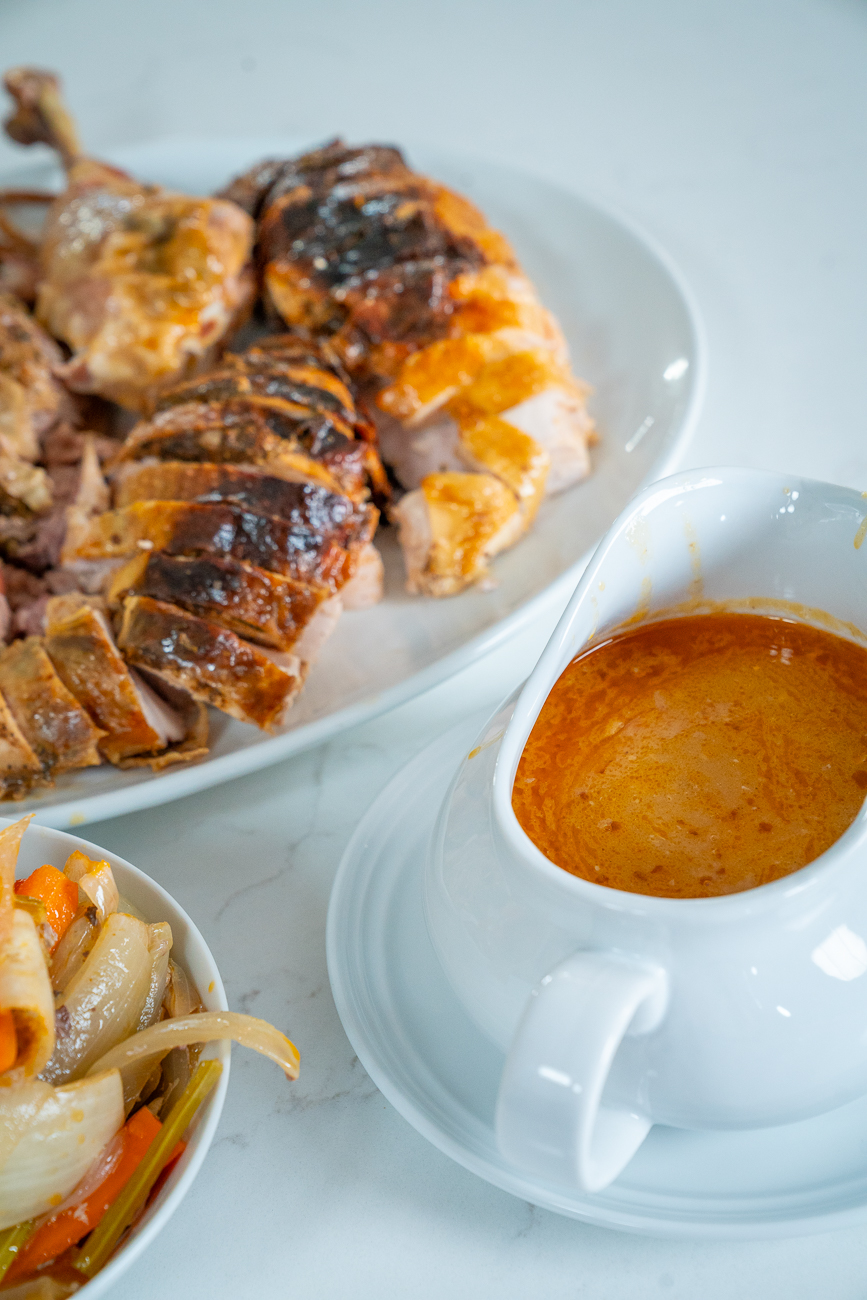 Can I hold my gravy? Can I re-heat it?
You sure can!
You can chill gravy in the fridge (covered, please) for up to three days and you can even keep it in the freezer for up to four months. When it's time to reheat it, low and slow is the name of the game. Just add the gravy to a cold saucepan or skillet and set it over low heat. Whisk while it comes up to temperature and the gravy should be as good as new.
Recipe by Dom Ruane. Copy by Kristy Norrell
Turkey Gravy 101
Yields 2 cups
5m prep time
15m cook time
Ingredients
3 tablespoons unsalted butter
3 tablespoons all purpose flour
2 cups turkey drippings, plus broth or water as needed
Kosher salt & freshly cracked black pepper, to taste
Preparation
Use a spoon or spatula to scrape the bottom of the turkey roasting pan or deglaze the pan with 2 cups of turkey stock to bring up any stuck on bits. Strain large solids and reserve liquid in a measuring cup. If you don't have enough drippings, use water or stock/broth to bring liquid amount to 2 cups.
Using a saute pan, melt butter over medium heat.
Add flour to the pan and stir with a wooden spoon until flour is incorporated. Cook the roux mixture for 1 minute, stirring constantly, until it starts to smell toasty.
Pour the reserved turkey stock into the roux, slowly whisking, so no lumps remain. Continue to heat until thickened, whisking frequently. Season to taste with salt and pepper.
Enjoy!
SKM: below-content placeholder
Whizzco for 12T