A classic done right.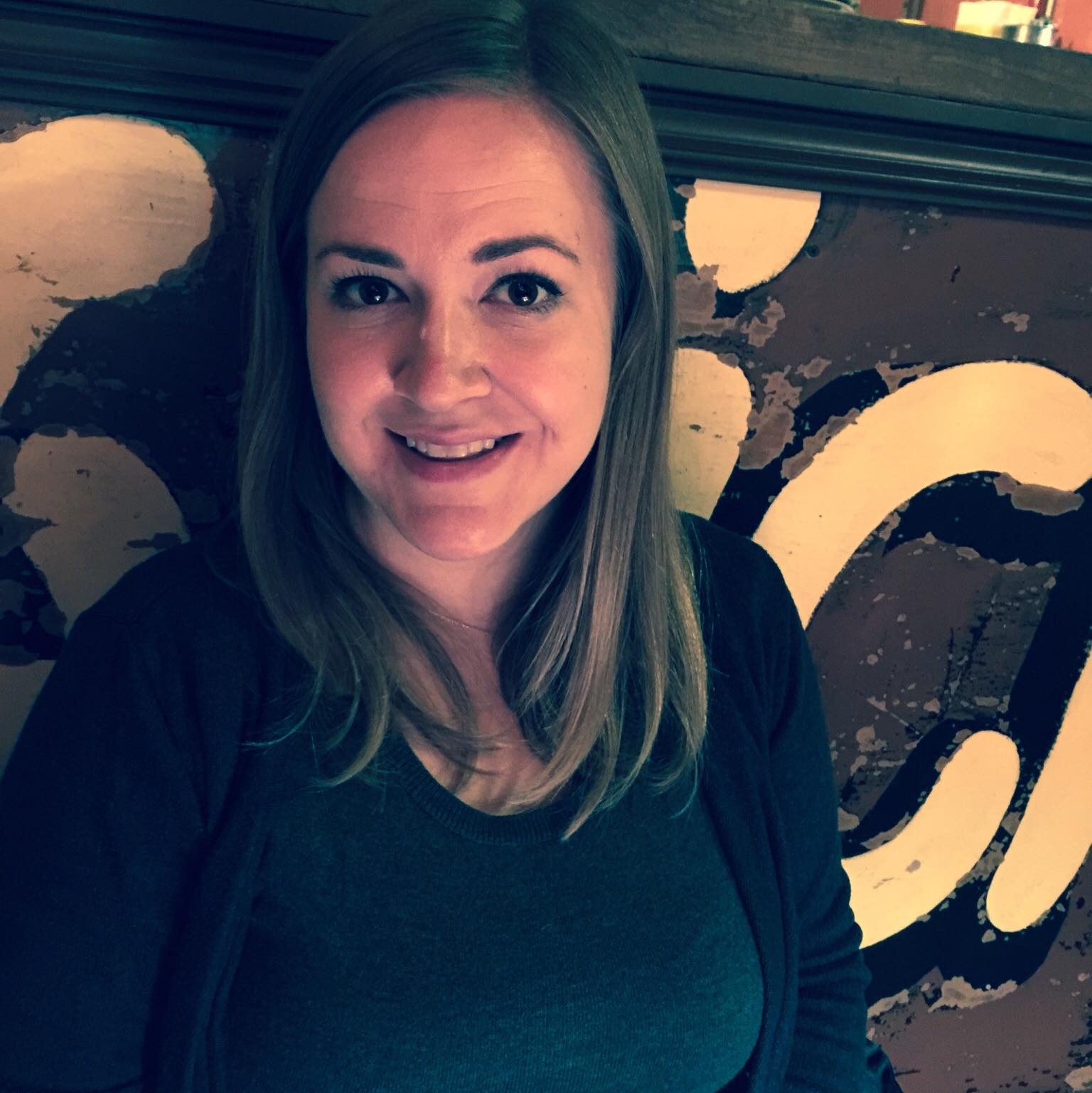 Kristy Norrell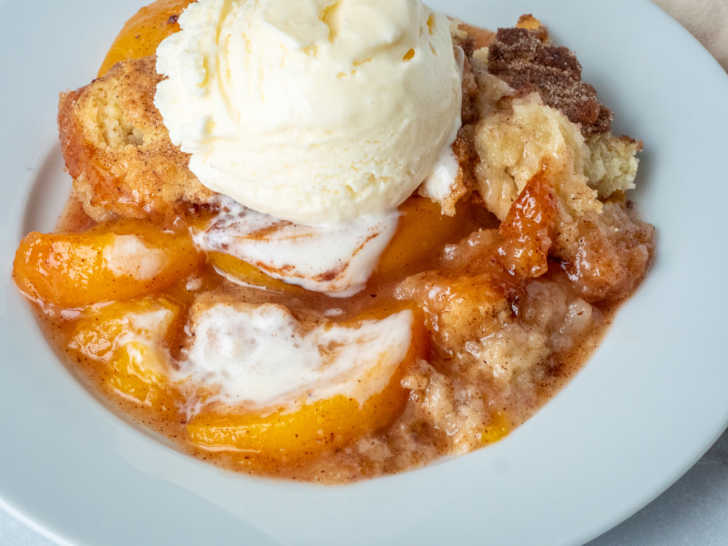 I've been completely in love with cobbler since I first took a bite of my grandma's blackberry version decades ago. As far as desserts go, it's just such an approachable one, rustic and homey but as delicious as any highfalutin treat you can buy out of a pastry case. The combination of the doughy topping (ideally with just a kiss of salt) and sweet and soft cooked-down fruit is as good as it gets, especially when it's topped with a scoop of vanilla ice cream. And if cobbler is as good as it gets, this Southern Peach Cobbler is as good as cobbler gets — it's done just right and it's super easy to make.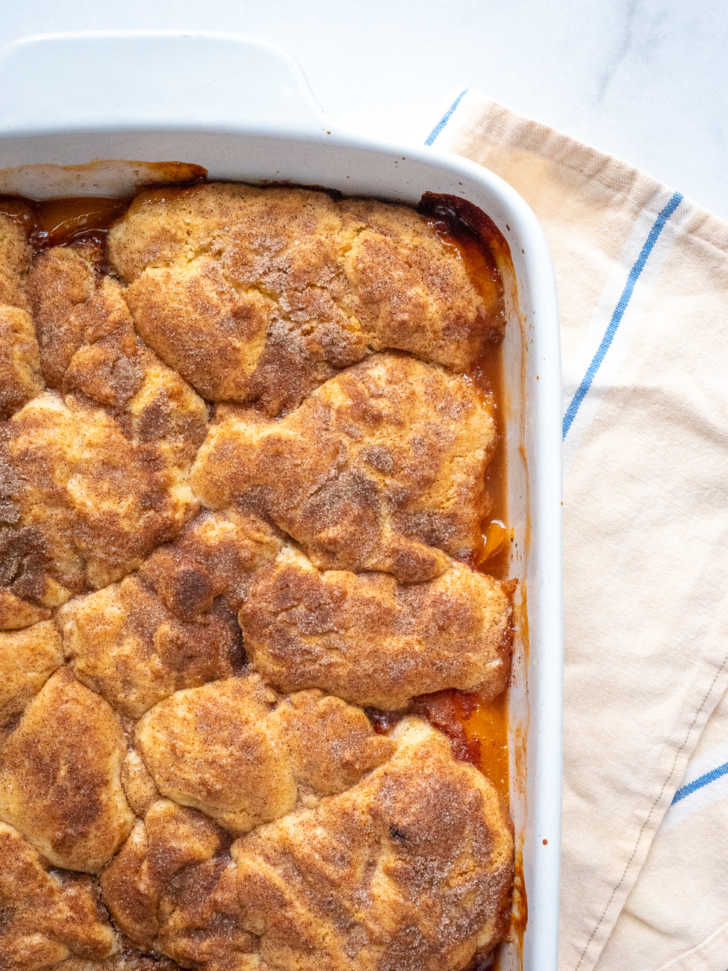 I first loved cobbler because of how it tastes — warm, fruity, and a little bit jammy with a tender doughy morsel to go with every bite — but as someone who now supplies the desserts, I've fallen in love with how easy it is to make too. A cobbler (or sometimes a crisp) is my go-to dessert when company calls because I can pop it in the oven while we eat dinner and it's ready to be scooped into dessert bowls at just the right time. I love it with blackberries, raspberries, blueberries, strawberries and rhubarb, but mostly I love it with peaches.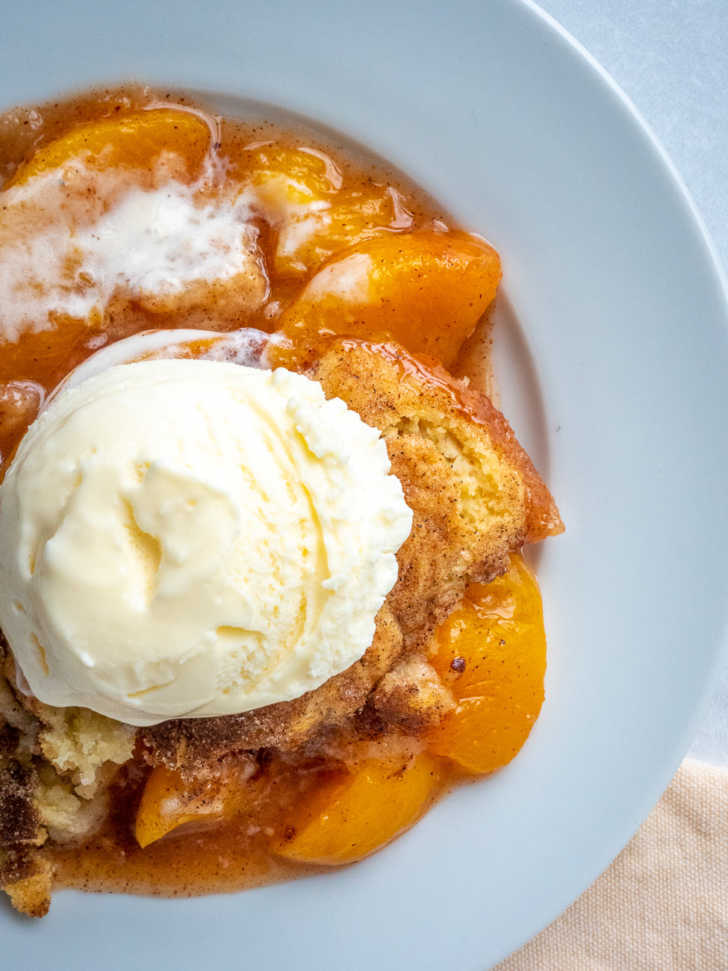 Peaches are one of my very favorite thing about summer but the good news is that frozen peaches work just as well in baked desserts. (So you can make this anytime of year.) If you're using frozen, there's no need to thaw first, just double the cornstarch for the filling as they will give you a juicier cobbler than fresh.
Do you need to peel your peaches? I never do. It's an awful lot of work and the thin skin really just melts mostly away. You likely won't notice it at all if you leave it on and you'll save yourself a ton of time (and mess!).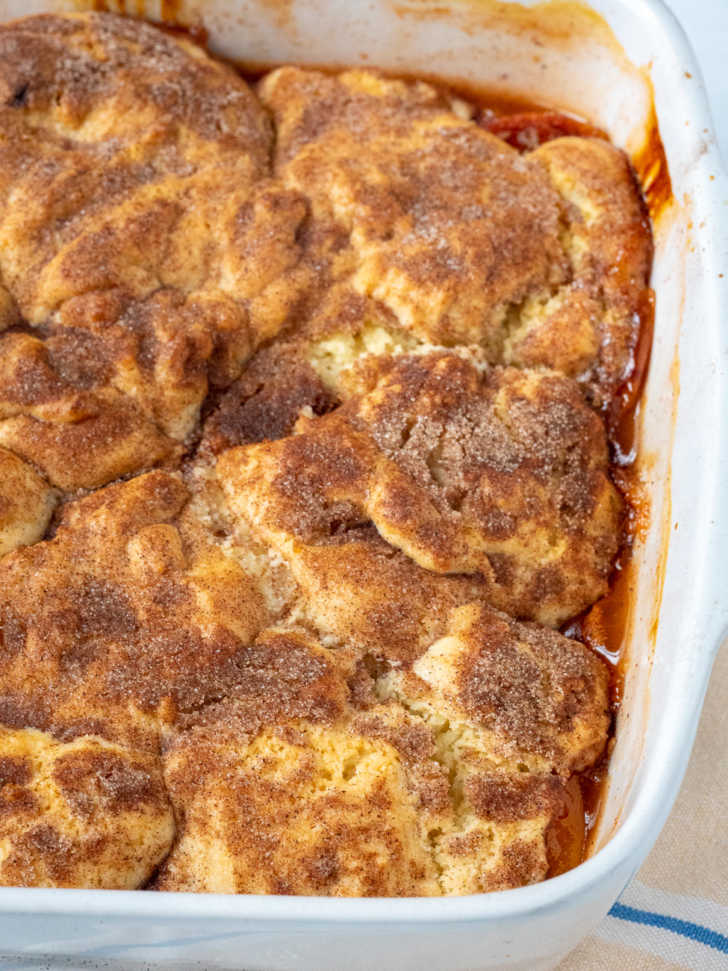 Oh, and if you haven't been giving your cobbler a cinnamon sugar dusting on the top, a peach cobbler is the perfect place to try it. The cinnamon plays so nicely with sweet and juicy peaches!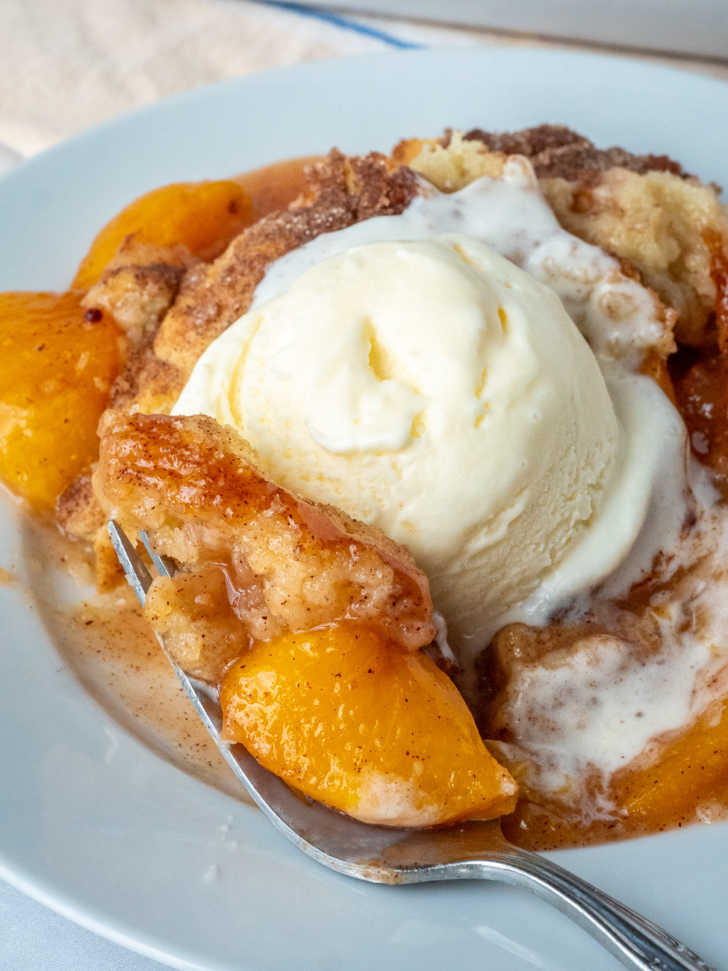 Southern Peach Cobbler
Serves 8-10
15m prep time
30m cook time
For the filling:
9 cups peaches, sliced into thin wedges (about 8 fresh peaches, or 3 lbs)
1 tablespoon lemon juice
1/2 cup granulated sugar
1/2 teaspoon ground cinnamon
1/4 teaspoon ground nutmeg
2 tablespoons cornstarch
1/2 teaspoon salt
For the topping:
2 cups all-purpose flour
1 cup granulated sugar
1 tablespoon baking powder
1/2 teaspoon salt
12 tablespoons butter, chilled and grated
1/2 cup boiling water
For the cinnamon sugar topping:
1/3 cup granulated sugar
2 teaspoons ground cinnamon
Preparation
Preheat oven to 425°F.
In a large bowl, combine the peaches, lemon juice, 1 cup sugar, 1/2 teaspoon cinnamon, 1/4 teaspoon nutmeg, cornstarch, and 1/2 teaspoon salt. Stir to combine and transfer to a 9x13-inch baking dish.
Bake for 10 minutes. While peach filling bakes, work on the topping:
In a clean mixing bowl, whisk together the flour, 1 cup sugar, baking powder, and salt. Add the grated butter and toss to combine.
Stir in the boiling water quickly, just until combined. Batter will be lumpy.
Remove baking dish from oven and drop topping over the filling in large spoonfuls.
Stir together cinnamon and sugar for topping and sprinkle over the top. Bake until top is golden brown and filling is bubbly, 25-30 minutes.
Serve with vanilla ice cream and enjoy!
Note: This may bubble over -- place on a baking sheet to catch any drips.
Recipe adapted from Barefeet in the Kitchen.
SKM: below-content placeholder
Whizzco for 12T