From "Kitty, your darling sister."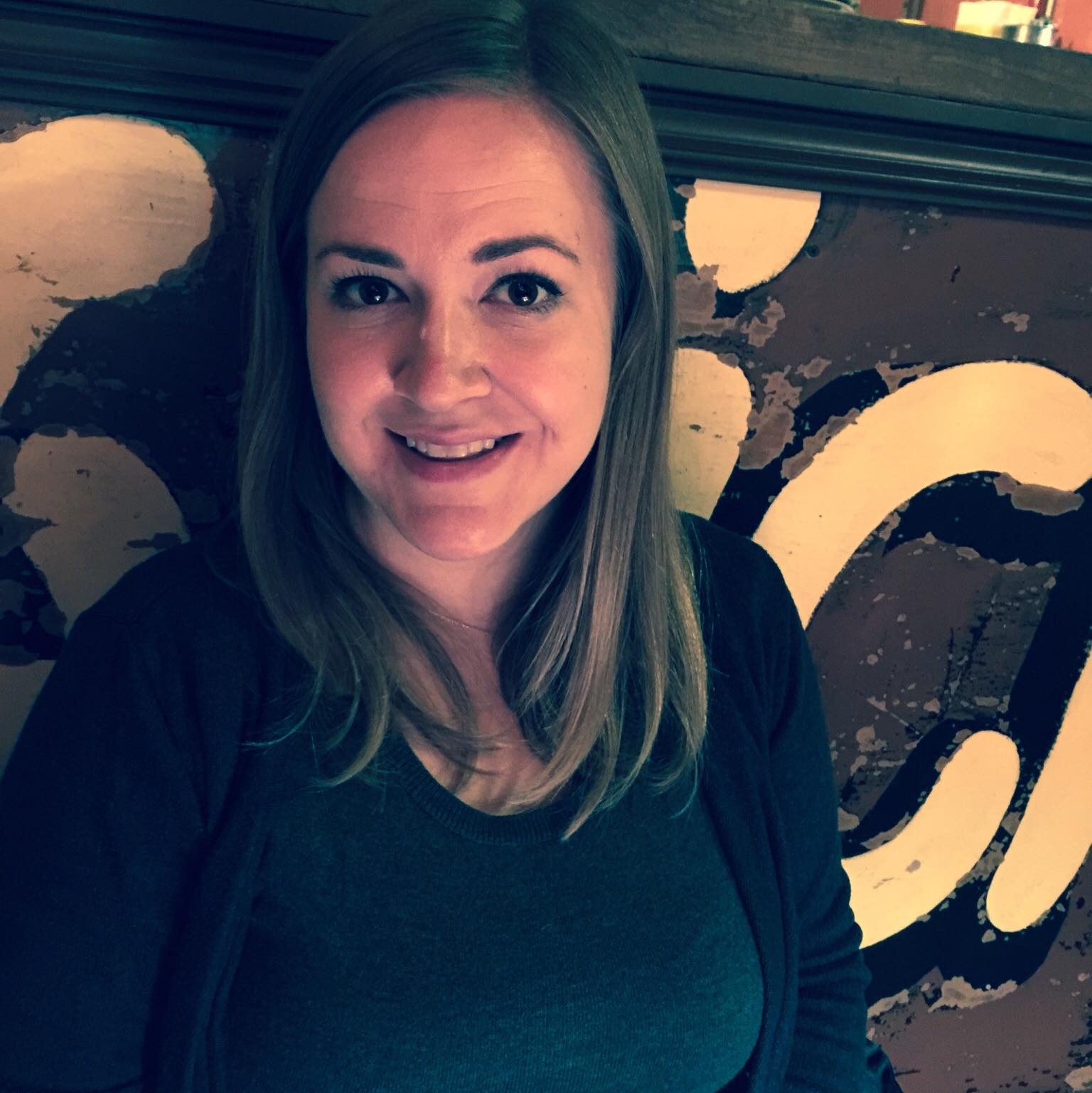 Kristy Norrell

When you share or print a 12 Tomatoes recipe,
you're making mealtime meaningful.
100%
of the Share to Care sponsor fees fund meals for families in need.
Learn More
CLICK ANY LINK BELOW TO JOIN OUR CAUSE!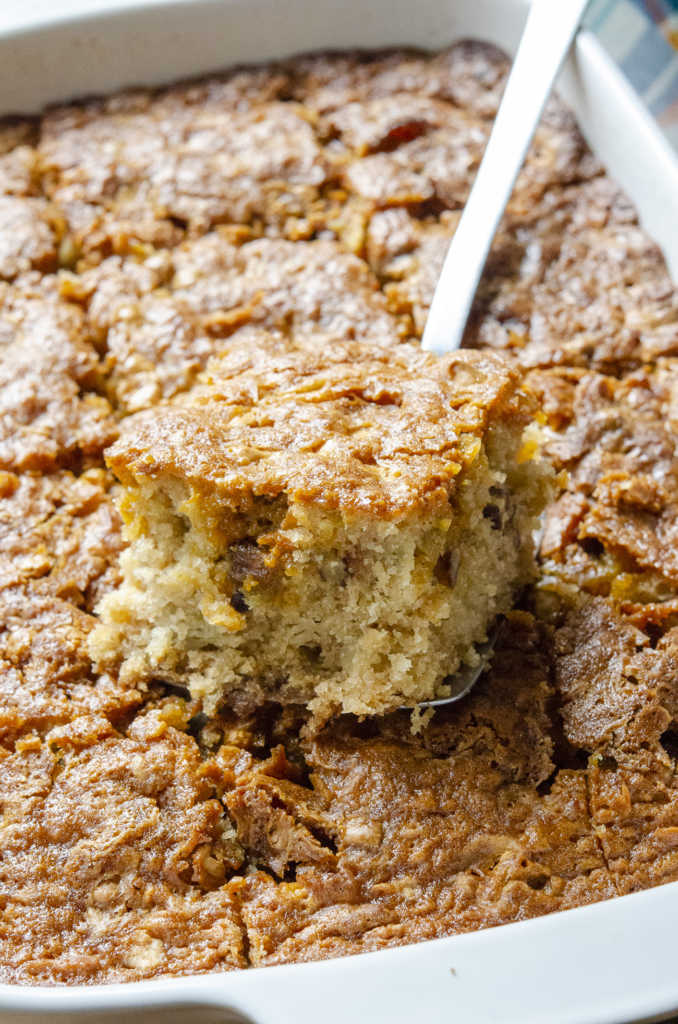 Sometimes when I set out to cook something from one of these vintage recipe cards, it's a recipe that is well past its prime, something that belongs firmly in another era. (Molded jello salads, I'm looking at you.) This Fresh Apple Cake, though, is timeless – a classic that would fit right in in any given decade. The recipe yields an unfussy, rustic 9×13 cake that's perfect for whipping up when company is coming over or just to have on hand for snacking. (We also ate it for breakfast. You could call it an 'anytime' cake.) But I loved the recipe card almost as much as I loved the cake itself. Newer than many of the others and with handwriting that seemed a bit more modern too, it was the inscription had me hooked from the beginning.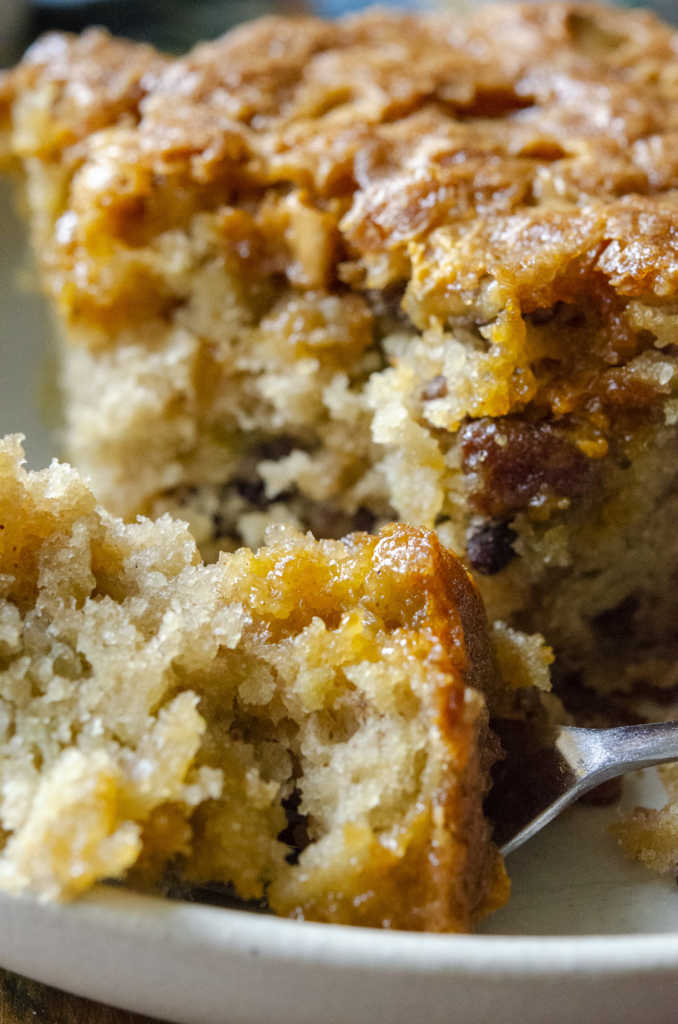 This recipe card came out of an old recipe tin that I've been cooking my way through. I call it the Recipe Tin Project. It's chock full of old recipe cards, most of which seem to be from the '60s and '70s. I love food history, and the idea is to breathe new life into these recipes from the past and maybe learn a technique or two from them along the way. The recipes come from different people with different handwriting and some have sweet illustrations while others are on plain (often smudged and stained) index cards.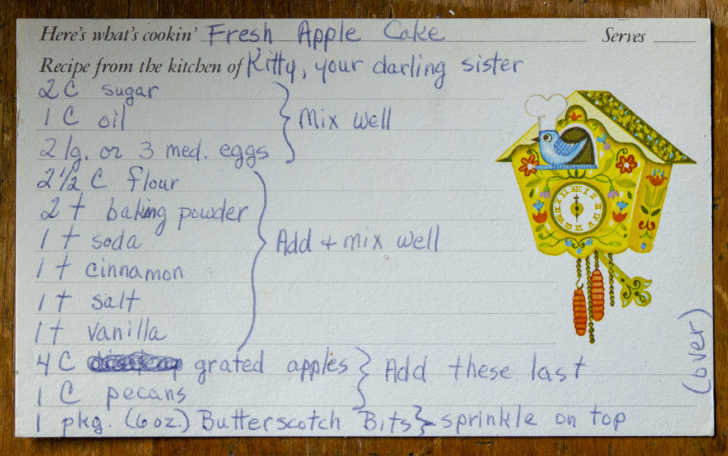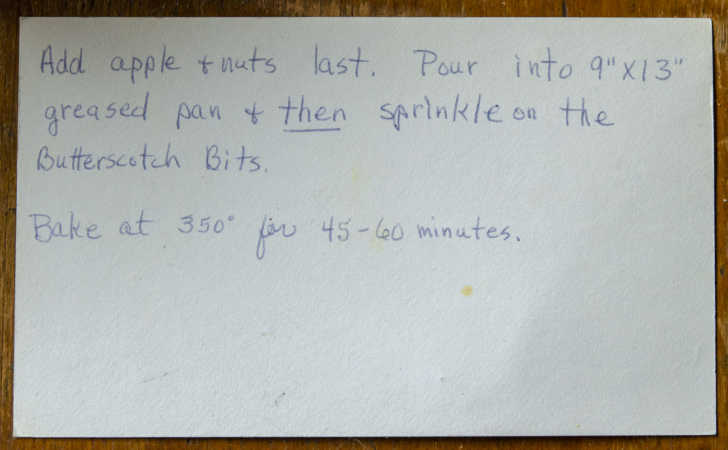 This one is one of my favorite cards, not because of the bird in a chef's hat coming out of a cuckoo clock (although that is pretty adorable) but because of the original cook's inscription. Next to "Recipe from the kitchen of" she wrote, "Kitty, your darling sister" and upon reading that I could instantly picture these two sisters in my head, and Kitty cheekily writing out this recipe after she had made the cake for her visiting sister who immediately requested the recipe.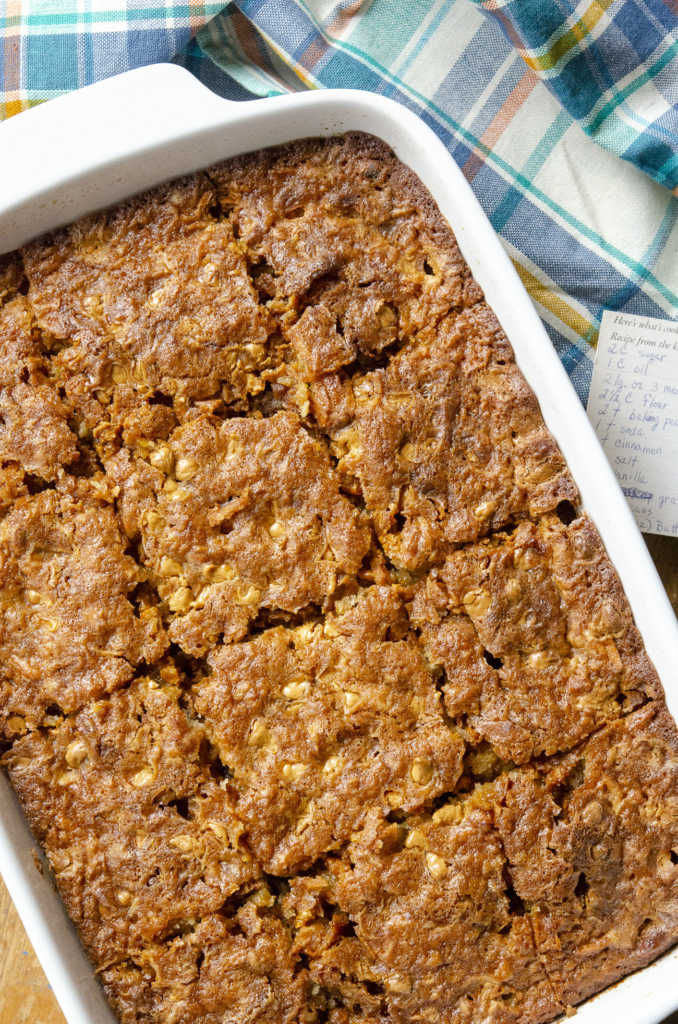 Of course, there's no way to know the actual circumstances of the recipe exchange, but it's fun to wonder anyway. That's part of the joy of these old cards.
But now, about the cake: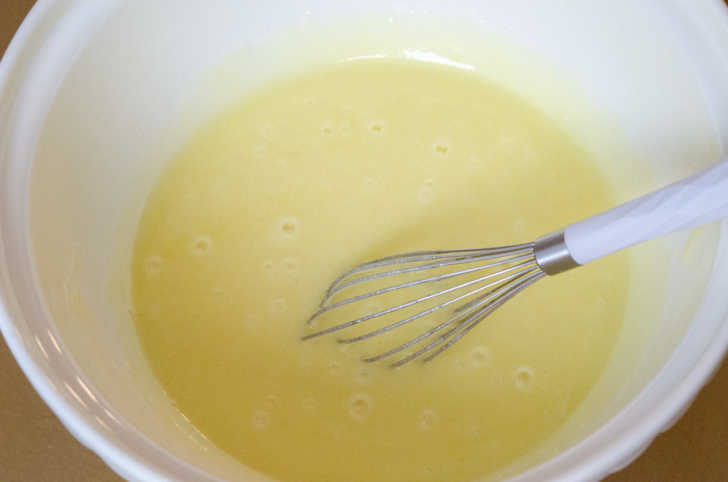 You mix together sugar, oil, and a few eggs…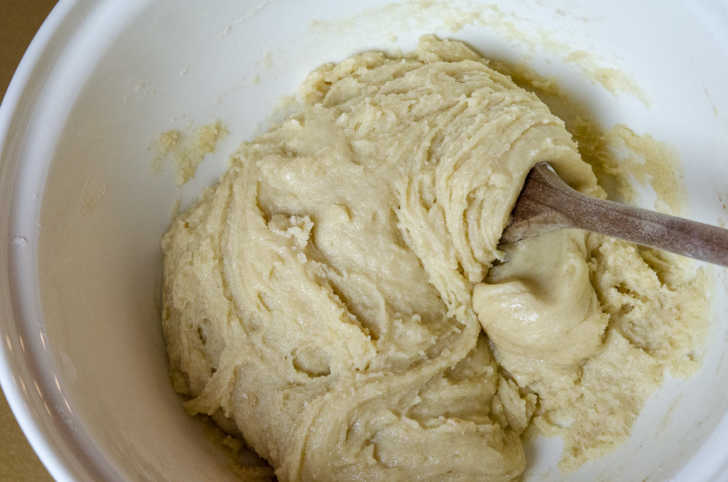 … and then add in some flour, baking powder, baking soda, and plenty of cinnamon.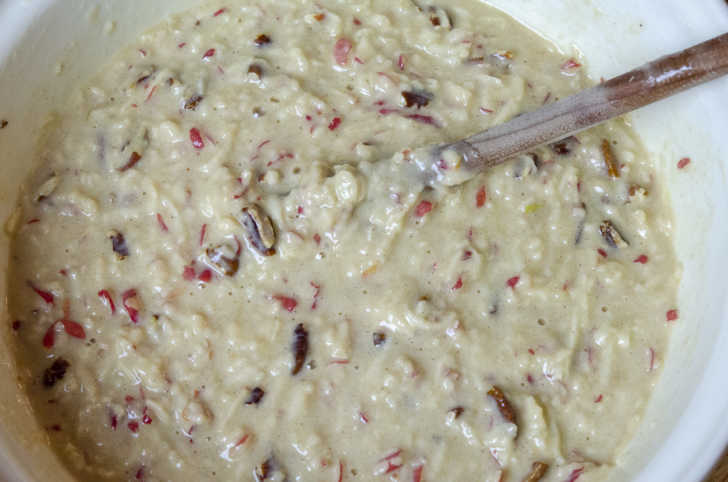 The batter will seem pretty thick, but once you mix in four whole cups of grated apples it loosens right up. (Apples are juicy, after all.) The recipe calls for a cup of pecans, and I used chopped pecans because I happened to have a bag. And because a cup of whole pecans doesn't really go all that far in a 9×13 cake.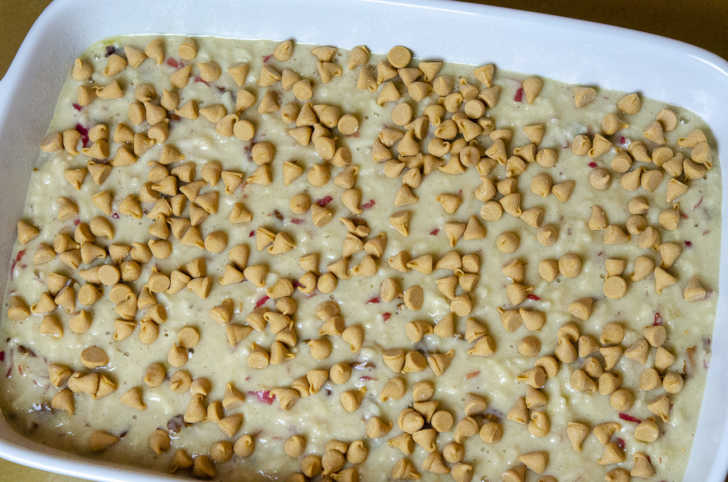 You pour that batter into your baking pan and sprinkle it with "butterscotch bits." All I could find at my grocery store was butterscotch chips and I suppose that works just as well – I found no fault with the combination of butterscotch and apples, that's for sure.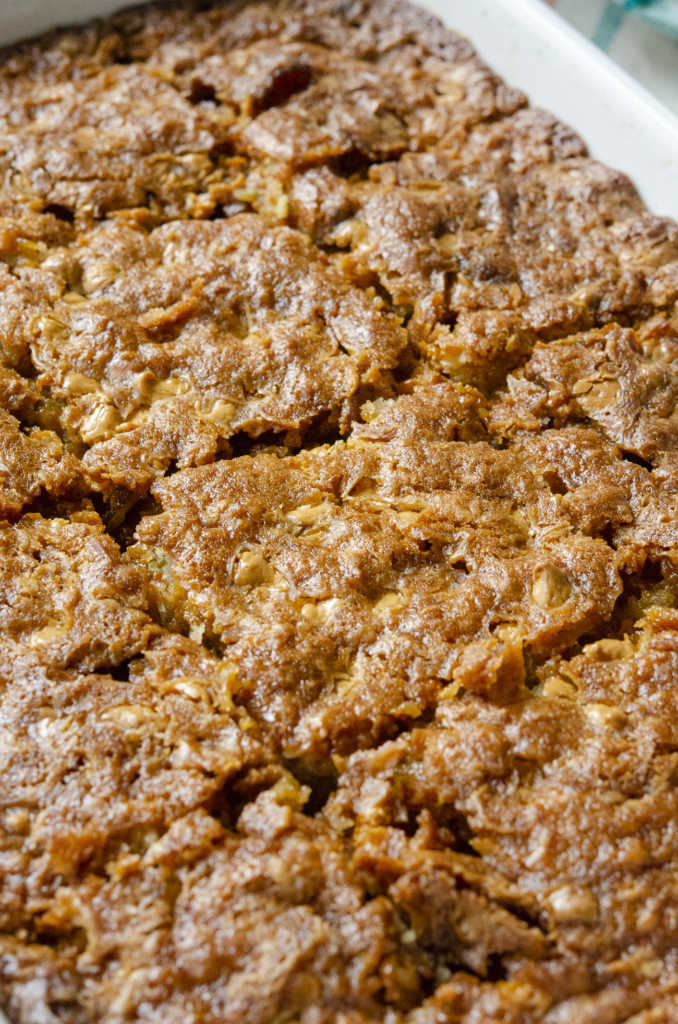 It's a dense cake and the card says to bake between 45 and 60 minutes; mine took closer to the full hour. You can smell that melting butterscotch the whole time it bakes, so it's an hour that tries your patience.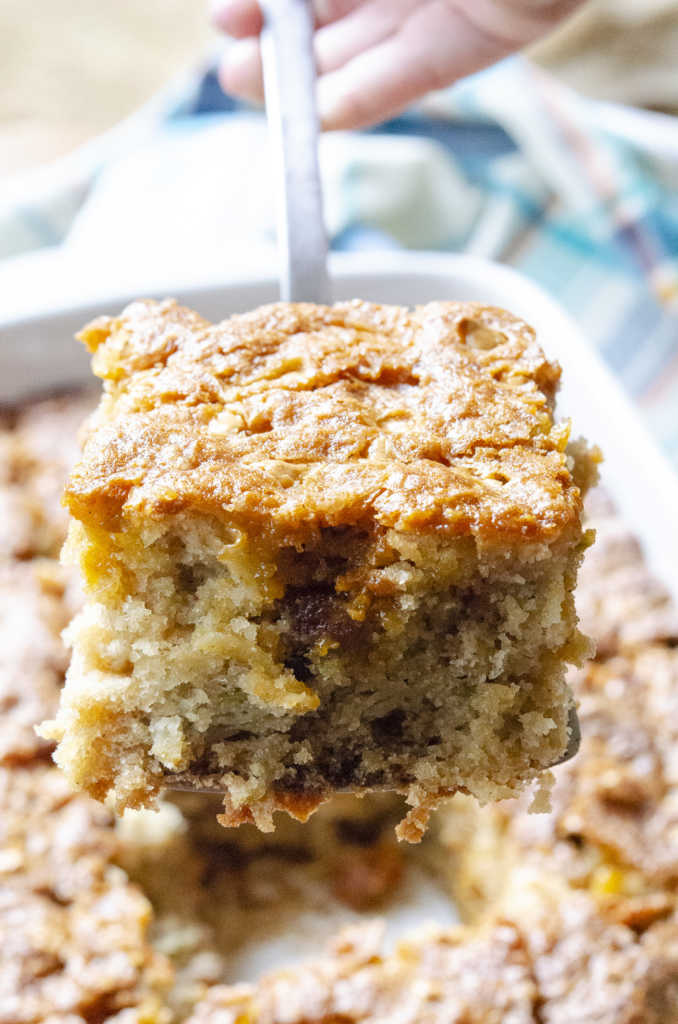 It bakes up into a cake that's moist and somewhat crumbly, studded with fruit but in a way where it blends into the cake itself and doesn't stick out as an addition. It's spiced simply with cinnamon and not an overwhelming blend, but you put that together with pecans, butterscotch, and apple and you can just feel that warm cozy hug of fall baking. It's easy to see why the recipe got passed from sister to sister.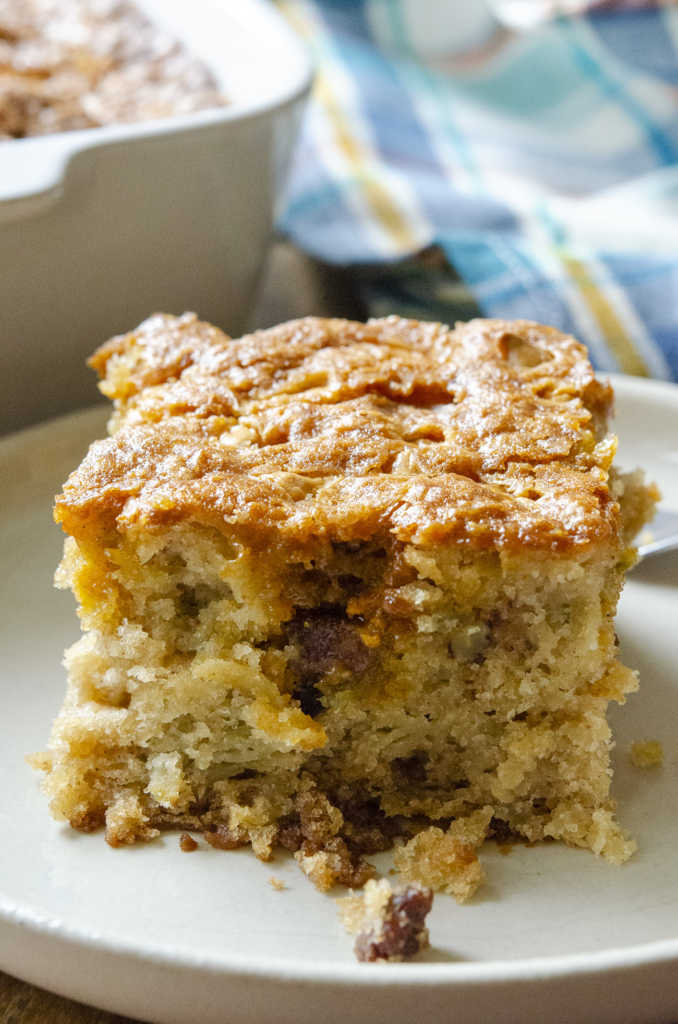 Recipe Tin Project: Fresh Apple Cake
Serves 12
15m prep time
45m cook time

When you share or print a 12 Tomatoes recipe,
you're making mealtime meaningful.
100%
of the Share to Care sponsor fees fund meals for families in need.
Learn More
CLICK ANY LINK BELOW TO JOIN OUR CAUSE!
Ingredients
2 cups sugar
1 cup oil
2 large or 3 medium eggs
2 1/2 cups flour
2 teaspoons baking powder
1 teaspoon baking soda
1 teaspoon cinnamon
1 teaspoon salt
1 teaspoon vanilla
4 cups apples, grated
1 cup pecans
1 (6 oz) pkg butterscotch bits
Preparation
Preheat oven to 350°F and grease a 9x13-inch baking pan with nonstick spray.
In a large bowl, combine the sugar, oil, and eggs, and mix well to combine.
Add flour, baking powder, baking soda, cinnamon, salt, and vanilla and mix well.
Stir in apples and pecans until thoroughly incorporated.
Transfer to prepared baking dish and sprinkle butterscotch bits over the top. Bake until a toothpick inserted into the center comes out clean, 45-60 minutes.
SKM: below-content placeholder
Whizzco for 12T