Beautifully poached peaches + cool vanilla ice cream + a quick raspberry sauce = Peach Melba!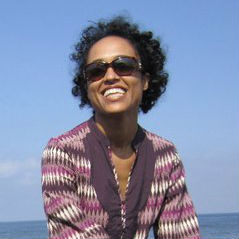 Sarah Cool
Peaches are a super versatile fruit – they can be served in both sweet and savory ways, from a peach salsa to a delicious Peach Melba. A bowl of Peach Melba is the perfect after-dinner treat and its simple elegance makes it something truly special. There's a little bit of effort in getting the peaches just right, but that small amount of effort is worth it for the final product. Peaches, raspberry sauce, and vanilla ice cream – it's a trifecta of sweet-peachy perfection! We don't like to name favorites when it comes to the summer fruit season because there are just so many wonderful options out there. However, peaches are right up there in the hierarchy of summer fruits that we just adore. Peach season is the perfect time to take advantage of this absolutely wonderful dessert: Peach Melba.
Peaches, as we all know, are already pretty sweet and juicy – that's part of what makes them so amazingly wonderful. So imagine what happens to those peaches when they're poached in a simple syrup. If you've got a good imagination, you'll envision a peach that is on another level. Poaching peaches in a simple syrup flavored with vanilla and cinnamon is a great way to bring flavor to the peaches, and even better is that we can save that peach-flavored syrup for use in another sweet treat. But for now, that peachy liquid is what gives the peaches in our Peach Melba their softness and sweetness.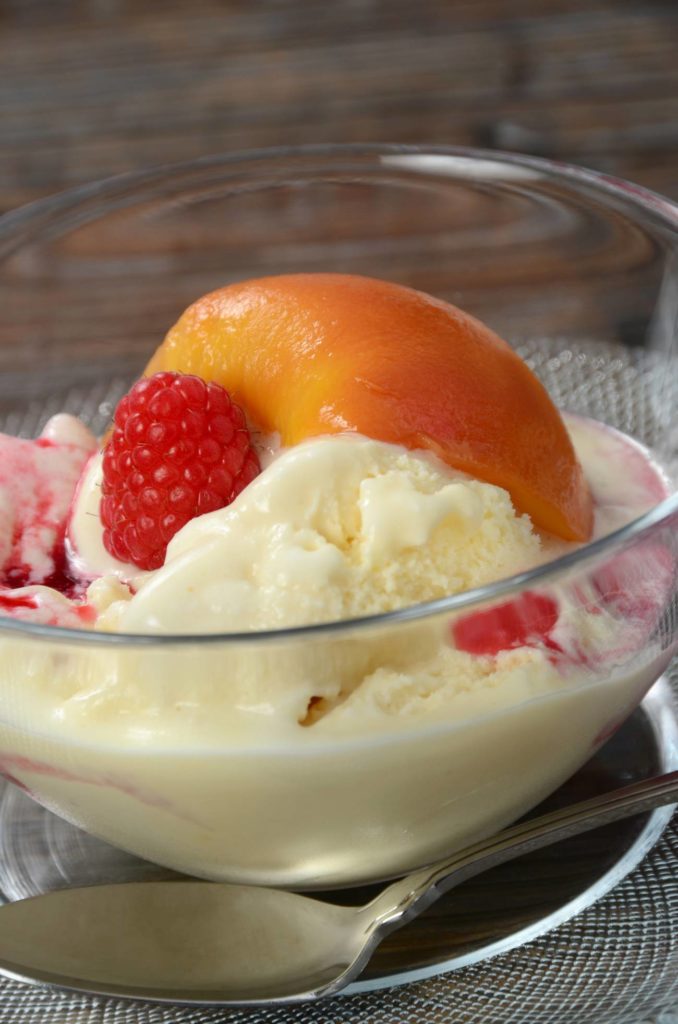 Then there's the raspberry drizzle. It wouldn't be a true Peach Melba without this raspberry sauce. You can grab some fresh or frozen raspberries and puree them with some lemon juice, then strain out the seeds. We love a fresh berry sauce, but when time demands, we've got no issue with taking a shortcut to get this dessert on the table a little faster (and with potentially less mess). A seedless raspberry jam does just the trick, melted into a liquid sauce that we will drizzle or dollop over top of our peaches and ice cream.
As the story goes, the original Peach Melba was made in London over a century ago to honor a popular singer whose last name was Melba. Peach Melba is a bit retro but is certainly not dated. It's a simple treat that is a delightful way to end everything from an outdoor barbecue to a slightly more formal dinner party. It's easy to make ahead and looks just as appetizing in a formal dessert dish (like below) as it does in a plain ol' ice cream bowl. Peach Melba is a bowlful of golden peachy goodness topped with cool vanilla ice cream and a ribbon of raspberry drizzle – beyond good!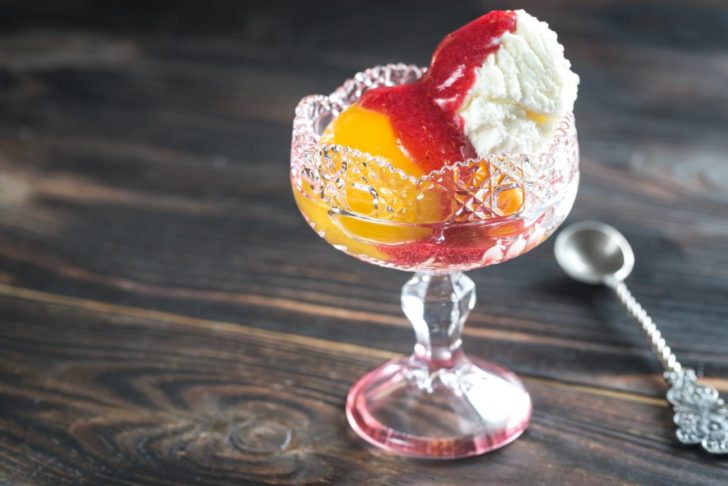 Peach Melba
Serves 4
15 minutes active; 3+ hours inactive
Ingredients
4 large, firm peaches
1 cup granulated sugar
1 cup water
1 cinnamon stick
1 teaspoon vanilla extract
1 cup seedless raspberry jam
1 pint vanilla or vanilla bean ice cream
Preparation
Combine sugar, water, and vanilla extract in a medium-sized saucepan over medium heat. Stir constantly as the mixture comes to a boil. Cover and continue to boil for 5 minutes. Turn off heat.
Cut peaches in half and remove pits. Bring simple syrup back up to a simmer and gently drop the cinnamon stick and the peaches into the saucepan.
Poach peaches for 2-3 minutes or until soft. Remove from heat.
Remove peaches from saucepan with a slotted spoon - once cool enough to touch - and gently remove peach skin. Return peaches to pot and cool completely. Cover with a lid and store in the refrigerator for at least 3 hours, up to 24 hours.
To serve, microwave seedless raspberry jam in a microwave safe bowl until melted and thinned into a sauce.
Place 2 peach halves into a dessert dish. Top with a scoop of vanilla ice cream and drizzle with raspberry sauce.
Recipe adapted from Hilah Cooking.
SKM: below-content placeholder
Whizzco for 12T