Fluffy seasoned rice and juicy, flavorful chicken, all out of a single pan.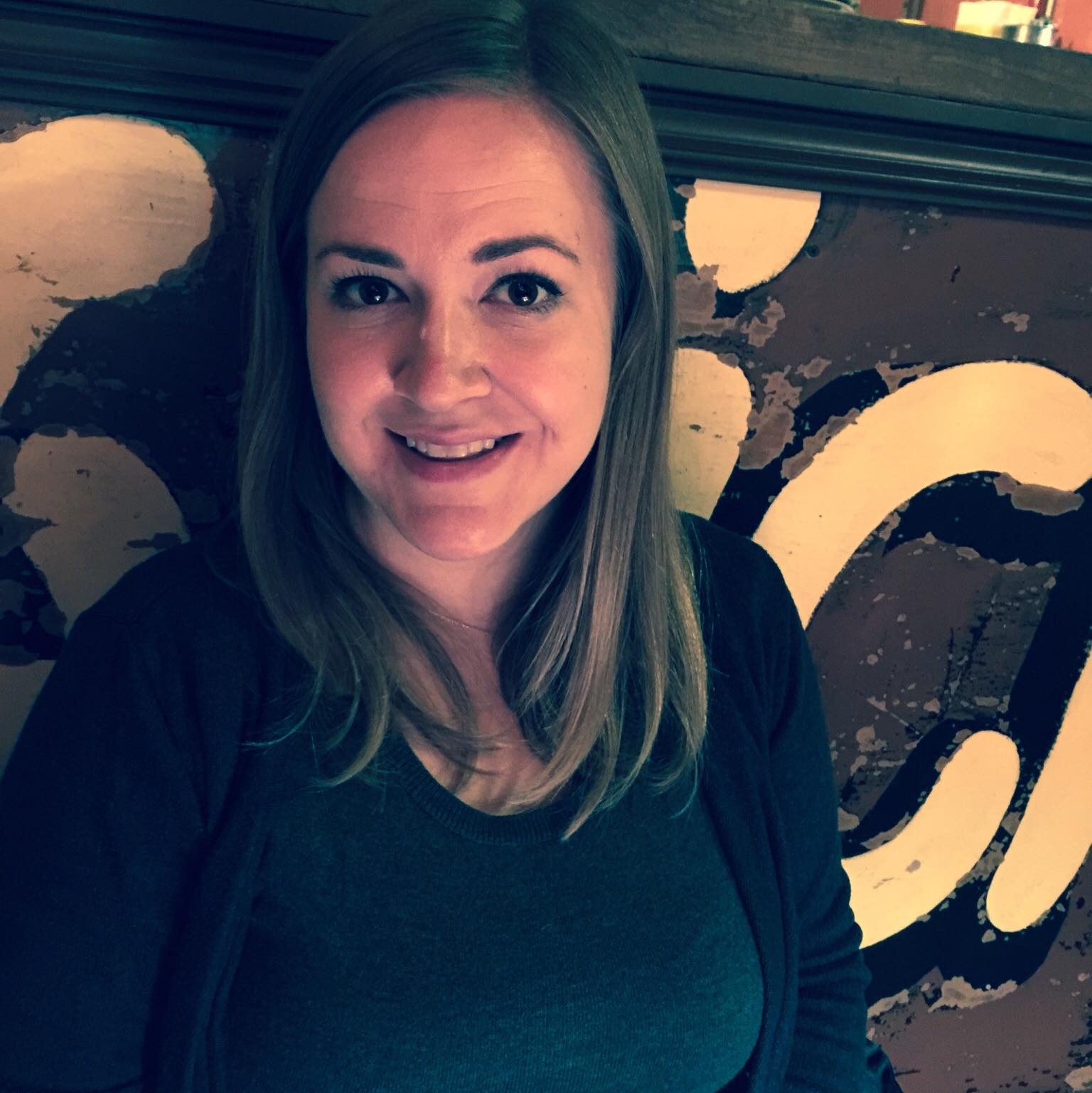 Kristy Norrell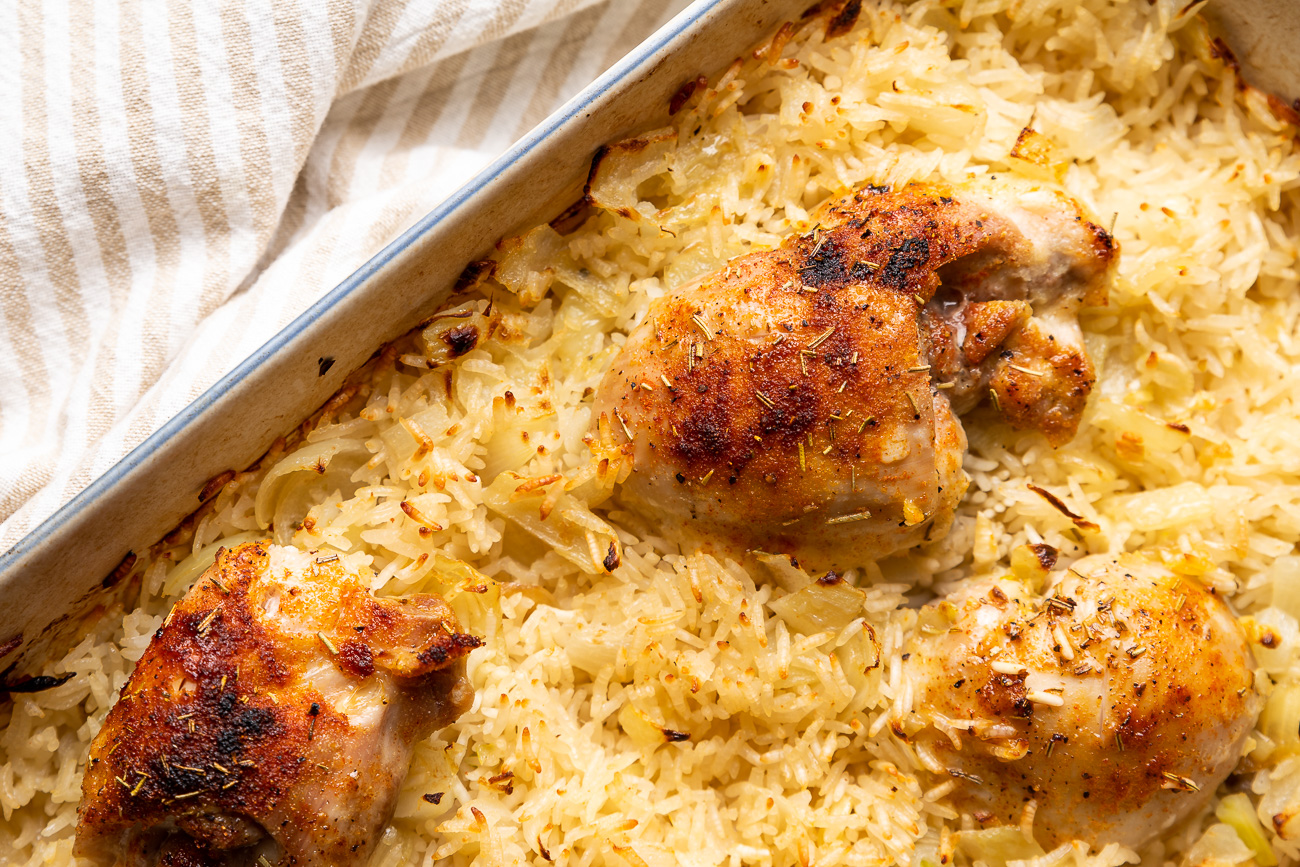 You might be thinking, "But I can just make my chicken and rice separately. That works fine." You can. And it does. But here's the thing — when you cook them together, it's so much easier and the chicken flavors the rice with all of its juices, so it's even tastier too. Any time you can save some steps making dinner and still have it taste delicious is a win. In other words, this One-Pan Baked Chicken and Rice is most definitely a win. The oven does all of the work for you and you end up with tender, flavorful rice and tasty juicy chicken all at once. Just throw in a sheet pan of veggies on the rack below it and dinner is done!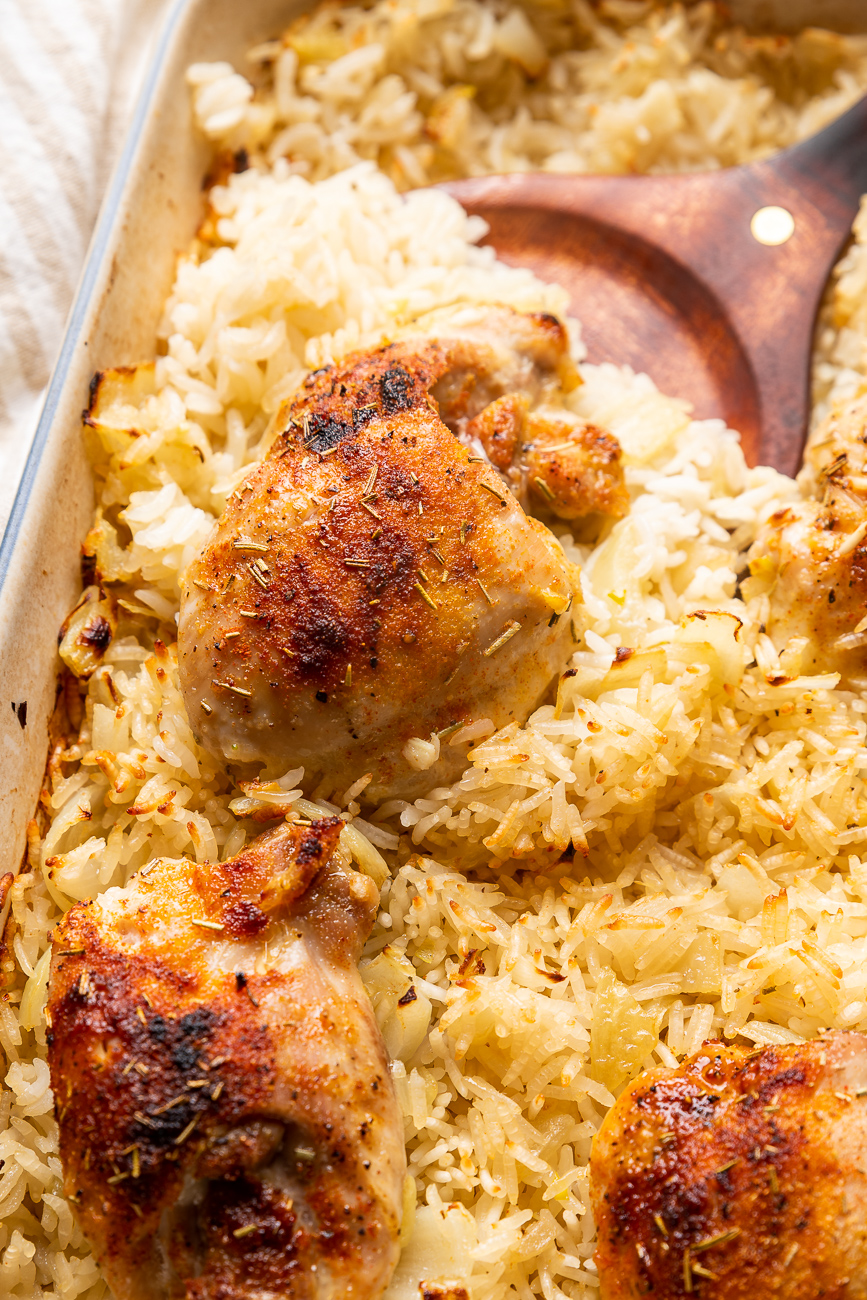 You might have seen a recipe or two that's similar to this that relies on a condensed can of soup. In fact, we have a couple at 12 Tomatoes: No-Peek Pork Chops and Rice and 5-Ingredient No-Peek Chicken. Those are great options, but what I love about this one is that it's a simple, easy-to-prepare meal but it's more "from scratch." You're relying mostly on pantry ingredients here (and chicken of course) and the only ingredient that might come out of a can is chicken broth. But even better if you're using homemade there too!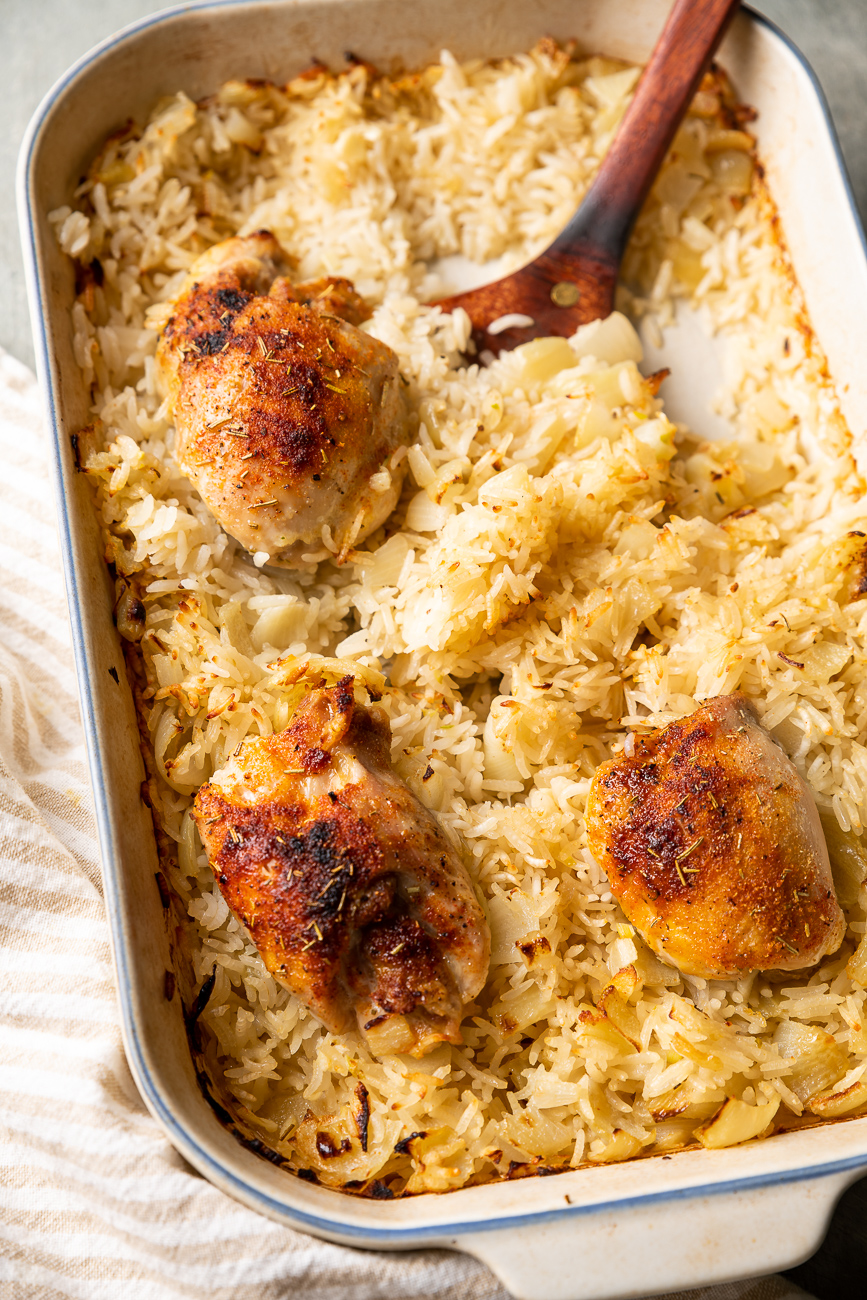 To start, you'll add some butter, onion, and garlic to a baking pan and set it in the oven to get a head start while you season the chicken. You'll make a quick spice rub with paprika, thyme, rosemary, garlic powder, onion powder, salt and pepper. It's delicious, it's simple, but if you have a favorite that comes pre-mixed, feel free to use it! Rub that all over the chicken — bone-in thighs work best here, but you'll want to remove the skin. If you leave it on, the fat drips down into the rice and makes it a little too greasy. Chicken skin generally adds wonderful flavor but this is one place where you want to skip it.
Add some long-grain rice to the pan, stir it up a bit, then place the chicken on top and pour a mixture of hot broth and water over the whole thing. Bake it for a half an hour covered in foil and then another twenty minutes uncovered. You'll end up with fluffy seasoned rice and wonderfully juicy chicken, all out of one baking pan.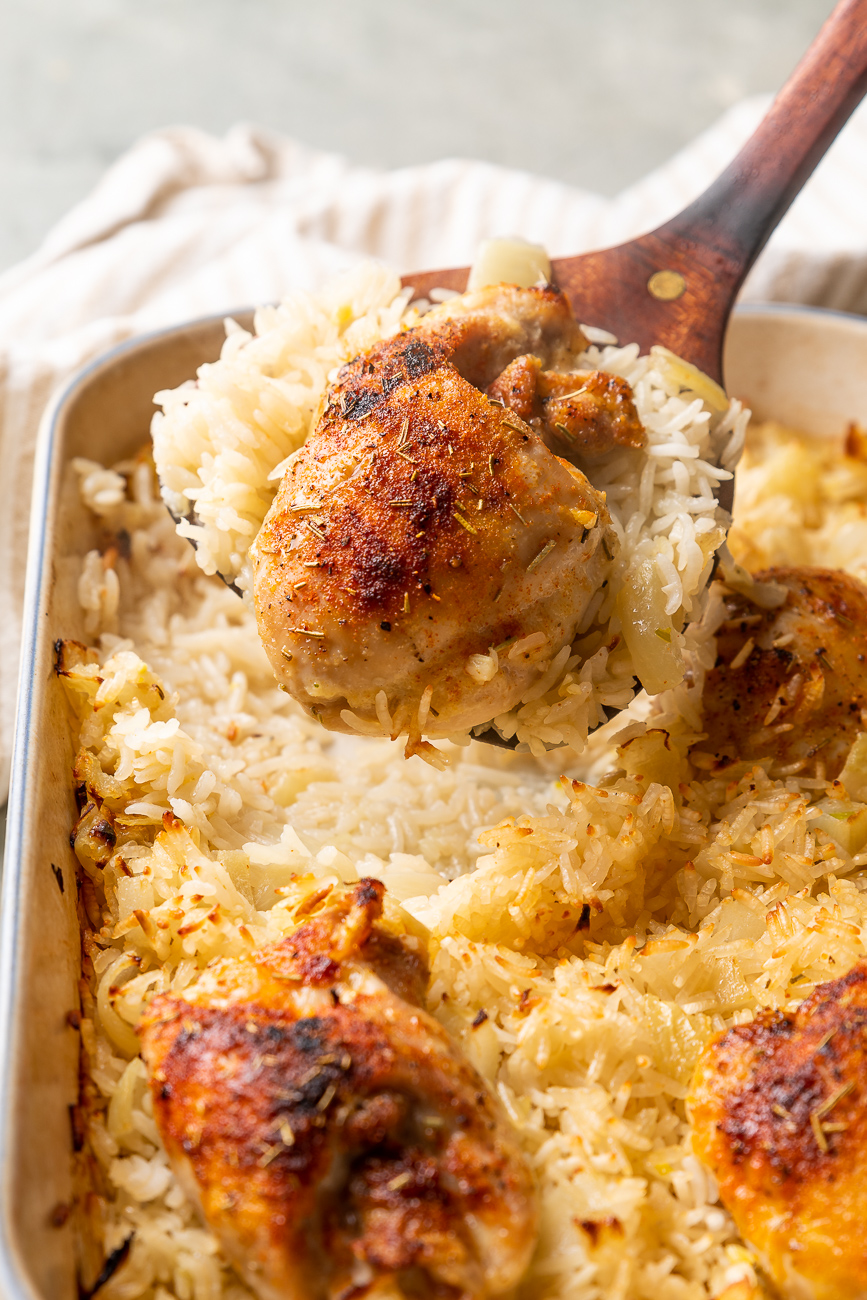 One-Pan Baked Chicken and Rice
Serves 4
5m prep time
1h 5m cook time
Ingredients
4-6 bone-in chicken thighs, skin removed
1 yellow onion, chopped
3 cloves garlic, minced
2 tablespoons butter
1 1/2 cups long-grain white rice, uncooked
2 cups chicken broth, heated
3/4 cups hot water
1 teaspoon paprika
1 teaspoon dried thyme
1/2 teaspoon dried rosemary
1 teaspoon garlic powder
1/2 teaspoon onion powder
1 teaspoon salt
1/2 teaspoon black pepper
Olive oil cooking spray
Preparation
Preheat oven to 350°F.
Arrange onion and garlic in the bottom of a 9x13-inch baking dish. Place butter in the center. Bake 12 minutes.
Meanwhile, mix together the paprika, thyme, rosemary, garlic powder, onion powder, and salt and pepper in a small bowl and rub into the chicken. Set aside.
Add rice to baking dish and stir to combine. Arrange chicken on top, then pour hot broth and water around the chicken.
Cover dish tightly with foil and bake for 30 minutes. Remove foil and spray chicken with olive oil cooking spray. Continue baking until chicken is cooked through and liquid has absorbed into rice, about 20 minutes.
Let rest for 5 minutes, then fluff rice with a fork and serve. Enjoy!
Recipe adapted from Recipe Tin Eats.
SKM: below-content placeholder
Whizzco for 12T