The easiest jam imaginable.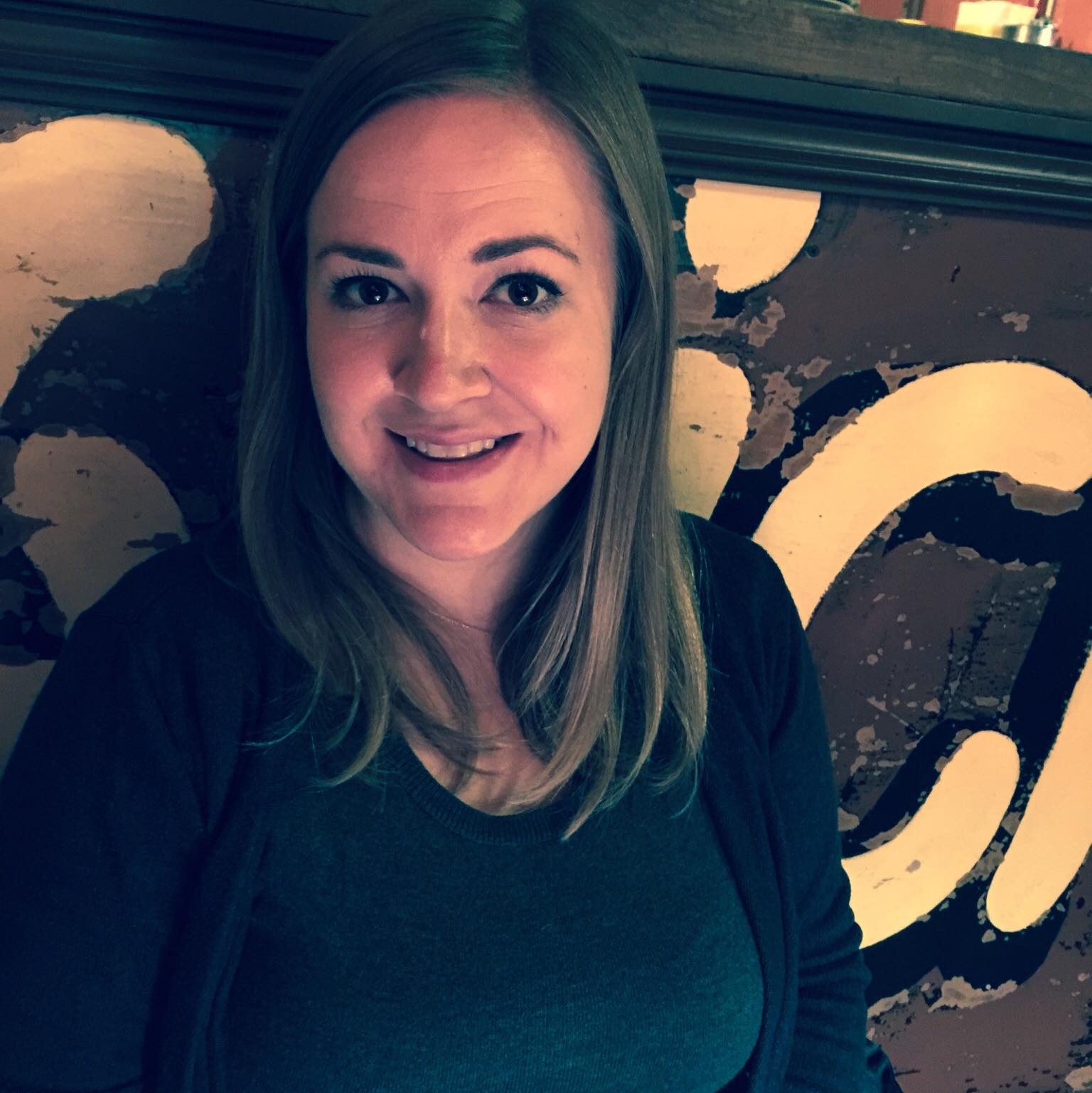 Kristy Norrell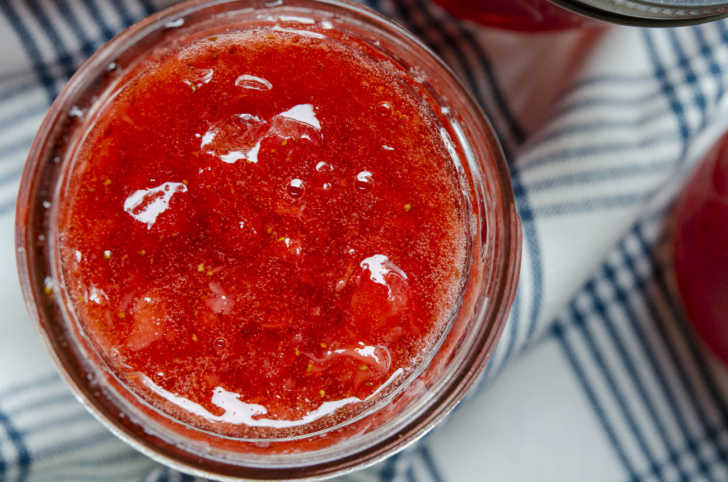 One of my favorite summer cooking projects is to make jam, but that doesn't mean I'm always in the mood to go through all the steps of actually cooking jam, let alone canning it. But problem solved! You can have your jam and eat it too thanks to this No-Cook Strawberry Freezer Jam. You still get to play with some lovely fresh produce, you still get to create some wonderfully sticky, sweet jam, but this does it with so little work, it's hard to believe. You only need your microwave, a bowl, and some jars for the finished product — no special equipment needed!
This really does seem to good to be true, but I promise you that it's not. You're going to start with a quart of strawberries that you'll hull, but otherwise leave whole.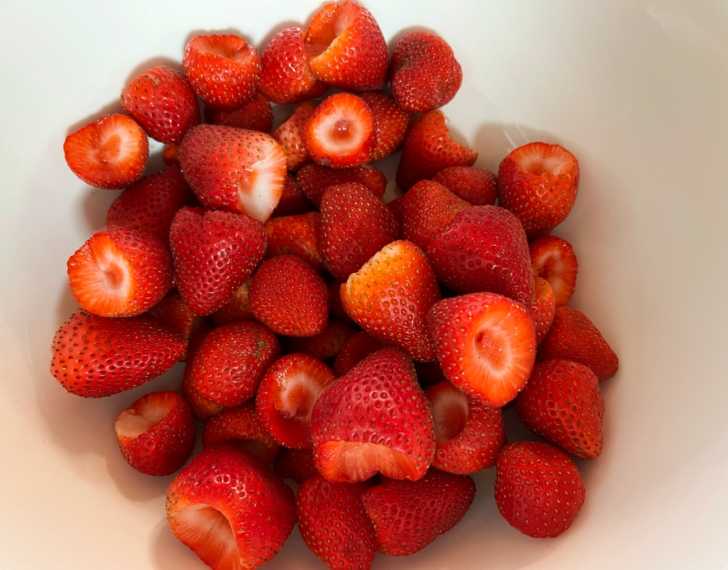 For a minute anyway. Then you're going to crush them with something like a potato masher or a pastry blender. You can use a food processor or immersion blender if you want, but leave things a little chunky. You don't want it to be completely pureed.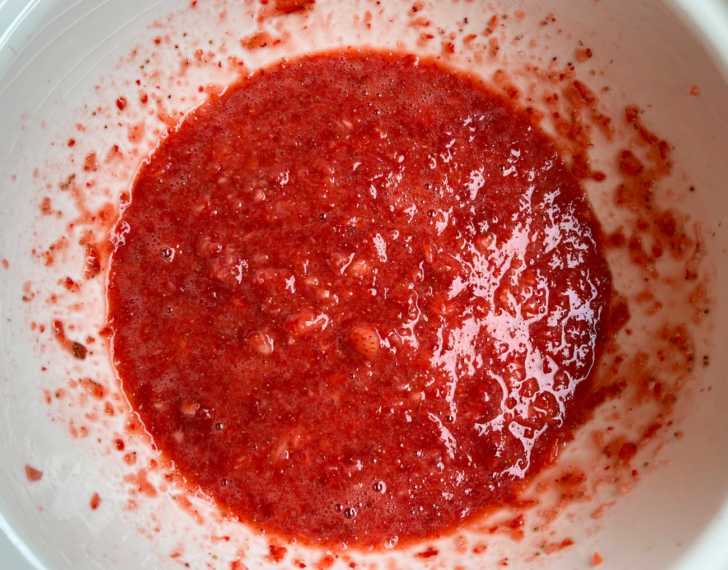 Then measure out two cups of the nearly-pureed strawberries and transfer them to a microwave-friendly bowl. What do you do with the rest? Well, you could make more jam. Or put them on yogurt. Or ice cream. Or eat them with a spoon. The world is your oyster.
You'll add four cups of sugar to the strawberries, stir it in, and then nuke it for three minutes. Once it's done, stir it well for about a minute.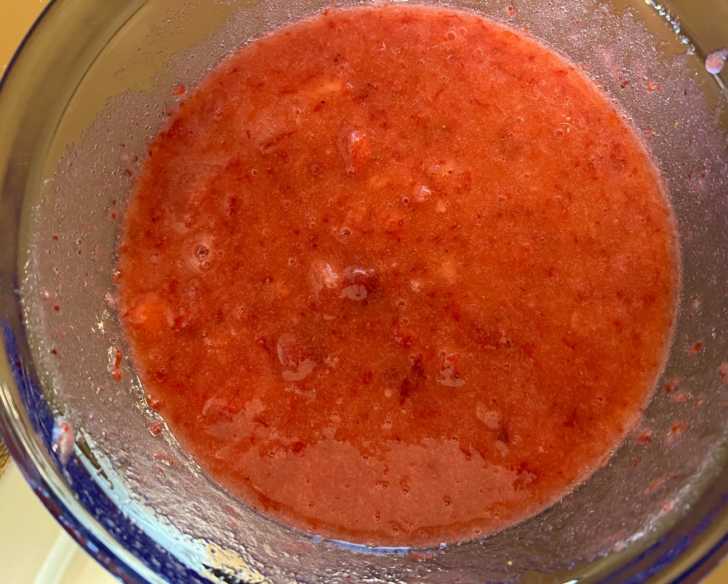 And then let it sit. Come back every thirty minutes or so and give it a stir and after two hours, check to see if the sugar has dissolved. Just give it a taste and if there is any grittiness from the sugar left, go ahead and give it another nice minute-long stir.
Once the sugar is dissolved (and it should be after that two-hour sit), you'll stir in your lemon juice and pouch of liquid pectin. This time, you'll give it a three-minute stir. I know that's a lot of stirring, but that's what is replacing all the stovetop work here. And besides, it's kind of meditative.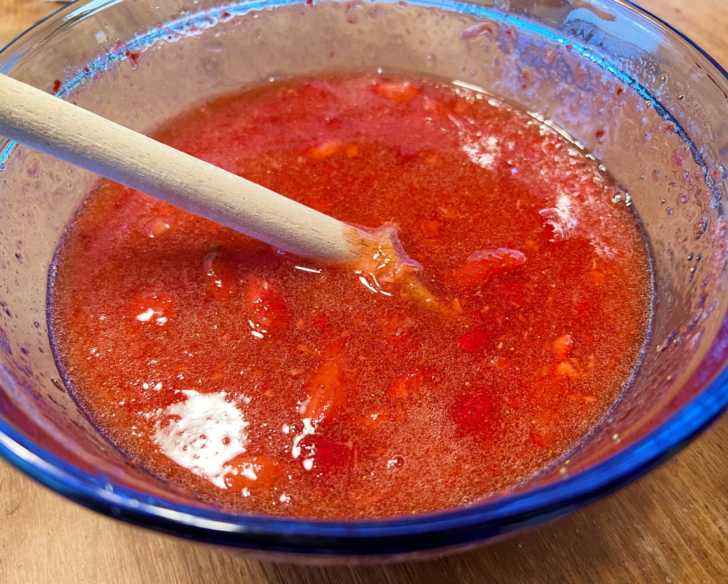 But in any case, that's it. You made jam! Portion it out into jars, close them, and let them stand until they're completely at room temperature. They'll set up nice and thick.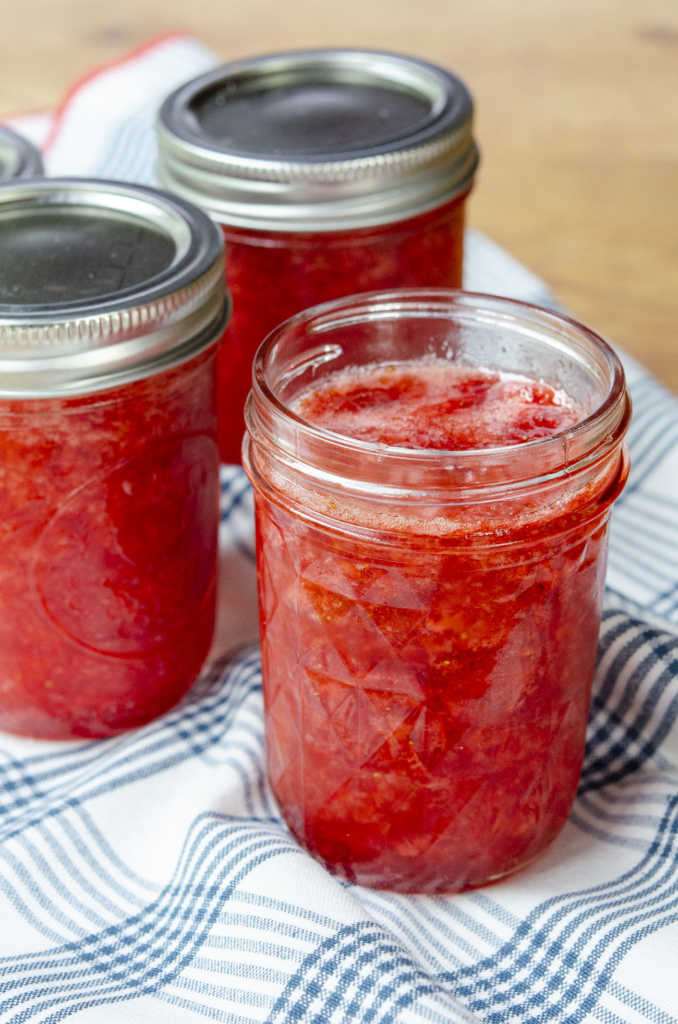 This is a very sweet jam, just to warn you, but it also tastes brightly of fresh strawberries and that happens to be one of my all-time favorite summer flavors. Your jam will keep in the fridge for three weeks and the freezer for up to a year, which means you can have that fresh summer flavor anytime you want it. (If you're freezing, just make sure to leave a half-inch of headspace because the jam will expand when frozen and we don't want any explosions!)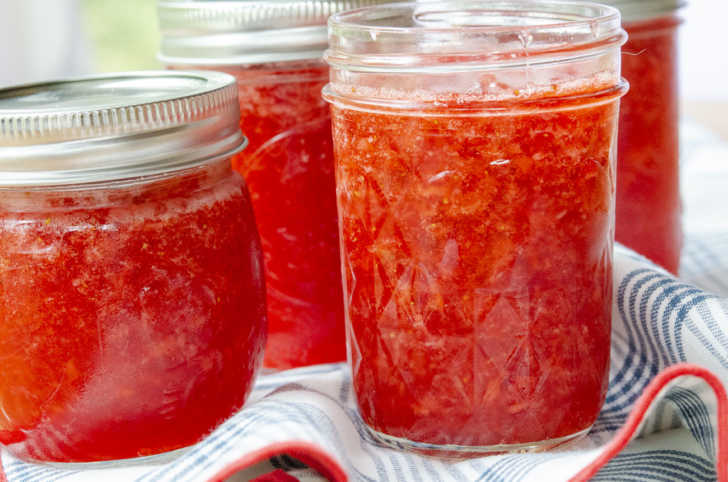 No-Cook Strawberry Freezer Jam
Yields 3-4 cups
10m prep time
5m cook time
2h inactive
Ingredients
1 quart strawberries
4 cups granulated sugar
2 tablespoons lemon juice
1 (3 oz) pouch liquid pectin
Preparation
Hull strawberries and place them in a large bowl. Using a potato masher or pastry blender, crush the strawberries until chunky. Don't puree completely, small bits should remain.
Measure out 2 cups of the prepared strawberries and transfer to a microwave-safe bowl. Add sugar and stir well.
Microwave on high for 3 minutes. Remove and stir well for 1 minute.
Cover bowl loosely and let sit at room temperature for 2 hours, stirring every 30 minutes. Taste to make sure sugar has dissolved. If it hasn't, stir well for another minute.
Combine pectin and lemon juice and stir into strawberry mixture for 3 minutes. Transfer to clean jam jars or containers, cover, and let stand until cooled to room temperature.
Refrigerate up to 3 weeks or freeze up to 1 year. If freezing, make sure to leave 1/2 inch headspace in jars as jam will expand upon freezing.
Recipe adapted from Certo.
SKM: below-content placeholder
Whizzco for 12T