A stand-up dish in more ways than one.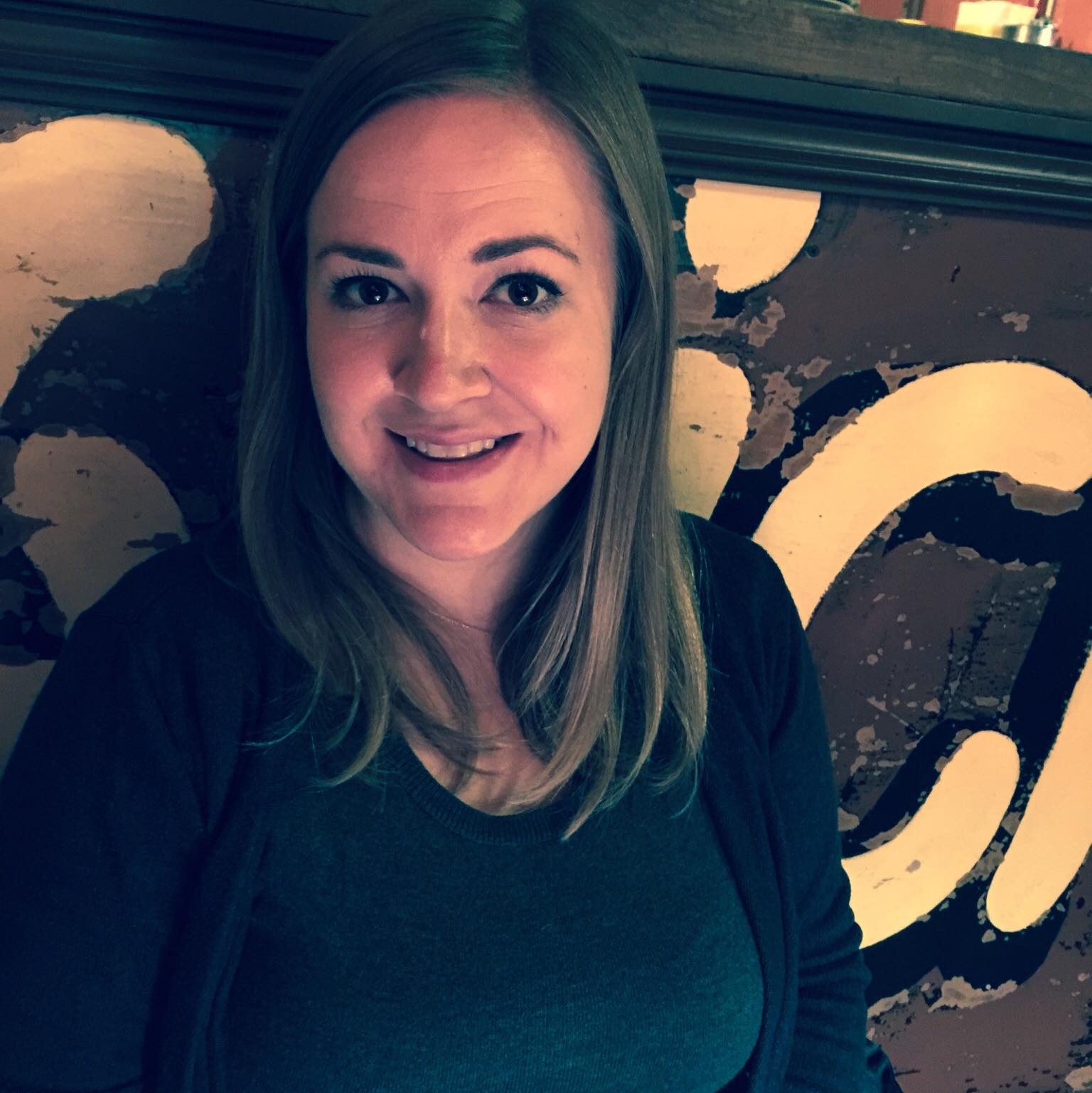 Kristy Norrell

When you share or print a 12 Tomatoes recipe,
you're making mealtime meaningful.
100%
of the Share to Care sponsor fees fund meals for families in need.
Learn More
CLICK ANY LINK BELOW TO JOIN OUR CAUSE!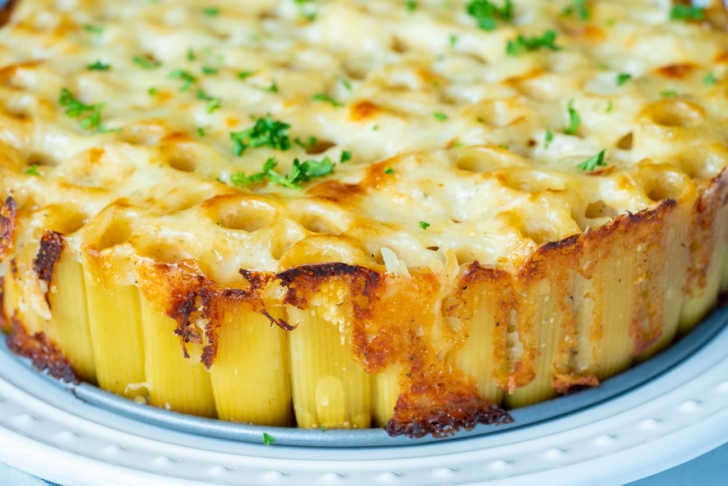 You are probably more accustomed to serving your pasta out of a bowl and not slicing it, but it's always good to try new things once in a while, right? And let me tell you, our sliceable Five-Cheese Rigatoni Pie is a very good thing. It turns out that stacking tube-shaped pasta upright in a baking dish gives each one the opportunity to totally fill up with sauce and when it's a sauce as delicious as this, that's excellent news. See, this sauce features five distinct cheeses (and some creamy garlic flavor too) so when you're looking for a dish that's indulgent and also has something a little extra special, there's no better place to turn.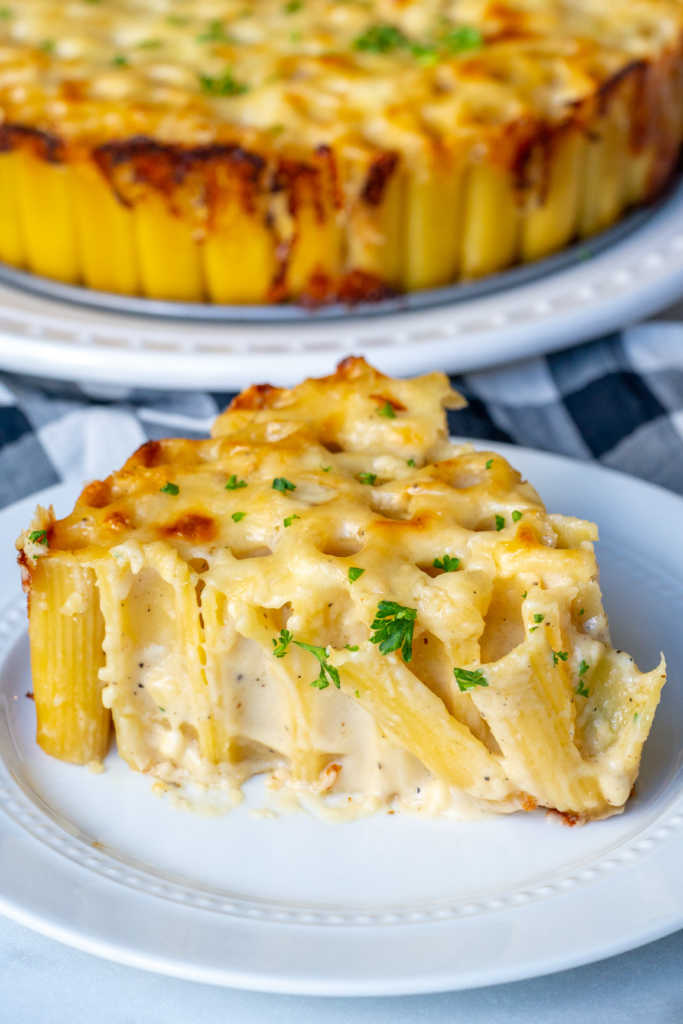 While the presentation here is mighty impressive, this really isn't all that complicated to make. First things first, you'll need a springform pan or you'll have no hope of unmolding the finished pasta from the dish so people can actually see this beauty! Just grease up a springform, cook your rigatoni a couple minutes less than al dente and stack all those little tubes up in the pan.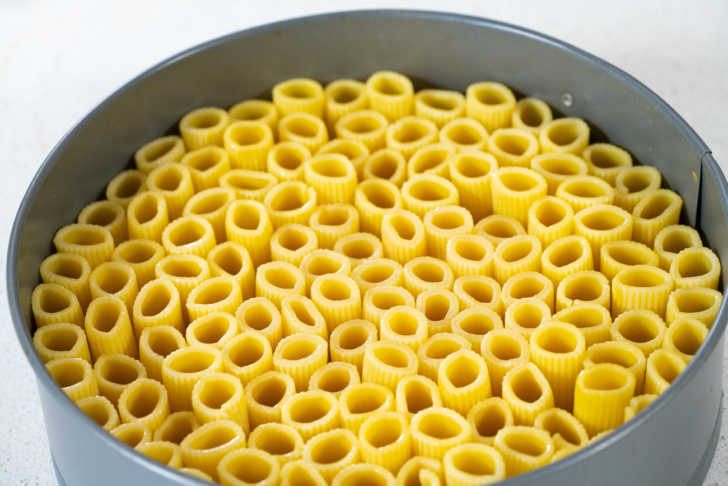 While the pasta is cooking, you can make your sauce, which won't take you longer than it does to boil the noodles. You start by cooking some garlic in butter and then whisking in flour and milk to form the base for your sauce. (A garlic-kissed bechamel, more or less.) Then comes the good stuff – there's mascarpone, fontina, Gruyere, mozzarella, and Parmesan and together those five cheeses form the ultimate complete cheese picture. Creamy, milky, nutty, salty, stringy… this sauce has it all. (And a little hint of nutmeg too.)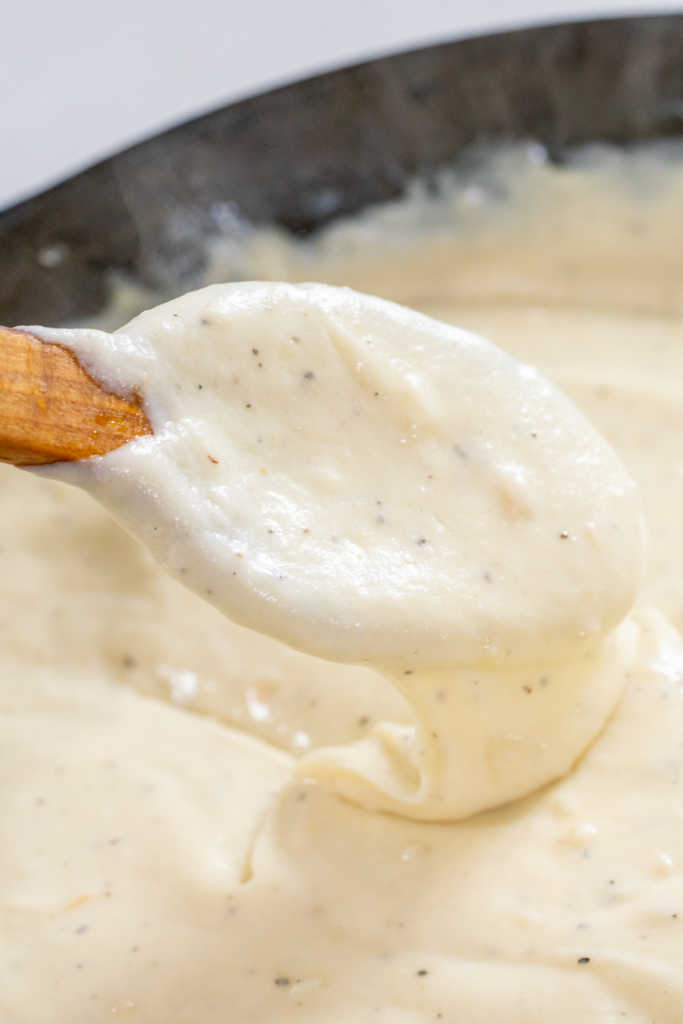 You pour that sauce over the stacked pasta and use your spoon or spatula to encourage it down into the tubes. A blanket of those mixed cheese goes over the top, and then the whole thing heads into the oven. The sauce not only flavors the pasta exquisitely, it also holds everything together in a beautiful honeycomb pattern.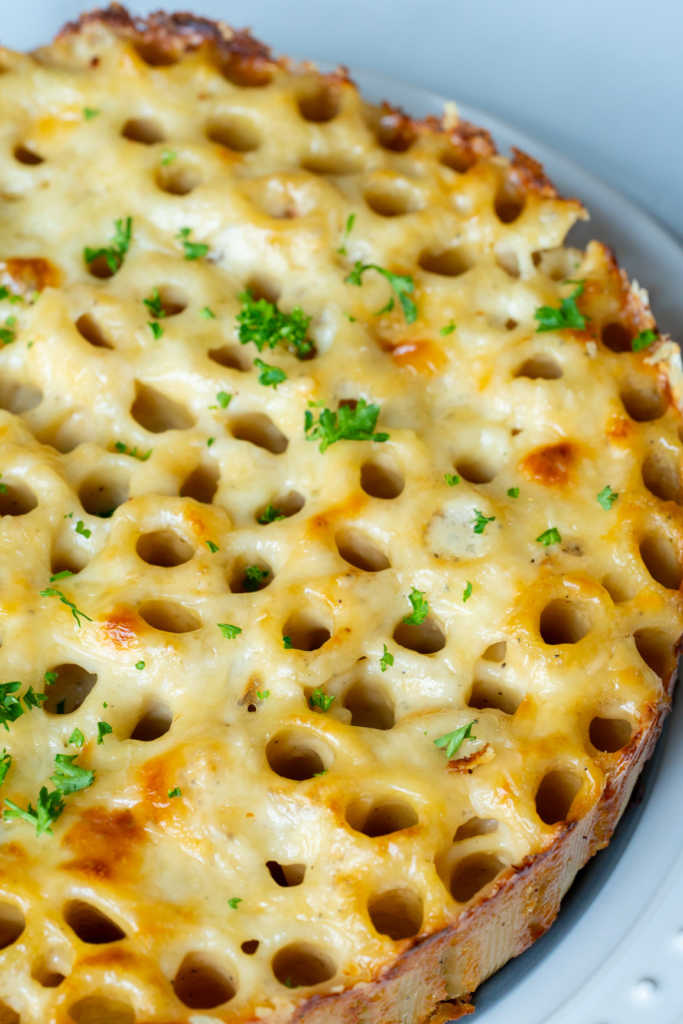 It helps to wait ten minutes or so after this comes out of the oven before unmolding and slicing into it, but your patience will pay off. You get crispy edges and a golden brown cheese crust on the top but the centers are full of what I consider to be the ultimate creamy indulgent cheese sauce. Date night, birthday dinner, company coming over… this is a dish that's meant to impress, but the flavor is right up there with the presentation.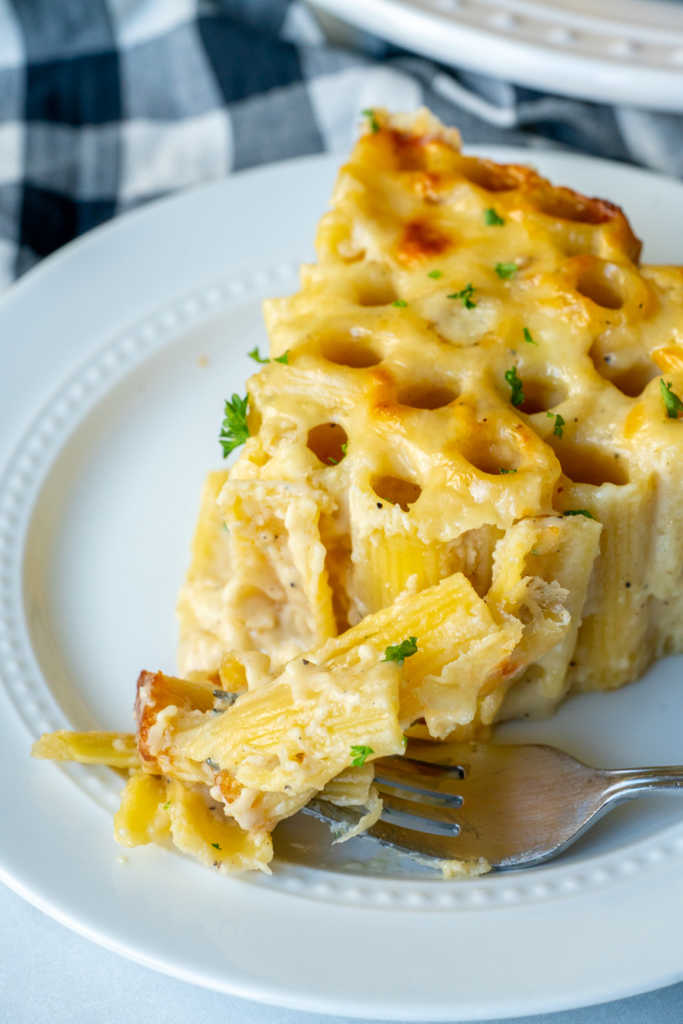 Five-Cheese Rigatoni Pie
Serves 6
15m prep time
45m cook time

When you share or print a 12 Tomatoes recipe,
you're making mealtime meaningful.
100%
of the Share to Care sponsor fees fund meals for families in need.
Learn More
CLICK ANY LINK BELOW TO JOIN OUR CAUSE!
Ingredients
1 lb rigatoni pasta
1 tablespoon olive oil
5 tablespoons butter
3 garlic cloves, minced
1/4 cup flour
2 cups milk
1/4 cup mascarpone cheese
1 1/2 cups gruyere cheese, freshly grated
1 1/2 cups fontina cheese, freshly grated
1 1/2 cups mozzarella cheese, freshly grated
1 cup Parmesan cheese, freshly grated
1/4 teaspoon ground nutmeg
Kosher salt and freshly ground black pepper, to taste
Fresh parsley, minced, for serving
Preparation
Preheat oven to 375°F and grease an 8 or 9-inch springform pan with nonstick spray. Set aside.
In a large pot of salted boiling water, cook the pasta until it is slightly underdone, about 9 minutes. Drain and immediately rinse in cold water to stop the cooking. Toss pasta in olive oil.
Meanwhile, make the sauce:
In a medium bowl, toss together the gruyere, fontina, mozzarella, and Parmesan cheese.
In a large skillet, melt butter over medium heat. Add garlic and cook until fragrant, about 1 minute. Whisk in flour and let cook until golden brown, about 2 minutes.
Gradually pour in milk, whisking constantly for 2 minutes more. Whisk in mascarpone and continue cooking until mixture thickens, another 2 minutes.
Add in almost all of the grated cheese, reserving about 1 1/2 cups for topping the pasta. Stir until melted and season with salt, pepper, and nutmeg. Remove from heat.
Stand rigatoni on their ends in the prepared pan until completely filled. Some pasta may be leftover.
Pour sauce over the pasta, encouraging it down into the tubes with a spoon or spatula. Top with remaining grated cheese.
Cover pan with foil, doming it a bit to avoid touching the cheese. Bake 30 minutes. Remove foil and bake until golden brown and bubbly, about 15 minutes more.
Let cook 10 minutes before removing sides of pan, then sprinkle with parsley (if desired), slice into wedges, and serve. Enjoy!
SKM: below-content placeholder
Whizzco for 12T