While a leg of lambis great for large, fancy dinners, a rack of lamb is absolutely perfect for smaller, more intimate gatherings.The portions can be doled out individually (2 ribs for light eaters, a full rackfor those who want more), and the layers of fat and skin that cover the outside guarantee there will be plenty of flavor loaded into the dish.
We wanted to share a recipe that not only celebrated the flavor of the lamb, but enhanced it, and did justice to the cut itself. An herb crust only felt natural. With a choice of meat this delicious, we only used fresh herbs pulsed in a food processor with some bread crumbs. For our herbs, we used a combination of parsley, rosemary, and of course mint. To make sure the crust didn't overcook and the lamb didn't under-cook, we cooked the rack in multiple steps: first on the stove, then in the oven twice. Part way through cooking in the oven, we pulled the lamb out, basted it in our favorite Dijon mustard, then rolled it in the herb crust before baking it once more. This resulted in a perfectly done lamb (we prefer rare to medium-rare, but feel free to cook yours longer) full of flavor and perfect for a fancy, or even romantic evening. Keep reading below for our recipe…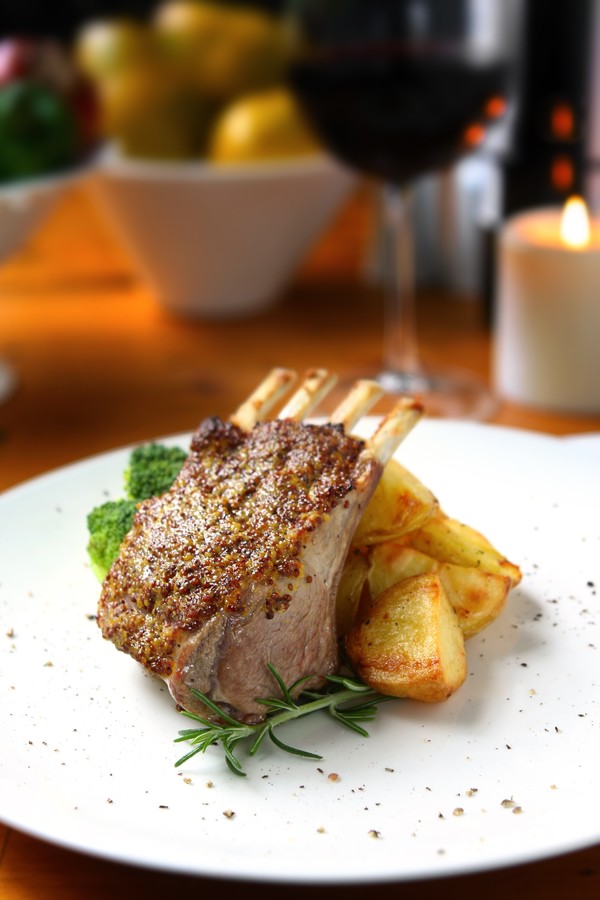 Herb Crusted Rack of Lamb
Ingredients
1 cup fine fresh bread crumbs
1/2 cup Parmesan cheese
3 cloves garlic, minced
3 tablespoons finely chopped flat-leaf parsley
1 tablespoon finely chopped fresh mint
1 1/2 teaspoons minced fresh rosemary
1/2 teaspoon salt
1/4 teaspoon black pepper
3 1/2 tablespoons olive oil
2 racks of lamb (8 ribs and about 1 1/2lbs each rack) frenched (Ask the butcher to french them for you as it can take a bit of work) and cut in half with 3-4 bones per serving.
2 tablespoons Dijon mustard
Directions
Add bread crumbs, Parmesan cheese, garlic, parsley, mint, and rosemary to a blender or food processor and drizzle with 2 1/2 tablespoons oil. Process until the mixture is blended and uniform. Pour into a deep dish and set aside.
Preheat the oven to 400F. Trim the lamb of all but a thin layer of fat, then score the fat with a paring knife in a criss-crossing pattern. Pat the lamb dry, then sprinkle with salt and pepper and pat the salt and pepper onto the lamb.
Heat the remaining tablespoon of oil on a large, heavy skillet over medium-high heat until hot but not smoking. Brown the lamb 1 rack at a time, turning once. Cookuntil the outside is seared and browned, then transfer to a roasting pan, skin side down. Bake about 7-8 minutes.
Remove the lamb from the oven and brush generously with Dijon mustard. Dip the lamb several times into the trust mixture, coating each rack completely and evenly. Allow the meat to rest 5 minutes. Place the lamb back into the oven for 4-5 minutes (or until desired doneness is reached. Use a meat thermometer inserted diagonally into the center. 130F will be medium rare). Transfer the lamb to a cutting board and let rest 5-10 minutes before serving.
Enjoy!
Recipe adapted fromEpicurious
SKM: below-content placeholder
Whizzco for 12T