Pączki is a Polish pastry, not too far off from a doughnut. It's deep fried dough filled with a cream or sweet jelly. They can be glazed or covered with a powdered sugar. They are typically eaten on Pączki Day in Poland, also known as Fat Tuesday, because their consumption was forbidden by the Catholic fasting practices during Lent. You'll see celebrations of Pączki Day in US cities with large Polish populations like Buffalo, Detroit, and Chicago. Hamtramck, MI even has an annual Pączki Day parade!
So how can you celebrate Pączki day with your own treats? Well we have a great recipe right here. It turns out one secret to making these delicious treats is to add some grain alcohol to the batter which according to some prevents the dough from absorbing quite as much oil. We filled these pączkis with a custard filling, but if you'd prefer something more fruity, use 1 1/2 cups of your favorite preserves instead. Keep reading below for this recipe…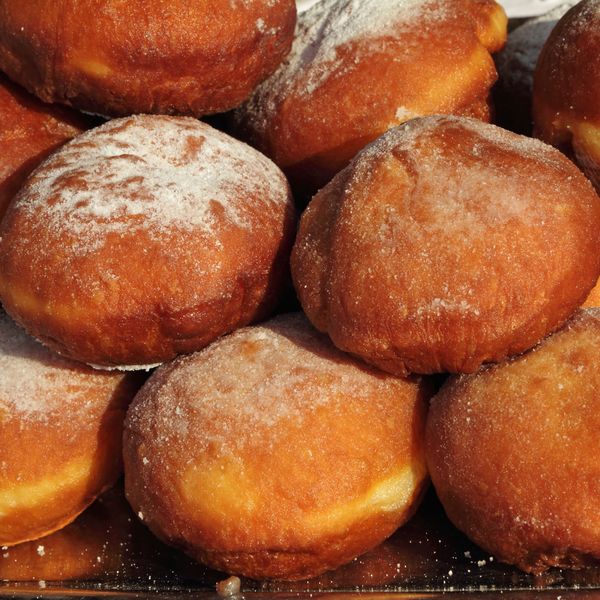 Pączki With Custard Filling
Ingredients
Pączki
1 1/2 cups plus 1/4 cup divided flour
1/4 cup sugar
1/4 teaspoon salt
2 teaspoons yeast (instant or regular)
2/3 cup milk warmed to 120F for instant or 110F for regular yeast
3 tablespoon canola oil
2 egg yolks
1/2 teaspoon vanilla
1 teaspoon Bacardi 151 or higher alcohol liquor
2 quarts canola oil for frying
1 tablespoon melted butter
1/3 cup sugar for coating
CUSTARD FILLING
1/4 cup sugar
1 tablespoon cornstarch
1 cup milk
1 egg yolk
Directions
Whisk together the 1 1/2 cups flour, the sugar, salt, and yeast in a large bowl. Stir in the warmed milk followed by the 3 tablespoons canola oil, egg yolks, vanilla, and liquor.
Use an electric mixer to beat for 2 minutes on high speed. Stir in enough extra flour (up to 1/4 cup) until the dough holds together.
Turn the dough out onto a floured work surface and knead 50 turns. Cover with plastic wrap, then let rest 10 minutes.
While it's resting, make the custard filling. In a saucepan, combine 1/4 cup sugar and 1 tablespoon cornstarch. Slowly stir in the milk and egg yolk. Bring to a boil, stirring constantly, and cook for about a minute until thick (it'll thicken more as it cools). Cool thoroughly before using (refrigerating if you need to).
Line a large baking sheet with parchment paper. Once the dough is done resting, turn it back out onto a floured surface and roll the dough int a 1/2″ thick disk. Cut out circles using a 2 1/2″ round cutter dipped in flour. Re-roll the scraps and cut out the circles again.
Place the cut rounds on the baking sheet and cover with a towel, letting rise at room temperature for 1 hour.
Pour the canola oil into a large Dutch oven and heat the oil to 360F. Once the oil reaches temperature, use a heat resistant spatula or a shallow strainer to carefully drop the dough in, one at a time, cooking a maximum of 3 at once. Cook the doughnuts until they are a deep brown on one side, then turn the doughnut and cook the other side until it is roughly the same color. Remove the dough from the oil and place on a wire rack, letting any excess oil train off while they cool. Test the first dough round to make sure the inside is completely cooked, and adjust the cooking time accordingly if not. Repeat with the remaining dough rounds.
Fit a pastry bag with a long, slender tip and fill with the custard from the fridge. Pipe the filling into the dough rounds. Brush each side of the rounds with the melted butter then dip each side in the 1/3 cup of sugar for coating.
Serve immediately. Enjoy!
Recipe adapted fromSerious Eats
SKM: below-content placeholder
Whizzco for 12T