It's so easy to get the same flavor at home.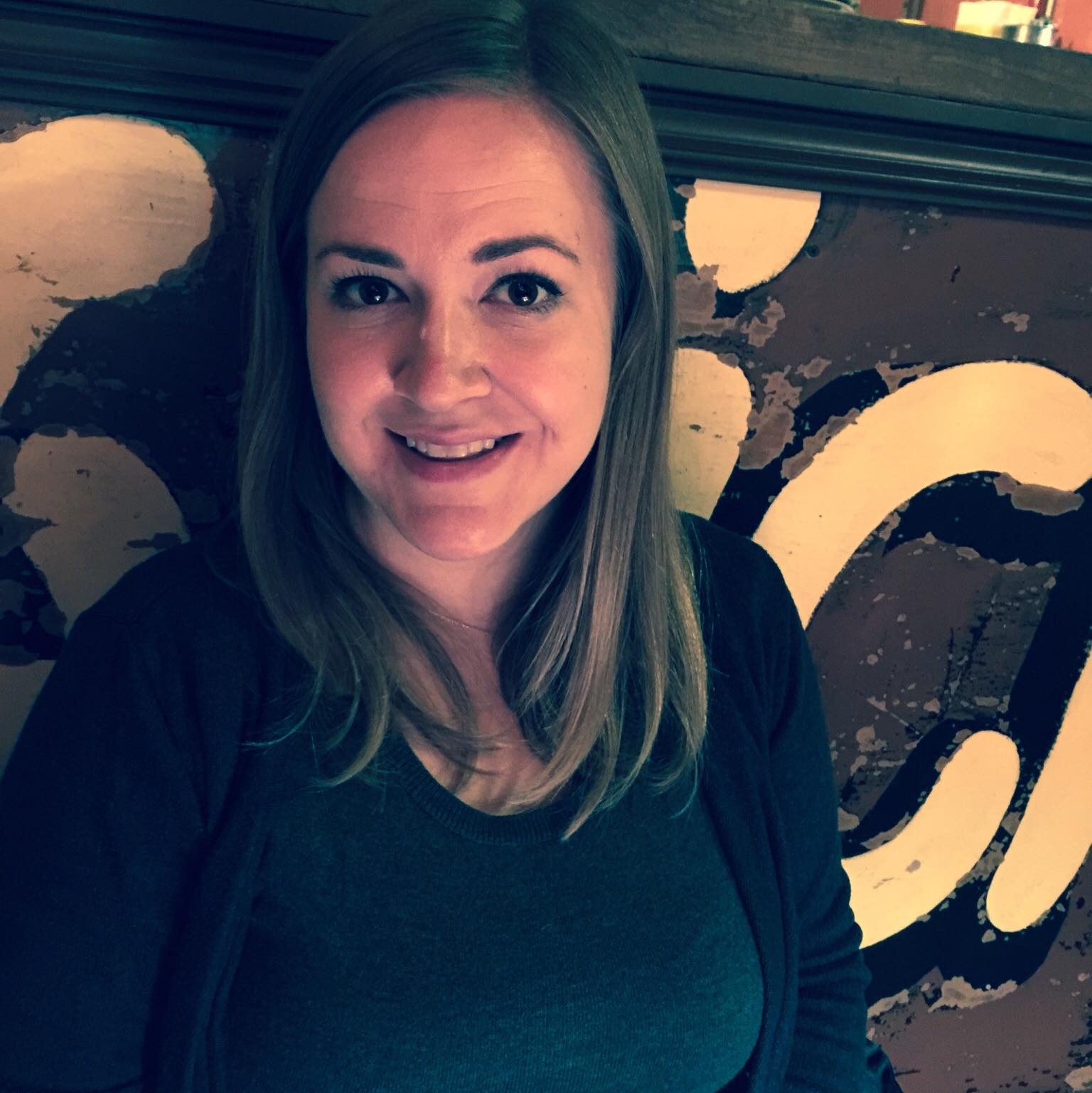 Kristy Norrell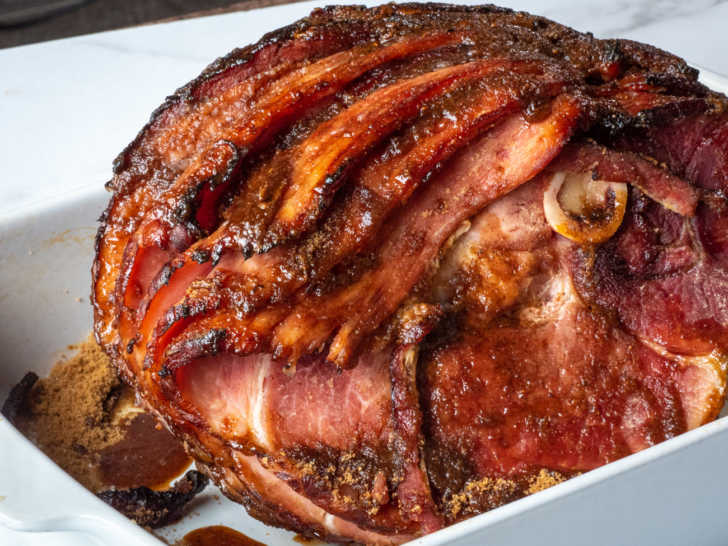 My husband is the Honey Baked Ham store's number one fan, without question. When their catalog arrives in early November, it's as if Christmas has come early for him – his eyes light up as he carefully thumbs through the pages while drooling over all of the glossy images of sugary crusted honey-glazed hams. Of course, that's only because he knows how good that ham actually tastes, and while we all tease him about it, we understand – their ham is amazing! Like with anything that good, it's always a win to be able to make it right in your own kitchen any time you want, on your own terms, with your own ingredients so here's our slow cooker version that's super simple to make but complete with all of the crisp honeyed edges you could want.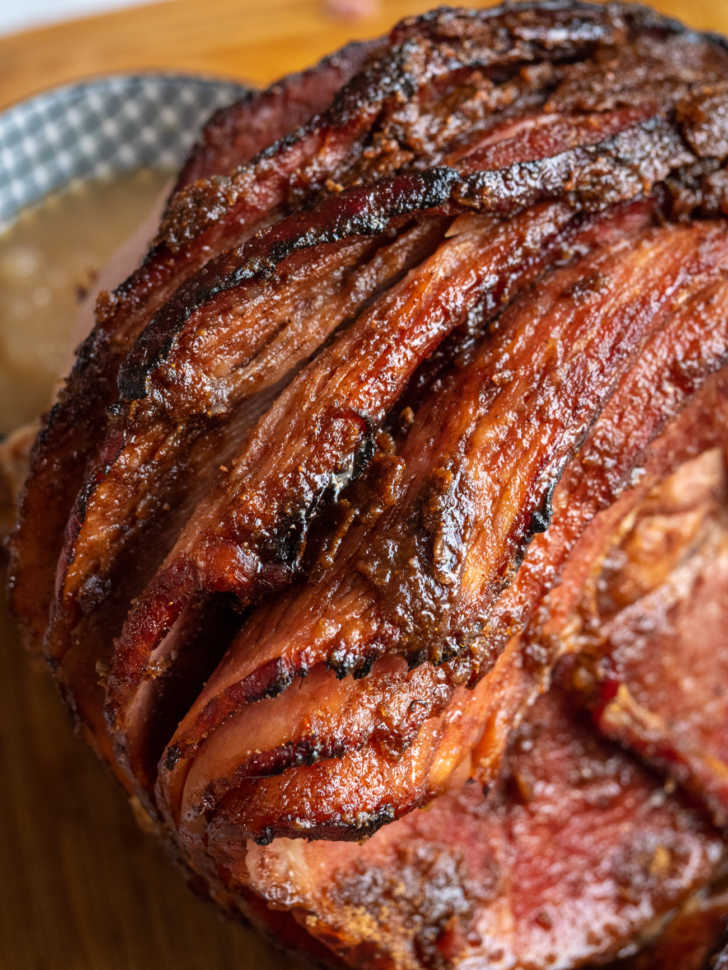 Why make your own Honey Baked Ham? Well, for starters, it's a lot cheaper. Picking up a spiral-sliced ham from your grocery store and doctoring up the glaze a bit will cost you about half as much as ordering one from the Honey Baked Ham store. I also find it to be a bit more convenient – you don't have to order ahead, drive to a select store to pick it up, or deal with shipping and thawing of a large ham. And the end result? Just as delicious.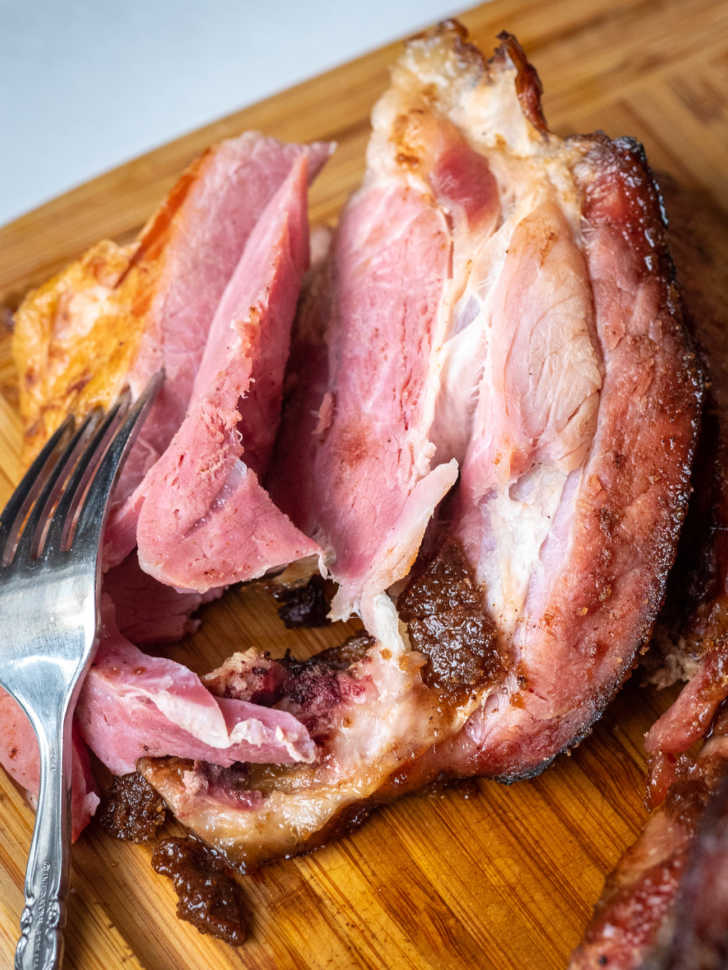 Whenever we have a Honey Baked Ham in the fridge, I can't help but sneak over, open the door, and pick off some of those delicious honey-crusted edges from the ham to snack on. It's the best part! This method gives you that same delicious flavor and glaze and it (mostly) happens in the slow cooker. You just take a bone-in spiral sliced ham, something between six to eight pounds works well, and brush the entire thing with a mixture of butter and honey, also taking care to push it down into all of the slices. Then it hangs out in the slow cooker for four hours or so, long enough for that sweet, buttery mixture to permeate the entire ham.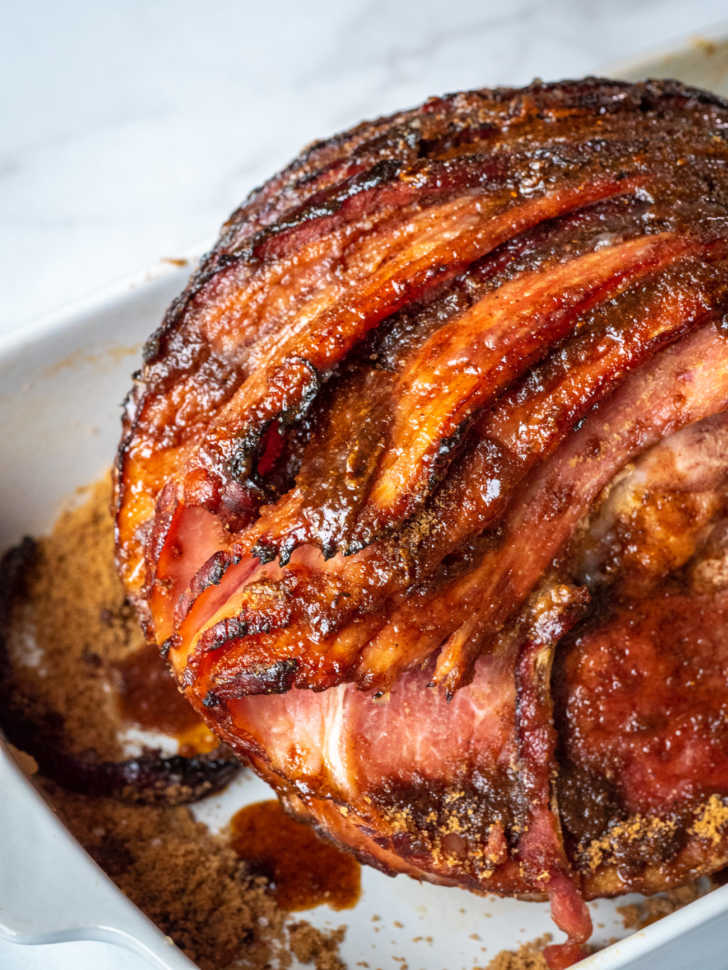 Towards the end of the cooking time, you'll mix up some brown sugar and spices (think nutmeg and cinnamon but also some garlic powder – the perfect mix of sweet and savory) and press it into the ham before setting it under the broiler of your oven for a bit. That gets lovely and caramelized but you're not done yet. You reserve some of that brown sugar mixture and mix it with some of the ham liquid from the slow cooker (which has plenty of honey and butter in it) and you boil it into a fragrant glaze on the stovetop. You then brush that glaze over the ham and broil it all once more. That is how you get that signature honey-crusted goodness you know and love!
Slow Cooker Copycat Honey Baked Ham
Serves 10
15m prep time
4h cook time
Ingredients
1 bone-in spiral sliced ham (6 to 8 lbs)
2 tablespoons butter, melted
1/4 cup honey
1 cup light brown sugar
1/2 teaspoon garlic powder
1/2 teaspoon ground cinnamon
1/2 teaspoon ground nutmeg
1/4 teaspoon ground cloves
1/4 teaspoon paprika
1/2 teaspoon salt
Preparation
Trim ham as necessary and place in slow cooker.
In a small bowl, stir together butter and honey, then rub over ham, pushing mixture into slices. Cover and cook on low 4-5 hours.
Towards the end of the cooking time, preheat oven broiler on high and line a roasting pan with foil.
In a small bowl, stir together brown sugar, garlic powder, cinnamon, nutmeg, cloves, paprika, and salt. Press half of the mixture into the top of the ham.
Broil until bubbly and caramelized, about 3 minutes, then remove from oven.
Add remaining sugar mixture to a small saucepan and place over medium heat. Add 3 tablespoons of the ham liquid from the slow cooker (or water). Bring to a boil, stirring occasionally.
Let boil 1 minute, then remove from the heat. Brush glaze over ham, then broil once more briefly, just 1-2 minutes.
Let ham rest at least 5 minutes before serving. Enjoy!
Recipe adapted from The Chunky Chef.
SKM: below-content placeholder
Whizzco for 12T