This classic is even better out of your own kitchen.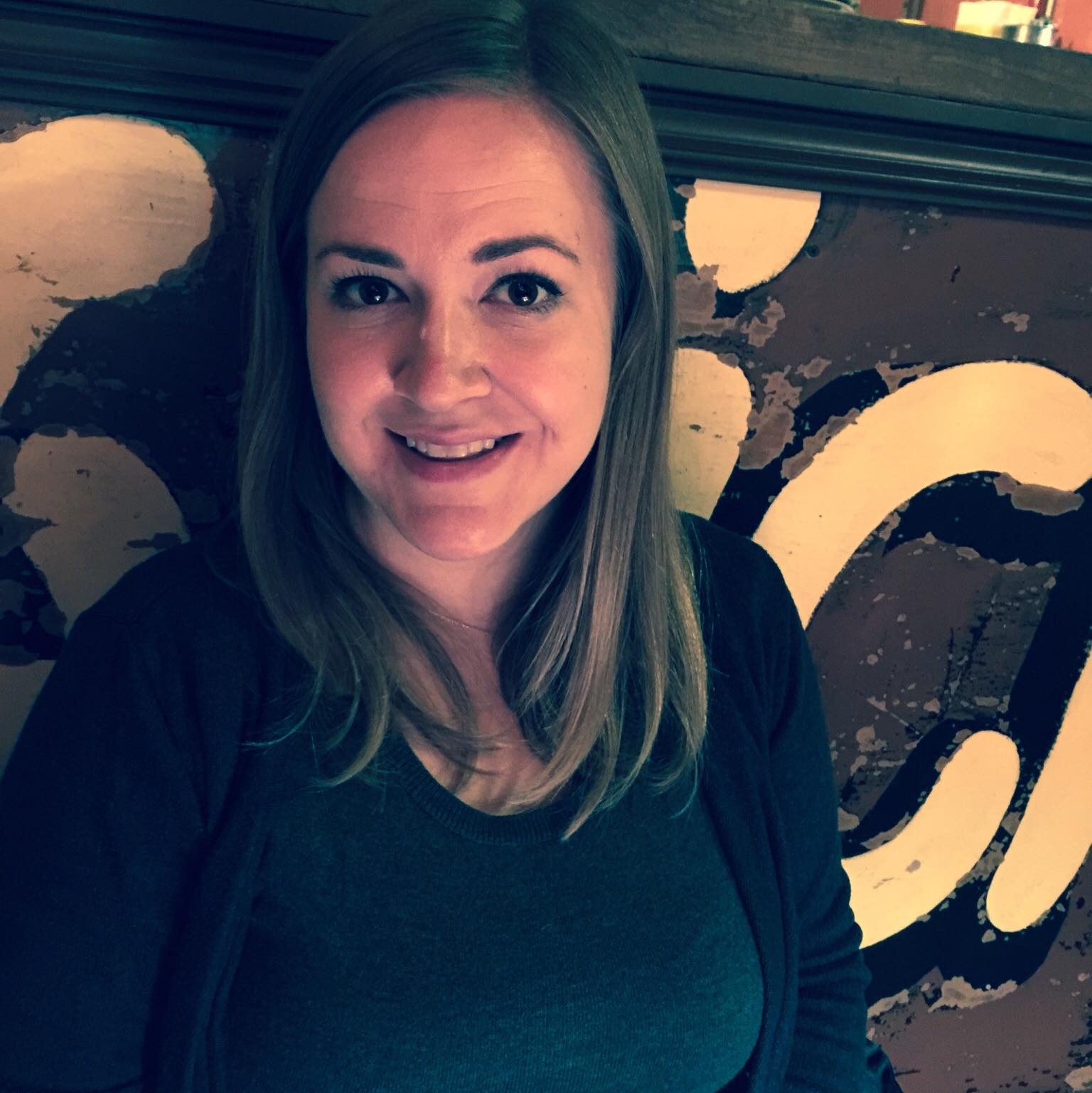 Kristy Norrell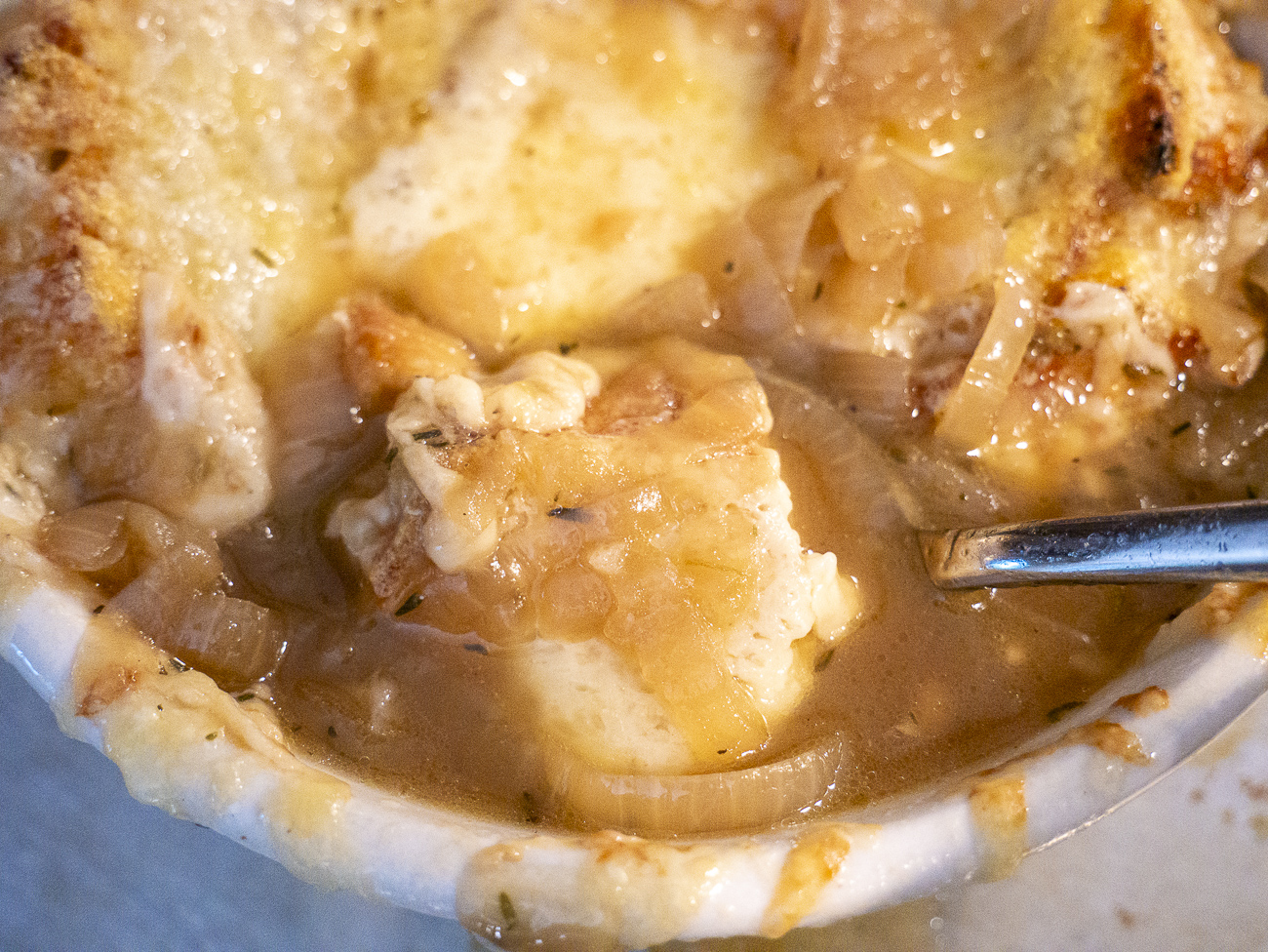 If I see French Onion Soup on the menu at a restaurant, there's a really good chance I'm ordering it. See, I loooooove French Onion Soup, and I'm not entirely sure if it's because of the crusty bread or the melty Gruyere or how it's somehow brothy and hearty and sweet and savory all at the same time. It's probably a combination of all of those things. But no matter how much I love it, it's always been "restaurant food" to me and so is something I've rarely made at home. Maybe because having the patience to truly caramelize those onions had intimidated me? Maybe I was worried it wouldn't be as good? But that's just silly! French Onion Soup is actually very simple to make in your own kitchen and here's just how you do it. (And yes, the results are just as amazing.)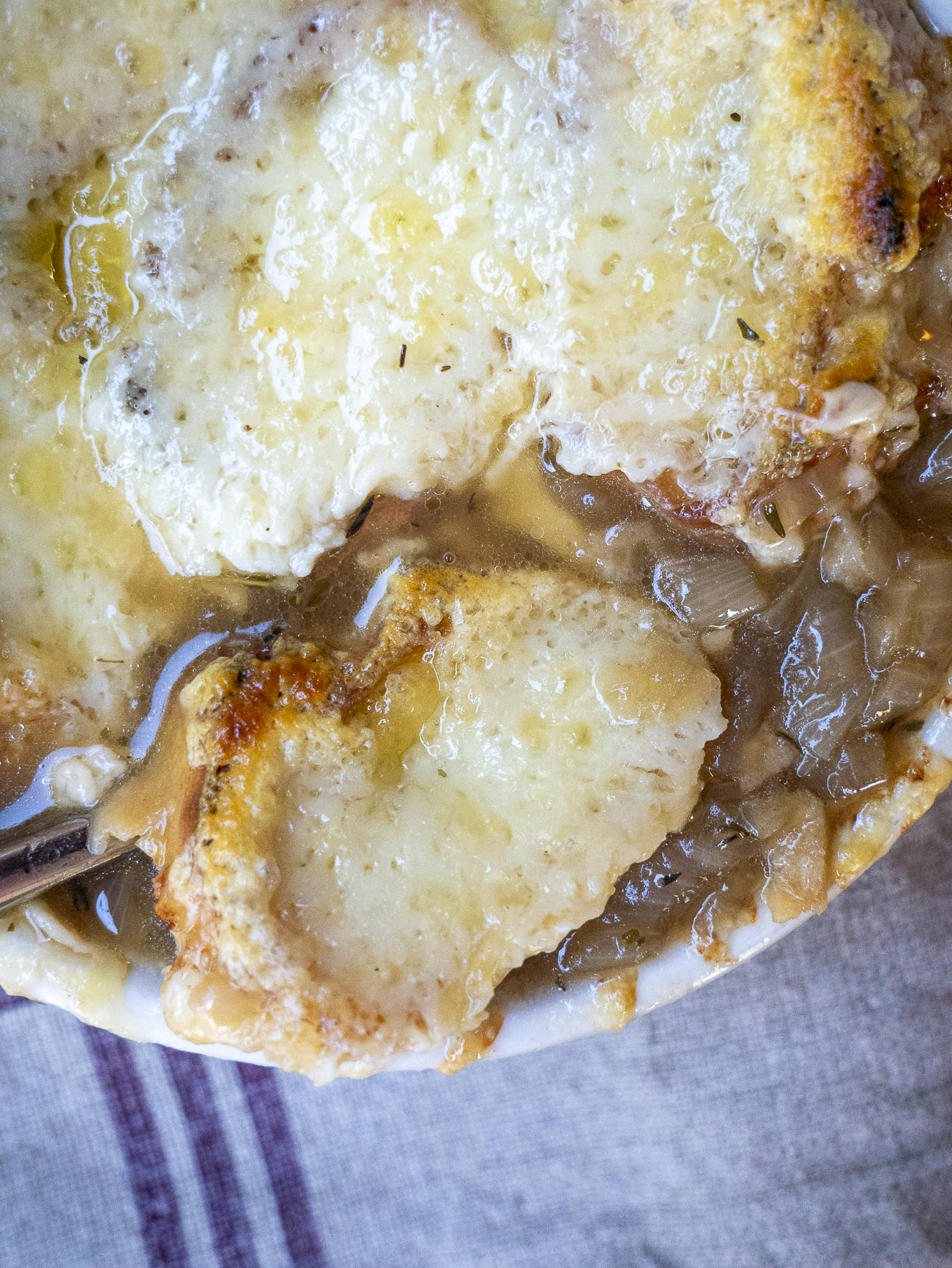 First things first, the onions.
You will need a lot of them, like six. But luckily a grocery store big mesh bag will pretty much get you to that point and it's still reasonably economical.
What type? Good question. You can turn any type of onion into French Onion Soup but I like yellow the best. They have more flavor than white and since this is a soup made pretty much entirely of onion, you want onion flavor. They're a tad sweeter, too, but not as sweet as a sweet onion which I find becomes far too sweet after being caramelized in this capacity. In sum: white, red, or even sweet will work, but yellow is best.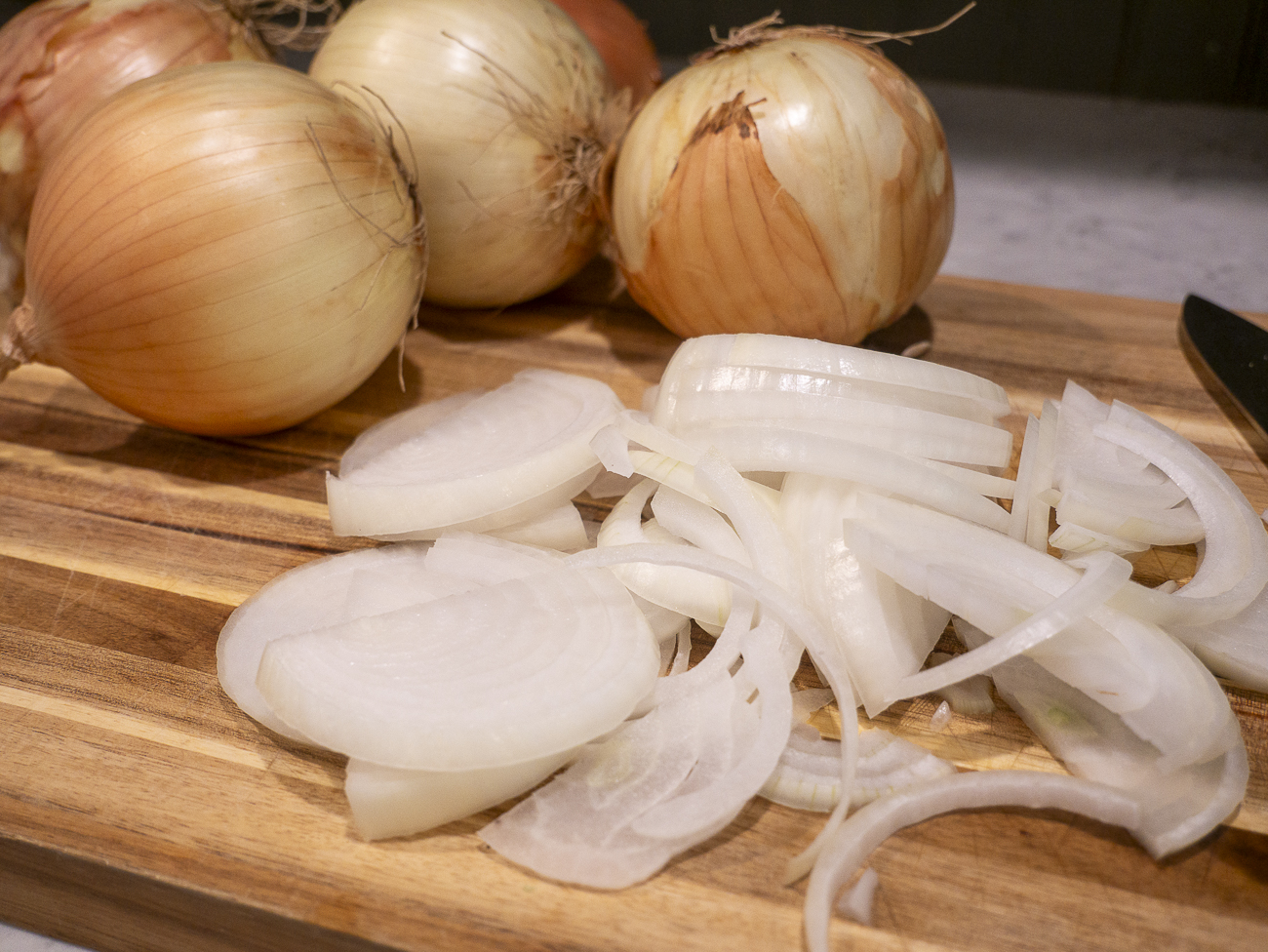 And then you slice them.
Thinly. Into a mountain of onions. You can use a mandoline, sure, but I honestly enjoy the rhythmic routine of working through a pile of onions. Just trim off the tip and the root ends, slice your onion in half and then slice each half up, so you have piles of oniony crescent-moons.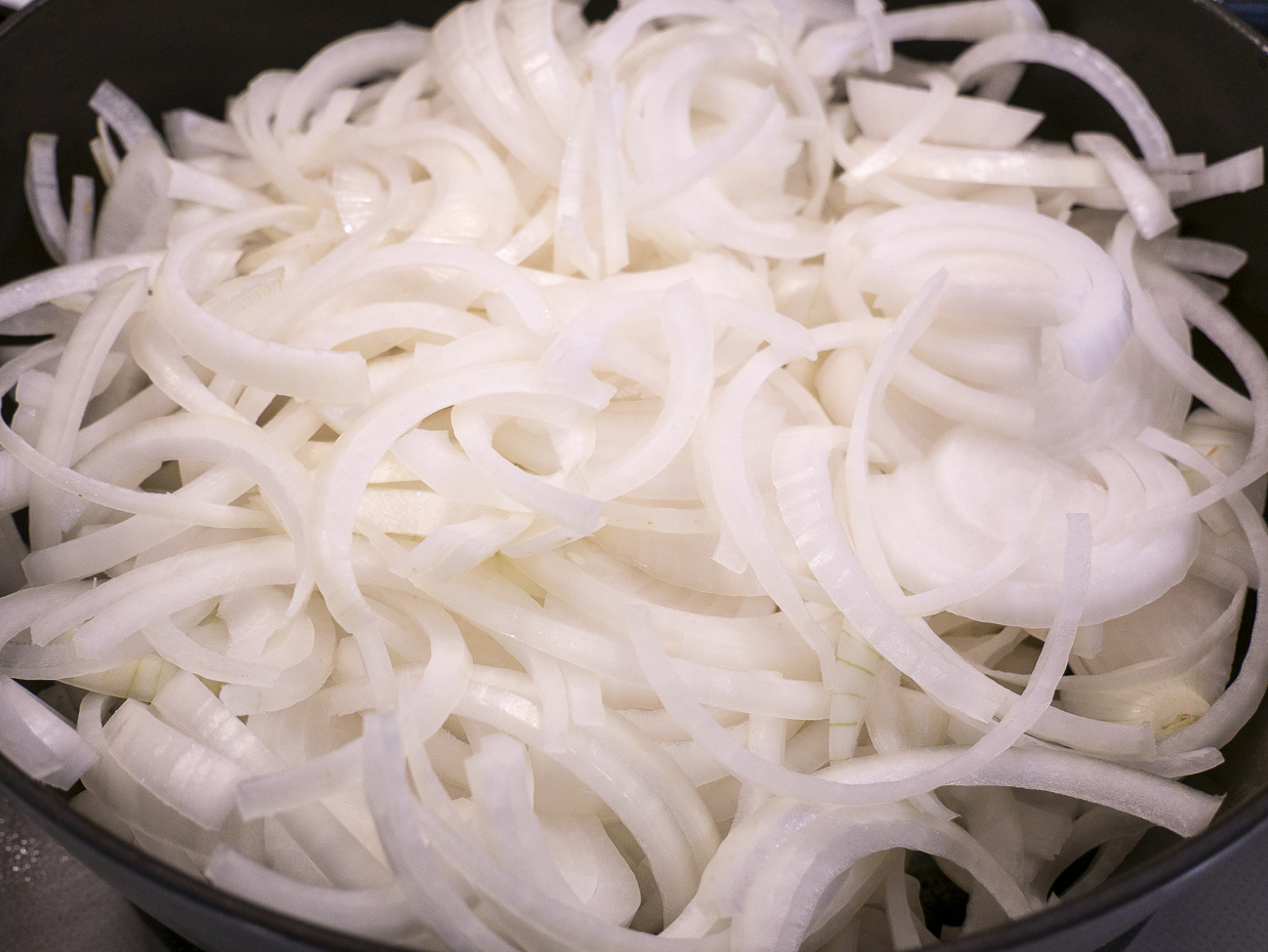 Then you'll melt some butter down in a pot and add the onions to start cooking them down. This is an exercise in patience, it's true. You want this to happen slowly, so do it at a medium heat. They'll start to look like this.
You're not there yet.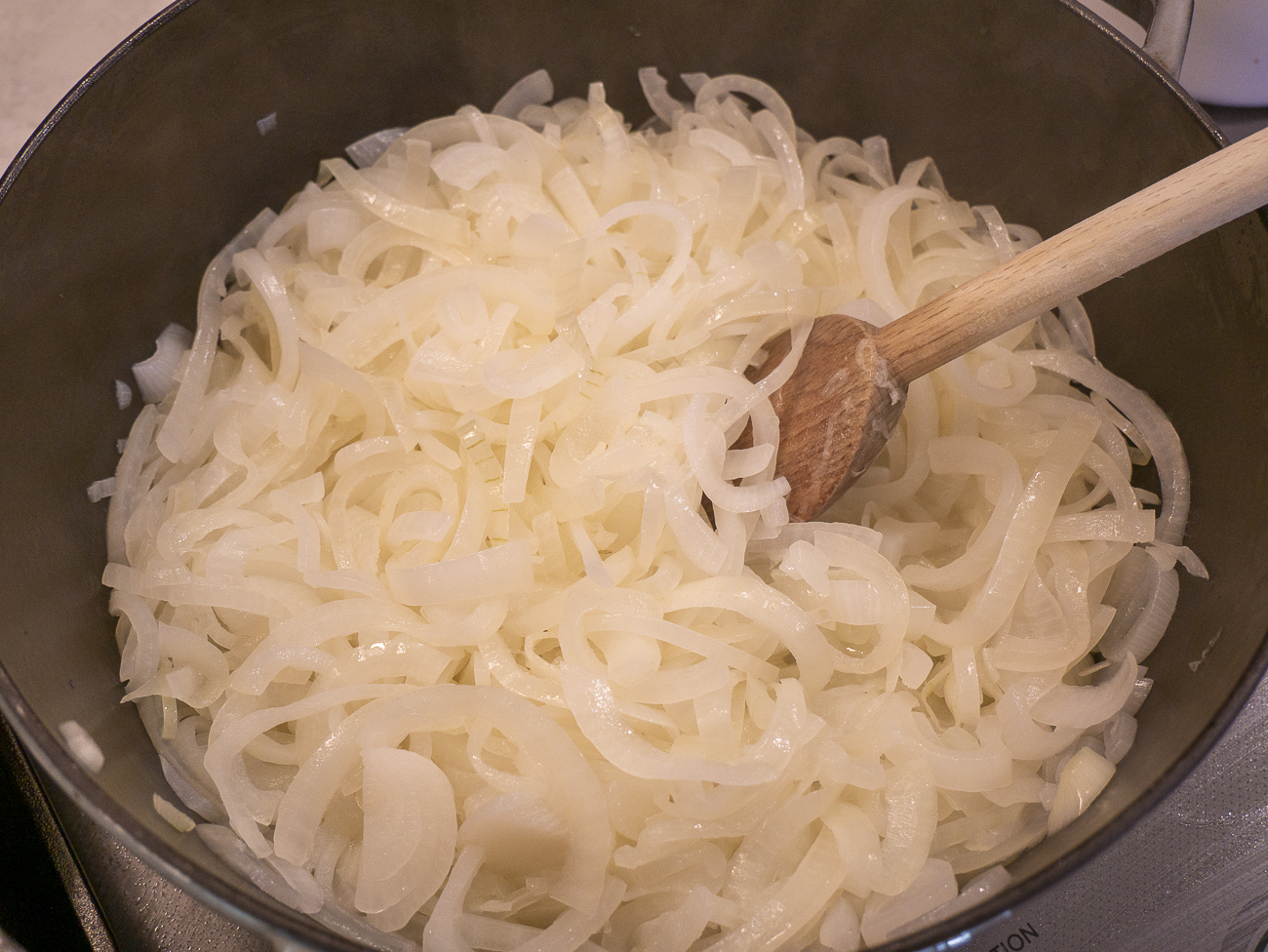 Don't you dare turn that heat up to rush things along. Then you'll get burnt onion flavor instead of soft and sweet and that's the last thing you want.
This can take, oh, thirty, forty minutes, but when they look like this, you've arrived.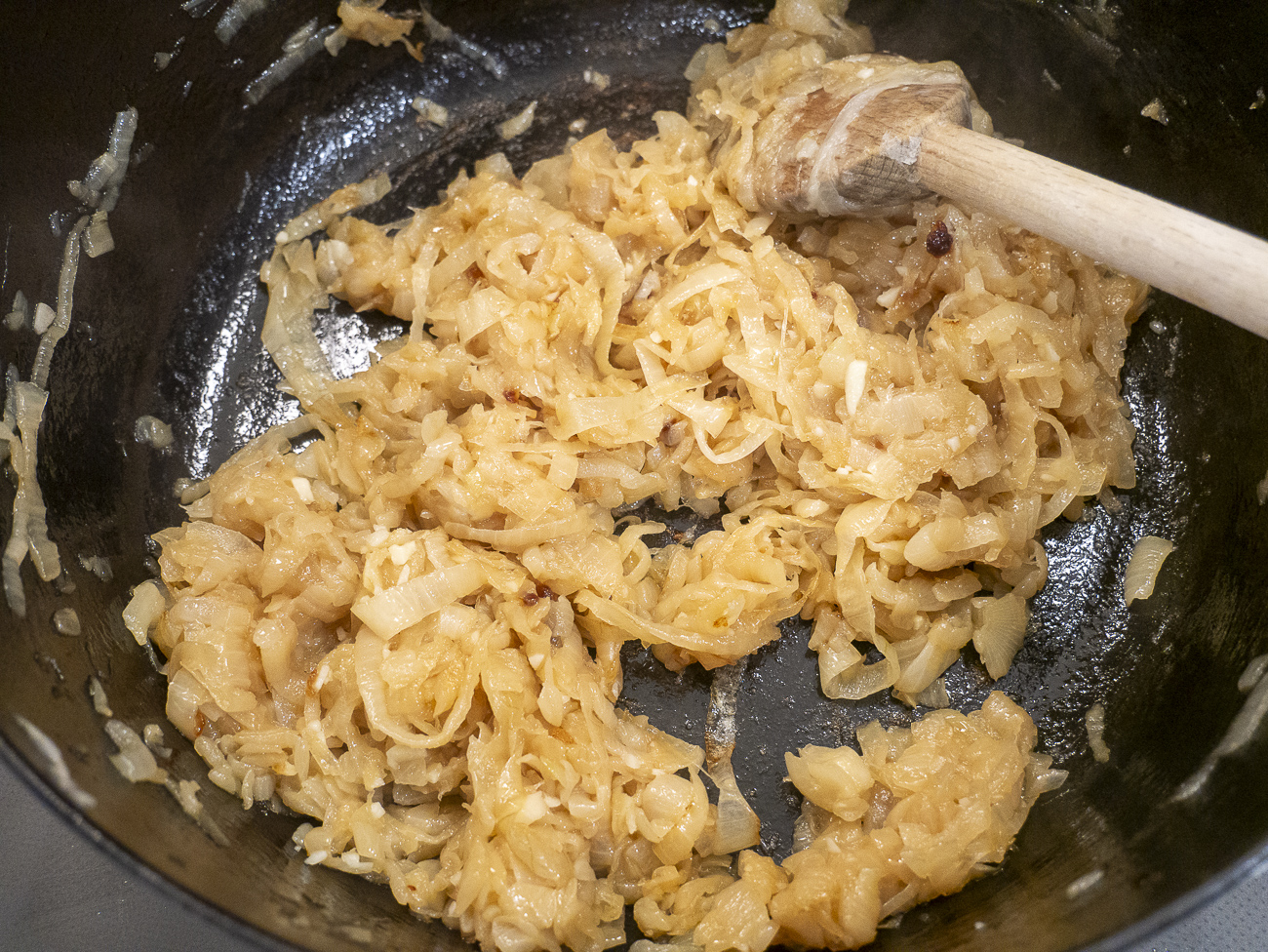 Deglaze the pan with some wine and add in some beef broth, thyme, and bay leaves. It only needs to simmer for fifteen, twenty minutes at this point.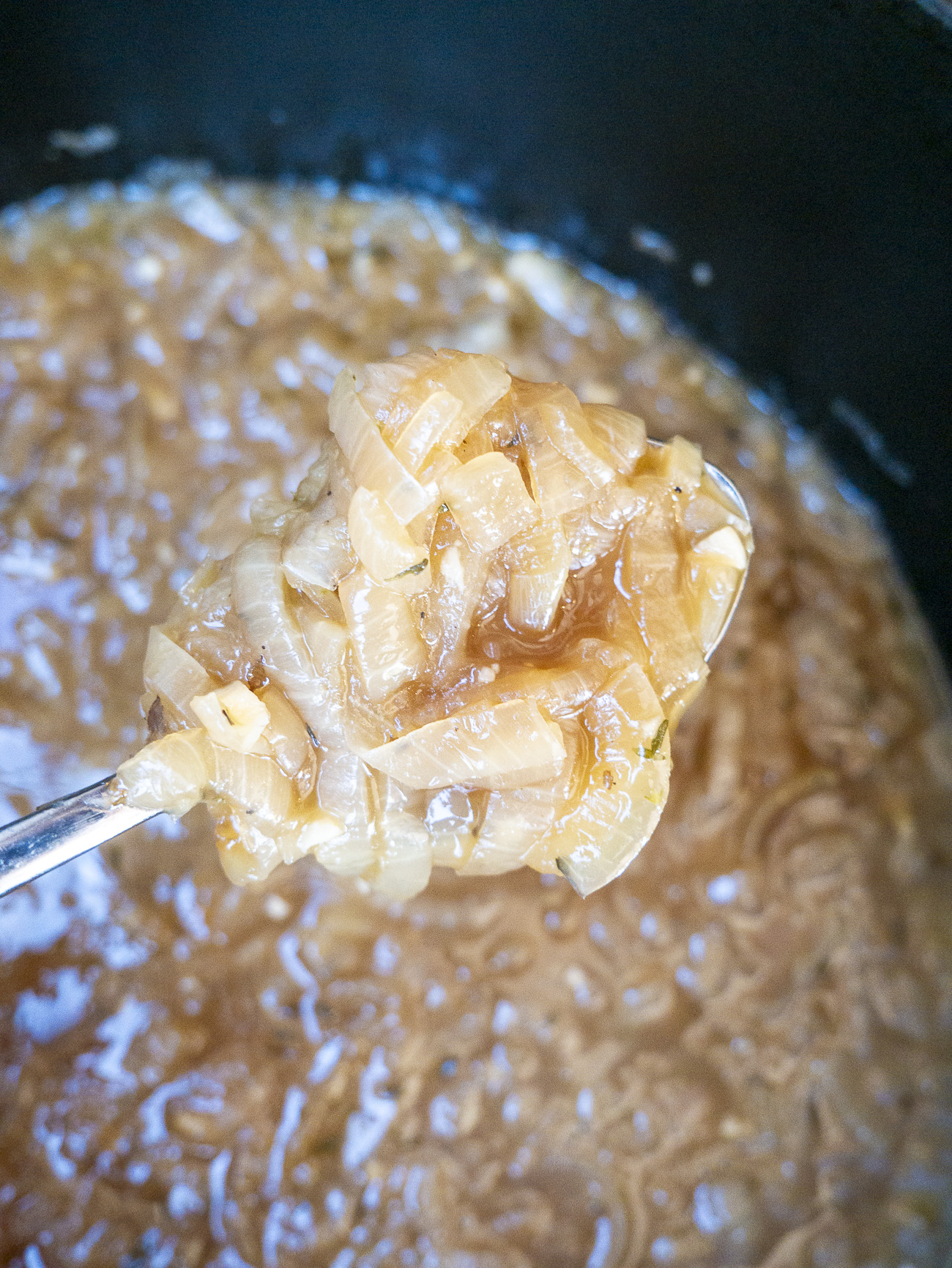 While the soup simmers, slice up a baguette and pop those slices in the oven to get nice and toasty.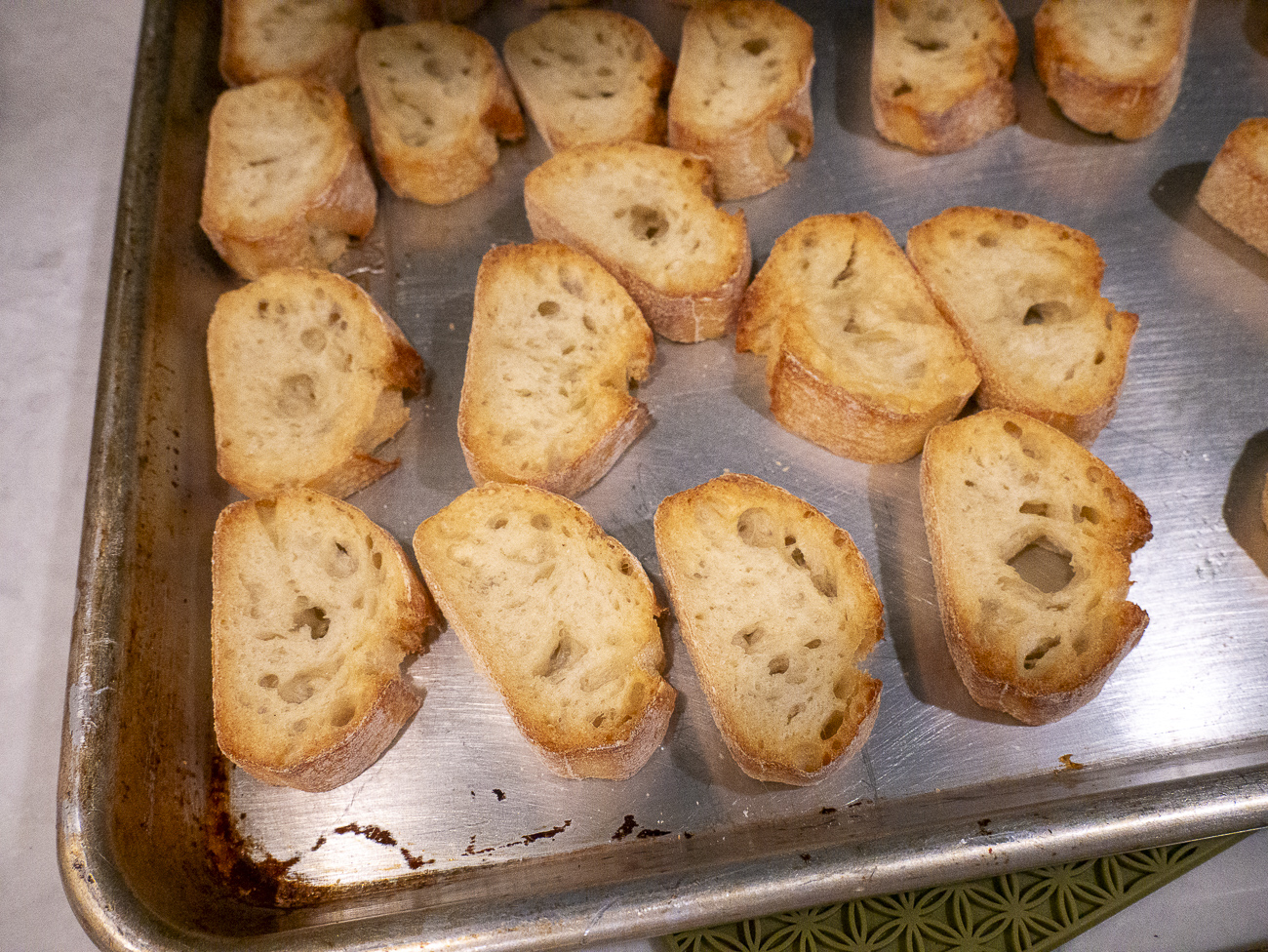 And then once you've adjusted the seasoning of your soup, ladle it into a bowl or a ramekin, top it with enough baguette slices to mostly cover the top…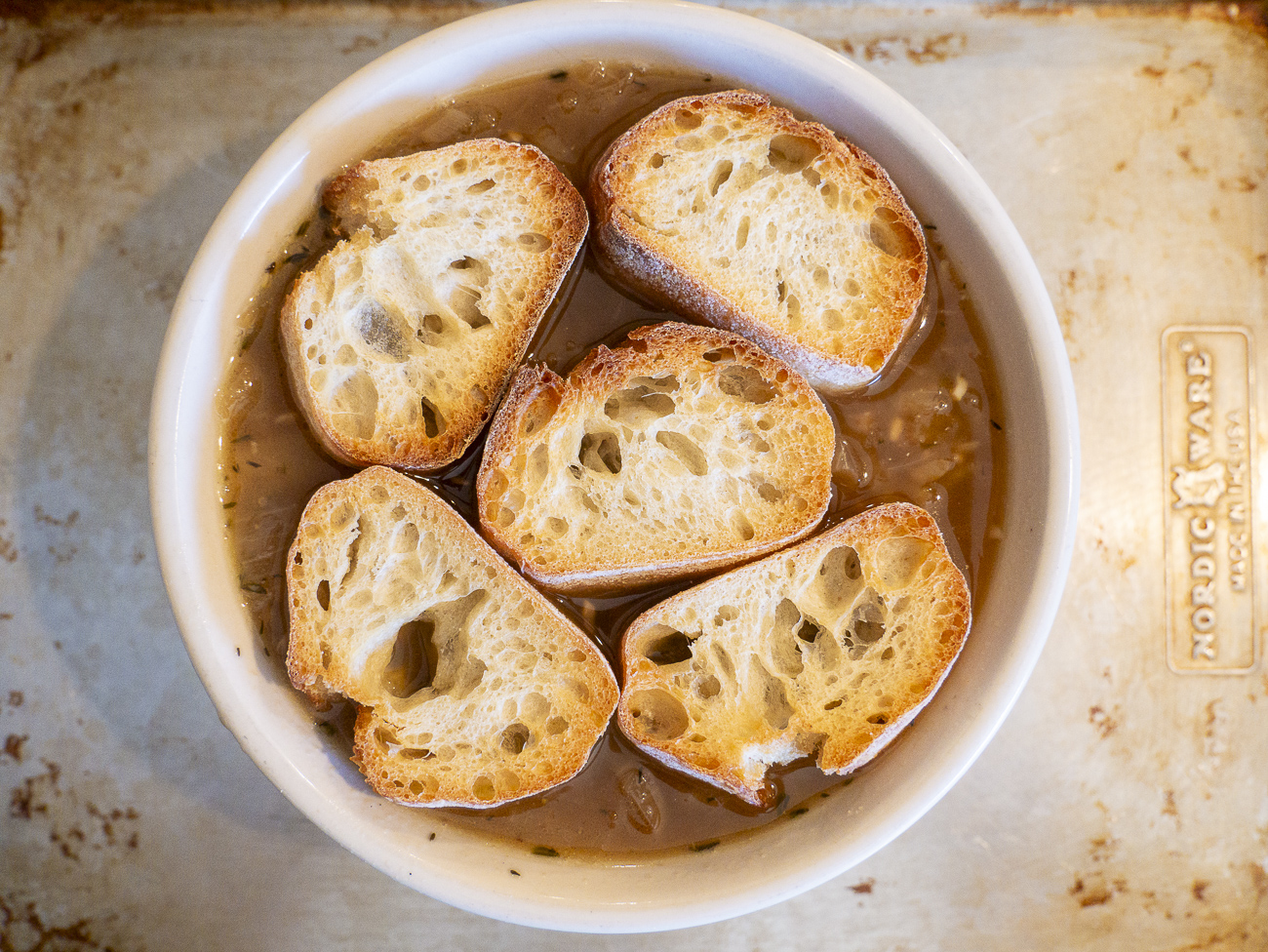 … and then give it a nice, generous blanket of Gruyere cheese. The cheese is the place to splurge here. A nutty Gruyere makes this heavenly — a slice of deli Swiss isn't gonna cut it.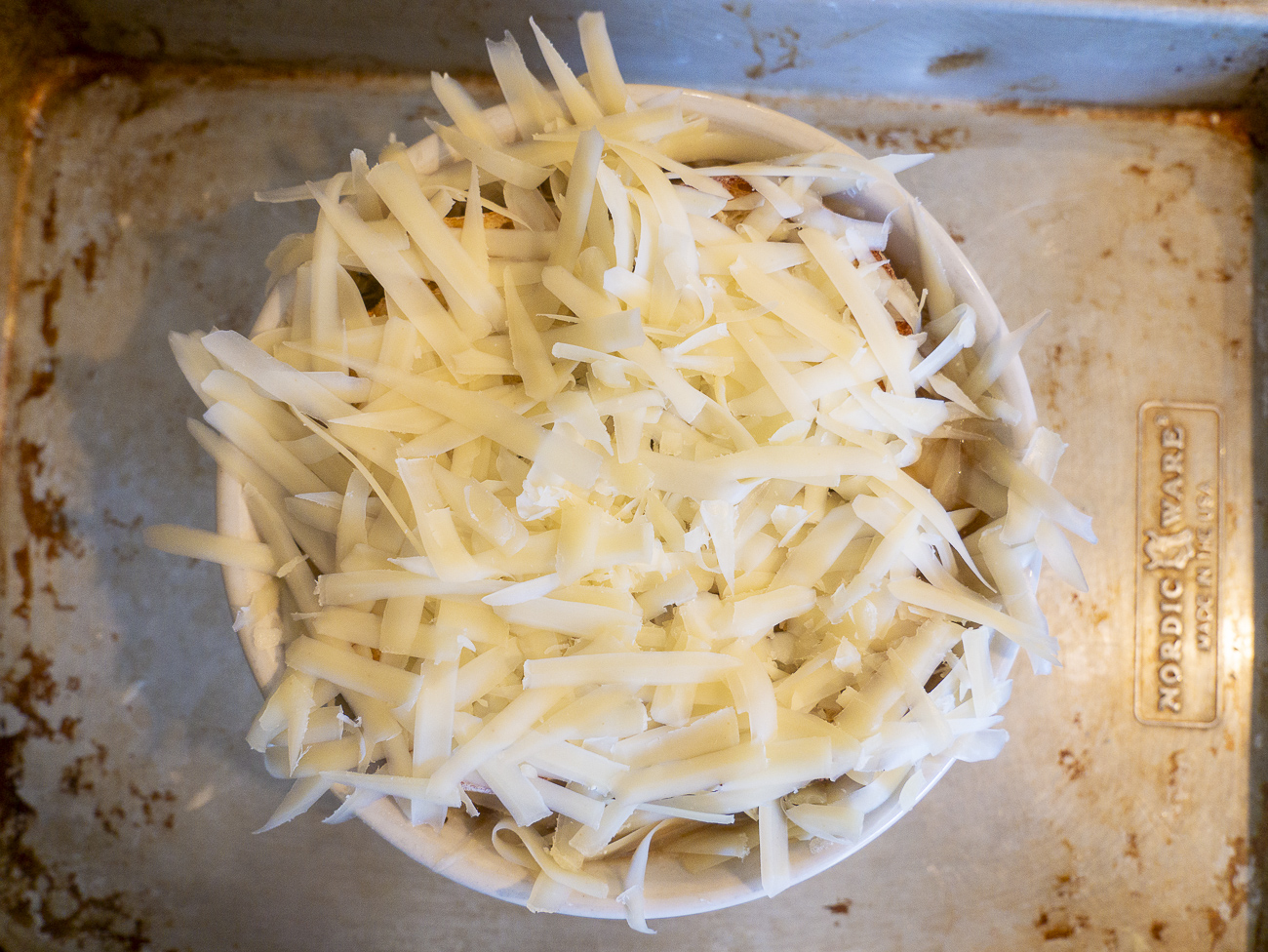 Then, just broil it until the cheese is as melted and bubbly as dreams are made of.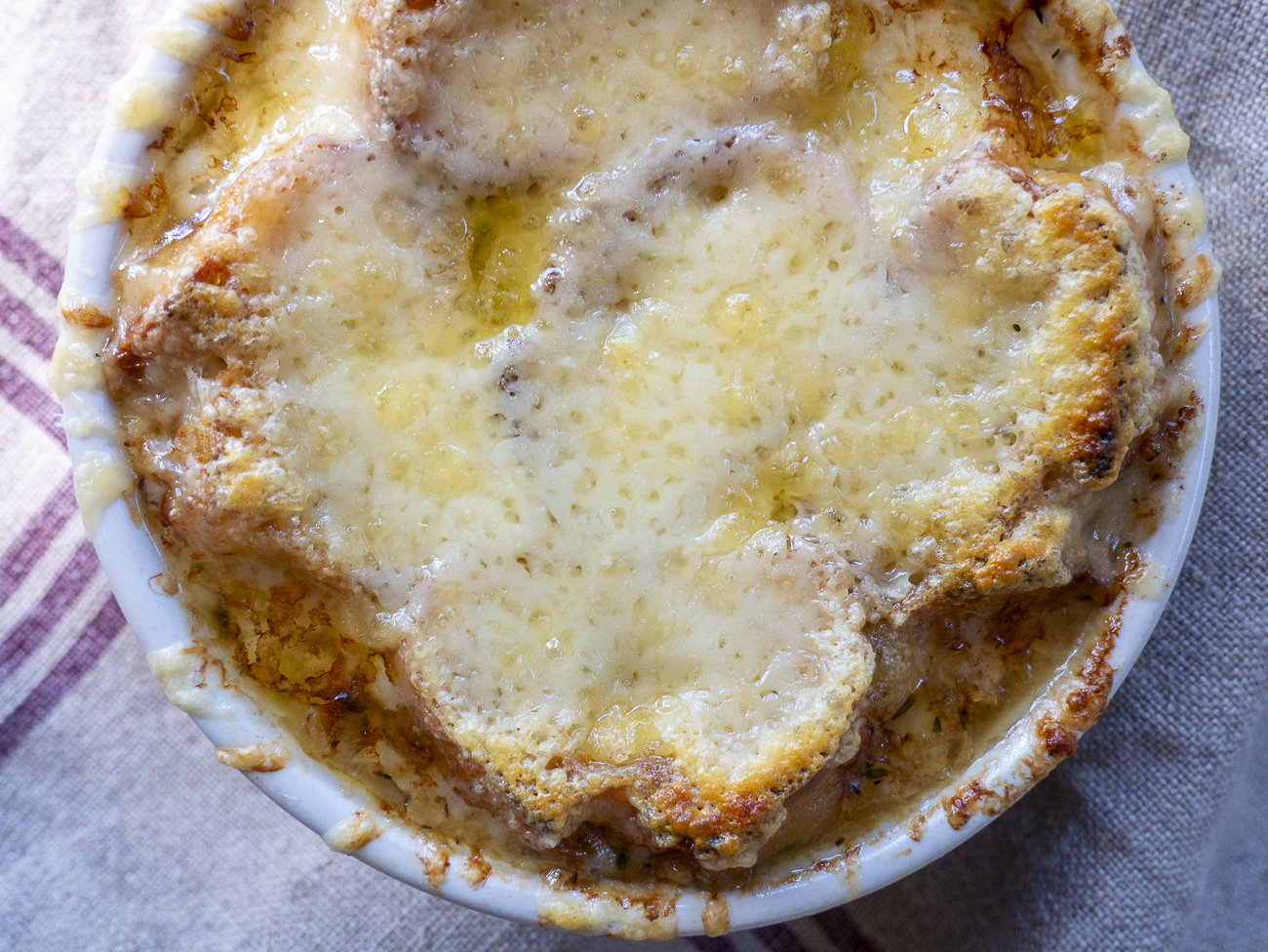 And then dig in. And enjoy.
The onions take a while, it's true, but it's the perfect thing to do on a lazy rainy Sunday. And besides, what's more comforting to dig into than a brothy bowl of wine-kissed caramelized onion goodness that's carried on the wings of crusty bread and ooey-gooey Gruyere? Nothing I can think of. But I promise, it's much, much cozier to do it right at your own kitchen table.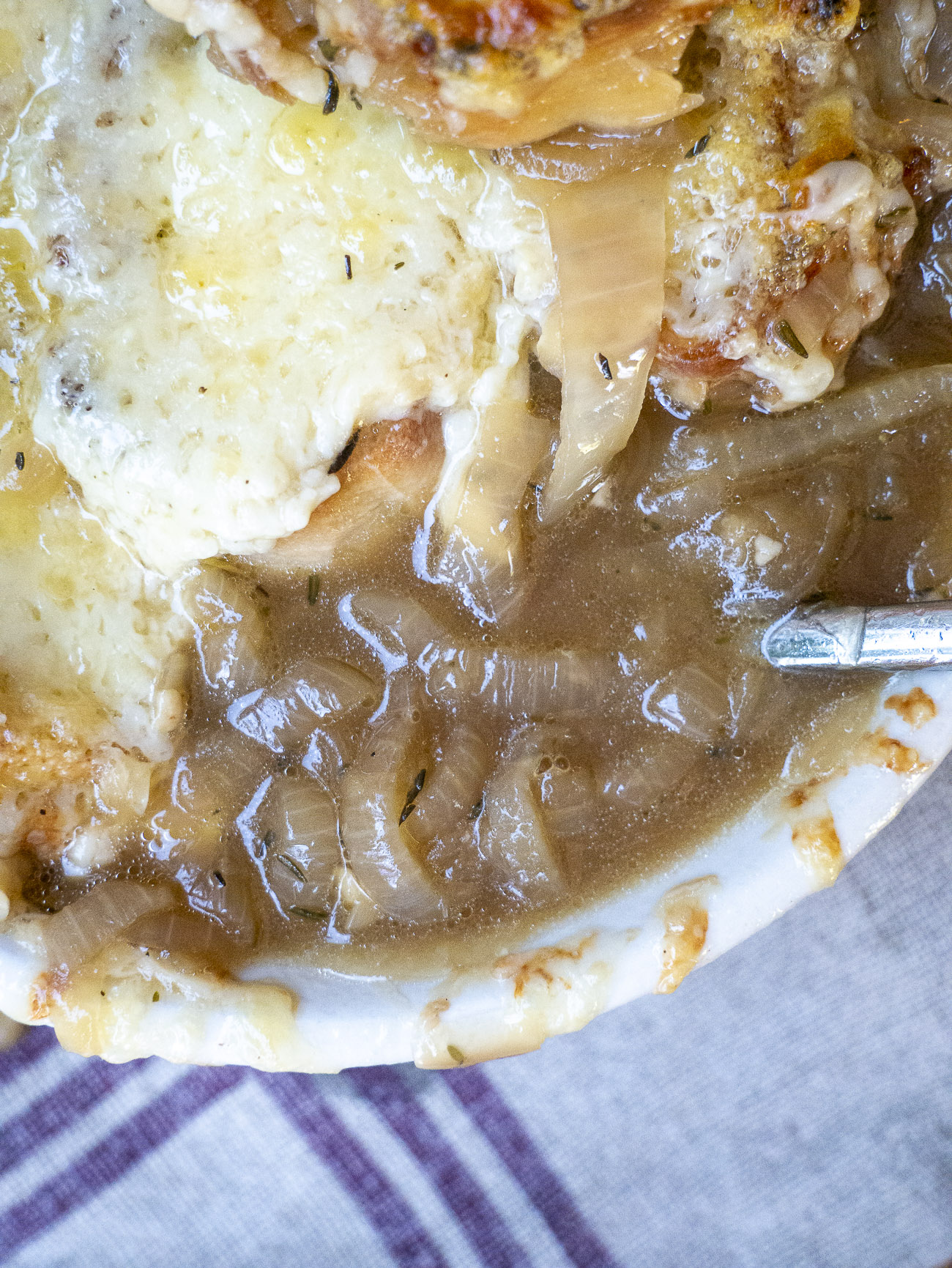 Classic French Onion Soup
Serves 6
15m prep time
1h cook time
Ingredients
1/4 cup (1/2 stick) unsalted butter
6 medium white or yellow onions, sliced
2 cloves garlic, minced
1 cup dry white wine
6 cups beef broth
4 sprigs fresh thyme
2 bay leaves
1 tablespoon dry sherry
1 baguette
2 cups Gruyere cheese, grated
Kosher salt and freshly ground black pepper, to taste
Preparation
In a large stockpot or Dutch oven over medium heat, melt the butter. Add onions and cook, stirring frequently, until deeply golden and caramelized. This can take 30-40 minutes; be patient!
Add garlic and cook until just fragrant, about 1 minute.
Stir in wine, scraping up any browned bits from the bottom of the pan.
Stir in beef broth, thyme, and bay leaves. Bring to a boil, then reduce to a simmer and let cook until slightly reduced, stirring occasionally, 15-20 minutes.
Discard thyme sprigs and bay leaves, then stir in the sherry and season to taste with salt and pepper.
While soup simmers, preheat oven to 400°F. Slice baguette about 3/4-inch thick and arrange slices on a baking sheet in a single layer. Bake until bread is golden and crisp, about 10 minutes.
Ladle soup into oven-safe crocks, ramekins, or bowls and place on a baking sheet. Top each soup with a baguette slice (or two or three if using a bigger bowl). Top generously with gruyere.
Place under broiler until cheese is melted and golden brown, 2-3 minutes.
Serve immediately and enjoy!
Recipe adapted from Damn Delicious.
SKM: below-content placeholder
Whizzco for 12T