Plus, it comes together in under half an hour!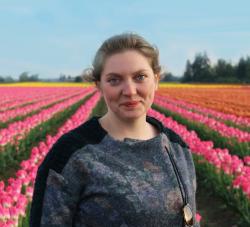 Decatur Macpherson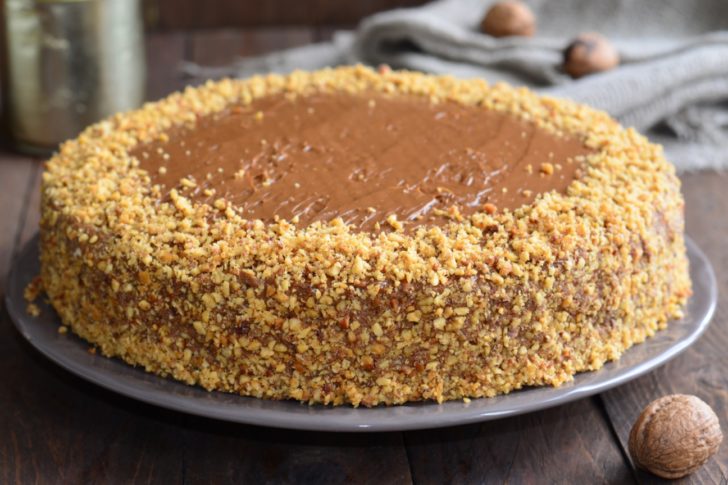 You know those moments when you're eating a dish that someone else has made and you're expecting one thing and then are caught totally off-guard because of how amazing and delicious and unexpected it is? To be clear: we weren't surprised that our friend made something incredible, just that it looks like a standard cake on the outside, but then we sliced into it and saw that it wasn't your typical, run-of-the-mill cake at all….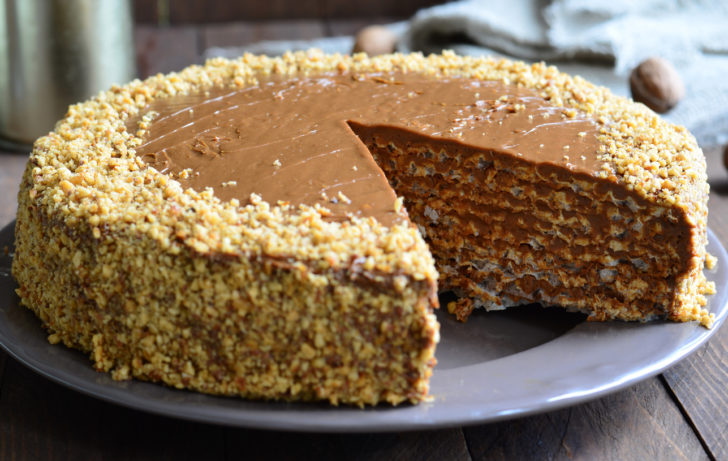 Instead of cake, we went with 10-inch round, wafer cookies instead as the heart of the dish. Pair that with a rich and creamy chocolate hazelnut frosting and you've got yourself a heck of a dessert! The crispy, crunchy wafer crackers are a totally delightful twist here and they really nicely absorb some of the moisture from the hazelnut frosting, so they soften beautifully and actually become more "cake-y." This isn't a cracker-cookie type cake, the wafers turn into moist, dense layers and you get a layer cake that looks as good as it tastes!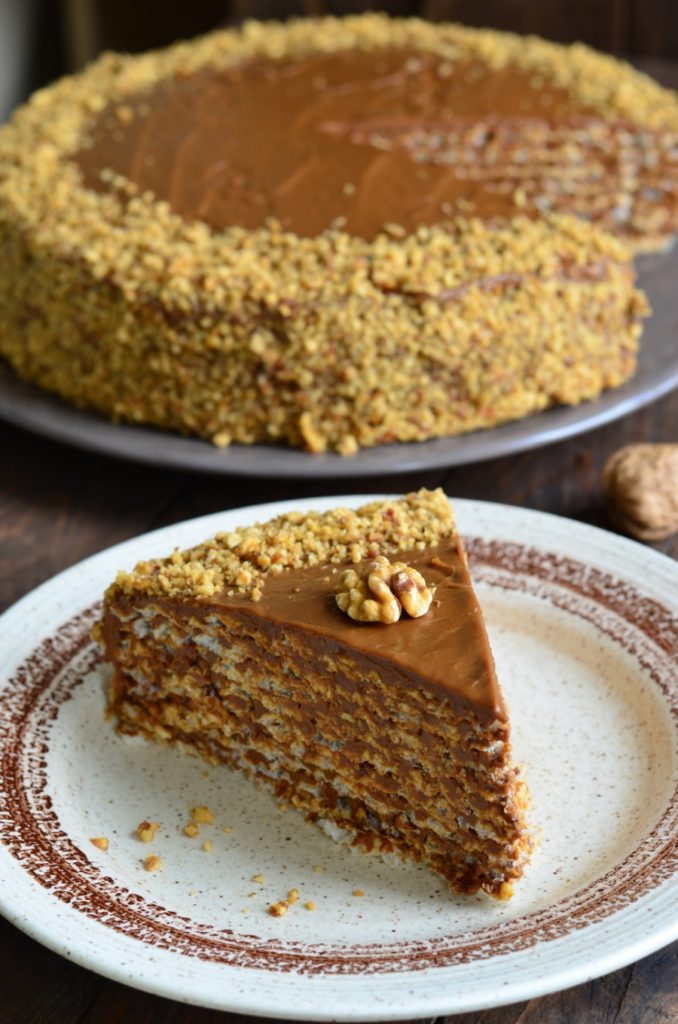 Chocolate Hazelnut Wafer Cake
Ingredients
2 packages 10-inch round wafters (using 8 wafers)
2 cups hazelnuts
Frosting:
1 1/2 cups (3 sticks) unsalted butter, room temperature
1 cup hazelnut spread
3 cups powdered sugar, sifted
3/4 cup unsweetened cocoa powder, sifted
2 tablespoons heavy cream
1 teaspoon vanilla extract
hazelnuts or walnuts, garnish
Preparation
Pour hazelnuts into a large pan or skillet and toast for 6-8 minutes over medium heat, stirring frequently so they don't burn. Once toasted, place in food processor and pulse until finely ground, but not a paste.
In a large bowl or mixer, beat butter for 2-3 minutes, or until fluffy and smooth.
Whisk together powdered sugar and cocoa powder in a medium bowl, then gradually add into beaten butter.
Beat in heavy cream and vanilla extract and beat for another 3-4 minutes, or until completely smooth and combined.
Spread 2 tablespoons frosting onto cake stand or serving plate and place one wafer on top.
Spread a thin, even layer of frosting over surface of wafer.
Repeat with 7 more wafers (or remaining package, if you have enough frosting to cover all the layers).
Spread another even layer of frosting over the top and sides of wafer cake until fully covered.
Take handfuls of ground hazelnuts and gently press them onto the sides of cake, sprinkling a border around the top as well.
Refrigerate for at least 30 minutes or overnight before serving, giving wafers a chance to absorb moisture from the frosting.
SKM: below-content placeholder
Whizzco for 12T