The crust on this is AMAZING.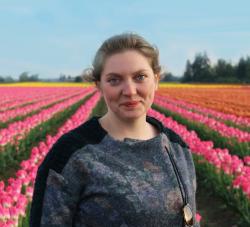 Decatur Macpherson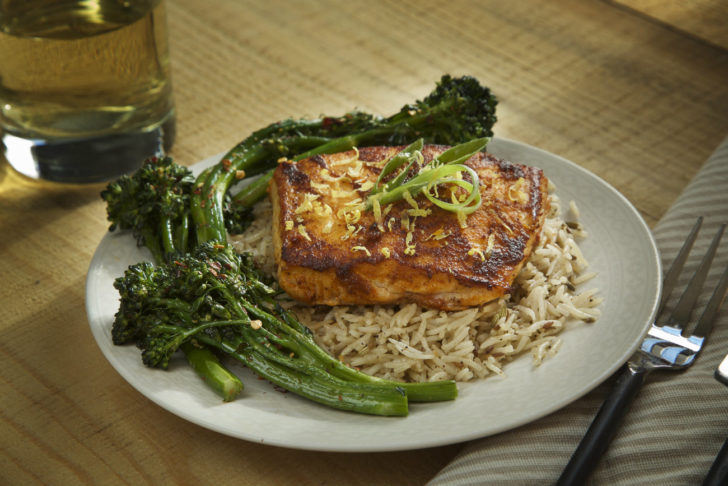 Salmon is one of our favorite fish, but we don't usually get too creative when it comes to different ways to prepare it. We wanted something new and exciting for dinner the other night, and this is what we ended up making…. Instead of grilling it or baking it, we pan-fried our fillets in butter, making sure to leave them on the heat (without moving them!) until they developed a nice char. This adds great flavor that you won't get if you move your fish around too much, plus it means you don't have to stress once you put them in the pan.
Whether you're in a recipe rut like we were or not, this dish is super tasty and a breeze to make. On nights that are particularly hectic though, you can order the full meal (all the ingredients and directions are included!) and have it delivered to your door! Order the meal at Chef'd and enjoy!
Spice-Rubbed Salmon
Ingredients
8 oz. Basmati rice
4 Green onions
2 Lemons
4 Shallots
4 Garlic cloves
1 teaspoon Cumin seeds
1 teaspoon Fennel seeds
2 teaspoons Paprika
1 teaspoon Cayenne
2 teaspoons Garlic powder
1 Stick butter
4 Bay leaves
16 oz. Broccolini
1/2 teaspoon Red chili flakes
1 teaspoon Ground cumin
4 Salmon fillets
Preparation
Add 2 cups of cold water to a medium bowl. Add the rice and let soak for 15 minutes.
Slice the green onions thinly on the bias and set aside for garnish.
Zest the lemons and set the zest aside. Juice the lemon into a small bowl and discard seeds; hold.
Mince the shallots and set aside.
Slice the garlic thinly lengthwise; hold.
Heat a small sauté pan with the cumin seeds, fennel seeds and 2 teaspoons pepper over medium-high heat stirring constantly so the spices do not burn, about 2 minutes; set aside.
Into another small bowl, combine the paprika, cayenne, garlic powder and 1 teaspoon salt, and stir until well combined. Spread the spices into a thin layer on a plate and set aside.
Place ONLY 1/2 of the butter into a medium sauce pot and melt over low heat. When melted, pour the butter into another medium bowl; set aside.
To the same medium sauce pot you used for the butter, add the remaining butter, shallots, bay leaves, and 2 teaspoons salt and turn the heat to medium-high heat. Cook for 3 to 5 minutes, until the shallots becomes translucent.
Add the cumin mixture and rice with its liquid and stir. Reduce heat to medium-low and cook, uncovered, 10 minutes.
Remove from heat; fluff rice and cover to keep warm.
Cut and discard 1" from the Broccolini stems.
Heat 1/4 cup of olive oil in a large sauté pan over medium-high heat.
Add the Broccolini and season with chili flakes, ground cumin and 1⁄2 teaspoon salt. Cook for 2 minutes. Add the sliced garlic, stir and cook, 2minutes more. Remove from heat.
Pat dry the salmon with paper towels.
Heat another large sauté pan on medium-high heat. Add 2 tablespoons of olive oil and heat until almost to the smoking point.
Dip the salmon into the melted butter. Press the salmon into the spice mixture coating both sides; add to pan and sear for 2 minutes.
Turn the fish over and cook for 2 minutes more; hold for plating. Add or subtract 1 to 2 minutes for more or less doneness.
Place a scoop of rice pilaf in the center of four plates.
Stack the salmon fillets on top of the rice at an angle. Arrange the Broccolini next to the rice.
Drizzle the lemon juice over the fish, sprinkle with lemon zest and garnish with green onions.
SKM: below-content placeholder
Whizzco for 12T