This is a kicky upgrade to a classic dessert.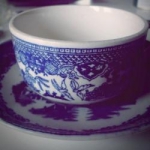 Rose Heichelbech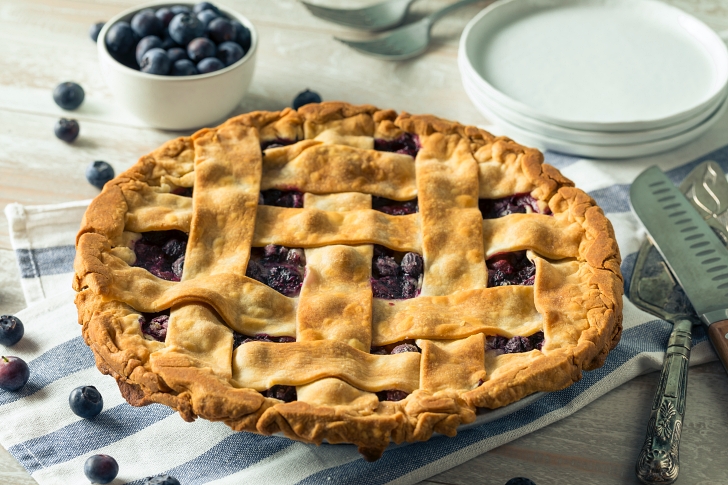 Blueberry pie is one of life's great simple pleasures, especially when it's just a little bit warm from the oven still. While I love this treat, when I came across this variation on an American classic I knew I had to try it. This recipe is special since the luscious blueberry filling gets a bright kick from lemon juice, lemon zest, and finely chopped thyme.
If you're thinking that thyme and blueberries don't mix then I'd like to take this opportunity to point out that combinations like strawberry-mint and rosemary-cranberry are wonderful together. It's the same with the thyme and blueberries here. The zesty flavor of the lemon and thyme balances out the sweetness of the blueberry filling to create a mouthwatering dessert that just has a little something extra to it.
To make this recipe you'll need to prepare the filling by mixing 1 cup of the blueberries with instant tapioca, lemon juice, and salt. Smash the berries in the pan to create a sort of purée. Cook for a few minutes until the tapioca is dissolved.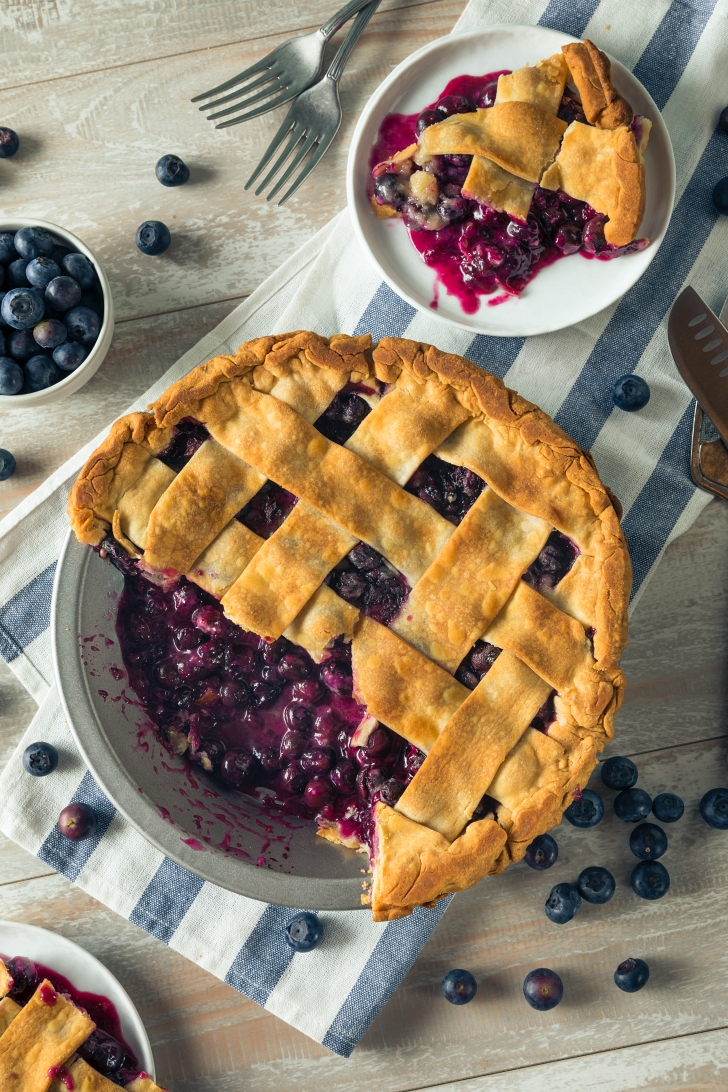 Then add another cup of blueberries to the pan along with a half cup of sugar. Cook for 5 minutes more at which point the filling should be thickening up. Mix this into a large bowl filled with the rest of the blueberries, the thyme, and some lemon zest.
Then it's time to start on the crust. I love making my own pie crust from scratch as it has a wonderful flavor. But, if you're short on time you can use a mix or two frozen pie crusts. If using frozen allow the crusts to thaw before using as you'll need to not only have a bottom crust, but also a top crust. You can make your top crust one sheet and cut some slits or holes for the steam to escape. Or you can make a lattice for the top. Either way is totally fine.
When the filling is ready pour it into a 9″ pan lined with the bottom crust. Then add the top crust and bake for 30 minutes. It's best if you put the pie pan on a baking sheet to catch any spills. This also makes it easier to remove since you'll need to take the pie out and cover the edges with foil before baking for another 45 minutes.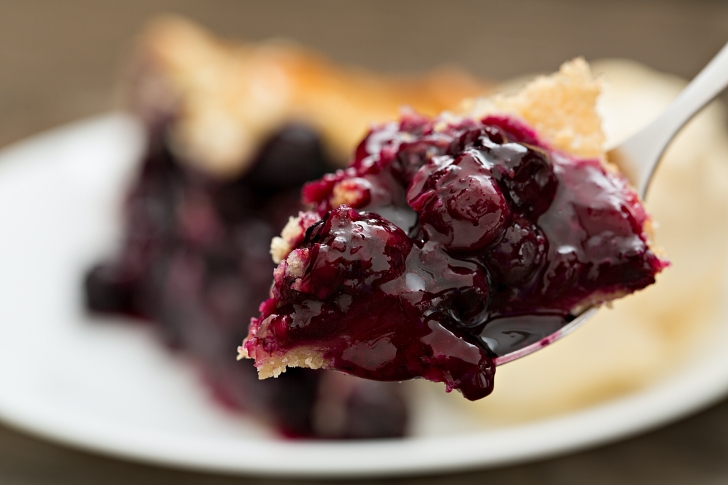 Then comes the hardest part: waiting for the pie to cool. There's a reason this is a trope from old movies! But, you'll need to let it cool for about 3 hours. When it's cooled serve each slice of pie with a dollop of whipped cream or a scoop of vanilla ice cream. The vanilla and thyme work well together so I suggest the latter.
If you love blueberry pie then this new classic is bound to have a permanent spot in your recipe tin.
Blueberry Thyme Pie
Serves 8
3h 30m prep time
1h 30m cook time
For the filling:
7 cups fresh blueberries (32 ounces), divided
1/3 cup uncooked instant tapioca
Juice of 1 lemon (2 tablespoons)
1/4 teaspoon salt
1 cup granulated sugar, divided
2 teaspoons finely chopped fresh thyme
1/2 tsp lemon zest
For the crust:
2 1/2 cups all-purpose flour, divided
3 Tbsp granulated sugar, divided
1 tsp salt
1 cup cold butter (2 sticks), cubed
1/2 cup ice water
For the filling:
Preheat oven to 375°F. In a medium saucepan smash 1 cup of the blueberries. Add in tapioca, lemon juice, and salt. Stir until tapioca is fully dissolved.
Add another cup of blueberries along with 1/2 cup sugar to the saucepan. Cook for 5-7 minutes, stirring constantly, until thickened significantly. Remove from heat and let stand 5 minutes.
Pour remaining blueberries, chopped thyme, a lemon zest into a large bowl. Add in cooked blueberries and stir. Set aside.
For the crust:
Combine 1 1/2 cups flour in a large bowl with sugar and salt. Stir well. Add butter to flour mixture and cut in using a dough cutter or two forks until a sandy mixture is formed. Add the rest of the flour and add the water 1 tablespoon at a time.
Only add enough water to make a loose dough and then stop mixing. You may not use all the water. Roll out dough onto floured surface. Cut a 9 1/2" circle from the dough. Place this into a 9" pie pan. Combine remaining dough, roll out, and cut into 1" strips.
For the Assembly and Baking:
Pour pie filling into bottom crust. Lay top crust strips over the top in a lattice pattern. Or you can also cut out another 9 1/2 circle of crust dough instead. If using the latter method cut 4-6 slits of holes into the crust for steam to escape. Crimp edges of pie crust using the back of a fork or your fingers. Place pie pan on baking sheet.
Bake for 30 minutes uncovered. Carefully remove pie from oven and cover the edges of the pie with foil. Bake another 45 minutes or until filling is bubbly.
Allow pie to cool 3 hours before slicing. Serve with vanilla ice cream or a dollop of whipped cream if desired.
Recipe adapted from Southern Living.
SKM: below-content placeholder
Whizzco for 12T