This recipe is perfect for parties, backyard BBQs and just hanging around the pool. The layers are everything!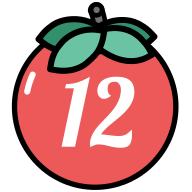 Dom Ruane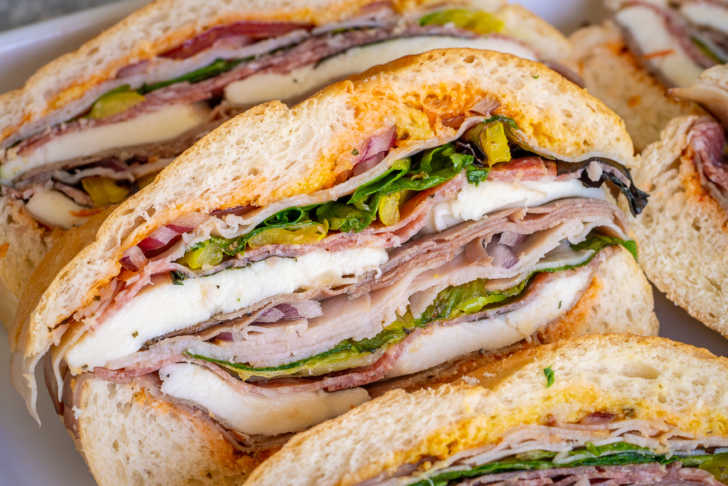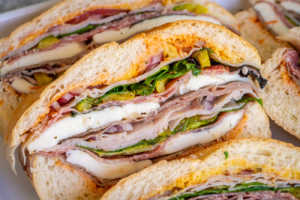 What a funny name. Picnic Loaf. Are picnics still happening? All I know is making a giant stuffed sub sandwich is so much fun, where I eat it is another thing entirely.
I bring you a new blueprint on how to make a fantastic layered sandwich. Sandwiches are all about curating good ingredients. No cooking, just good cured meats, your favorite loaf of bread, and some fresh cheese. Your sandwich will taste as delicious as the ingredients you buy for it. But then, of course, a tasty sauce will make everything better. My uncle Mike's sub sauce will save any sandwiches day. It's that good. If one thing you take from this recipe, take the sub sauce babes.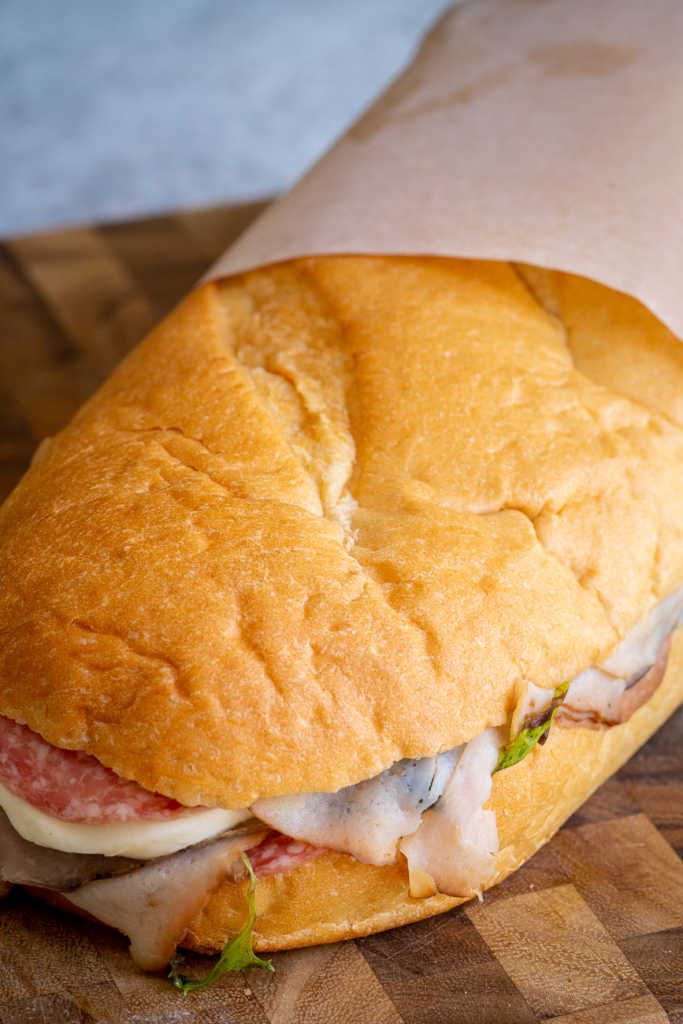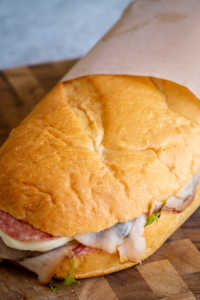 I love this sauce for multiple reasons. One, it tastes delicious. The tomato lends to the viscosity of the sauce blended with oil and vinegar, it comes out like a flavorful gazpacho. Two, you avoid putting a sliced tomato in the sandwich. the sandwich slide apart, it's just not cute. Mostly tomatoes are divisive. People just don't like the texture or the juiciness. Which I find wild, but remove the divisiveness by just blending the tomato into the sauce. They'll never know. This sauce ages the sandwich overnight, giving the bread a chance to soak in all that beautiful sauce. That's why we make good bread choices.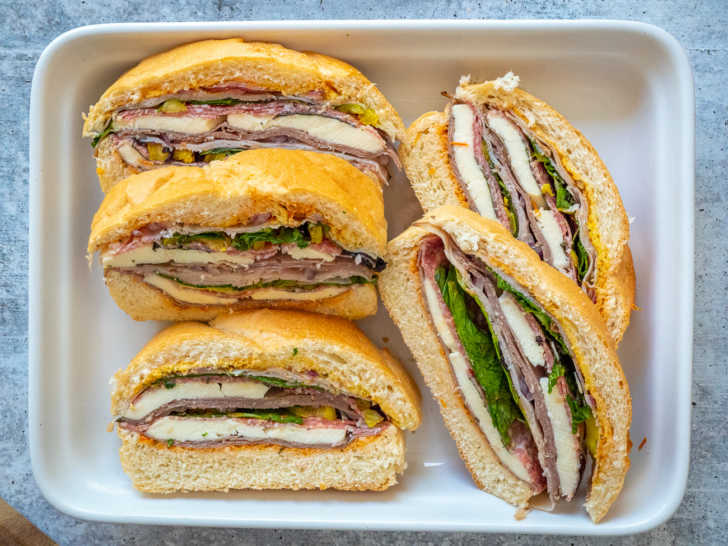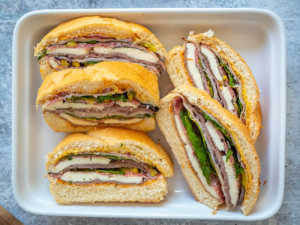 Sub sandwiches have layers and when layering different meats, it's important to space flavors apart. We are still creating a masterpiece here people. For example, the roast beef goes with the mozzarella, which goes with the basil. It's a chain link and every layer has thought put into it. It will taste best after a night in the fridge, allowing the layers to get to know each other first. That's why we wrap this loaf tightly in plastic. Holds everything together. I hate when my sub slides apart, which is another reason the layers are so important. Let this be your guideline for the next time you make a big sub sandwich for a picnic or party. These sandwiches also make for great lunches throughout the week.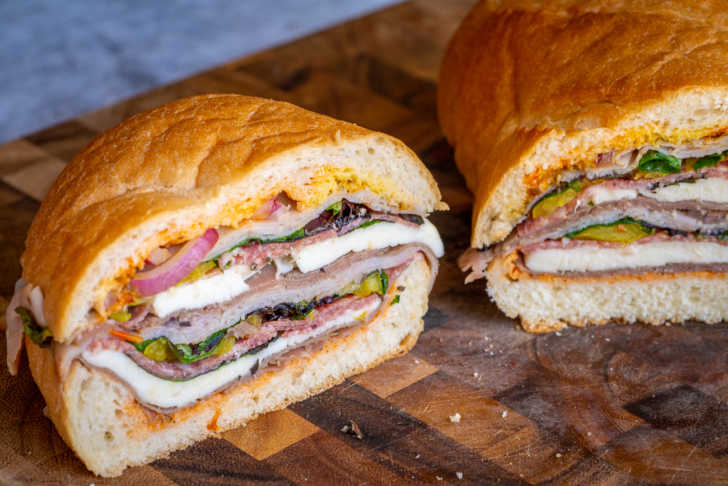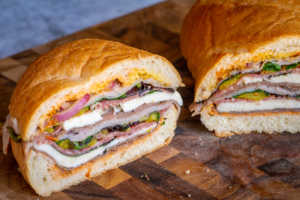 Picnic Loaf
Serves 6 - 8
20m prep time
Ingredients for assembly:
1/2 lb sliced roast beef
1 lb fresh mozzarella
16 fresh basil leaves
1/4 lb thinly sliced salami
1/2 cup sliced pepperoncini
5 oz mixed greens lettuce
1/2 lb sliced turkey
1/4 red onion, sliced thin
1 large loaf Italian bread
For sauce:
2 roma tomatoes, quartered
3 whole garlic cloves
1/4 cup red wine vinegar
1 teaspoon dried oregano
1/2 teaspoon dried basil
1/2 cup olive oil
Kosher salt and freshly cracked black pepper, to taste
Directions:
Using an immersion blender, blend together all vinaigrette ingredients until a smooth sauce has formed. Taste for seasoning and reserve.
In a small bowl, toss salad greens in a tablespoon or two of vinaigrette and set aside.
Cut bread in half and scoop out thick bread parts.
Liberally brush vinaigrette on both sides of the bread, evenly spreading the vinaigrette from end to end.
To assemble, use half of each ingredient and layer roast beef, mozzarella, basil leaves, salami, pepperoncini, dressed greens, turkey and red onion. Repeat with other half and close the sandwich.
Using plastic wrap, wrap the sandwich very tight and let rest for 1 to 2 hours, up to overnight for best results.
Cut into 6 - 8 slices.
HAPPY LOAF PARTY!
Recipe adapted from Taste of Home.
SKM: below-content placeholder
Whizzco for 12T