If you've cooked with cast iron, then you know why it's an absolute must-have kitchen item. It holds an even heat (and keeps that heat) like nothing else, so it's ideal for searing but also works well for braises, stews, and quick skillet meals alike, and once you get a really good seasoning on it, it functions better than most fancy non-stick cookware. In other words, it's a veritable kitchen workhouse – it can do pretty much anything.
If you haven't yet added some to your kitchen arsenal (or maybe if you just need to bulk up your existing set), it's your lucky day – we're giving away a 5-piece Lodge Pre-seasoned Cast Iron Cookware Set to one lucky winner!
One of my favorite things to do with a cast iron skillet is to cook pizza in it. It gives you a thick, doughy crust but the even heat of the cast iron also gives it an amazing crispy exterior. And it's so easy to do. Here's my favorite recipe: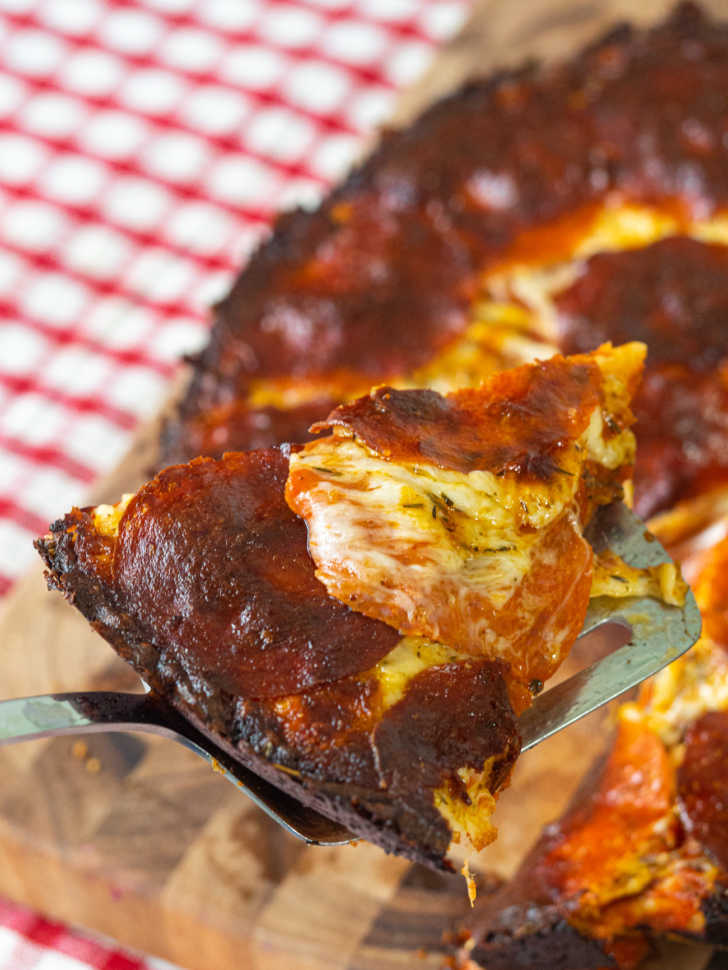 Cast Iron Skillet Pizza
Ingredients:
For the dough:
2 cups bread flour
1 teaspoon salt
1 teaspoon granulated sugar
3/4 cup warm water (105°F to 115°F)
1 envelope active dry yeast
3 tablespoons olive oil
For the toppings:
1 (16 oz) jar pizza sauce
1 tablespoon garlic powder
1 1/2 tablespoons Italian seasoning
1 tablespoon fennel seeds
1 (6 oz) packet sliced pepperoni
4 cups mozzarella cheese, grated
Directions:
In a large bowl, combine bread flour, salt, sugar and mix together.
In another bowl, heat up water for 30 seconds. Stir yeast into warm water and let sit 5 minutes. Add yeast mixture and olive oil to flour. Mix with hands until a sticky ball forms.
On a lightly floured surface, knead dough until smooth, about 3 minutes. Add additional flour if the ball is still sticky.
Coat a large bowl with olive oil and place dough in it. Drizzle dough with a little bit more olive oil and cover bowl with plastic wrap. Let rest at room temperature until dough has doubled in size, about 1 hour. Dough can be made 1 day ahead.
Once dough is ready, preheat the oven 500°F.
Coat a cast-iron skillet with olive oil, about 1 tablespoon.
Place dough in skillet and gently stretch out with fingers to the size of the skillet. Drizzle with olive oil, cover skillet with foil, and let sit at room temperature for 20 – 30 minutes.
Place skillet over lowest heat on stovetop. Rotate every few minutes to heat all sides. After 15 minutes, turn off heat.
Top with pizza sauce and season with garlic powder, fennel seeds, and 1 tablespoon of the Italian seasoning. Top with cheese, making sure that cheese covers entire crust. Top with remaining Italian seasoning and pepperoni.
Bake until cheese is crispy on the edges, about 15-30 minutes, checking and rotating skillet every 10 minutes. Enjoy!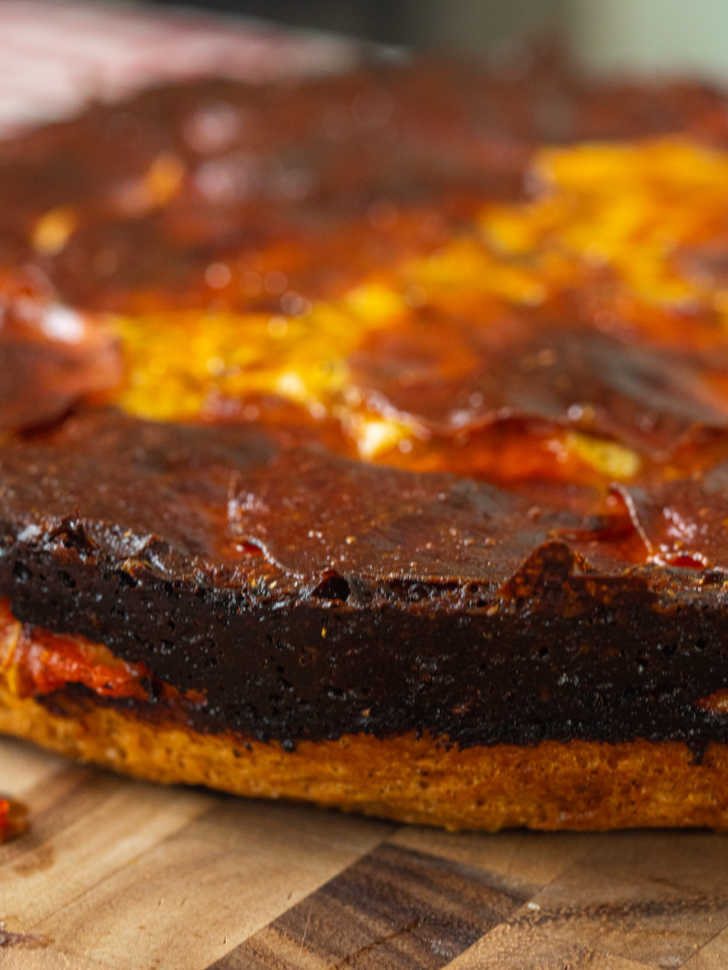 Recipe adapted from Epicurious.
Giveaway Rules:
Entries will be accepted from 12:00 A.M. PT, July 22nd, 2021, through 11:59 P.M. PT, August 5th, 2021. Only one entry per email address; additional entries from the same email address will be disqualified. Winners will be selected at random by August 8th, 2021.
By entering, you are subscribing to receive emails from 12 Tomatoes. Each email comes with a link to manage your subscription. You can unsubscribe at any time.