We have a few shows that we have been leaning on for comfort during the quarantine period. The Mandalorian is chief among them. It's such a calming show, it truly makes us feel centered. If you are anything like the rest of the fans of this show, there is one character who is going to make you swoon more than all of the others. We will give you three guesses and the first two don't count.
As we all know, it's Baby Yoda. He's the muse for so many of us right now and rightfully so. We would fight a million armies just for the right to hold Baby Yoda one time. Over the past few months, we have seen a wide range of kitchen appliances and various household items that are inspired by the character. Now, Williams Sonoma has the perfect items for the Baby Yoda fans in search of something a little different.
what does a girl gotta do to get a space macaron pic.twitter.com/e2sUSJ6Pih

— angeline rodriguez (@gelrdrgz) November 22, 2020
This specialty item is even inspired by the series. If you have watched the show before, you are probably well aware of Baby Yoda's penchant for snacking. There is one episode in particular that this gift idea was based on. Seasoned viewers probably remember the episode where Baby Yoda swiped snacks from a Navarro student.
These snacks looked like bright blue French macaroons, which gave us a craving for these treats. Williams Sonoma knows our pain and they are here to help. You can now head to their website as soon as possible and grab some of these treats for your own home. Maybe if we put some out, Baby Yoda will come and pay us a visit?
Baby Yoda with a space macaroon and a drink on the ride of his life is a new kind of 2020 mood that I'm here for! pic.twitter.com/jItDSqYDpO

— Saritza (Closed to queries) (@LitAgentSaritza) November 22, 2020
We can only hope. "Inspired by a sweet moment when a young Navarro student debated sharing his treats with the Child, 21st-century artisans in California have created these ethereal French-style almond macarons capturing the essence of this scene with Navarro Nummies," reads the product description on the website. A 12 pack of these macaroons will run you $49.95.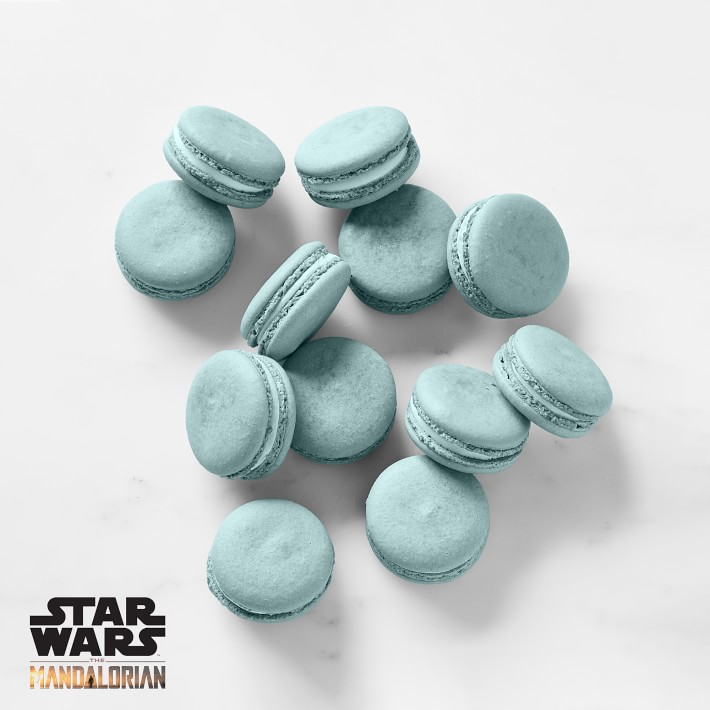 They are available for a limited time only, so be sure to act quickly. You can get some for yourself or buy them for a loved one…..or both! Whatever you decide on, be sure to spread the wealth. It's been a long, hard year for so many of us. These are the sorts of treats that go a long way towards helping us to feel a little bit better.
SKM: below-content placeholder
Whizzco for 12T