The quintessential party cupcake.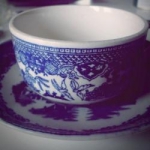 Rose Heichelbech
When it comes to cakes there are so many kinds that it can be dizzying to think about. But, when you want a white cake with a little oomph coconut is a wonderful way to go.
Our white snowball cupcakes have a ton of coconut flavor thanks to canned coconut milk and shredded coconut in the batter and in the fluffy frosting as well. Many of us remember having these yummy cupcakes at Christmas and they're wonderful for giving that snowball look to a holiday spread. But, they're also perfect for Easter as you can easily toss the coconut with some just a little food coloring for a very festive springtime look. And, you could make these for Valentine's Day and simply add a Maraschino cherry on top. These cupcakes really are very versatile.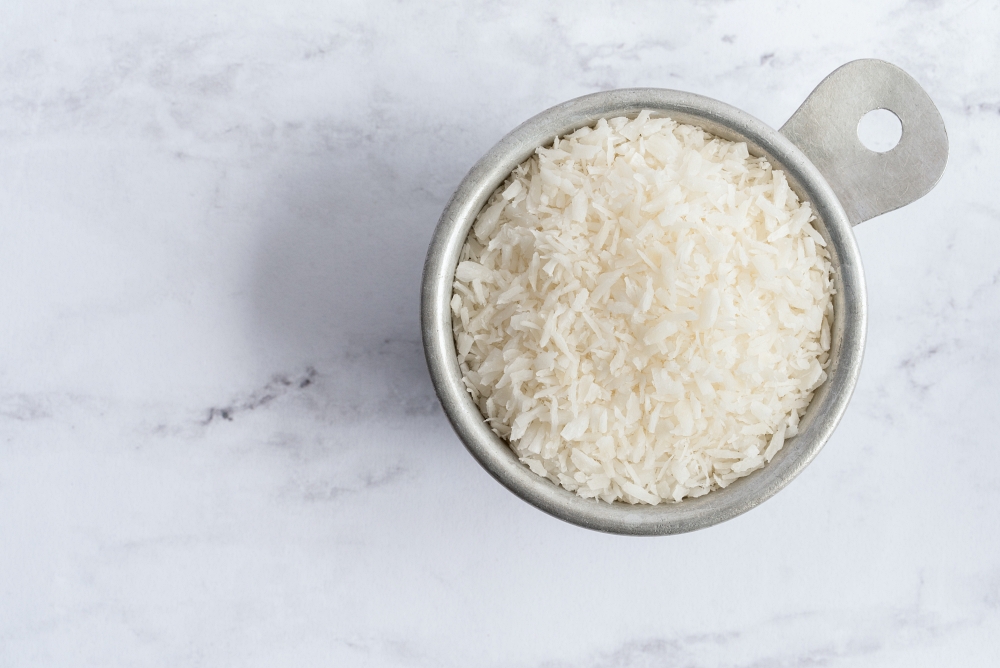 This recipe calls for sweetened shredded coconut both in the batter and on top of the frosting. For a more monochrome finish however, desiccated coconut is better. This type of coconut is drier and it's cut finer. This means your cupcakes will look more like snow if you use this as the topping. However, desiccated coconut almost never comes sweetened so your topping won't be as sweet as if you use sweetened shredded coconut.
The cream cheese frosting already has sugar in it so this won't be a problem for most people, but if you're craving an extra sweet topping and don't mind the longer, darker pieces in shredded coconut then by all means use the shredded.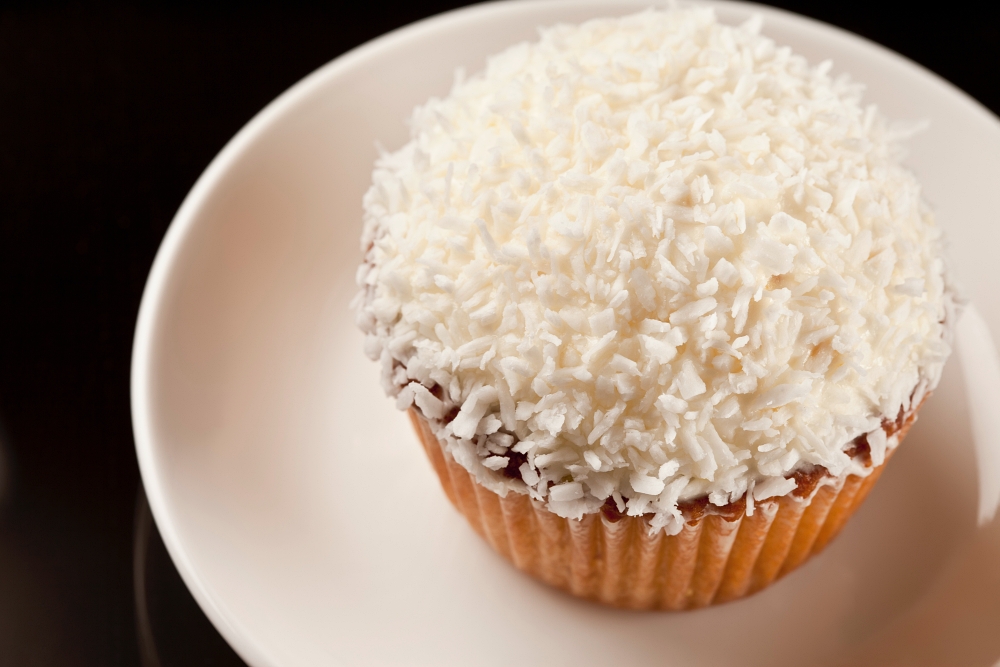 I'm not going to lie to you: this batter has a lot of indulgent ingredients. Full fat canned coconut milk, butter, and cow's milk (plus 3 eggs) make this a spectacularly rich cake. It also has 2 cups of shredded coconut so you know it won't be lacking in coconut flavor. But, if you can't splurge for special occasions then when can you?
Once you've made the cupcakes you need to let them cool completely before frosting for the best result. Then you can work on the frosting which is made from softened cream cheese, powdered sugar, almond extract, more coconut milk, and butter. This recipe calls for 3/4 cup confectioner's sugar plus 2 tablespoons. Add only the 3/4 cup to start, then add in the rest if the frosting is a bit limp and doesn't hold it's shape well. On the other hand if the frosting seems a bit dry you can add a bit more of the coconut milk to make it perfectly smooth and fluffy.
After frosting the cupcakes don't skimp with the coconut topping. After all this is what gives them that snowball look. Press the coconut into the frosting a bit and these bad boys are ready for the table.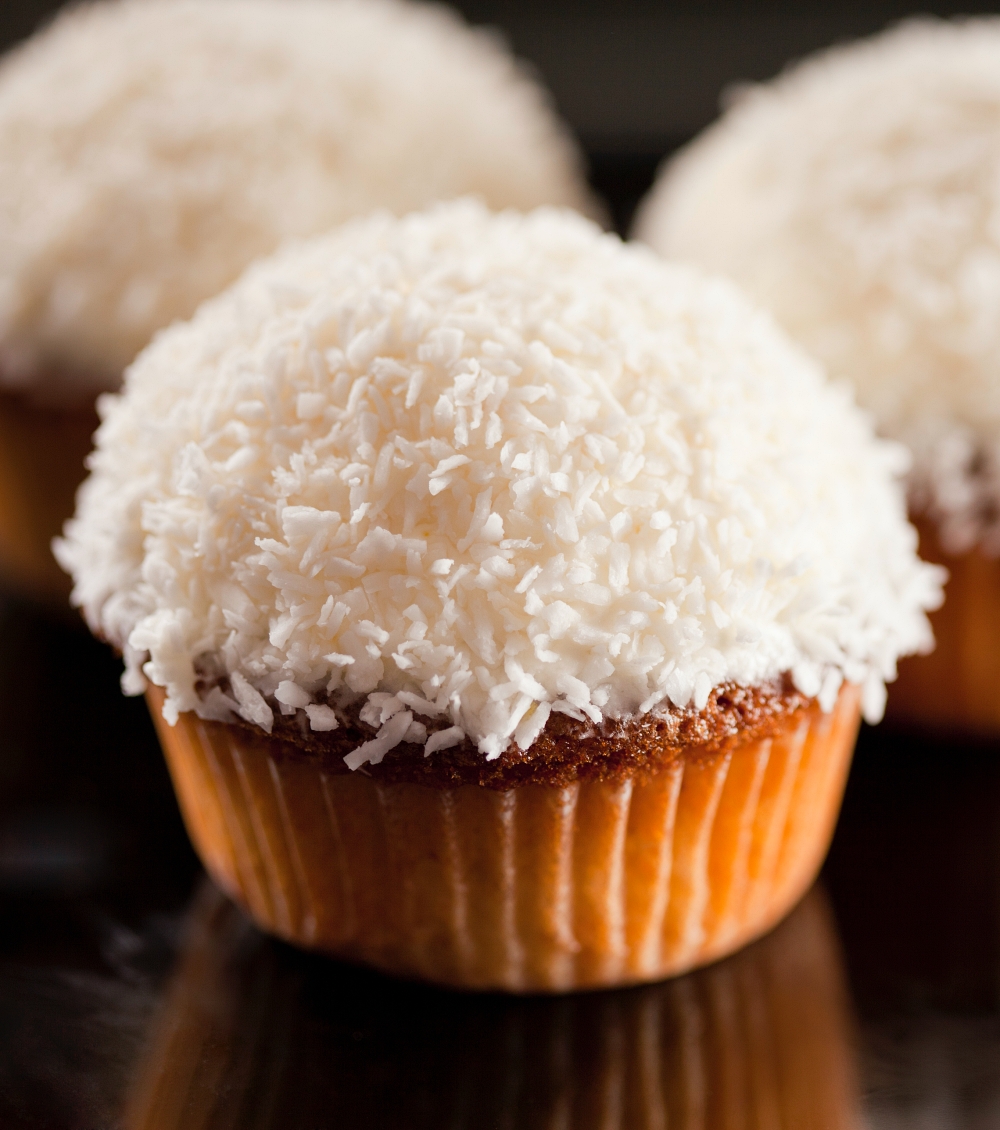 These classic white snowball cupcakes are the epitome of festive fun and they're so luscious that you'll think you've gone to dessert heaven. They really are the ideal cupcake for jovial gatherings- whatever the occasion.
White Snowball Cupcakes
Makes 24 cupcakes
1h 15m prep time
25m cook time
For the cupcakes:
1 1/2 cups granulated sugar
3/4 cup unsalted butter, room temperature
1/8 tsp salt
3 eggs
3/4 cup full fat canned coconut milk
1/2 cup milk
2 tsp vanilla extract
2 3/4 cup all-purpose flour
2 Tbsp cornstarch
1 Tbsp baking powder
2 cups sweetened shredded coconut
For the frosting:
1 8-oz package cream cheese, room temperature
4 Tbsp butter
3 Tbsp full fat canned coconut milk
1/2 tsp almond extract
3/4 cup confectioners sugar plus 2 Tbsp
1 cup sweetened shredded coconut, packed
For the cupcakes:
Preheat oven to 350˚F. In a medium bowl combine cream together sugar, butter, and salt. Add in eggs, coconut milk, milk, and vanilla extract.
In another bowl combine flour, cornstarch, and baking powder. Sift these together into the wet ingredients. Stir until just combined and then fold in shredded coconut.
Pour into lined cupcake pans and bake for 23-25 minutes or until toothpick inserted in center comes out clean. After 5 minutes remove cupcakes from pan to wire rack to cool completely.
For the frosting:
Add 3/ 4 cup confectioners sugar to the rest of the frosting ingredients. Beat with an electric mixer on high until fluffy. If too thin add the rest of the sugar. If too stiff you can add a 1/2 teaspoon coconut milk at a time until frosting is perfectly fluffy.
Frost each cupcake using an offset spatula then top each one generously with shredded coconut, pressing coconut into the frosting as you go.
Recipe adapted from Karen's Kitchen Stories.
SKM: below-content placeholder
Whizzco for 12T