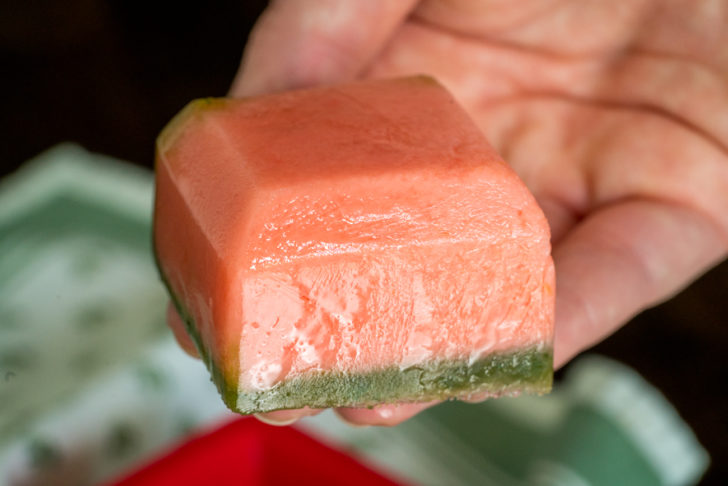 You know that feeling when it's 90 degrees out and you simply must have a popsicle or you won't make it? Maybe we're just melodramatic (nope, definitely not us), but you know how satisfyingly cool and refreshing it is when you start eating it – now think of how nice that feeling would be for your fur baby on those hot days! They're sweltering just as much as you are, and with a nice, heavy fur coat to boot, so we decided to make them something special to cool them down when the temperatures are off the charts.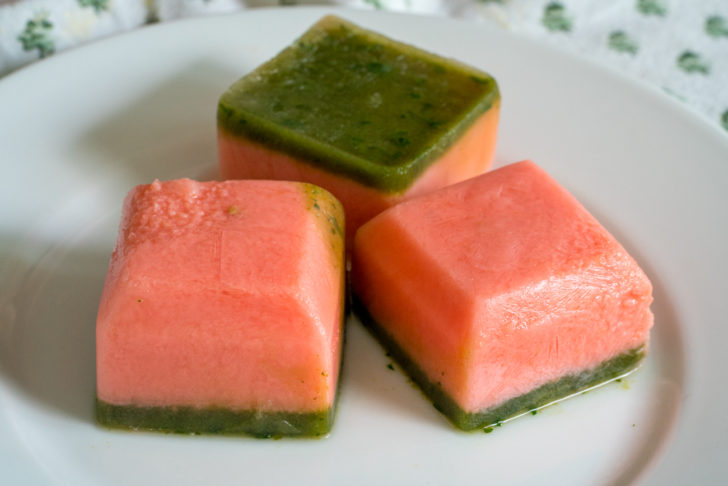 Order Your Silicone Ice Cube Tray Here!

These minty watermelon dog treats are so easy to make, especially considering we popped them into our jumbo silicone tray – the beveled edge makes every cube look like a pretty jewel, so they're good for our pups and adorable as well! Watermelon makes up the base of these frozen goodies, but we topped them off with blended mint and parsley, both of which help keep your pups' breath fresh!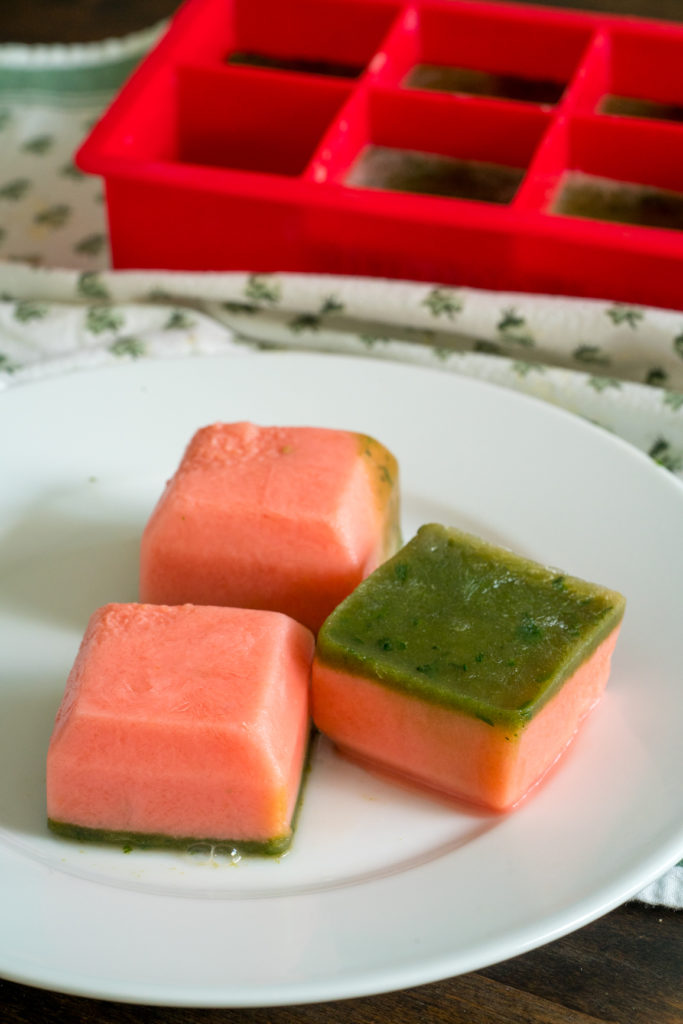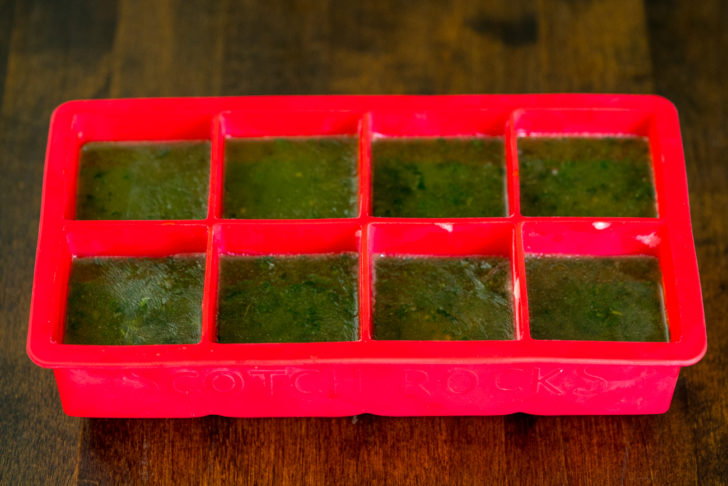 These pupsicle treats are not only healthy and good for our dogs, though you should always check with your veterinarian if you have questions or concerns about your dog's diet, but they're also super easy to make. You blend up your seedless watermelon, freeze that in your ice cube tray, then blend up your herbs (adding water if you need to) until you've got a nice purée, then pour that on top of the set watermelon and let it freeze.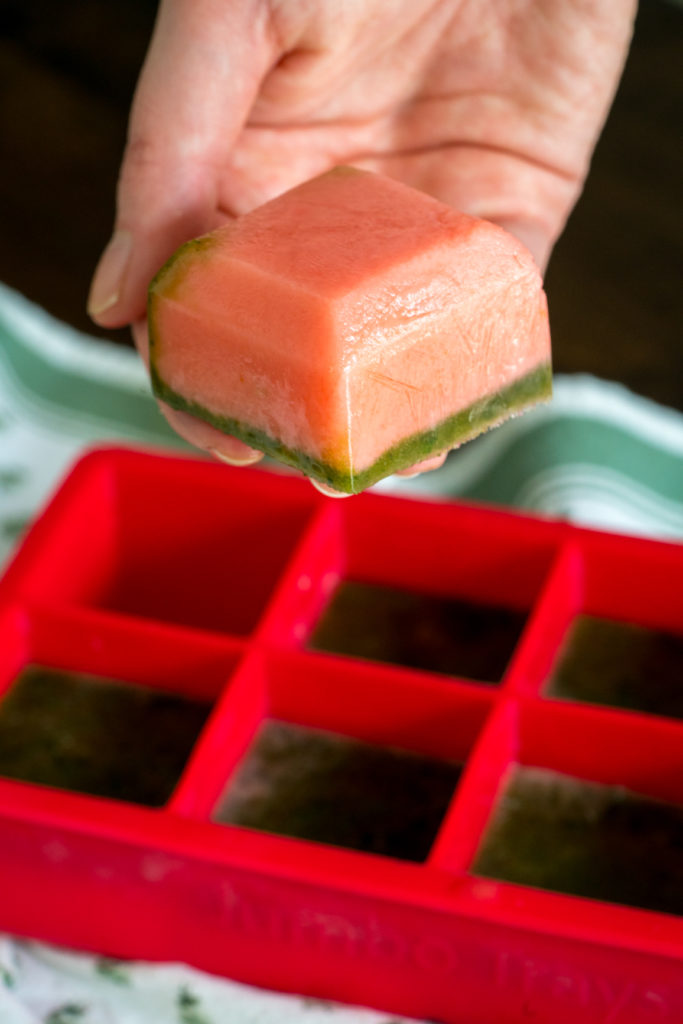 This sweet treat is the perfect thing to keep your furry pets cool, and if it helps with their doggy breath, that's just a bonus! And who knows, these could probably make pretty good person popsicles too!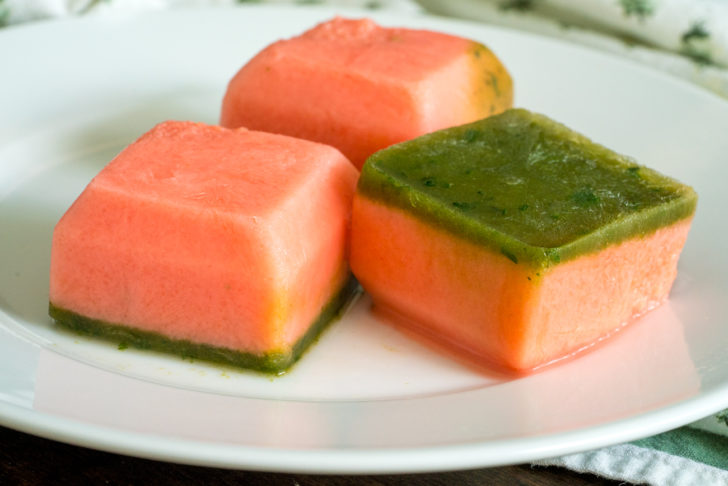 Frozen Watermelon Dog Treats
Serves: 8-10
Time to prepare: 15 minutes active; 2+ hours inactive
Ingredients
2 cups seedless watermelon, cubed
1/2 cup Greek yogurt or coconut milk
1/2 cup fresh mint (or spinach or basil)
1/2 cup fresh parsley
silicone ice cube tray
water, as needed
Directions
Place cubed watermelon and yogurt (or coconut milk) in food processor or blender and pulse to purée.
Pour blended watermelon into silicone ice cube tray, filling them each with 1-2 tablespoons of watermelon mixture.
Place ice cube mold in the freezer for 1-2 hours, or until set.
Clean out blender, then add mint and parsley and pulse, adding water as needed, until blended and smooth.
Pour blended herbs over frozen watermelon layer, creating a thin layer like the rind on a watermelon.
Return to freezer for 1-2+ hours, or until set. Keep in freezer until ready to serve.
Recipe adapted from Grrfeisty
SKM: below-content placeholder
Whizzco for 12T